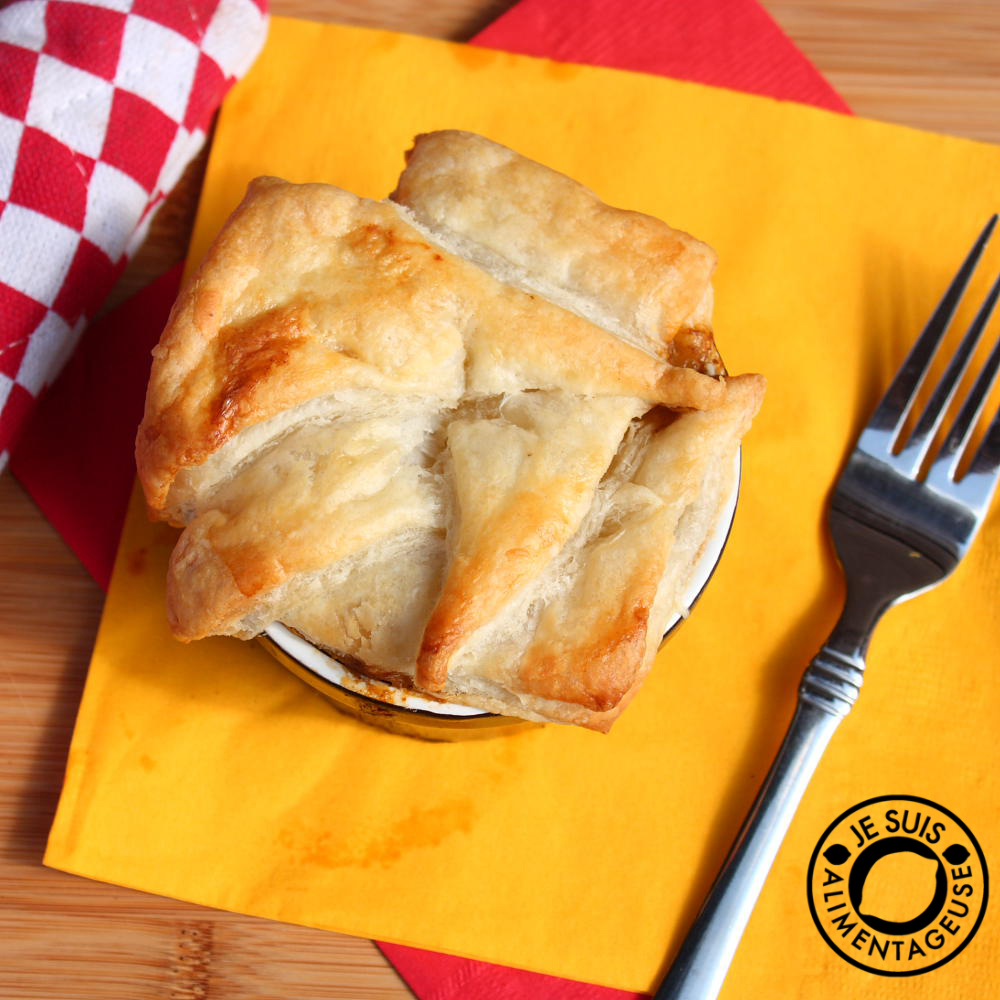 One thing I used to get whenever I went to British pubs was chicken pot pie. As a kid, I had frozen pot pies for dinner and they were always delicious, although probably because they were chock-full of salt and preservatives. Salt, why are you so magical and addictive? But anyway, being vegetarian means I can't have chicken pot pie anymore! Or shepherds pie. Sadness. So I saw some blog posts with vegetarian pot pie and lucky for me, I had all the ingredients! Well, more or less. I couldn't find any recipes that I liked in particular, so I kind of threw something together. Think of this as Fridge Pot Pie; I took stuff from my fridge and put it in a pie. Nooooms!
I wasn't sure what spices to put in because normally pot pie is flavoured as a creamy or beefy stew. I wanted neither, so I made almost a chili-like flavouring with tons of paprika. I made lentils for the second time and they were tastier this time because there was more flavouring and I added more stew to it. I think I'll try to make puff pastry some time this summer too, because it seems pretty easy, I just want to not have to buy the frozen puff pastry. Almost four dollars for two sheets =
If you want to make this pot pie, feel free to experiment with your ingredients. Add celery, potatoes, sweet potatoes, or even beans to add more substance to the stew. Use whatever broth you want to add more depth of flavour as well. Remember that dried herbs and spices infuse more flavour into the food the longer they sit (that's why chili is tastier the next day!), whereas fresh peppers and chilis lose their flavour the longer they stew. So if you aren't happy with it today, it'll probably be more delicious as leftovers!

Yield: 1
Leek and Lentil Pot Pie with Carrots and Mushrooms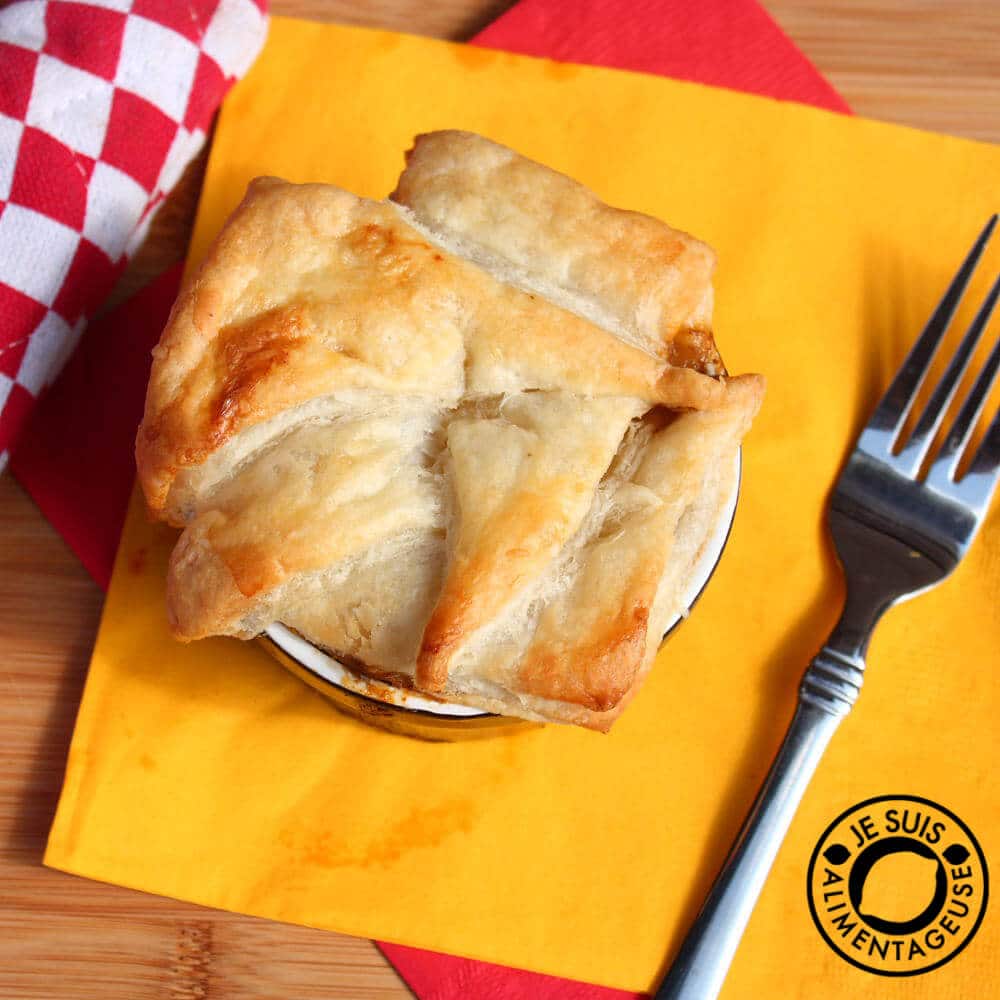 Pot pie for the vegetarians out there!
Ingredients
1 yellow onion, diced
3 cloves garlic, minced
2 tbsp olive oil
2 tbsp paprika
2 tbsp chili powder
1 tsp garlic powder
1 tsp onion powder
2 tbsp flour
1 tsp salt (it may be better if it were a bit more, but taste as you go. Easier to add than take away =P)
1/2 tsp chili pepper flakes
1/2 tsp pepper
4 medium sized carrots, peeled, sliced, then quartered (so you have little pieces)
1 cup green lentils, picked over and rinsed
2 1/2 cups vegetable broth
1 leek, sliced and thoroughly rinsed
2 Portobello mushrooms, chopped
1 tbsp vegan butter
1 cup vegan cheese
1 sheet of vegan frozen puff pastry
2 tbsp soy milk
Instructions
Cook the diced onions over medium heat until translucent and then add garlic and cook until fragrant.
Add the garlic powder, onion powder, paprika, chili powder, chili flakes, pepper, and salt. Stir until the spices are fragrant and then add flour to make a roux.
Add 2 1/2 cups broth and stir until the spices are incorporated into the liquid. Add the lentils and carrots and bring to a boil and then let simmer for about 20 minutes. The lentils will be tender but not mushy.
Meanwhile, melt the butter in a large pan. Cook the mushrooms until browned, then add the leeks. Cook the leeks are soft and have the same texture as translucent yellow onions would have.
Add the leek and mushroom mixture to the stew, and ladle stew into oven-safe bowls. Stir in some cheese and cover the bowls with a layer of the thawed puff pastry. Poke some holes for the steam to escape.
Using a pastry brush, wet the tops of the puff pastry with some whole milk. I didn't have egg yolks on hand otherwise I would have used those.
Bake in the oven at 350F for about 20 minutes, or until the pastry is golden and flaky-looking.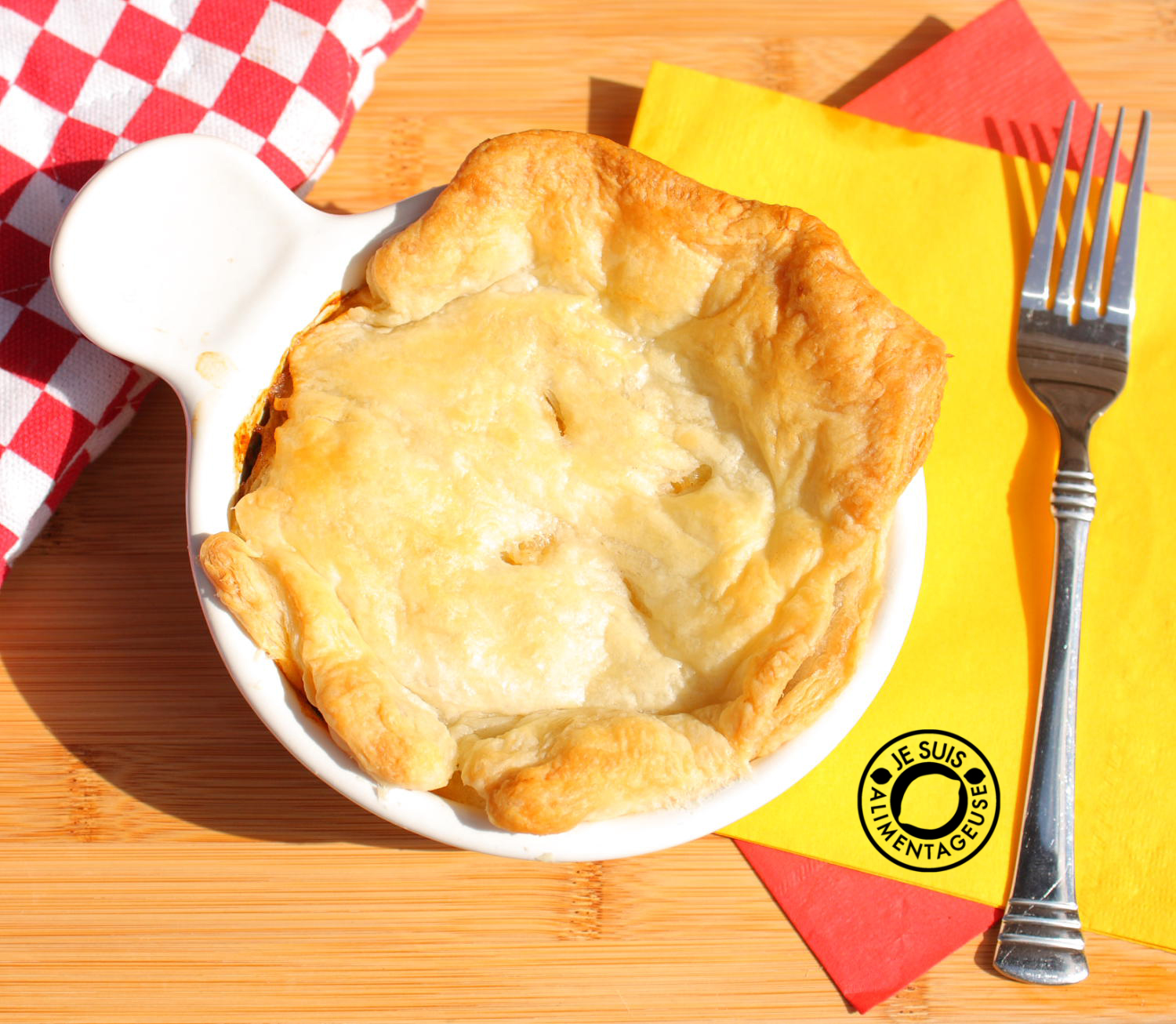 Makes about 1 large casserole dish, or about 6 regular servings.