Today's stuffed acorn squash with rice and beans is accompanied by a rant. I don't have much to say about the recipe other than that when I made this for my friends and my roommate, they vocalized their happiness with each bite and insisted that they didn't want the meal to end. That just tells me how far simplicity will go when it comes to a meal. With rice and beans combined as a complete protein and wrapped in the seasonal flavours of squash, I assure you that this dish will be very well received. Filling, delicious, and can be made in under an hour: most of which is spent waiting for food to cook in the oven and the rice cooker.
But now for my rant:
I've lived in Toronto for over two years now. I wouldn't say I'm a Torontonian officially, per-se, but I've voted—twice! I'm not super pleased about the new mayor but at least it's not another Ford-Nation. I've experienced many things that Torontonians have experienced: Nuit Blanche, the TTC (the Toronto Transit Commission, which runs the buses, streetcars, and subway system) , weirdos on the TTC, weirdos on the street, sitting in rush hour on the TTC, the havoc that construction in Toronto wreaks on the TTC… Okay obviously the TTC is an integral part of living in Toronto.
Anyway, I've adapted to the Toronto culture and for the most part, I like it. There are lots of things to do and places to visit. There are vegan options everywhere! It's not weird to people that I'm vegan here (as opposed to my small, WASP-y hometown). People are efficient, for the most part polite, and they have a fantastic etiquette that makes my life easier.
For example, if you're on the escalator and you don't feel like walking up the stairs, it's common etiquette to stand to the right so that people who are more in a rush can walk past you. Similarly, people generally adhere to the right of way concept when it comes to sidewalk etiquette: if everyone walks on the right side of the sidewalk, there are few issues because people can go about their way without any mishaps.
However, every now and then, I find myself seething with pent-up irrational rage when it comes to etiquette. People who don't hold the doors open properly or people who walk SO BLOODY SLOWLY and travel in packs like the lost freshman of my high school. I've stopped being polite about it. Maybe this makes me a little bit of a douche canoe about it but to be more specific, I honestly get so frustrated at people that when someone is walking side by side towards me and doesn't make room for me on the sidewalk, I will tense up my shoulder so they'll get a nice little jab as they brush past me.
I'm not being unreasonable, but if I'm stuck between a building and these two people and there's nowhere for me to go, I will put on my bitchface (pardon me) and plow through. I don't even look back, I just keep walking.
I used to be afraid that people would think I was a bitch because of it, but you know what? I've stopped caring.
Either make room for me on the sidewalk because it takes minimal amounts of effort for someone to walk behind their companion for a second, or get a shoulder into your chest.
Yield: 4 servings
Rice and Beans Stuffed Acorn Squash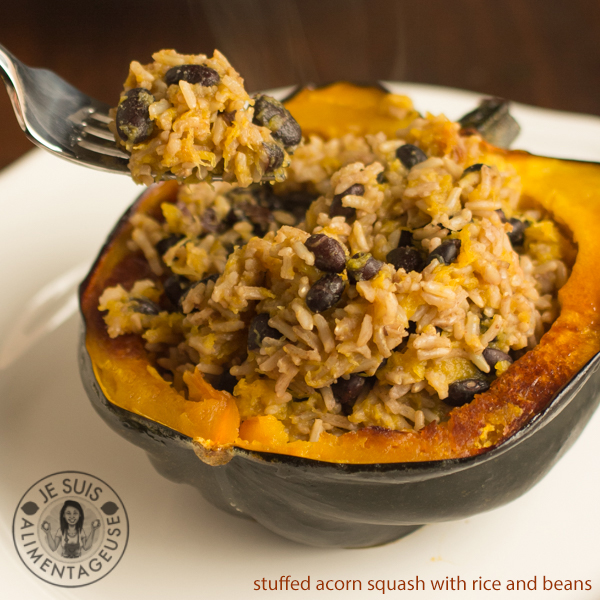 Ingredients
2 small- to medium-sized acorn squash
1 tbsp olive oil
1 cup long grain brown rice
1 cup cooked black beans
1 tsp cumin
1 tsp paprika
2 tsp toasted sesame oil
1 tsp salt (to taste)
1/2 tsp black pepper
Instructions
Preheat oven to 350ºF.
Half acorn squash and scoop out the seeds and stringy insides. Save the seeds for roasting later as a snack or discard it all. Brush cut sides with olive oil and place on a lined baking sheet, cut-side down.
Roast for 30-40 minutes until cooked through.
Meanwhile, using a rice cooker (or whatever your preferred cooking method is) combine rice, black beans, cumin, paprika, and toasted sesame oil. Cook until tender and all water is absorbed into the rice.
Once tender, remove the squash from the oven. Scoop out until there's about 3/4 inches of squash left in the halves.
Mix the squash with the rice and season with salt and pepper to taste.
Fill squash halves with rice mixture, and serve!
Optional: You could top with vegan cheese and melt on top.