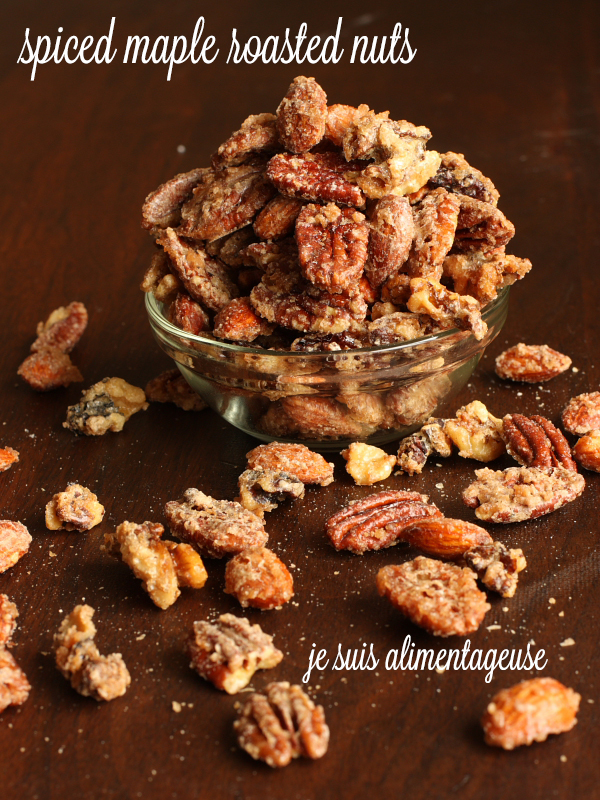 Sugar…Spice…and everything nuts! (Cue the groans from that awful pun). Chris' incessant love for puns is starting to rub off on me. But for real, these spiced maple roasted nuts are a wonderful blend of sugar, spice, and crunch that's perfect for snacking this holiday season. Or anytime really, but I feel like this is one of those Christmas party snacks that I'd munch on as I stand awkwardly by the snack table. Not because I'm shy (actually yes, a little because I'm shy) but also because I'm constantly hungry and I feel less awkward about not having anything clever to say. I'll just pop a crispy coated almond in my mouth and nod and silently savour the satisfying crunch that roasted almonds have.
I'm not a wallflower, by any means. But if you put me in a crowd of people and tell me to socialize, I'll probably stand there with a slightly alarmed look on my face for about 2 minutes, giving myself a pep talk that goes something like this:
"Okay Lisa. Make new friends. Talk to people, it'll be fine. Talk about movies or something. Ask people what they're doing for the holidays. You can do this. You're a nice, sociable person. Make eye contact but not too much eye contact or else they'll think you're weird. Keep hands on your drink. Don't fidget. It'll be fine. You're fine. Now go."
And then the time comes for me to talk to them and I somehow manage to pull some sort of natural conversation out of nowhere. End with a laugh and gradually herd people towards the snack table and linger there. Smile and add some sort of witty pun.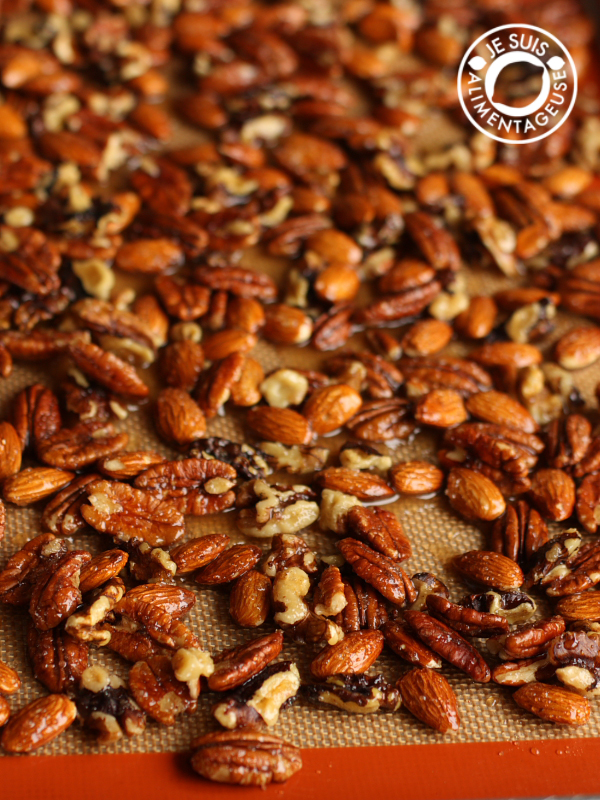 In my creative writing class, I mentioned that after a big social event, I look forward to being alone, sitting in silence with nothing but a book. Most people responded, "What? Really? I never would have guessed that." Surprise! I'm both an introvert and an extrovert. I can pull out a smile and be super friendly and talk to random people (I work in experiential marketing right now, that's basically what I get paid to do nowadays), but I definitely can be just as happy by myself.
Anyway, I've procrastinated writing my paper long enough.
I hope that the introverts out there can handle the holiday party season and that the extroverts out there give them a chance to shine a bit. Shove a handful of these spiced maple roasted nuts in your mouth and you'll be fine. Crunch away!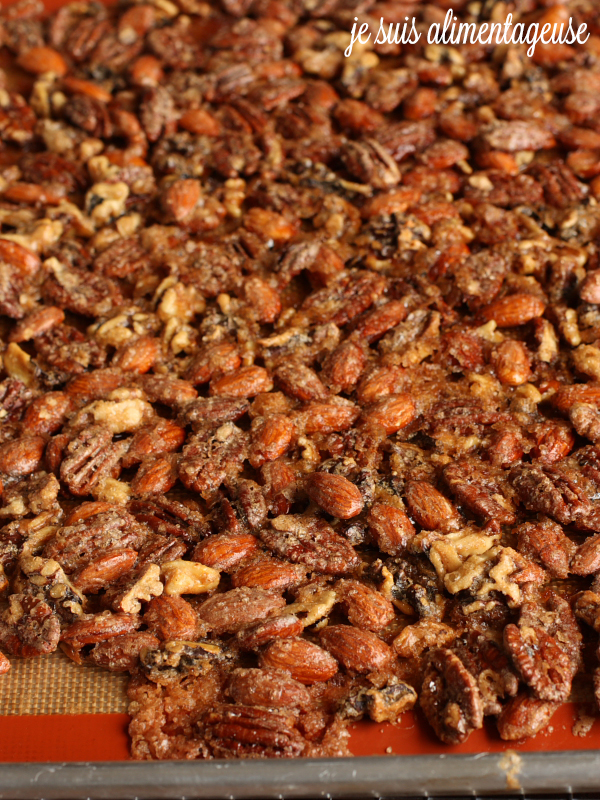 Spiced Maple Roasted Nuts
Ingredients
1 cup raw walnuts
1 cup raw almonds
1 cup raw pecans
1/2 cup maple syrup
5 Tbsp granulated raw cane sugar*
1/2 tsp ground ginger
1/2 tsp ground cinnamon
Optional: a pinch of cayenne for a bit of heat
Instructions
Preheat oven to 350F.
Combine all ingredients and mix thoroughly to get the nuts coated evenly. Evenly spread mixture onto a lined, thick-bottomed baking sheet**. Use a spatula to scrape up any excess sugar/syrup that's still in the bowl.
Bake for about 15 minutes, then flip the nuts, retossing them in the maple syrup mixture. Bake for another 10-15 minutes until the sugar bubbles and starts to crisp up on the nuts. Remove from oven and let cool on a wire rack for about 2 minutes, then use a spatula to break up the nuts to separate them before the sugar sets completely. Don't worry if it still looks a little wet or syrupy, as the pan cools, the sugar will harden.
Store in an airtight container and snack away!
Notes
*You can use regular sugar if you'd like, but I wanted the flavour that unrefined/raw cane sugar has.
**Nuts can burn really easily and get a bitter, not so delicious taste, so I recommend using a good quality baking sheet that's fairly thick for even heat distribution. I also recommend lining it with a silicone liner like a Silpat for easy clean up and better heat diffusion.