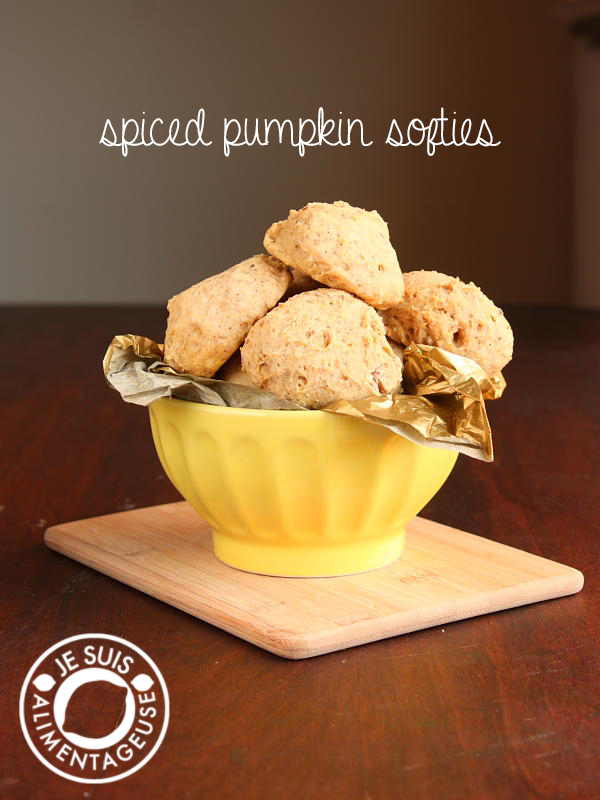 I'm seriously on a huge pumpkin kick right now and I'm totally into it. These spiced pumpkin softies are so soft and warm straight from the oven, they're like little puffy clouds of pumpkin and spice. I ate about 4 while photographing these (and subsequently broke my favourite lens from being careless), and when I brought these over to a friends house, I continued to eat another 3 or 4. They're so addictive and fluffy, just like their non-vegan predecessors.
Because I substituted the sour cream for pumpkin spice, Earth Balance (vegan margarine)Â instead of butter, and used flax meal as egg replacer, these are totally vegan! Every time I tell my friends that whatever I'm feeding them is vegan, they have this look of surprise, usually followed by the phrase, "Really? There so good!" And then some of them backtrack and clarify that they don't assume vegan food isn't good, they just are surprised that it's as good as non-vegan food.
Eating vegan doesn't mean I have to eat cardboard and cold salad =P It can mean fluffy, spiced cookies with lots of fibre and plant-based goodness at the same time =)
Stay tuned for more pumpkiny things. I still have about 1/2 cup of pumpkin purée leftover, and I have two small pumpkins to roast and purée for a pumpkin pie later this week. Whoo fall and pumpkin phases =)
Yield: ~20 cake cookies
Spiced Pumpkin Softies
Recipe adapted from Chris' family favourite recipe of [sour cream softies|http://alimentageuse.com/2012/12/12/sour-cream-softies-fbcookieswap/]
Ingredients
½ cup vegan butter (like Earth Balance), room temperature
1 cup sugar
2 tsp ground flax meal + 6 tbsp warm water, mixed and set aside for 1 minute to thicken
½ tsp vanilla
1 cup pumpkin purée
3 cups all purpose flour
½ tsp baking powder
1 tsp pumpkin spice
Instructions
Cream together the butter and sugar until light and fluffy.
Add flax meal and water mixture (as egg replacer), vanilla, and pumpkin purée and mix until incorporated.
Sift in flour, baking powder, and pumpkin spice and mix until you have a thick and sticky batter.
On a lined baking pan (either Silpat or parchment paper), spoon out heaping scoops of batter (I do about 2-3 tbsp of batter because I love big puffy cake cookies).
Bake for about 15 minutes until the edges are slightly browned.
Remove from pan and let cool on a wire rack. Store in an air tight container with some paper towel to absorb moisture.