This vegan mashed potato recipe is the BEST one I've ever made.
The creamiest, velvety FLUFFIEST vegan mashed potatoes that no one would suspect is vegan!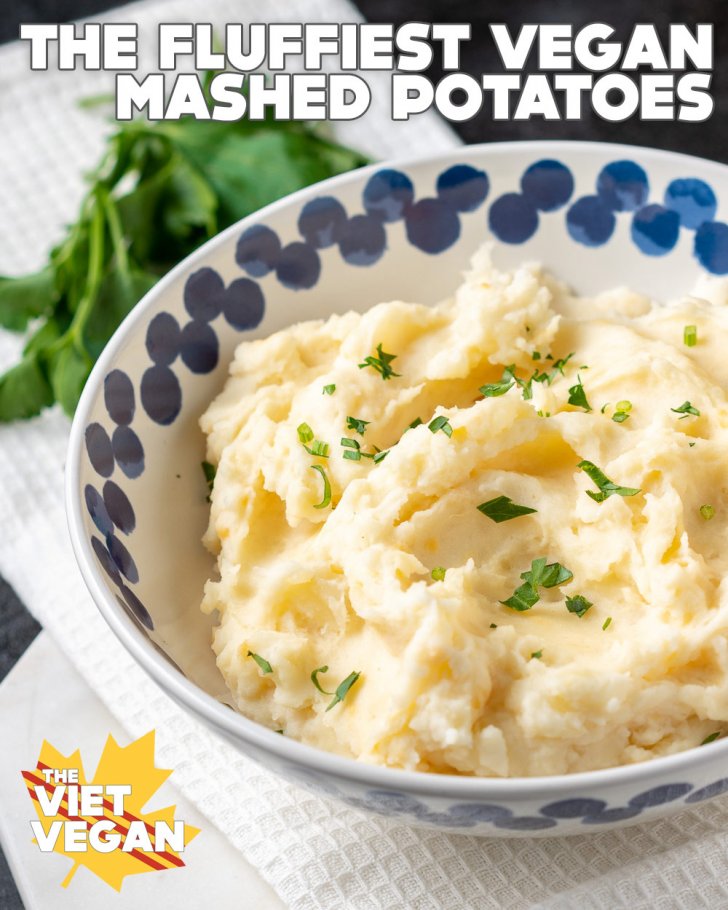 I've been sitting on this super simple vegan mashed potato recipe for a few weeks now because I've been having a hard time finding russet potatoes that don't immediately go bad! It's been so weird to have two bags of russet potatoes go sideways on me as I'm about to make mashed potatoes. I've tried this recipe with russets and yellow potatoes, but the superior mash was made with russets.
Something about their low moisture content and starchiness lends to such a fluffy mash that is so wonderful when you add vegan butter and vegan sour cream to it. I haven't tried adding cashew sour cream (I'm allergic) or homemade tofu sour cream, but I imagine because of their fat content and general texture, they'd yield similar results. I like to keep it fairly simple in terms of flavouring–simply a bit of garlic powder and onion powder is all you need. Feel free to riff off this and add roasted garlic, caramelized onions, or even black garlic to this to up the ante, but to me, these are the quintessential perfect mashed potatoes that are perfect for any holiday dinner.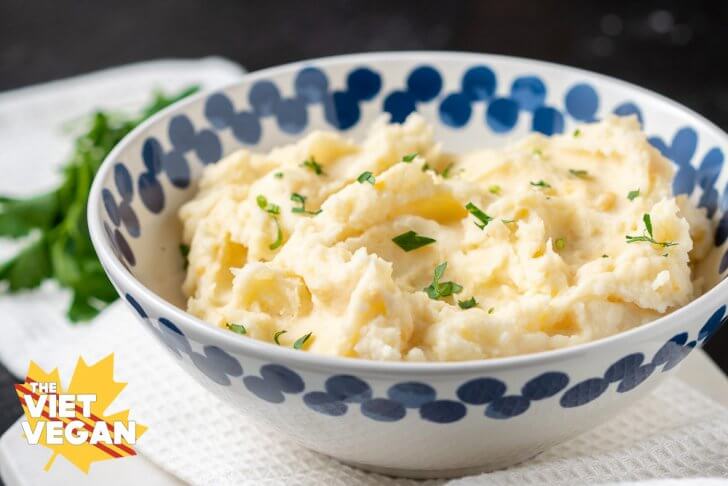 Christmas is always a weird time of year for me, and my family never really does much other than hang out for a day or two, but we're not really gift-givers nor do we partake much in American/Canadian holiday dinner fare. My mom and brother are going on a trip for Christmas, Eddie's family doesn't do much for Christmas (actually they don't really do anything), and the past two years have been full of grief and emotional turmoil that family gatherings are a bit of an awkward hurdle. To anyone else who may be struggling this holiday season with family, death, or general holiday stress, I hope you find some time to enjoy some good food and unwind.
I still have a few recipes I want to crank out before the end of the year so stay tuned for more deliciousness, but in the meantime, please enjoy this very erratic video I recorded when I was feeling very weird and
Yield: 8-10 servings
The Fluffiest Vegan Mashed Potatoes
Ingredients
5 lbs (2.25 kg) russet potatoes (about 6 large ones)
1/2 tsp salt for water
1/2 cup (125 mL) vegan butter
1 tub (340 g) of vegan sour cream (I used Tofutti)
1/2 cup (125 mL) vegan cheddar shreds (I used daiya)
1/2 tsp garlic powder
1/2 tsp onion powder
1/2 tsp salt (or to taste)
Instructions
Peel your potatoes, roughly chop into 1-2 inch pieces, and put them in a pot with cold water. Cook for about 25 minutes on high until fully cooked and fork tender.
Drain well and let sit in the strainer for about 2 minutes to let excess moisture steam out.
Transfer back to the pot (element turned off), and mash well (or use a potato ricer!) until all chunks are broken up. Be careful not to over-mash.
Add vegan butter, vegan sour cream, vegan cheddar, garlic powder, onion powder, and mix until well incorporated. Add salt to taste, stir well, and serve!
You can prep this a day or two in advance, put in a baking dish and bake for about 15 minutes at 350F to heat through before serving! Makes for easy holiday meal prep.