This vegan mashed potato recipe is the BEST one I've ever made.
The creamiest, velvety FLUFFIEST vegan mashed potatoes that no one would suspect is vegan!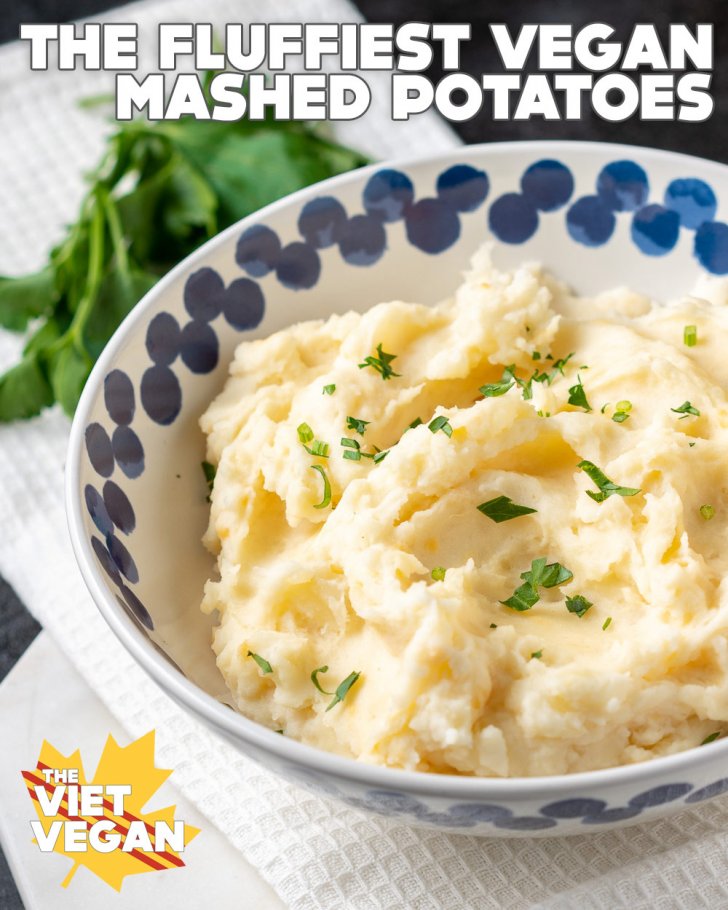 I'm the kind of person that drowns mashed potatoes in boatloads of gravy. Despite my affinity for gravy, it's always best when you have ultra fluffy and rich, vegan mashed potatoes.
What Potatoes are Best For Mashed Potatoes?
I've tried this recipe with russets and yellow potatoes, but I preferred the fluffiness when I made them with russet potatoes. Something about their low moisture content and starchiness lends to such a fluffy mash. With vegan butter and vegan sour cream, these are the fluffiest vegan mashed potatoes.
I haven't tried adding cashew sour cream (I'm allergic) or homemade tofu sour cream. But I imagine because of their fat content and general texture, they'd yield similar results.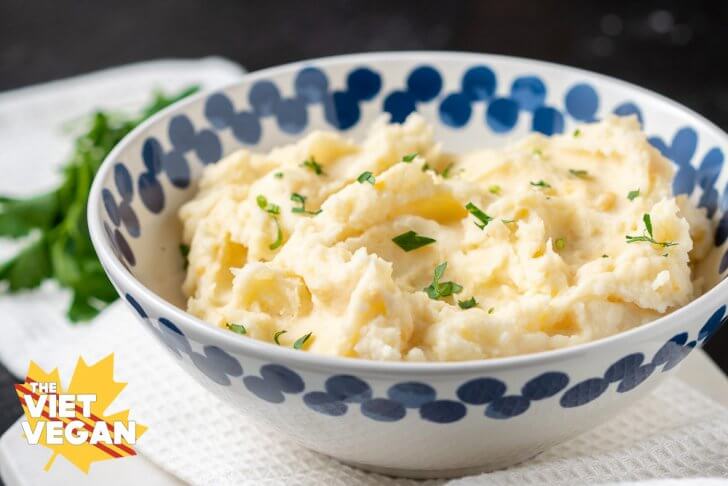 Yellow potatoes have a higher moisture content than russets. While they still make fluffy mashed potatoes, they don't fluff up quite as nicely as russets. However, since they have a higher moisture content, the require less sour cream and butter to yield that same amount of richness. Either yellow, yukon gold, or russet potatoes make for delicious mashed potatoes, but my favourite is russet!
I would not recommend red or white potatoes for mashed potatoes because of their waxier texture and lower starch content. Since they hold their shape better than yellow or russets, they require a bit more elbow grease to break down the texture.
How to Level Up your Vegan Mashed Potatoes
I like to keep it fairly simple in terms of flavouring–simply a bit of garlic powder and onion powder is all I use. To me, these are the quintessential perfect mashed potatoes. They're perfect for any holiday dinner. However, you can add more if you want to up the ante!
Ways to level up your vegan mashed potatoes:
roasted garlic
caramelized onions
black garlic
truffle oil
fresh chives
herb-infused vegan butters (like sage, thyme, parsley)
caramelized mushrooms
How to Make Ahead and Reheat Mashed Potatoes
The addition of vegan sour cream means you can't just reheat this over the stove. These are great as leftovers in the microwave though! I have reheated them many times that way.
To make this ahead for a family dinner, reheat mashed potatoes in a covered casserole baking dish. Bake in the oven until the edges are golden and the mash is heated through. I've done it at lower heats (350F and at higher heats like 450F). Simply adjust for time and keep an eye on them so they don't burn!
Yield: 8-10 servings
The Fluffiest Vegan Mashed Potatoes
Ingredients
5 lbs (2.25 kg) russet potatoes (about 6 large ones)
1/2 tsp salt for water
1/2 cup (125 mL) vegan butter
1 tub (340 g) of vegan sour cream (I used Tofutti)
1/2 cup (125 mL) vegan cheddar shreds (I used daiya)
1/2 tsp garlic powder
1/2 tsp onion powder
1/2 tsp salt (or to taste)
Instructions
Peel your potatoes, roughly chop into 1-2 inch pieces, and put them in a pot with cold water. Cook for about 25 minutes on high until fully cooked and fork tender.
Drain well and let sit in the strainer for about 2 minutes to let excess moisture steam out.
Transfer back to the pot (element turned off), and mash well (or use a potato ricer!) until all chunks are broken up. Be careful not to over-mash.
Add vegan butter, vegan sour cream, vegan cheddar, garlic powder, onion powder, and mix until well incorporated. Add salt to taste, stir well, and serve!
You can prep this a day or two in advance, put in a baking dish and bake for about 15 minutes at 350F to heat through before serving! Makes for easy holiday meal prep.
Notes
If you'd like to make these ahead and reheat later, I typically transfer to a ceramic casserole dish and bake covered for about 25 minutes at 400-450F (I put it in at the same time as cooking some Gardein stuffed turk'y, which is why it was that high). Bake until edges are golden, and you'll have the same, delicious fluffy mash (with a bit of delicious crust)