As a newly transitioned vegan, I've realized that I've never made tofu scramble before, which in the vegan world, is basically the first thing that baby vegans make. That's like never having made grilled cheese or Kraft Dinner before. Both are fundamental foods that people assign to home cooking and comfort food. Apparently I'm really on a comfort food bender right now (first chips, then sloppy joes, now scrambled "eggs"?).
The best thing about comfort foods is that because people have such varied tastes, there are so many ways to customize comfort foods for the ultimate comfort. You like your scramble a little spicy? Add some sriracha or pepper. You like it with some salsa? That's cool, pile it on. Want some cheesy goodness? Go ahead (unless you're dairy-free, then I suggest Daiya or some other vegan cheese alternative).
I was never really a huge fan of scrambled eggs, I was more an an over-easy kinda gal myself. But since I've been transitioning to vegan since October, the lack of eggs has gotten to me a little. I didn't think I'd miss eggs until I went out to Doug's Public Kitchen with some people from the Toronto Vegetarian Association. I was reminded of what it's like to go out for breakfast and just get a breakfast special with a side of potatoes. The simple life.
Nowadays I bring my own popcorn to the movies, my own lunch and snacks anywhere I go. I rarely go out to a restaurant without calling ahead or checking to see if I can eat anything. It's been a challenge, but one I willingly accept.
In other news, if you've been visiting JSA this week, you might have noticed some changes on the site. I've changed my About Me page to something a little more me. I've changed up the site layout and played with the ad placements because my site looked awkward before. And most importantly, I've summed myself up in three words: vegan, feminist, and nerd.
These three words are obviously very charged words that have so many stereotypes both negative and positive attached to them, and I'm willing to welcome any discourse people have in regards to those words.
Those words describe me, and I hope to educate people on what it means to be vegan, feminist, and nerd.
Over the next couple weeks I'll go into more detail, but in the meantime, make yourself some tofu scramble for breakfast. It's soft, surprisingly eggy texture can be seasoned to your tastes. You can stuff it in a burrito, top it on some toast, or have it straight up even with some ketchup and tempeh bacon.
Yield: 6 "eggs" worth of scramble.
Tofu Scramble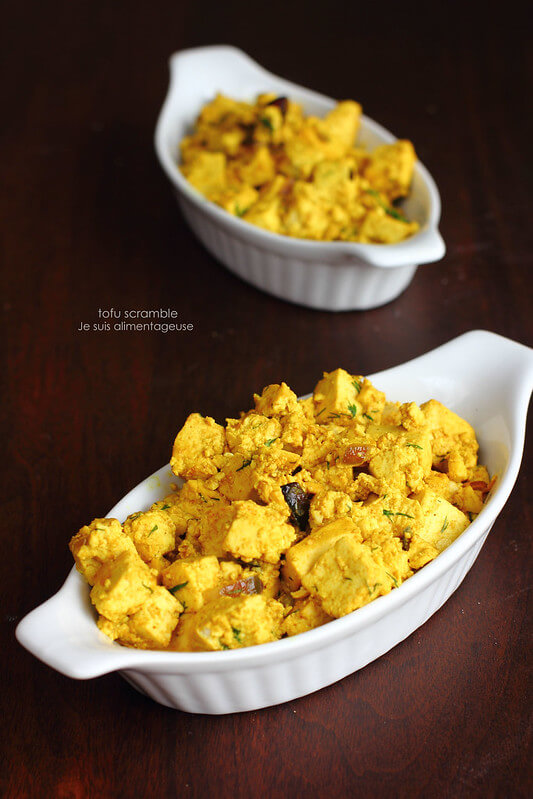 Ingredients
2 tbsp coconut oil (or other oil)
1/3 cup chopped red onion
1 block firm tofu, pressed, drained and cubed
2 tsp ground tumeric
3 tbsp nutritional yeast
1 tbsp tamari (or soy sauce, but use tamari if you want it to be GF)
1/4 tsp black salt (kala namak)
3 tbsp water
2 sprigs dill, stems removed, sprigs chopped (optional)
Sriracha to taste
Instructions
To prep:
Press tofu and wrap the block in paper towel or dish towels and press between two flat surfaces with heavy objects on top for about 30 minutes. Once pressed, remove the dish/paper towels, and cut into cubes.
In a small bowl, whisk together tumeric, nutritional yeast, water, and soy sauce until combined.
To cook:
In a large skillet over medium heat, sauté onions in coconut oil until translucent and lightly browned. Add cubed tofu and pour tamari/tumeric mixture over. Use a wooden spoon to mix, gently scrambling the tofu to crumble them yet keep bigger chunks (or if you like it extra scramble-y, do as you will). Stir and cook until the tofu is coated and yellowed and starts to brown a bit.
Add in the dill in the final few minutes of cooking, stirring to incorporate. Serve fresh in a wrap as a breakfast burrito, on a sandwich, or along side tempeh bacon, hash-browns, and some toast for a traditional breakfast platter. It tastes extra good with sriracha ;)