This vegan adobo has been a hit with so many friends and family
I'm so glad to finally share this classic Filipino dish with you!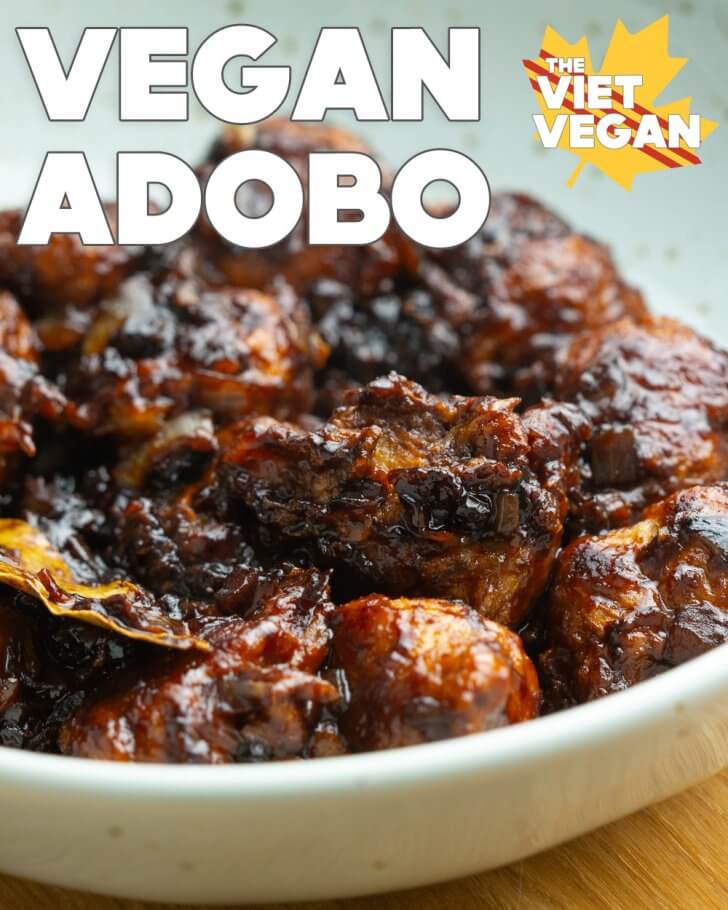 This has been a fairly long requested recipe for the Vegan Filipino recipe series Janelle and I have been doing on YouTube. I hadn't ever had adobo before so sometimes with recipes that I've never tried, I'm really hesitant to try and veganize them because I don't know what they are supposed to taste like.
The vegan adobo video we recorded was my first time making this together, but I've been a little obsessed with trying to get the recipe right so I've tested the recipe several times with different methods to get the right flavour. I've made this recipe on the stovetop, in the Instant pot, with vegan drumsticks and with the same roasted soy bites I used for sinigang. So here are the results:
Vegan Adobo take 1: Vegan Drumsticks on the Stovetop
This version I didn't realize how confident you have to be with simmering on the stove. During our first try (in the video), once the pot was at a boil, I lowered to a pretty gentle simmer and cooked covered, but it wasn't cooking quickly enough to render out the vinegar while caramelizing the onions before the vinegar really penetrated the vegan drumsticks.
The flavour as a result was REALLY vinegary and really salty. The drumsticks really soaked up that flavour, probably because the stick allowed for the marinade to really sink in before the vinegar could cook out.
Janelle showed me how she eats adobo, which is with a very ripe banana with white rice. The banana balances out the bold flavour of adobo and lends a creamy sweetness in combination with the rice. I tried this and while I reacted pretty violently to the first few bites, I started to warm up to the idea, although I still prefer adobo with more neutral vegetables that lend a break from that bold flavour like cucumber or tomato (I guess both technically fruits!).
In any case, Janelle and her family eats adobo like this, and a lot of you have mentioned to me in the comments of my grocery haul that it's not just Filipino culture that eats bananas with savoury dishes, which is so cool! Not my cup of tea, but I'm glad Janelle has found more banana loving friends haha.
Vegan Adobo Take 2: Drumsticks, stovetop, and a more aggressive simmer
I tried it again, same drumsticks and on the stovetop but this time cooking it at a steady enough medium-low heat that it wouldn't totally penetrate the drumsticks. The flavour was a lot better but I still found it a bit too vinegary. I do feel good about the ratio of vinegar to soy sauce, because if you go heavier on the soy sauce, it's very very salty.
The vinegar mellows out the saltiness but during the caramelization of the onions, something magical happens in the sauce that results in a bold, tangy and savoury marinade that is really unctuous and delicious. I found that drumsticks do tend to absorb a little too much of the vinegar inside the meat, so I decided to change the medium.

Vegan Adobo Take 3: Roasted Soy Bites on the Stovetop
I wanted to give it a try with the same roasted soy bites I used by King's Vegetarian for the sinigang, so I bought a couple packs of that next to try that out. This was absolutely delicious. This cooked up really quickly too, the sauce really sticks to the soy bites and the bites get really nicely cooked and juicy without being too soft and soggy.
This is by far my favourite batch and made me understand why people love adobo so much. I've been told that this looks legit like adobo and that people wouldn't have known this wasn't meat!

Vegan Adobo Take 4: Roasted Soy Bites in the Instant Pot
So this version I made mostly because I didn't have enough room in my pan for a double back (I could have used my coated wok but I didn't have a lid for it). So I tried it in the instant pot for curiosity's sake. I initially made it on the Saute (Normal) function, but it got far too hot and kind of burned some parts at the bottom. I didn't realize there was a Saute (Less) function (thank you Nisha Vora and your very helpful Instant Pot cookbook [affiliate link]) so knowing that there is a less aggressive Saute function means I will definitely be cooking it again the the Instant pot when I need to make a double batch for potlucks or parties!
The difference between the Instant Pot version and the Stovetop versions are pretty clear in this video below: the stovetop one you can kind of set it and walk away for about 30 minutes, whereas the Instant Pot one on Saute (Normal), I had to stir every five minutes to make sure it wasn't burning to the bottom.
While I haven't tried the recipe AGAIN on the stovetop with the Saute (Less) function, I would stir after the first 5 minutes to just get everything coated in the sauce because the sauce doesn't coat everything completely in that style of pot, and then cook covered with the lid at Venting, so that the vinegar can cook out. The gravy is a lot thicker and the roasted soy bites are really soft and tender and fairy one dimensional in texture but that's totally ok and delicious too. I served this to a bunch of food bloggers (hence extreme foodies) and they were SO positive about the dish and said it tasted amazing and they wouldn't have guessed it was vegan at all.
Whoo hoo!
The YouTube video has my full process of trying this dish out for the first time and having Janelle's guidance through the cooking process. You can kind of see my process of figuring out the recipe and our first impressions of it. Also it's been really fun to learn more about Janelle's culture and her side of the Filipino family and how similar it is to my Vietnamese experience, so you get to see some of that as well :)
So yes, I know I haven't really been writing too much about my life or feelings, but mostly because this recipe is a bit more technical so I really wanted to explain the process of testing this recipe and the different methods of cooking it since if I just put that all in the body of the recipe card itself, it might be too intimidating. But this vegan adobo is honestly so simple and tasty, it just requires a bit of confidence in the kitchen and a good sense of smell to recognize when the vinegar has cooked out. You can taste the sauce and taste the bites towards the end of the cooking process to check if it's ready, but as Janelle mentioned, you will just be able to smell when that vinegar is cooked out.
A big thank you to Janelle and her mom for helping me out with developing this recipe, I've been having so much fun exploring Filipino cuisine!
Yield: 3-4 servings
Vegan Adobo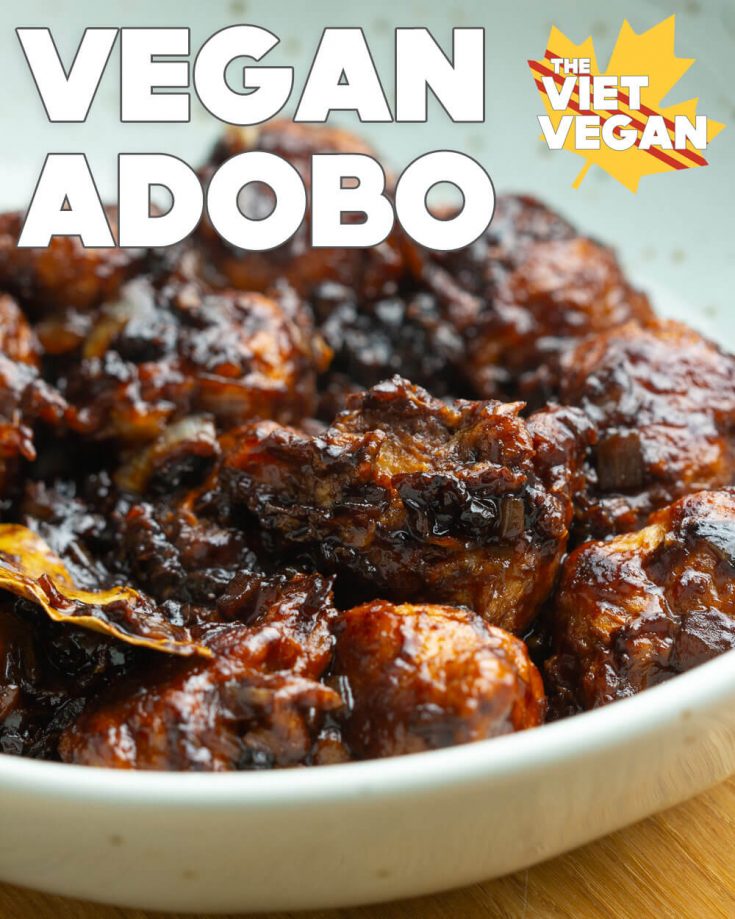 This vegan adobo has been a hit with so many friends and family I'm so glad to finally share this classic Filipino dish with you!
Ingredients
21 oz (600 g) vegan protein of your choice (I used King's Vegetarian Roasted Soy Bites and also tried with their Soy Drumsticks but I preferred using the soy bites)
1 bulb of garlic, crushed or minced
1/2 cup (125 mL) low sodium soy sauce (use tamari to keep the sauce GF, just use a vegan protein that is gluten-free like soy curls or tofu)
1 cup (250 mL) white vinegar
1 large cooking onion, diced
1 tsp (5 mL) whole peppercorns*
6 bay leaves
Instructions
Stovetop Adobo
In a wok or a wide and shallow pan (with a lid), combine the roasted soy bites, onion, soy sauce, vinegar and peppercorns. Stir well to coat everything in the mixture, then add bay leaves and nestle them in the marinade.
Cover and cook on medium heat, once it's at a bubble, lower to medium low: you want it to be at a steady but not too aggressive bubble. Continue cooking for about 20 minutes until it no longer smells strongly like vinegar. You shouldn't need to stir, but if you're worried, you can open and give it a stir to make sure there's nothing sticking to the bottom.
Cook until the onions have caramelized and it no longer smells pungently like vinegar. Depending on your heat and the hydration of whatever vegan protein you use, you may need to continue cooking for 10-15 additional minutes. The resulting flavour will be savoury and slightly tangy, but it shouldn't be overwhelmingly vinegary.
Remove from heat, try to remove the bay leaves, and serve with steamed white rice (and a ripe banana as per Janelle!)
Instant Pot Adobo
In the Instant pot on the Saute setting (Less) for 30 minutes, combine the roasted soy bites, onion, soy sauce, vinegar and peppercorns. Stir well to coat everything in the mixture, then add bay leaves and nestle them in the marinade.
Close the lid then set on Venting, and let cook for 20 minutes. Try to give it a stir after the first 5 minutes. If you find it sticking, continue to stir every 5 minutes or so, replacing the lid on Venting after each stir. Much like the stovetop version, the dish will be done cooking once the sauce no longer smells pungently like vinegar and the onions have caramelized. Since this is in the Instant Pot, it will be a bit of a thicker sauce than the stovetop version, but it's a different kind of delicious!
Remove from heat, try to remove the bay leaves, and serve with steamed white rice (and a ripe banana as per Janelle!)
Notes
*If you like peppercorns, leave them whole, I find that it makes the sauce aromatic without being spicy, but if you prefer, you can use 1/4 tsp ground instead to get the pepper aromatic without the "land mines" of peppercorn when you eat it.
The Viet Vegan is a participant in the Amazon Services LLC Associates Program, an affiliate advertising program designed to provide a means for me to earn fees by linking to Amazon.com and affiliated sites.