This vegan Sinigang is a Filipino dish that is very comforting! It's full of tangy tamarind flavour
and root vegetables like daikon radish, eddo, and onion.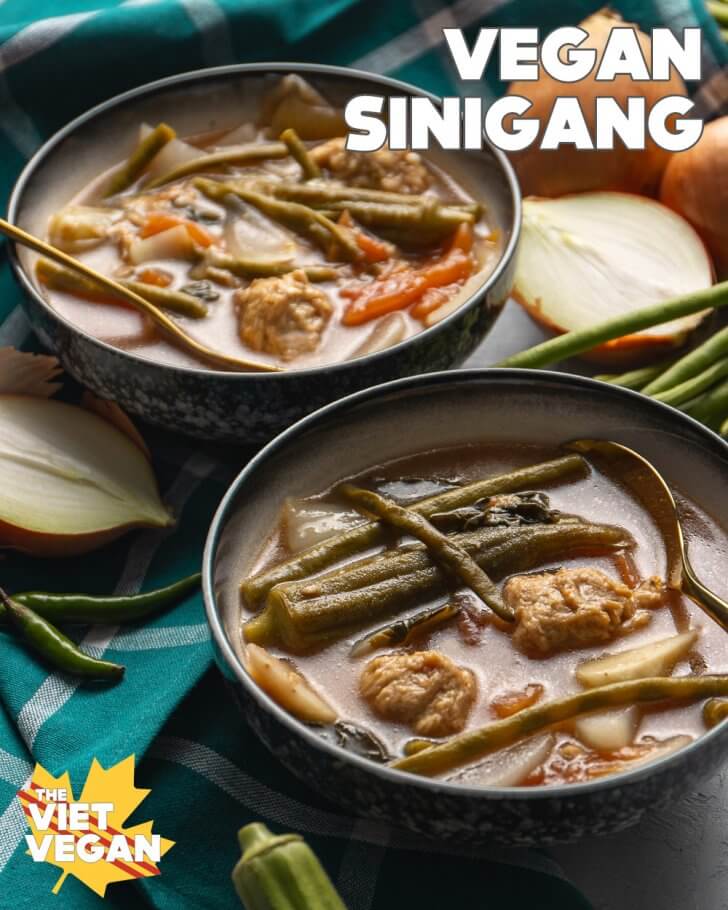 I'm back with some more Filipino recipes inspired by Janelle! In case you're new, Janelle is one of my best friends who is half-Filipina, and grew up with a lot of Filipino dishes that are traditionally full of meat. She's been curious about more vegetarian and vegan foods so we've been working together to veganize some classic Filipino dishes like Inihaw Na Manok and Sopas. (Adobo coming soon!) Sinigang is a tamarind based soup that has lots of savoury tangy flavour and is full of vegetables and greens. Typically served with rice and traditionally made with pork, this version is made with roasted soy bites to achieve a similar fall-apart pork-like texture in this soup!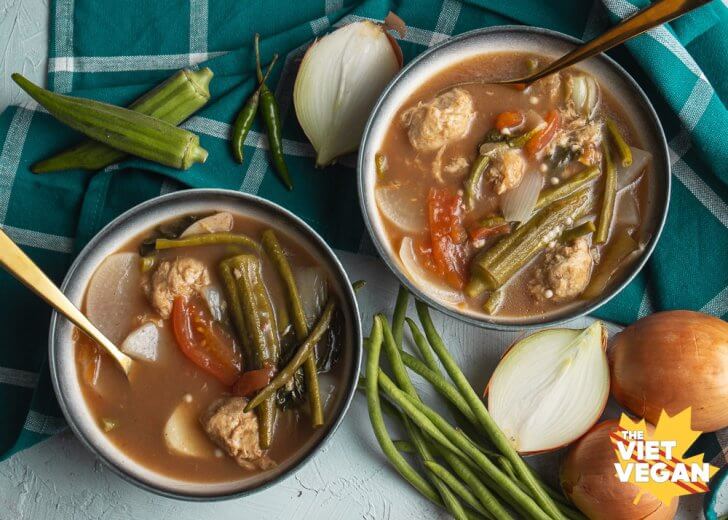 It's been really interesting to share some of these homestyle comforting dishes with each other because I'm noticing that Vietnamese and Filipino cuisine have a lot of similar dishes. The Vietnamese equivalent to sinigang is called canh chua, which literally translates to sour soup. Made with the same tamarind base, a lot of the general flavour profile is quite similar, although I find that the Vietnamese version leans more on the fishy side than the pork side. Traditionally, the Vietnamese version is either made with fish or fish head, my mom typically either used some sort of flat, roundish fish (I have no idea what kind) that had white flesh that she cooked whole in the soup (cleaned of course), and over time, she started switching to salmon for the alleged health benefits of salmon because of the omega 3s (oh the 2000s).
A few years ago, I made a vegan version of canh chua over on Produce Made Simple using tofu, and you can see that there is a lot more sweetness in that version because of the tomato and pineapple. In Sinigang, the Filipino version I've seen employs a lot more of a savoury sourness rather than a savoury, sweet and sour profile that fish and pineapple lend to canh chua. To balance that savoury sourness of sinigang, I notice that daikon radish, eddo (kind of like a hairy potato, with a taro-like texture), long beans, and okra are used to fill in the body of the soup. Eddo in soup is a new experience for me, but I've had taro in soup before so it's a very familiar and nostalgic texture.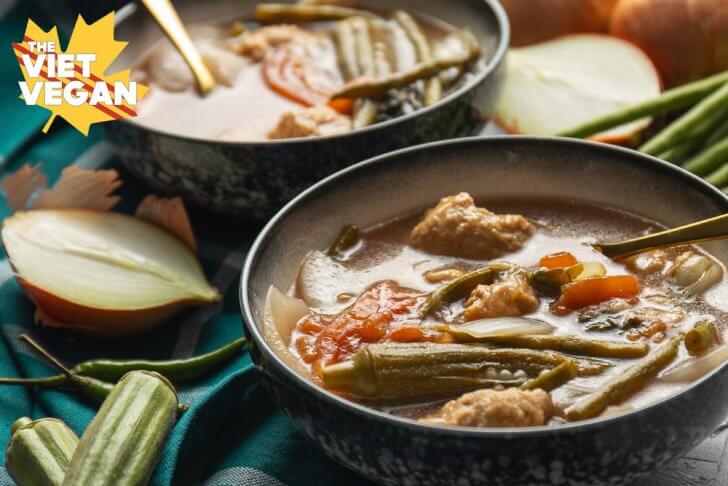 I do love the use of okra in this vegan sinigang, although I would encourage you to be gentle with the okra in the soup. If you're unfamiliar with the texture of okra, it's a little slimy in texture, so if it breaks in your soup, it can thicken your soup and lose a lot of its structure in your soup, leaving little okra seed surprises in the broth. Not terrible, but if you're not used to that okra slick texture, it might not be a pleasant surprise.
It's been a lot of fun exploring Filipino cuisine and noticing the Vietnamese parallels, and both Janelle and I are rediscovering our roots through the food together. We have an adobo recipe coming soon and I can't wait to show you some of the Vietnamese deliciousness that I've been experimenting on in the meantime!
Yield: 4-6 servings
Vegan Sinigang
This vegan Sinigang is a Filipino dish that is very comforting! It's full of tangy tamarind flavour and root vegetables like daikon radish, eddo, and onion.
Ingredients
400g tamarind paste (1 package) + 1 cup water
8 cups (2L) water
1 tbsp (15 mL) mushroom broth powder (or use vegetable broth instead of water)
1 medium cooking onion (150 g), quartered
2 medium tomatoes (200 g), sliced into wedges
5 inches of daikon (180 g), sliced into thin half moons
2 small eddos (100 g), peeled and quartered
1 tbsp vegan fish sauce (you can substitute soy and add a piece of kombu to add some fishiness and funk)
2 cups (300 g) King's Vegetarian Roasted Soy Bites (or your favourite faux pork seitan)
12 pieces okra (215 g) (do not trim)
2.5 cups long beans (230 g), cut into 2-3 inch long pieces
4 cups (285 g) baby bok choy (about 5-6 bulbs, separated)
2 green chillies (siling haba)
Steamed rice to serve
Instructions
In a medium sized bowl, combine 1 cup of water with the tamarind paste. Mash well to hydrate the tamarind pulp and try to squeeze as much pulp out as possible. Strain the mixture and squeeze the seeds well. Reserve the strained mixture for the soup, discard the seedy pulp.
In a large pot, combine tamarind paste, water (or vegetable broth if you're not using mushroom broth powder), mushroom broth powder, onion, tomatoes, daikon, and eddo. Bring to a boil, then lower to a steady simmer and cover, cooking for 20 minutes or until the eddo is nearly tender, stirring occasionally.
Then add the roasted soy bites, okra, long beans, and baby bok choy and make sure everything is submerged in the broth. Bring up the heat to a medium, and cook for another 15-20 minutes until the long beans are tender, okra is soft (be careful not to break the okra in the soup or it'll thicken the soup) and the roasted soy bites have absorbed the flavour. Check that the eddos are fork-tender (like you would for a potato). Add the two green chillies into the broth and stir in, cooking for an additional 2-3 minutes to bring out the aromatic fragrance of the chilli. As long as you don't break the chillis, the soup won't be spicy (but feel free to smash them a bit if you want some heat). Add kosher salt if you find you need more seasoning.
Serve over steamed rice, and enjoy!