These vegan asparagus spirals are super simple to put together,
but they look like super fancy appetizers :)
Impress your friends and family with very little effort =P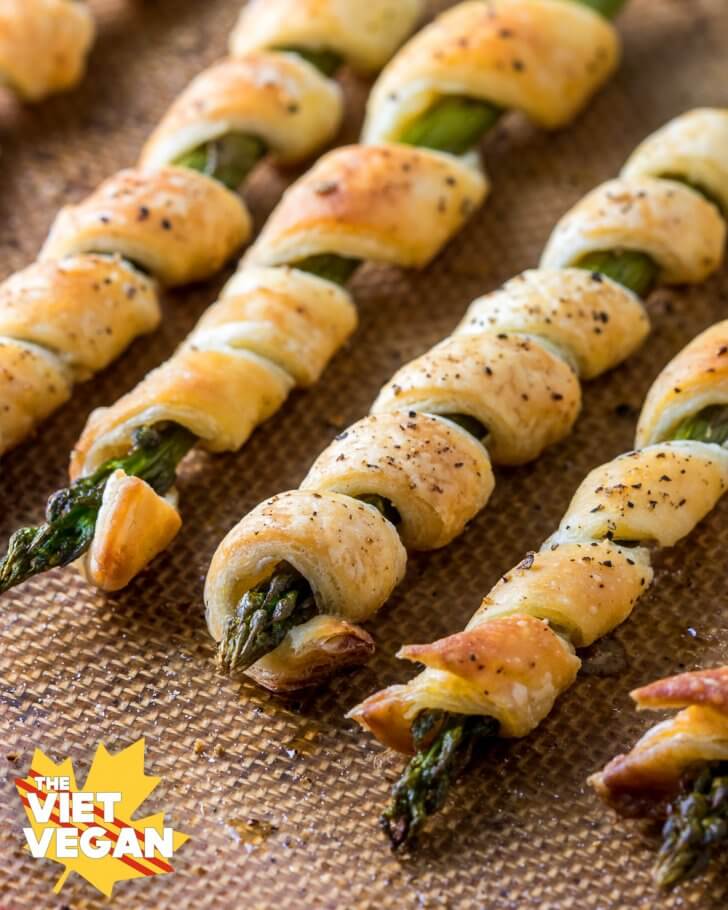 After months of adjusting to some significant life changes, I've finally been making more of an effort to maintain friendships again now that I'm less occupied by packing/unpacking and overall adjusting. There have been some friendships that I have neglected and some that just sort of faded away, which I suppose is just a part of adult life. I find myself having to schedule friendship weeks and months in advance, and the old ways of spontaneous hangouts and flexibility of cancelling and just hanging out another time are not really possible in this way of life anymore.
At first I mourned the end of that life: it's fun just texting your go-to pal and having them over for Mario Kart or Settlers of Catan. It's kind of exciting to drop everything and head out the door for vegan ice cream. But having people over spontaneously meant that I ended up staying up later than I intended, resulting in a less productive and thus a longer work day the next day. Dropping everything for a spur-of-the-moment ice cream trip meant that the project I probably should have done instead ended up being pushed to later, not to mention the indulgence of $7 ice cream + gas that I should have just saved.
Honestly, I had to take a hard look at my priorities and I was prioritizing personal relationships over responsibilities and it was adversely affecting my success in both my work life and my own personal goals. While yes, personal relationships are important, but so is paying the bills and saving money for future goals. I guess this is a pretty cold way of analyzing the neglect of some friendships, but most of them understood and were going through the same thing so I guess it all worked out in the end.
Now I have friendship and life scheduled about a month out and it's been working so far. This is not the profound coming of age story that I used to read, it's not the Hollywood-baked life we see in 4k. This is just life, it's not exciting every single minute, but it's my life and I'm pretty happy with it. Sorry if this makes for some dry-toast blog post, but hey, most of you guys just come for the recipes anyway.
Speaking of recipes: this one is yet another ultra-simple recipe that relies on pre-made flaky vegan puff pastry and the last of this season's tender asparagus. I had a potluck with the Toronto Vegetarian Association's Resource Centre volunteer crew (with whom I volunteer about 2x a month) today, and I was scrambling to figure out what to bring to the potluck because I had totally forgotten to plan ahead of time and figure out what to make.
I had just bought some asparagus from visiting my local market and I knew I could probably make some sort of grain salad from that, but I knew the crew and I knew a couple would have brought salads. Funny enough, there were two giant salads so I'm glad I scrapped that idea. Luckily, I had just bought some more puff pastry for a rainy day (like today) and recalled seeing similar spiral appetizers like these ones before. I figured it was the best thing I could do in the 2 hours I had to prepare before the potluck, and I even had about 30 minutes to spare by the time these were cooling on the rack.
Puff pastry makes anything seem fancier, and a simple soy milk wash with some cracked salt and pepper makes these quick, vegan asparagus spirals seem a lot more elegant than they actually are. They were perfect for the potluck, and I imagine they'd be fantastic at any sort of party you'd be throwing where you need easy finger food to wash down with wine.
Everyone at the potluck seemed to enjoy them and they do make for a pretty nice picture. I didn't think I'd be posting it on the blog, so I didn't grab any process pictures like I normally do, but I'm glad I snapped a couple of the final product before they disappeared today at lunch.
Yield: 10-12 servings
Vegan Asparagus Spirals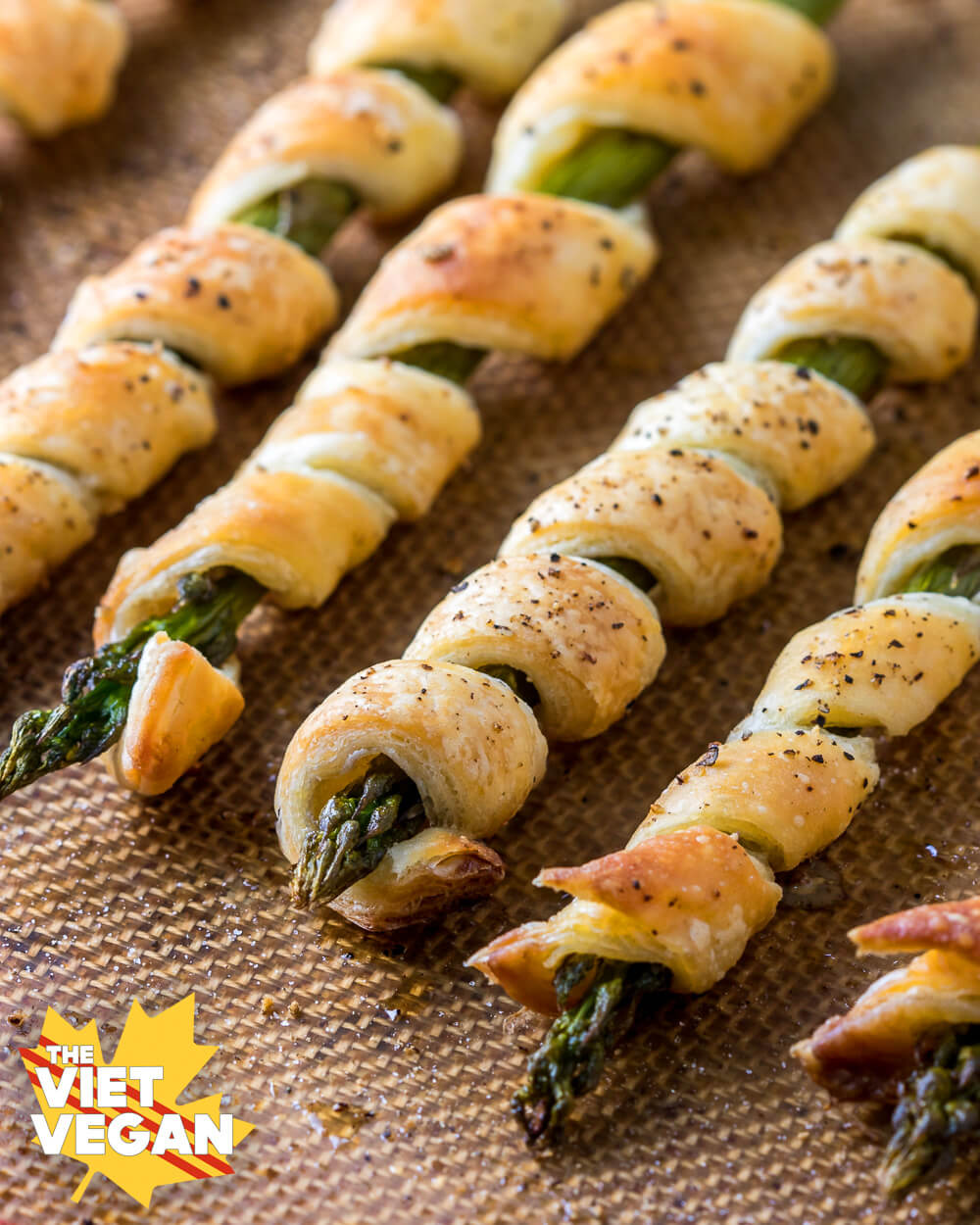 Ingredients
1 package of vegan puff pastry
1 bunch of asparagus (about 20-30 spears depending on the thickness*)
3 tbsp soy milk
salt and pepper to taste
Instructions
Preheat oven to 350F.
Wash and dry your asparagus spears well before wrapping in puff pastry. The pastry won't stick to the spears if they're wet.
Snap off the woody ends and set aside.
Thaw your puff pastry overnight (I think there's an option to thaw it within an hour on the counter but double check your package).
Roll the pastry to about 1/4 inch thickness and cut into 1/2 inch strips. Depending on how long your asparagus, you may need a 10-14 inch long strip. Worse case scenario just trim any excess.
Wrap each asparagus spear with the puff pastry strip, leaving kind of a "peekaboo" between each spiral, otherwise your asparagus will kind of just steam inside the pastry while baking. Set on a lined baking sheet at least an inch apart. Repeat with remaining spears, you'll end up with about 2 trays of these.
Use a pastry brush to lightly coat the pastry in soy milk, and sprinkle salt and pepper on top for extra flavour (and decoration).
Bake for about 20 minutes, either rotating the pan halfway or turning the spears over half way. I was lazy any only rotated the pan. Remove from oven once the edges are nice and golden. Let cool slightly on a wire rack and then serve while still hot!
Notes
Thicker asparagus spears work better for this recipe, but I used medium ones and they worked just fine.