These vegan chicken salad onigiri make for a delicious portable snack that is great for hiking, packed lunches, or just to have a fun interactive meal!
Well 2020 has certainly come in like a lion to turn us all into lambs. It's a weird time right now and COVID-19 has forced all of us to stay inside, social distance and be very vigilant about handwashing to ensure everyone's safety. I've been seeing so many of my extroverted friends (one of them being Janelle) struggling to work from home and be isolated because the lack of human interaction is physically training. Since I've been working from home for the past 7 years or so, it's be a long transition for me to get used to and I've gotten used to the quiet and I rely on Eddie for the occasional human interaction so I stay sane.
Janelle and I filmed this recipe for onigiri (for fuel on our hike day) back on March 8, just before the pandemic was announced, and we didn't realize this would be one of the last times we saw each other for the foreseeable future.
I've been making onigiri for hiking snacks for a while and I find that they are a great portable pick-me-up that is carb heavy and perfect for refueling mid hike. I love being able to put different things in the middle (sometimes miso like in this recipe), spicy avocado mixture (mayo, cayenne powder, panko crumbs and avocado!) or whatever your favourite sushi fillings are. I prefer using protein especially if I'm doing some sort of physical activity, and soy curls are one of my favourites for quick and easy raid-your-pantry type things. (Which seems very timely right now, but honestly that's kind of how I cook in general)
The first few days of everything happening, I was also preoccupied with some other life stuff (related to my dad's passing) so things were kind of an emotional whirlwind and I was not having the best time. Before the self-isolation stuff really ramped up, we had a last hurrah with a few friends, avoiding most contact and handwashing very diligently of course, and it was just the sort of friendship I needed to recharge before proper social distancing.
Eddie and I hope to go on some walks and hikes soon, but for now, I think Eddie is really enjoying the inside time and the incentive to not go outside. I'm pretty sure staying inside and playing video games is Eddie's favourite thing to do XD.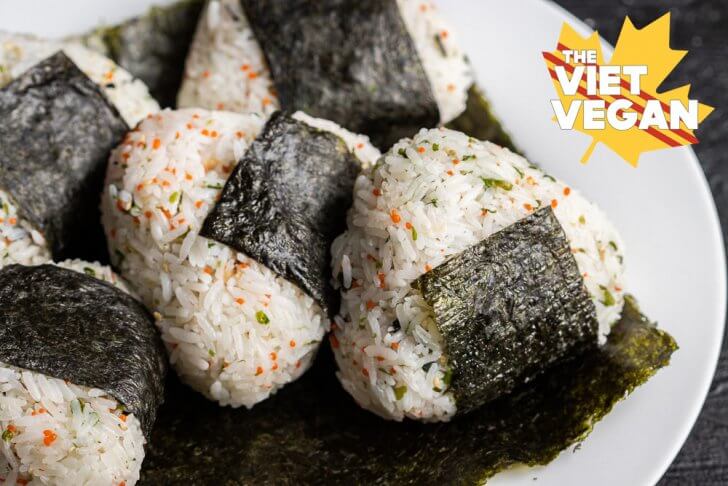 We've been watching shows, YouTube, playing a lot of video games, and I spent WAY too much time yesterday playing Animal Crossing. I've been streaming again on Twitch if you want to catch me there playing different games! I hope you are all staying safe and are able to make it through this self-isolation, whether you are working or not. Sending all my love to all the extroverts out there who cannot handle being on their own, I highly encourage you to join some online communities or hang out with friends via video-chat! Janelle and I have been using a LOT of Duo, and I use Discord all the time for my little TVV Nerds community or my league friends. Feel free to join us!
Wishing everyone the best health and hope you are finding time to explore fun projects you didn't otherwise have the time or motivation to do before :D
If you wanna watch Janelle's video of our hike, please do! She's just starting her channel and I'm so excited for her to create some videos! My onigiri video as usual is below, enjoy!
Yield: 4-6 onigiri (depending on how much rice you use)
Vegan Chicken Salad Onigiri
Ingredients
For the filling
50 g (1.75 oz) soy curls (1/4 of a bag)
2 cups boiling water
2 tbsp vegan mayo (I used Hellman's but you can also make your own)
2 tsp soy sauce (use tamari to keep it GF)
1/2 tsp sriracha (or your favourite hot sauce)
1 tbsp nori, cut into slivers (from the roasted nori sheets)
1 green onion, finely diced
For the Rice
2 cups rice, cooked (I used jasmine, but short or medium grain would be better)
2 tsp seaweed pearls (mine are from IKEA)
3 tbsp vegan furikake (a seasoning mix of nori, sesame seeds, spices, and salt)
Water to wet hands
Kosher salt to sprinkle on hands
Instructions
Cut each roasted nori square into five 6x2 inch strips. Cut one strip horizontally, then 4 from the large piece vertically. Trim the horizontal one about 2 inches, then cut that small square into slivers to add to the filling. Set the strips aside.
For the filling:
Rehydrate the soy curls in a large mixing bowl with boiling water. Let soak for about 10 minutes, then drain. Once cool enough to handle, squeeze out excess moisture, then chop into 1/2 inch (1 cm) long pieces.
Add the vegan mayo and mix to coat the mixture. Add the soy sauce, sriracha, and nori slivers and mix until combined. Taste for seasoning, it should taste salty enough to carry the flavour through the rice.
For the rice:
Steam rice according to your rice cooker's instructions. Allow to cool slightly until you can still handle it.
Add seaweed pearls and furikake, then mix well to incorporate into the rice.
Assembly:
Take about 1/3 of a cup of the mixture and loosely shape into round disc in your hand. Use your finger to create a 1 inch divot in the centre.
Add about 2 tbsp of filling, then seal the top with about 2 tbsp of the rice mixture. Cup your hands (see video for details) and shape your rice into rounded triangles, sealing the filling in but not so firmly that you break the rice. Pack it too tightly, and the onigiri will be too dense. Too loose and it will fall apart, so find a happy medium where it's secure but not a brick of rice haha.
Finish with a strip of nori along the bottom, folding up both strips along both faces of the triangle.