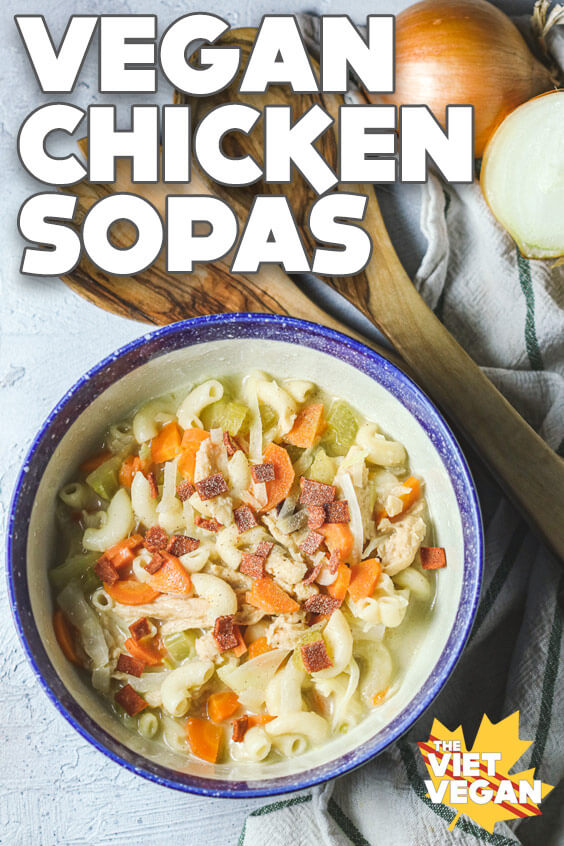 Today's recipe is another veganized Filipino recipe inspired by Janelle: Chicken Sopas! This is something Janelle grew up eating as comfort food, and surprisingly enough, there is a Vietnamese equivalent dish as well! Vietnamese macaroni soup is often made with pork or chicken, but it's just another method of extracting a lot of flavour from bones and leftovers. Obviously as a vegan, that's not something I really need to do, but there's no denying that macaroni soup is very much a nostalgic and comforting soup! The Filipino version uses rotisserie chicken, chicken broth, bacon and evaporated milk to create the base of the soup, and I veganized it with a few simple ingredients!
First, I used soy curls, which are pressed and dehydrated whole soy beans, then layered to create this unique texture that is reminiscent of chicken. Since I don't have any bones to create the base of the soup, I used mushroom broth powder, but you could also use dried mushrooms and vegetable broth to get that same depth of flavour. I used vegan bacon, but since it didn't really provide much in terms of flavouring the fat of the soup, this is totally optional, but it was really good as a topper anyway, so I left it in the instructions. If you want to infuse the soup with some of that bacon-y smokey flavour, I suggest cooking the veggie bacon with the vegan butter to infuse the butter, then remove the crisped bacon afterwards, and continue using the butter like in the recipe video.
Since veggie bacon tends to be fairly absorbent though, you might find yourself needing to use extra butter since it might get soaked up as the veggie bacon crisps.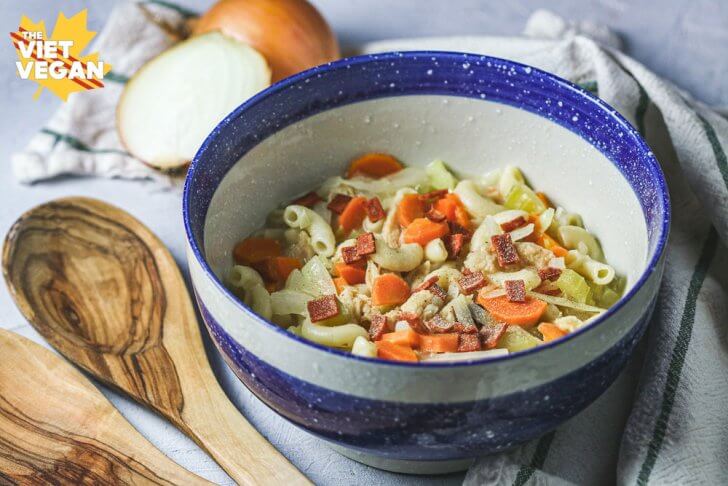 Lastly, we found vegan coconut evaporated milk to add into the soup. I hadn't dried cooking with regular coconut milk versus the evaporated coconut milk, so you could probably use the two interchangeably, but evaporated milk tends to be a bit smoother, while coconut milk can be a bit chunkier, depending on the quality of the brand. If you can find evaporated coconut milk, definitely give it a try, otherwise using a good quality coconut milk (like the ones for dessert or the ones that don't have any thickeners or gums) would work just fine!
I hope you try this vegan chicken sopas and get a taste for Janelle's comfort food for yourself :)
Recipe adapted from Panlasang Pinoy
Yield: 4-6 servings
Vegan Chicken Sopas (Filipino Macaroni Soup)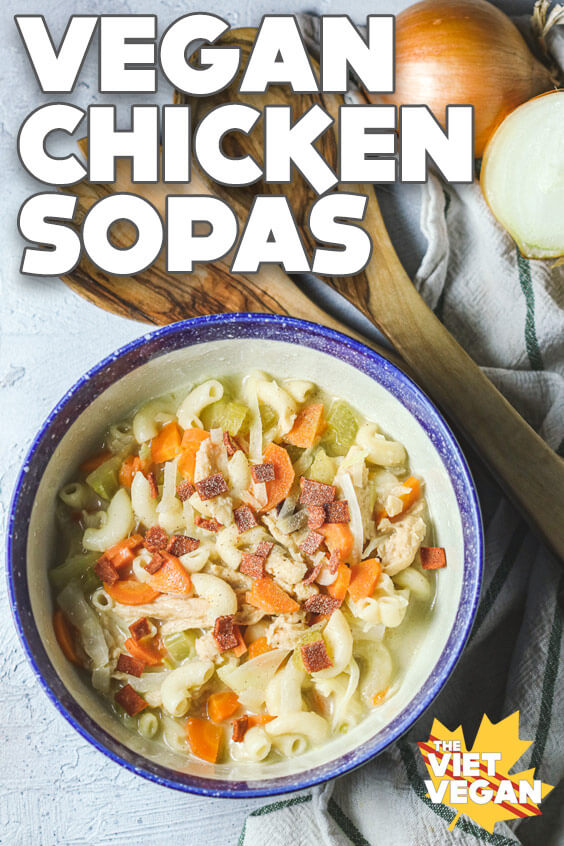 Ingredients
227 g (one bag/3 cups) soy curls
4-5 slices vegan bacon, chopped into bits
2 tbsp vegan butter (or oil)
1 medium onion, diced
3 small/medium carrots, peeled and diced
3 ribs celery, diced
1/2 small cabbage, finely shredded (about 2 cups cabbage)
8 cups vegetable stock (I used water + 1/4 cup mushroom broth seasoning)
227 g (0.5 lb) macaroni noodles (approximately 2 cup)
1 can (360 mL/12.2 fl oz) coconut evaporated milk (you can also just use coconut milk, but it wouldn't be as creamy)
Salt & pepper to taste
Instructions
In a large mixing bowl, rehydrate the soy curls by covering with hot water (I generally use boiling water) and season with mushroom broth seasoning. Mix carefully to get all the curls soaked in some liquid and let stand for 10 minutes.
Once the soy curls have sufficiently rehydrated, drain and squeeze out as much liquid as you can. Pull apart and shred into small bite-size pieces. Set aside.
In the large soup pot, cook vegan bacon until crisp. You can either cook dry, but also infuse vegan butter by cooking with the vegan bacon. Once crisp, remove the bacon from the pot and set aside to top the soup later. Add more vegan butter if the vegan bacon has absorbed it all.
To start the soup, melt vegan butter and and cook the diced onion, celery, and carrot and cook for about 5 minutes until onions have slightly softened.
Add cabbage and continue to stir occasionally until the cabbage begins to wilt down a bit. Add the vegetable stock and cook until carrots and celery have nearly softened
Add macaroni noodles and cook until tender, about 5 minutes.
Once veggies are cooked through, add the coconut evaporated milk and stir to heat through. Taste for seasoning, add salt & pepper to taste.