Welcome to Day #6 of Appetizer Week, a multi-blogger event co-hosted by Kim of Cravings of a Lunatic and Kristen from Frugal Antics of a Harried Homemaker. Whether you are a Broncos fan or a Seahawks fan , we wanted to make sure you had plenty of ideas for your game day spread. Each day we will be dishing up a different set of appetizers. We hope you enjoy this fabulous group of recipes. Tune in each day starting with Monday, January 20 and ending on Saturday, January 25. Today is our final day of #AppetizerWeek. We hope you have enjoyed it as much as we have! Should we make it an annual event? I think so!
It's been a crazy week on the set of Alouette. Getting between 4 and 6 hours of sleep per night, then cooking and cleaning the kitchen during the remaining hours a day, for 16 people, is both ultimately satisfying and exhausting. I'm writing this at 3 in the morning and my brain is swimming with the clink of dishes in the sink and the various shouts of film lingo like "QUIET ON SET!" and "Sound, frame, action!"
In one sentence, this vegan spinach dip: creamy, satisfying and spinachy, a hit among both vegans and omnivores alike (my proof was the empty container of dip at the party).
I hope you get a chance to enter to win this amazing giveaway because there are so many cookbooks on there that I could really use in my kitchen!
Visit all the other Appetizer Week participants for more dishes for the Big Game:
Yield: 2 cups spinach dip
Vegan Creamy Spinach Dip #AppetizerWeek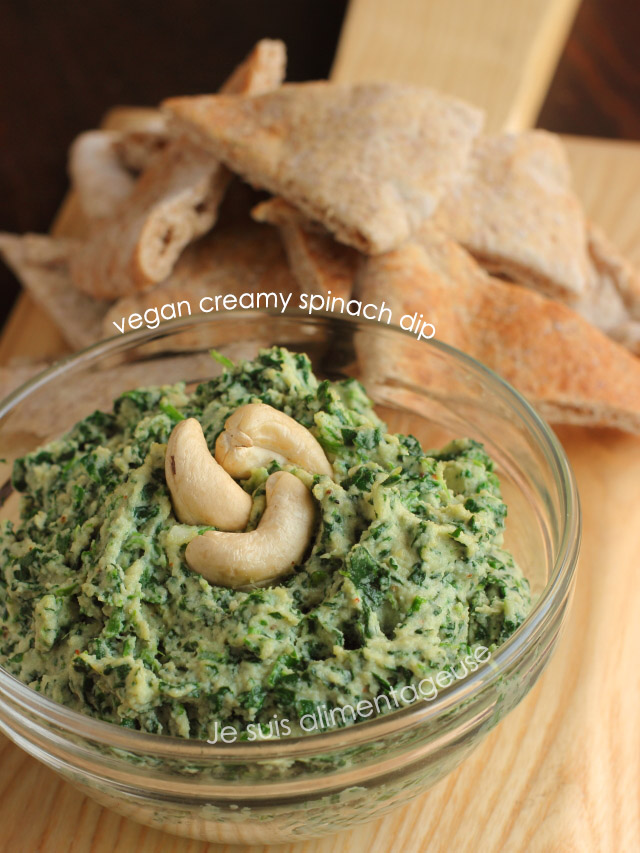 High in protein, this spinach dip is a great savoury appetizer that will please both omnivores and herbivores alike =) Creamy, satisfying, and full of flavour!
Prep Time
4 hours
10 minutes
Total Time
4 hours
11 minutes
Ingredients
1 cup cashews, raw
1 bunch spinach (yields about 1 cup after cooked and squeezed)
2 cloves garlic
1 tbsp nutritional yeast
1 tsp toasted sesame oil
1 tsp onion powder
1 tsp garlic powder
1/2 tsp salt
1/4 tsp black pepper
1 pinch cayenne pepper
To serve: pita chips, pita wedges, corn chips, baked tortilla, etc. =)
Instructions
First, soak the cashews for 4 hours or overnight in the fridge (8 hours). Rinse, drain, and puree in blender or food processor. Add in garlic, nutritional yeast, sesame oil, onion powder, garlic powder, salt, black pepper, and cayenne and process until well combined.
Meanwhile, wash the spinach, and blanch quickly in boiling water until it turns a beautiful bright green (I probably only did 30 seconds). Remove and submerge in ice bath to stop cooking process.
Squeeze out excess water until you basically have a handful of squeezed spinach.
Roughly chop once and throw into the food processor, pulsing until the spinach is combined with the cashew mixture.
Remove and serve immediately.
Notes
It might be tasty if you bake it for a bit with some vegan cheese mixed in and/or on top, but I haven't tried it personally. Let me know if you try that.
a Rafflecopter giveaway

***Disclaimer: This giveaway is being provided by sponsors. #AppetizerWeek bloggers have not received product or been compensated as a part of this giveaway.***