Croissant waffles are SO EASY to make for an delicious and decadent dessert that takes 10 minutes to make and even less time than that to enjoy!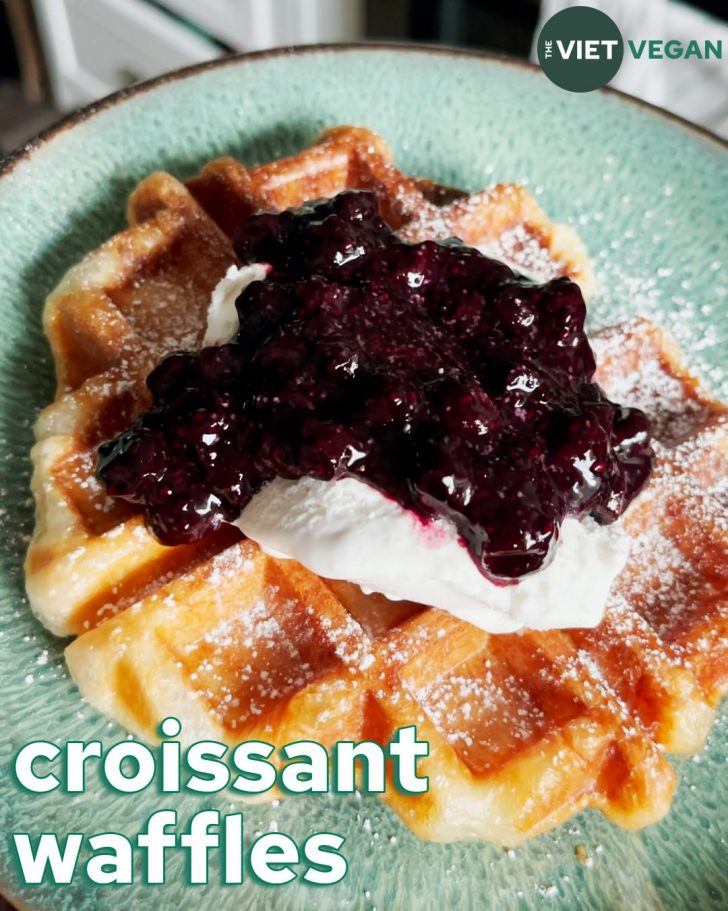 I've been watching Korean housewife vlogs lately because somehow, they make cooking and cleaning so peaceful and not overwhelming like it can be in real life. But they've been inspiring me to eat more Korean dishes and a couple of the YouTubers I watch have a heck of a sweet tooth and eat some DECADENT desserts!
I kept thinking about making these croissant waffles so the next chance I had some Whole Foods vegan croissants and some coconut whip, I put them in the waffle iron and WOW.
Crispy. Flaky. Tender and chewy.
Waffles are just a perfect vessel for coconut whip (or vanilla ice cream), and then when you top it with a sweet, blueberry jam… Yum! You can use whatever jam you have in the fridge, but I have an excess of freezer-burnt blueberries that I decided to turn into this easy blueberry chia jam.
I didn't think pressing croissant dough between a waffle iron would be a good idea, but it just works! The buttery laminated pastry crisps up in the inner squares and the spaces between are fluffy and flaky. The waffle iron means the whole pastry is beautifully golden, it's just a great time.
Make these vegan croissant waffles.
It's like a funnel cake dessert but without the hassle of deep frying!
Yield: Serves 4
Vegan Croissant Waffles
Ingredients
For the blueberry chia jam
2 cups frozen blueberries
3 tbsp (packed) brown sugar
3 tbsp chia seeds
1/4 cup orange juice (or juice of one lemon)
For the croissant waffles
4 vegan croissants (unbaked), either premade from Whole Foods, Pillsbury, or rolled up puff pastry!
Vegan coconut whip (I used So Delicious)
Optional: powdered sugar
Instructions
For the Blueberry Chia Jam
In a pot over medium heat, combine frozen blueberries, brown sugar, and orange juice and bring to a boil. Lower to a simmer once the blueberries have heated through and stir until all the blueberries have broken, this shouldn't be more than 10 minutes total on the stove. It'll look very liquidy, which is great for the chia seeds!
Add the chia seeds and stir them in. Turn off the heat and transfer to a clean jar to cool.
You can eat immediately, but the best texture for the jam is once it's cooled in the fridge and has thickened with the chia seeds jelling. Allow to chill and set up for a couple hours.
For the croissant waffles
Preheat your waffle iron (I don't have a temp setting, mine just goes "on" but if yours does, do at least 350F/180C),
Add your thawed vegan croissant pastry and close the lid. Allow to cook through until golden (about 2-3 minutes).
Once golden, remove the croissant waffle and top with coconut whip and blueberry chia jam. Enjoy hot and crispy!
Notes
If not eating the croissant waffles immediately, store in a paper box or just in your toaster oven/oven (turned off). Pastry needs to breathe! Enjoy ASAP with a quick little toast to heat through and revive that flaky goodness. Top with your desired toppings, and enjoy!