This vegan french onion dip has been a long time coming. LIKE A LONG TIME. A reader messaged me about a French onion dip back in February 2014 and I bought the ingredients to make it, I just never got around to it. I don't really know why I avoided it for so long because before I went vegan, I EFFING LOVED FRENCH ONION DIP. French onion anything is delicious in my books. That jar of Tostitos French Onion Dip that was weirdly shelf-stable without refrigeration was still my choice of dip for dipping my Ruffles chips. I loved the savoury, sweet broth of soup, with a slice of sourdough on top, soaking in the soup with a chewy, cheesy blanket melted on top.
I don't miss cheese that often, but damn, I miss that. Daiya cheese works too, but…it's not the same. Obviously I would still pick Daiya cheese over dairy cheese now, but just because I'm vegan doesn't mean I didn't like the taste of cheese or eggs. I just choose the welfare of animals over my desire to eat it. Mind over matter, folks.
But I'm getting sidetracked.
This dip is my themed post for the premiere of Mad Men and Mad Men Blog Party. And like in the 1960s, French onion dip and ugly food is the way to be. I'm not going to lie to you, this dip is ugly. It's chunky in an off-brown colour, but it is delicious. Like, I mean, eat-it-with-a-spoon good.
There's nothing too fancy about this vegan French onion dip really, the main thing is to make irresistibly fantastic caramelized onions, and a lot of them. I started off with two sweet onions. I've caramelized onions in the past and thought, "Well…that didn't give me very much." And knowing this dip consists mostly of onion flavour (I mean, soft tofu is not the most flavourful of bases), I knew I would need a LOT of onion. So two massive, baseball-sized sweet onions was the way to go.
And don't be discouraged if you don't think your onions will ever caramelize. There are three stages to sweet, supple caramelized onions. The first step is to braise them with the lid on and get the onions to release all their juices. They'll be swimming in their juices and you'll stir half-heartedly and wonder if you did something wrong. You didn't. Trust me. The first 30-45 minutes of cooking in their own juices is necessary for when you lift the lid and let the sugars convert into browned, caramelized goodness. Stir every now and then to get an even mass of browned onions, but your huge pot of raw onions will shrink down to a measly cup of concentrated goodness. Be patient with the caramelizing—take them off the heat too soon and you'll be disappointed with a bland dip, but wait until they're browned and wonderful and you'll have this fantastic dip.

As far as spices and flavourings go, I recommend using punchy yet complex store-bought or homemade vegan worcestershire sauce, but at Chris's apartment, all I had to flavour was soy sauce and balsamic vinegar. Traditionally, it's made worcestershire sauce, and a little goes a long way, but soy sauce and balsamic vinegar add acid, saltiness, colour and flavour that's delicious too.
My presentation of this dip really doesn't do it justice. Chris literally just has this set of bowls and plates, so I don't have my usual props at home to make this fairly ugly recipe look as delicious as it tastes. But trust me when I say it's creamy, flavourful, and perfect for dipping with kettle chips (even the broken nubby ones that I have left because Chris and I already went to town on these). I mean, brown food is just really hard to photograph. Even chocolate can look like poo, so give this dip the benefit of the doubt.
Will any of you be watching the final season (well second half of the final season) of Mad Men? I adore everything about this show: the writing, the actors, the characters, the costume, the cinematography, even the ads. This entire show is a work of art and wonderfully nuanced and complex. You hate to love Don Draper because frankly he's hopeless, lost, and a bit of an ass, but Jon Hamm adds so much depth to the character that you love him anyway. I mean, as far as protagonists go, Don Draper is a much more sympathetic character than Frank Underwood.
I'm so excited to watch this (as I am excited to watch the rest of Big Brother Canada) but I'm sad that The Walking Dead, Girls, and so many other of my favourite shows have wrapped up for the season. In any case, I'll fill my empty heart with this dip while I live-tweet Big Brother Canada. (#TeamNaeha anyone?)
Enter to join the Mad Men giveaway below for some awesome 60s inspired prizes, thanks to Bakeaholic Mama and a group of other awesome bloggers. We've got some Pyrex action (on theme, yup) and an awesome $100 giftcard to ModCloth to get some Mad Men style clothes!
Join us for a #‎MadMenBlogParty‬!
Cocktails
Appetizers
Desserts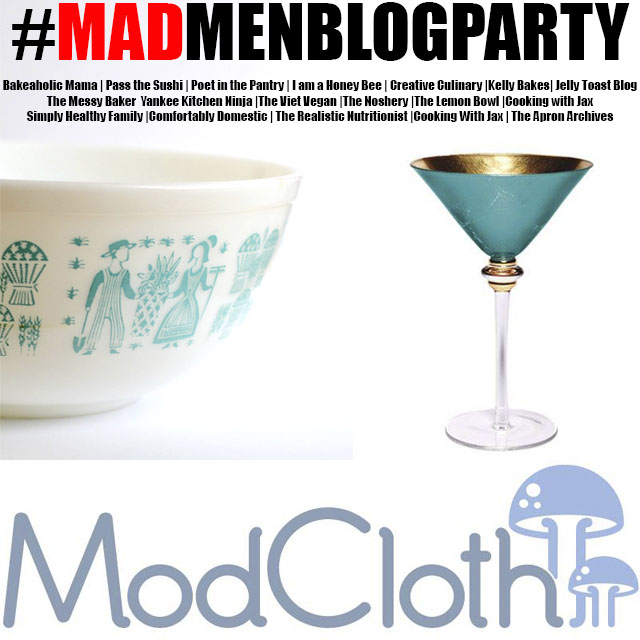 Yield: 2
Vegan French Onion Dip
Cook Time
1 hour
30 minutes
Total Time
1 hour
40 minutes
Ingredients
2 large, sweet onions, peeled and chopped
2 heaping tbsp vegan butter or margarine (I used Vegan Becel)
1 300g package of soft tofu, drained and blended
1 tbsp vegan worcestershire sauce (or just soy sauce + balsamic vinegar if you're in a pinch)
1/2 tsp salt
1/4 tsp black pepper
Instructions
Chop onions as evenly as you can to ensure even caramelization. Over medium heat, melt butter and cook onions, covered, on just under medium heat, stirring occasionally for about 30-45 minutes until the onions are very tender and have released a lot of water.
Take off the lid and lower to medium low heat and cook for another 30-45 minutes, stirring occasionally to encourage even caramelization. The water will start to evaporate and then the caramelization process will start. Cook until onions are a deep, caramel brown. Too light and they won't be as sweet and delicious, and too dark will be burnt. Once done, take off the heat and set aside.
In your blender, food processor, or in a pyrex cup with a stick blender (which was my method of choice), blend tofu, worcestershire sauce, salt, and black pepper.
Combine the caramelized onions and tofu mixture and serve with lightly salted plain chips. Adjust salt to taste.