The highly requested vegan french toast:
simple batter that crisps up on the outside without getting soggy on the inside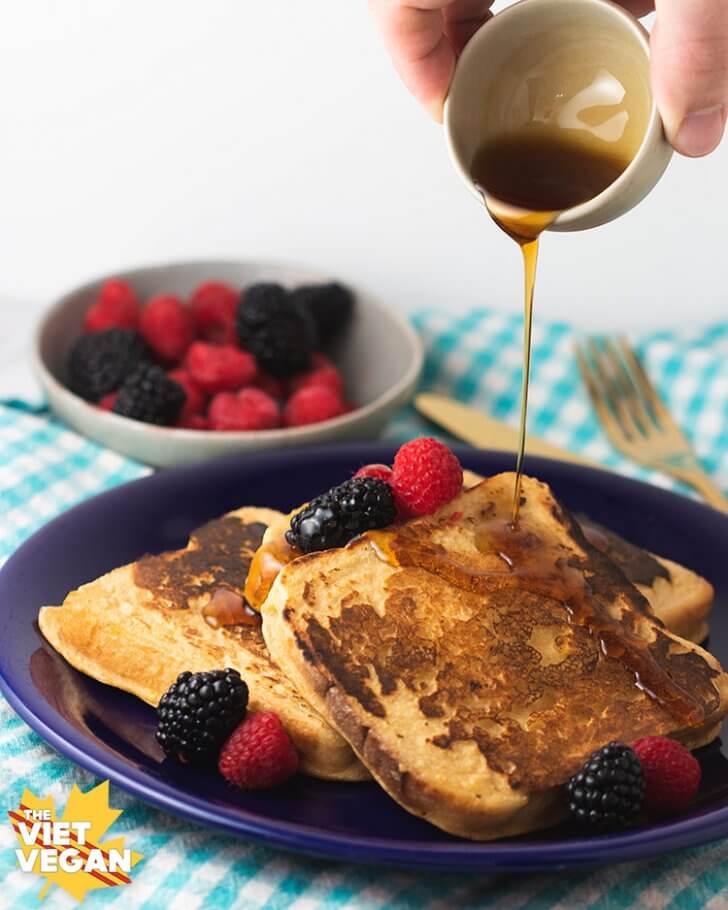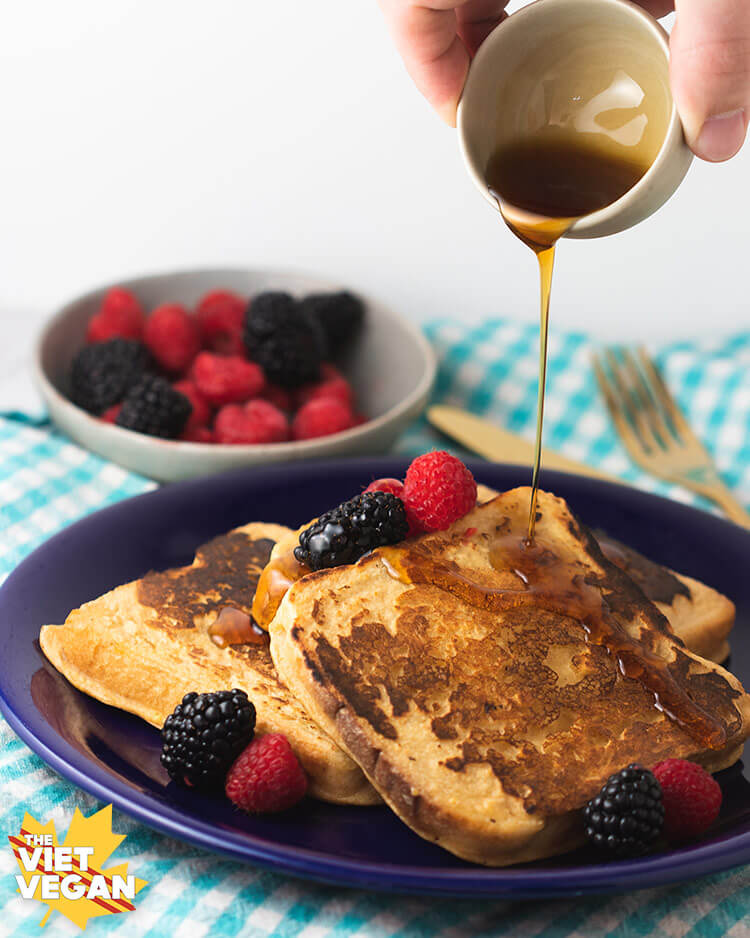 I haven't been doing a lot of cooking lately, it's been a lot of Gardein products and ramen noodles when I'm super stressed and feeling uninspired to eat well. This week has been a lot more of cooking: maybe it's because I'm filming a What I Eat In A Week video, or maybe it's because we're moving soon and I'm feeling the pressure to eat all the foods in the house (and there are a lot of rather healthy whole foods ingredients that I've neglected to eat).
Speaking of moving, we have exciting news! We bought a house! Well actually, it's a condo, but it's townhouse-like in nature. As many of you probably were aware, we had been looking at places since the beginning of January with the deadline of having to move out of our current place by the end of March, so we're super excited to finally have our own place and have space! I'm excited to not be in a basement anymore, and have a kitchen I can film in and a dedicated office space!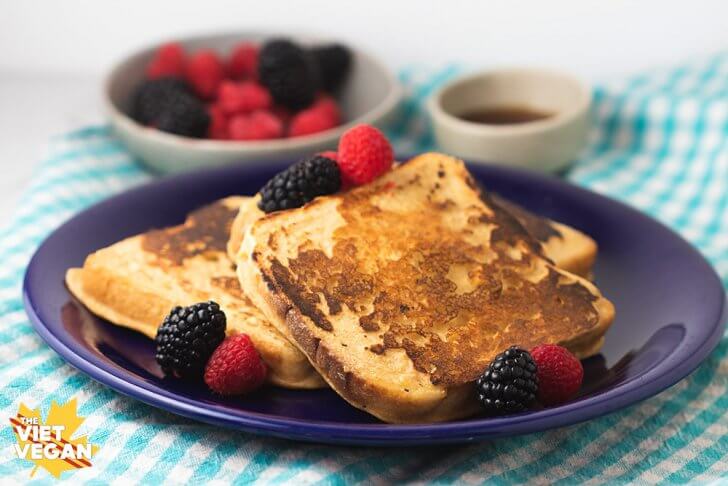 I've been pouring over Pinterest feeds and interior design Instagram accounts and I can't wait to finally be able to put art on the walls without feeling guilty about patching up the drywall later because it's a rental. Also, I'm excited not to have neighbours upstairs who are walking around on creaky floors exactly when I need to film. Every place I've lived in for the past 10 years has felt temporary, but I'm really excited to finally put down roots somewhere and not have to move every couple years. The longest I ever stayed in one place was my Toronto apartment, and that was for 3 years. There were some years I moved twice that year because the rent was too cheap to give up.
For any of those who have been following or knew me from when I went to school in Ottawa, you'll probably know by now that I HATE moving. I despise it. I don't like packing, I don't like unpacking, I don't like being acutely aware of how much stuff I have and having people make comments on it when I move from place to place. Also now that I'm a lot more conscious about my carbon footprint and plastic use, I'm acutely aware of how much plastic, tape, wrapping, and recycling cardboard boxes are involved in moving.
This time around, I think I'm going to spring for a plastic tub rental service for my move. I've learned way too much about how we're killing our planet with trash and how the majority of the recycling we do ends up being thrown out anyway because most people suck at recycling. More updates to come, but mostly I just am really excited that we got our mortgage approved and our offer accepted. We just need to do an inspection and then we're just a few steps away from being official home owners =O
But anyway, VEGAN FRENCH TOAST. It's simple, easy, and fairly accessible. The hardest ingredient to find would be the chickpea flour, but you can find this at most bulk food stores or any store that has an Indian section (it might be called gram flour instead of chickpea flour). Chickpea flour has tons of protein (20 g per 1 cup) and adds a nice crispness to the outside of the french toast while also soaking into the bread with enough soy milk. Vanilla extract and cinnamon give it that classic French toast flavour and maple syrup is the key to bringing everything together.
I don't add any sugar to the batter for this recipe since you already use maple syrup with it, but if that's something you want to do, go for it! It'll help brown the toast even more, but honestly with the chickpea flour, this vegan french toast has no problems getting browned. If you wanted to make this gluten-free, all you'd need is to use your favourite gluten-free bread. The batter itself is gluten-free so you're already most of the way there! And of course, since I'm sensitive to nuts, there are not nuts in this recipe, so huzzah, allergen-friendly vegan french toast.
Yield: 6-8 slices of french toast (depending on the size of your bread)
Vegan French Toast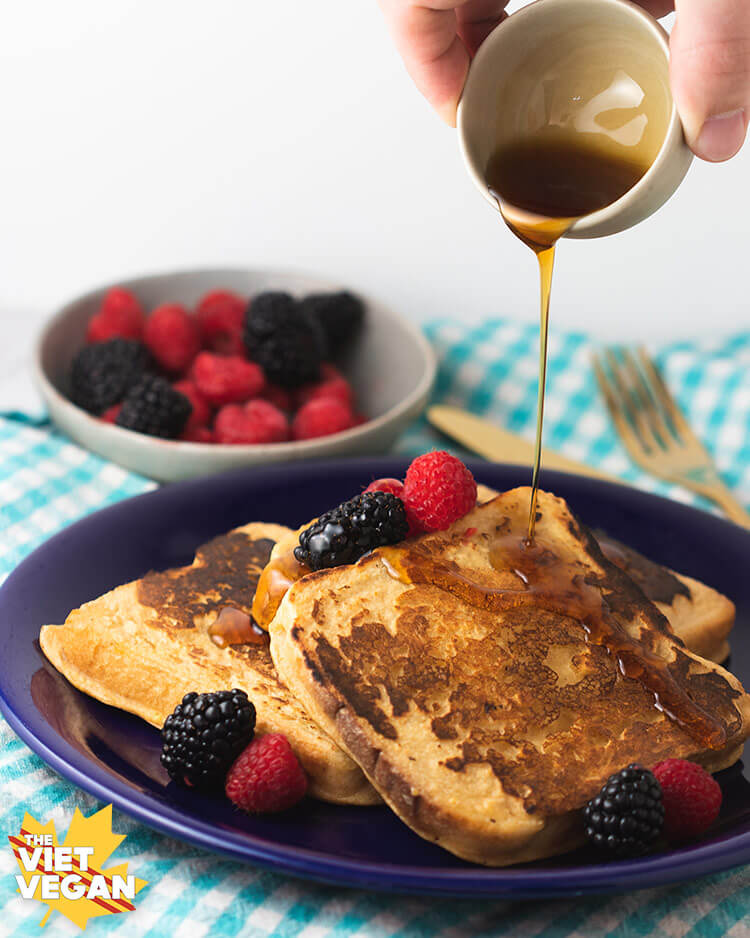 Ingredients
3/4 cup (85 g) chickpea flour
1/2 tsp cinnamon
a pinch of salt
1 cup (250 mL) unsweetened soy milk
1 tsp vanilla
1 tbsp neutral vegetable oil (I used sunflower)
6-8 slices of stale bread
Vegan butter for the pan
Optional for serving:
Blackberries and raspberries for garnish
Vegan whipped cream (like coconut whip)
Maple syrup
Instructions
In a wide, flat-bottomed bowl (or a regular mixing bowl, whatever works), combine chickpea flour, cinnamon, and salt and stir to mix well.
Add soy milk, vanilla, and vegetable oil to the bowl and whisk well, removing as many lumps as possible.
Preheat your griddle to 400F (or a regular pan to medium high heat), and add a pat of vegan butter to the pan to melt.
Dunk the bread into the batter and let the excess drip off (you can either let it soak in or just do a quick flip in the batter). Cook on the preheated pan until browned on both sides (about 3-4 min).
Serve with berries, maple syrup, and if you're really fancy, some vegan whipped cream =O.