These cookies are crisp on the outside thanks to the sugar coating,
And wonderfully spiced and tender on the inside! The perfect cookie.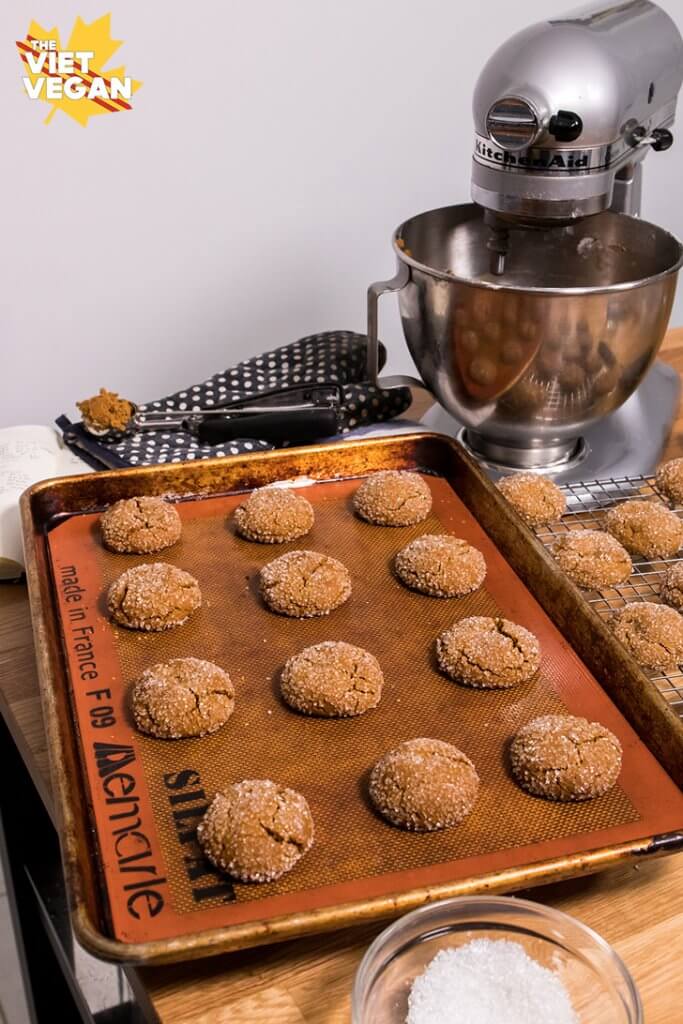 I'm still trying to figure out what my holiday traditions are. Growing up in a household that didn't celebrate Christmas put me in a weird place once I was on my own. Both Eddie's and my immediate family were out of the country for the holidays so we didn't even have many obligate family gatherings to attend. We put up a Christmas tree and donned some tacky Christmas sweaters and that was about as Christmassy as we got with our family.
I DID however host a Friendsmas party (where I made these quiche cups into phyllo triangles, sausage rolls, snickerdoodles, a vegan cheese ball loosely based on this recipe, and a modified version of this spinach dip). Baking cookies for all my friends somehow launched me into this rampage of sweets. Candy, store-bought accidentally-vegan cookies, and vegan bakery cookies didn't cut it anymore. That was pretty fun and exciting and I think that's a Christmas tradition I want to continue, especially since it helps me expose more of my friends to vegan food anyway.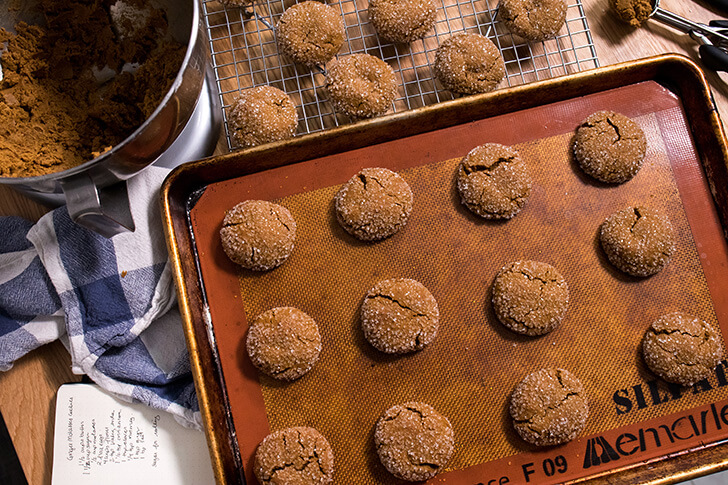 I kept meaning to develop more holiday recipes, but I kept falling behind thanks to some recent eczema developments that pretty heavily impacted how much I could see and sleep. Unfortunately sleep makes a pretty big difference in how productive you can be. Being super sleep deprived does not make for the greatest attention-span or quality of work, I've found. Rocket science, I know.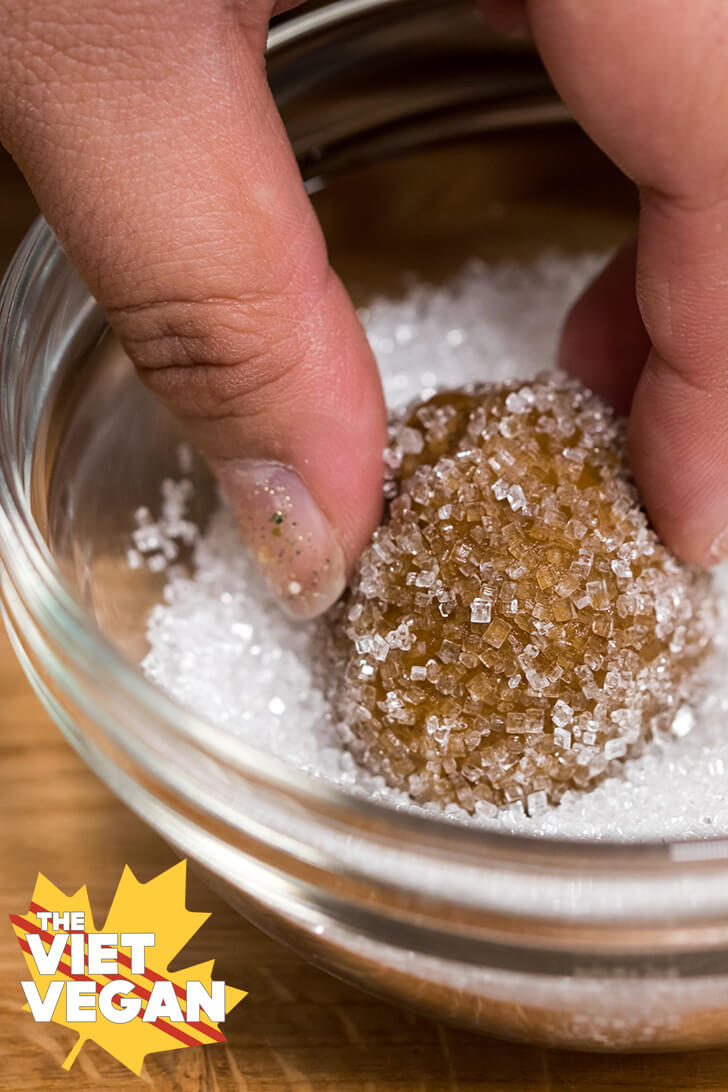 But I've always found cooking and baking somewhat soothing. If not for me, then for other people. Giving back to my friends and family through food has always been satisfying, with the added bonus of shattering some expectations of what vegan food is supposed to be.
Some people have the impression that just because what you're eating over the holidays is fine as long as it's vegan; but this is something I repeatedly need to explain to people: vegan does not equate to being healthy.
Case and point: these cookies.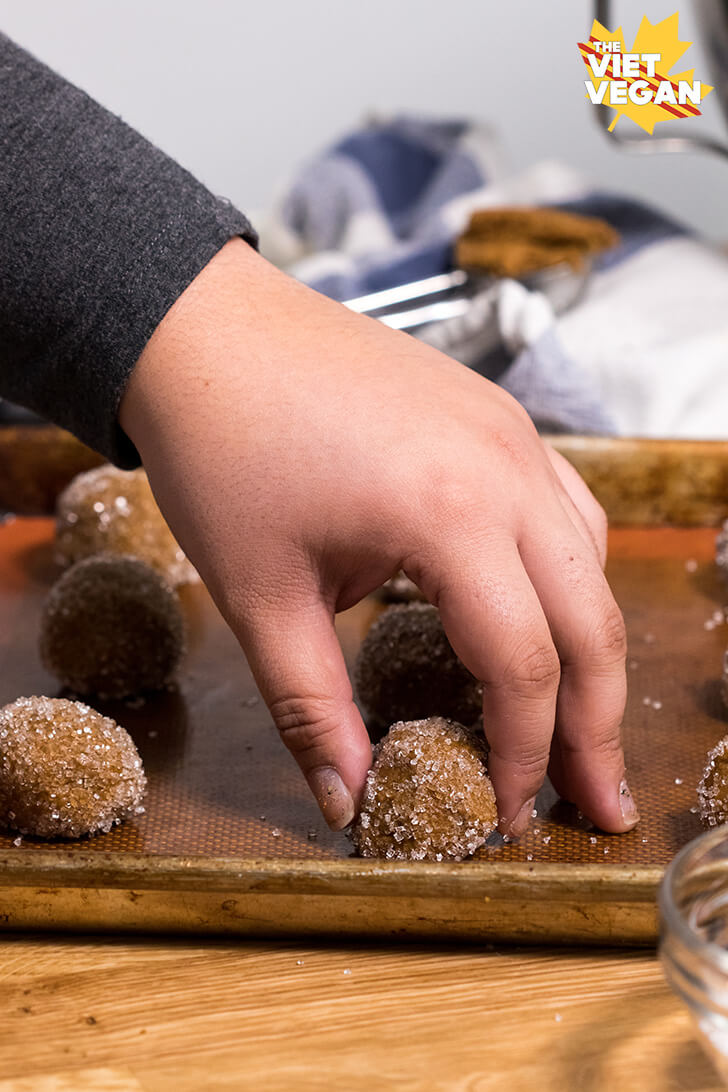 Don't get me wrong, these cookies are epic in their own right. Spiced, tender, wonderfully chewy when you let them sit overnight (if you underbake them, that is). The ginger molasses meld together in the most wonderful way that for some reason is only enjoyed around the holidays, but there's something timeless about a sugar-coated cookie.
I've done sugar coatings with regular white sugar before, but I don't know what it is about those giant crystals of sugar, but things just taste better when they're coated in it. Regular granulated sugar seems overpowering in sweetness if you don't balance it well enough with the cookie, but the general softness of this cookie with the crunch of coarse sugar crystals and punch of spices is just the kind of cookie I want to enjoy right now.

I can have epic vegan chocolate chip cookies any time of year, but tis the season for vegan ginger molasses cookies, and even though it's a little late for Christmas, this giant load of cookies (which can easily be halved btw, sorry if 48 cookies is a little much for you) is perfect for a New Year's Eve celebration if you have the social circle willing to do that.
All my friends are either busy or are pretty wishy washy with their plans and are doing that whole millenial thing where they wait until they have the most exciting plans before they commit.
Frankly I'm not that exciting of a person, so my ideal NYE's is eating copious amounts of finger food with little to none small talk if I can help it. I'd rather just watch terrible reality TV or watch that awful multi-story movie about New Years in New York with Lea Michelle and Zac Efron.
In any case, I should be having one more post before the end of the year, but if I don't see you til 2018, I wish you a very happy new year :) May the end of your holidays be safe, full of yummy vegan food, and as little insufferable social interactions as possible.
Yield: 48 cookies
Vegan Ginger Molasses Cookies
Ingredients
2 tbsp flax meal (ground flax seeds)
6 tbsp warm water
1 1/2 cups (300 g) vegan margarine (I used vegan Becel)
1 1/4 cups (250 g) white sugar
1/2 cup blackstrap molasses (I find the Wholesome Organic ones are the tastiest)
4 1/2 cups (550 g) all purpose flour
2 tsp baking soda
1 1/2 tsp cinnamon
1 tsp cloves
1/4 tsp nutmeg
1 tsp ginger
1 tsp kosher salt
1/2 cup coarse sugar for rolling
Instructions
Preheat oven to 350F
Combine the ground flax seed and warm water in a small bowl and set aside to gel, about 5 minutes.
In a large mixing bowl, cream the margarine and white sugar until pale and creamy.
Add the flax seed mixture (the flax "egg") and molasses and mix into the creamed butter until incorporated.
Sift in flour, baking soda, spices, salt and then mix until incorporated. Roll into 1 1/2 tbsp balls and roll into the coarse sugar to coat.
Bake on a lined baking sheet for 9-11 minutes, (9 min if you have a hot oven, 11/12 minutes if you have a cooler oven). The cookies will "crack" but should still be soft in the centre after 9 minutes. Underbake to keep the cookies soft.