WHAT A DAY! The Vegan Bakeoff is over! First I want to let out a big thank you to my roommate for dealing with my lemon donut trials for a week, my friends who came to support me (Janelle, Orlean, Phillip, and new friend Jason), Chris for understanding when I didn't text him back all day because I was stuffing my face with vegan deliciousness, my online Blog friends for helping me with plating ideas, and YOU! For first of all, reading my blog to unconsciously encourage me to even enter in the first place (oh and my roommate for suggesting it), and second of all, for giving me such great support on my FB page =) (if you haven't liked it yet, please go do so in the sidebar!)
It was so much fun, very well organized with lots of variety and entries! The voting was clear and simple and the venue was great! So much fun! I am so glad I picked lemon donuts because I had so many people come up to me and say  they loved the simplicity of my presentation and that the lemon cut through all the other sweets and chocolates that were there. That's the thing I love most about lemon, it's such a clean and refreshing flavour, and it's so memorable.
As a baker, I was able to get one free ticket (so one plate), and then I bought admission for myself (2 plates). I tried the Raw Desserts, the Professional Gluten-Free desserts (by professional bakers or businesses), and Cupcakes and Tarts. I think my favourite plate was the Raw Desserts, because I dunno, I was a little disappointed with the cupcakes and tarts. There was a hot milk cupcake that was topped with coconut (I think it was kind of like a coconut tres leches cake) and it blew my mind! It won it's category, and it was one of the most memorable desserts there. I also loved the raw Tropical Bite (which won the Raw category) because it had this pineapple on top, and it was just a delicious little morsel of delicious.
But good news! I won two prizes!
I won runner up for best presentation! And check out what I got, all this sugar! Holy moly I won't need to buy sugar for ages. I got another bottle of agave nectar in addition to the basket, and the silver package on the right is vegan egg yolks! Fascinating! I think I might try to make some vegan hollandaise sauce with that. There's jamming sugar in there too, which I'm not sure how to use but I'm sure I'll figure that out eventually. I also got a fancy Redpath spoon and white Redpath measuring spoon too. Check out the image gallery below for more photos of the sugar.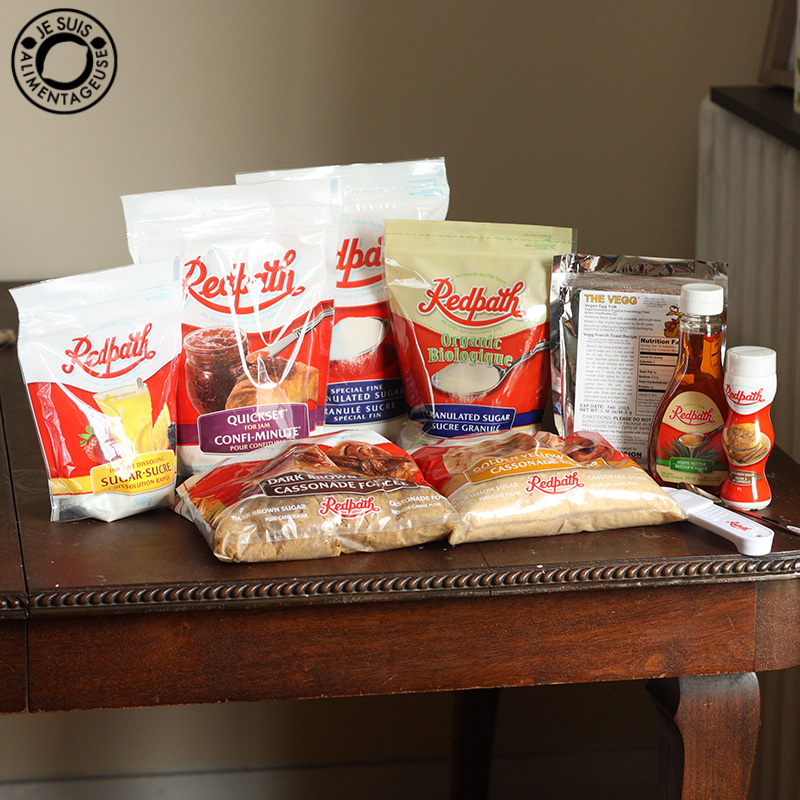 I also won runner-up for my category in Donuts and Pastries =) I lost to some delicious looking cinnamon sugar donuts, but so many people liked my donuts, it doesn't even matter! I got Chloe Coscarelli's new cookbook about vegan baking and I'm so excited to try out her new recipes! I haven't had a good look at it yet but I'm sure they're wonderful recipes! If you want your own copy, go to her website and order one and help out Chloe =)
I also got a caramel and chocolate bar and some chocolate Mackies. Both gluten-free, and both pretty tasty.
I definitely had a lot of fun trying out all the vegan things, although I was a little discouraged by some of the intense people who were there. I purposely didn't wear my leather boots to the event because I was afraid of being glared at. I saw that someone tweeted about how there were too many Canada Goose jackets and whatnot. I mean, I'm vegetarian, I believe in eating vegetarian mostly because I'm allergic, but I also acknowledge the environmental and animal-friendly aspect of it and I respect it. Same goes for eating vegan and eating local.
What I don't support is when people preach the vegan way of life like it's the only way of living and it is how everyone should live. We should respect other people's choices and understand that eating meat and using animal hide/fur is something that occurs in our society. Is it excessive? Sometimes. Is it unhealthy? Sometimes. But everything in moderation right?
Anyway, that's my little life tidbit of the day. I hope you enjoy these lovely fluffy donuts! The fresh lemon zest adds a little lemony hint to the batter and when you bake these, the lemon zest and flax seeds show up in the baked donuts and they just so darn cute and adorable! I actually kind of like these better than the non-vegan version of donuts I had made before, they had more of a donuty texture than the spongey non-vegan ones. Although I may try yeast-risen ones like donut shops and bakeries usually do. But working with yeast means I don't get to eat it as quickly =P
Anyway, feel free to peruse the photos below from the event. There were lots of delicious things to eat and um…interesting presentations =)
Click here to see the photos from the bake off!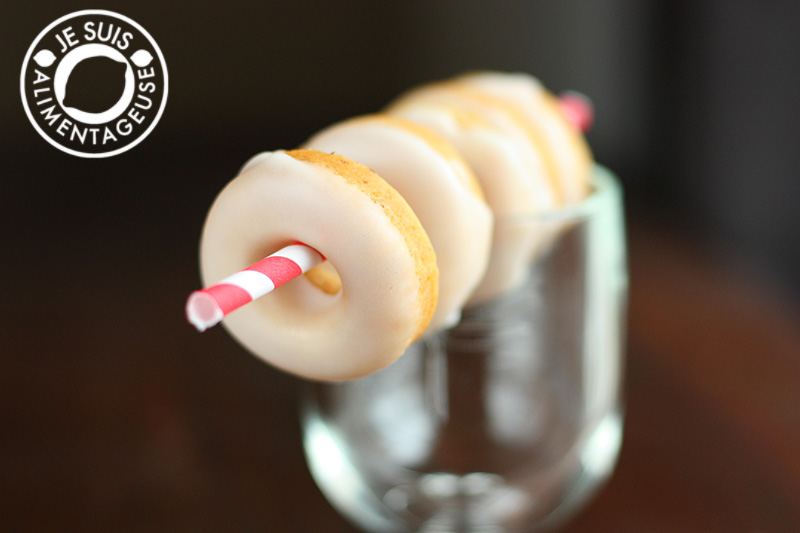 Yield: 10 regular donuts or 24 mini ones
Vegan Lemon Donuts and Vegan Bake-off Recap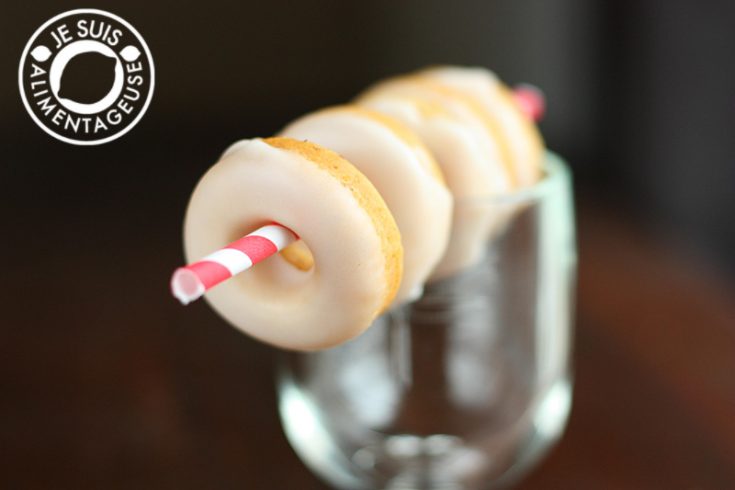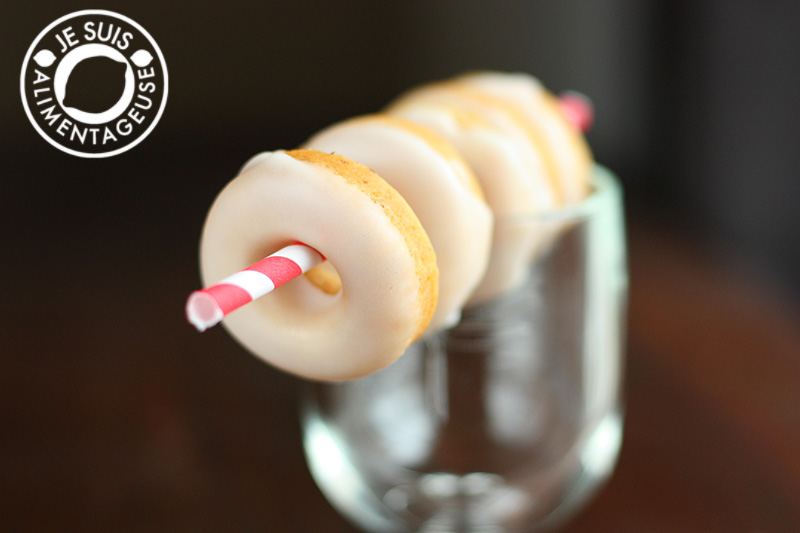 Fresh lemon juice and zest make these vegan donuts a little lemony party in your mouth. My favourite donuts yet!
Ingredients
1 cup all-purpose flour
1/3 cup agave nectar
1 1/2 tsp baking powder
1/4 tsp salt
1/2 cup rice milk
2 tsp flax meal
1 tbsp warm water
1/4 cup no-sodium margarine
zest of one lemon
1/3 cup lemon juice
1 1/3 cup powdered sugar
Instructions
Mix flax seed and warm water in a small bowl. Stir then let sit for about 2 min.
Mix lemon zest, agave nectar, flax seed mixture, milk, and margarine until combined.
Add flour, baking powder, and salt. Mix until incorporated, but do not over mix.
Pipe into greased donut baking pans about half full (they puff up a lot)
Bake for 12-14 minutes at 350F until golden. 12 minutes if using a mini-donut pan, 14 if using a regular-sized donut pan.
Remove from oven, let sit in the pan for about 1 min, then remove from pan and let cool on a wire rack until cooled.
Mix lemon juice (strained) and powdered sugar until all lumps are broken up.
Dip cooled donuts in glaze, let excess drip off, then let them dry on the wire rack.
Leave for about 10-15 minutes until dry, then eat!