This hummus is the creamiest hummus I've ever made, with NO PEELING! I make it weekly now that I have figured out this recipe!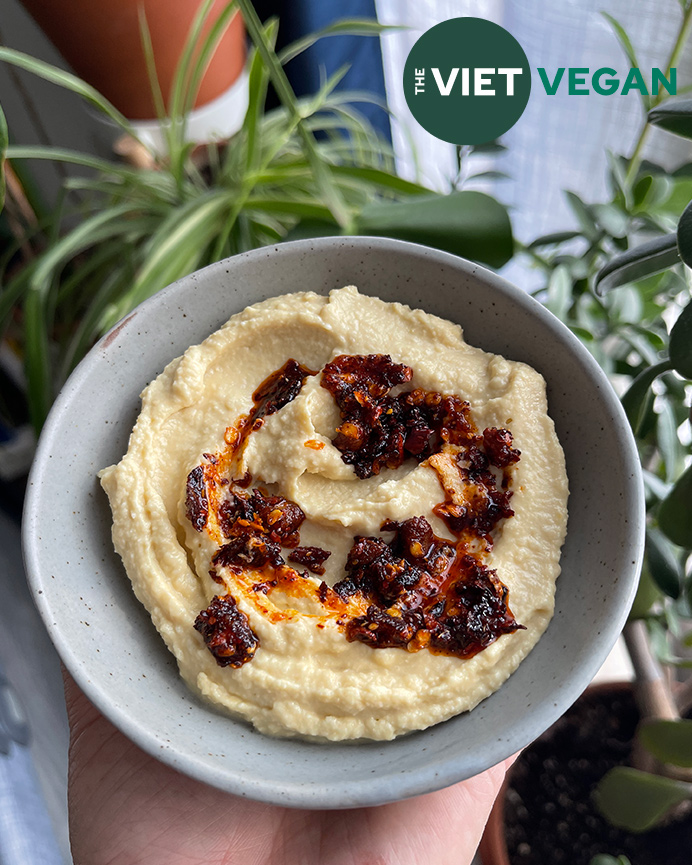 My first introduction to incredibly delicious hummus was at Lebanese shawarma and falafel shops that always had the most incredible, smooth and creamy hummus. Back in my early blog days, I tried to figure out how to make super creamy hummus and the solution back then was to peel your chickpeas.
The secret ingredient to the creamiest hummus
I used to work social media for a popular Lebanese restaurant that had the most delicious hummus. It was creamy, unctuous, and had the perfect balance of acidity, sesame and garlic. When I asked the owner how he made his hummus, he said, "cook the shit out of the chickpeas and then use the chickpea water".
This was just when aquafaba was hitting its hype as an egg white replacement in the vegan world. I was using it for mayo, as a glaze, in pumpkin pie to help it set.
And here it is, used as such a simple and obvious answer to how to make Lebanese hummus so creamy and delicious. No extra oil, no need to peel any chickpeas, no fancy ingredients. Just the most basic but CREAMIEST hummus.
Using the chickpea water aka aquafaba thins out the hummus but doesn't separate as quickly from the hummus as you would find with water. Plus the extra bits of protein that leeched out of the beans gets reintegrated back into the hummus.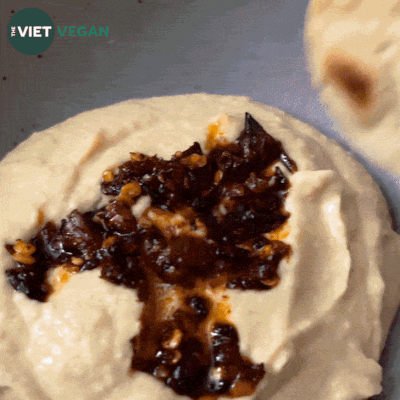 How to prevent gassiness from too much hummus?!
I'll admit, when I first went vegan, my bean consumption increased and I definitely had a bit of an adjustment period before my digestive system recalibrated to digest beans. When I first was pregnant with Beanie Baby, I couldn't handle the smell of mock meats, so I had to rely on beans and tofu for my protein. (Hence Beanie Baby's moniker!)
To keep your aquafaba and hummus from giving you too much gas, I highly recommend soaking your garbanzo beans overnight. I do this with any dried beans!
Soaking your beans lets certain fibres/sugars that can cause gas come out in the soaking water. These fibres/sugars are called oliosaccharides, not the be confused with the cooking syrup I use in a lot of Korean cooking.
The oliosaccharides don't get broken down as easily in our digestive system and sit in there a bit longer. This gives your gut flora more time to gnaw away at it, creating that gas.
Do you NEED to soak the beans?
Short answer, no. You can throw these in the instant pot with a spoonful of salt and double the water. Cook in the pressure cooker for 15-20 minutes–depending on how soft you like your beans. The softer and creamier your beans are after cooking, the creamier your hummus will be in the end.
They'll taste the same! Pressure cooking beans from dried saves you a lot more time than simmering them for hours on the stove. Depending on how good your body is at digesting beans, you just may find yourself a bit gassier.
Why do you add salt to soak your beans?
Ever since I saw this article on Serious Eats about whether or not you should soak your beans in salted water, I have never NOT added salt to my beans.
Adding salt to the soaking water helps keep the bean's shape, not that it matters too much when you're blending it. It helps improve the flavour a lot more than adding salt to the final hummus. I only add salt to my soaking water. I don't find I need to add salt to my cooking water or the final hummus as a result.
Your mileage may vary! Feel free to add salt or not add salt at all. Soaking with salt means my beans absorb the right amount of salt they need and the rest is discarded with the soaking water. My hummus in the end is perfectly seasoned, and isn't too salty when I add chili crisp on top!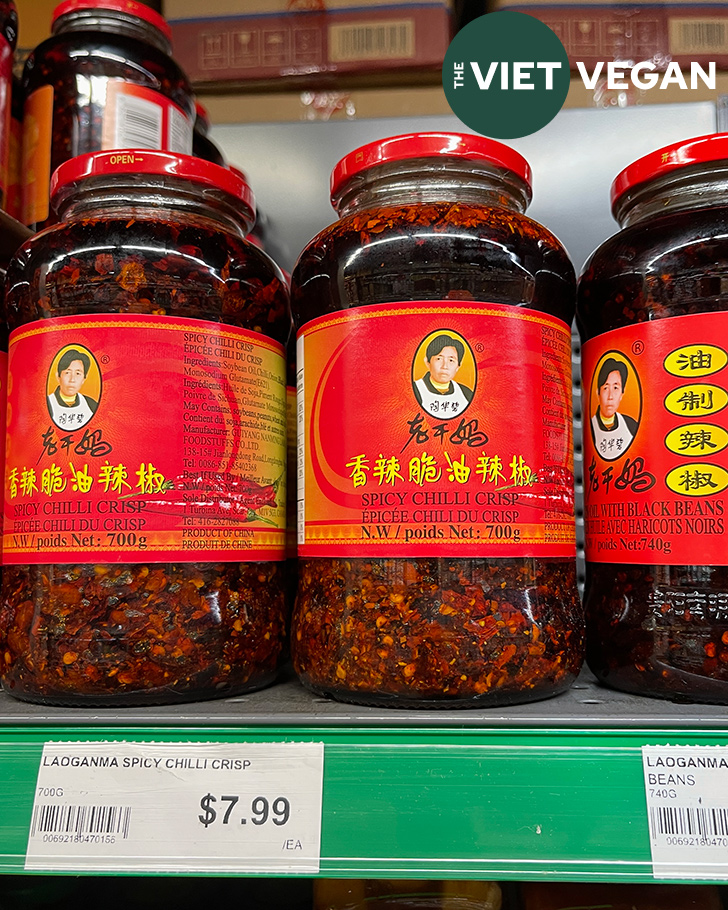 What is Chili Crisp?
If you've been following me on Instagram, you'll have seen that I have been eating this hummus with chili crisp on top everyday for nearly 3 weeks now. I've been needing a breakfast I can eat with one hand as I juggle feeding, burping, and entertaining an infant.
I use Lao Gan Ma chili crisp on top, and I just add a spoonful to add extra flavour. You can absolutely omit this! You can make your own chili crisp, or buy it from your Asian market like I do. Actually, I've seen this exact jar at Walmart before, so I think it's pretty widely available.
There are some versions of spicy chili crisp that have animal products in them, so just get the spicy chili crisp! Double check that label. There are ones with peanuts, ones with black beans, etc. The jar above is the one I buy.
Don't be alarmed at how spicy this chili crisp looks, it is actually hardly spicy at all. I don't even register it as spicy, I honestly feel like black pepper packs more spice than this. But my spice tolerance is higher than most people's.
But I am not exaggerating when I say I eat this hummus with chili crisp every day. The creamiest hummus with this spicy chili crisp on top? I legitimately look forward to eating this every day.
Yield: 6-8 servings
The Creamiest Hummus (no peeling!)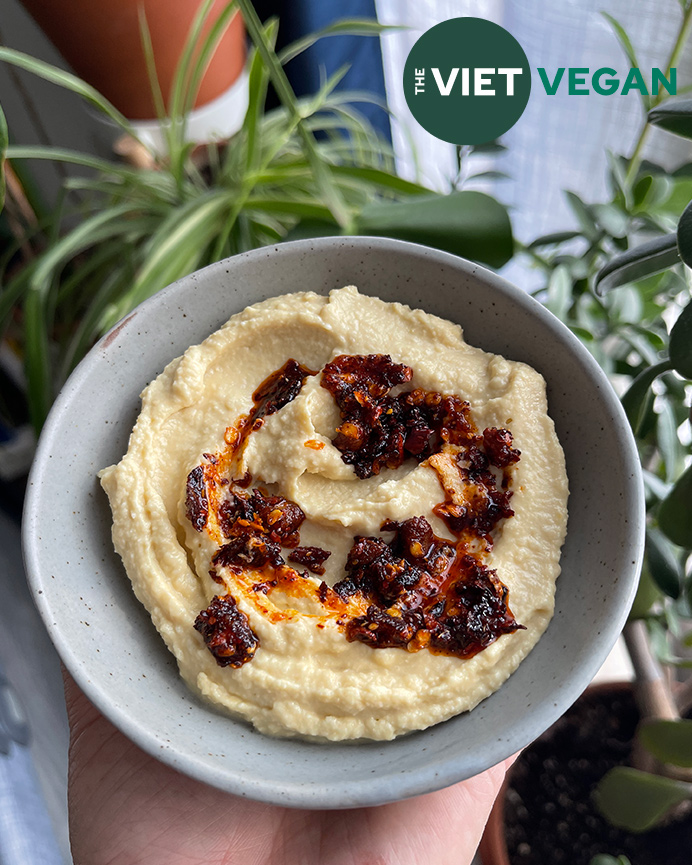 Total Time
12 hours
30 minutes
Ingredients
1 cup dried chickpeas
1 tbsp salt
8 tbsp (1/2 cup) aquafaba
1.5 tbsp tahini
3 cloves garlic
1/4 cup lemon juice (1 lemon, juiced)
6 tbsp olive oil
Chili crisp to top
Instructions
Preparing the chickpeas
Soak the chickpeas with 1 tbsp salt and water to cover the beans with 1-2 inches of water. I usually soak for about 20 hours, but at least 8 hours helps reduce gassiness.
Drain and lightly rinse the beans, then transfer to a pressure cooker. Add enough water to cover the beans about 1/2 inch.
I use an Instant Pot and pressure cook on "Beans" for 10 minutes. Either manual release pressure or allow for natural release.
Turn off the pressure cooker and then open the lid and allow the beans to cool to warm/lukewarm.
Take out 1/2 cup of the chickpea liquid in the pot (aka aquafaba). I usually take out 3/4 cup just in case I need more.
To make the creamiest hummus
In a food processor or a high speed blender, combine the cooked chickpeas, 1/2 cup of aquafaba, tahini, garlic cloves, lemon juice and olive oil.
Blend until smooth, feel free to add more aquafaba if you want it to be even thinner. If you want a thicker hummus, only use 3-4 tbsp olive oil and start with 1/3 cup aquafaba.
Transfer to an airtight container to store in the fridge once cooled. If your chickpeas are still very hot when you make the hummus, it will develop a crust as it cools. Best results is with slightly warm or lukewarm chickpeas!
Eat within a week and serve each portion with a hefty spoonful of chili crisp!