These coffee and coconut jellies are the sweet treat of my childhood (yes, even with coffee flavour!). Coffee and sweetened condensed milk and coconut make for a delicious combo for these crunchy Vietnamese Coffee jelly treats.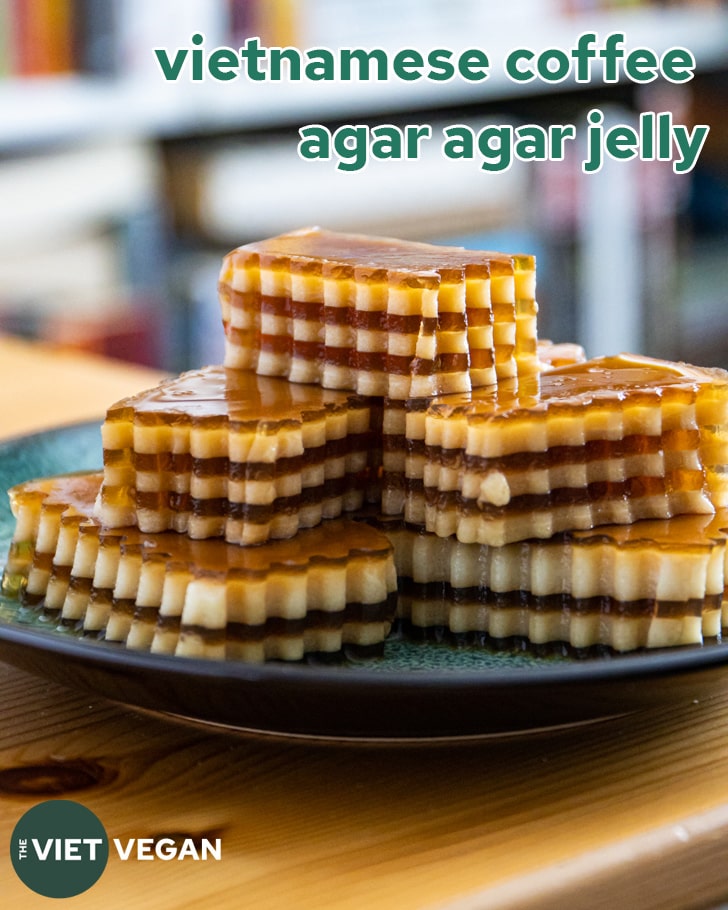 These crunchy jellies are traditionally vegan! You can make them with so many different flavour combinations since coconut goes so well with so many flavours! Traditionally you'll find coconut and coffee or coconut and pandan. I've also seen the trio of coffee, coconut and pandan. I have plans to play with ube and coconut, ube and pandan, and strawberry and coconut!
What is Vietnamese Coffee?
The Vietnamese coffee I grew up drinking is Cafe du Monde Chicory coffee. It's in a yellow and brown can and is such a nostalgic flavour. I brewed 2 tbsp of Vietnamese coffee with about 1/2 cup of water in the Vietnamese phin, and added that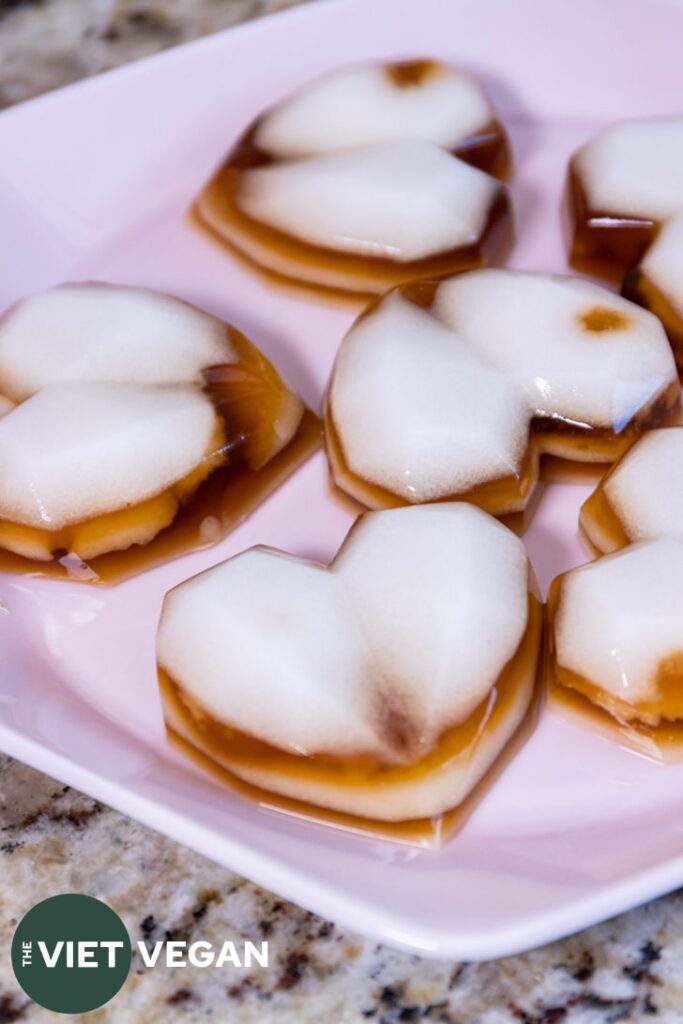 What can I use if I don't like coffee?
Like I mentioned, this dessert is often made with pandan as well! A lot of people have asked me what pandan flavour is, and it's a grassy leaf, also called pandan or screwpine. They look like thick blades of grass, and are often bruised and wrapped into a bundle then simmered in coconut milk or water to release the flavour.
I take the shortcut of using pandan paste or pandan extract. The paste has food colouring to get nice green hue, but you can use clear pandan extract. No food colouring means you'll have a beautiful clear layer to contrast with the opaque coconut layer.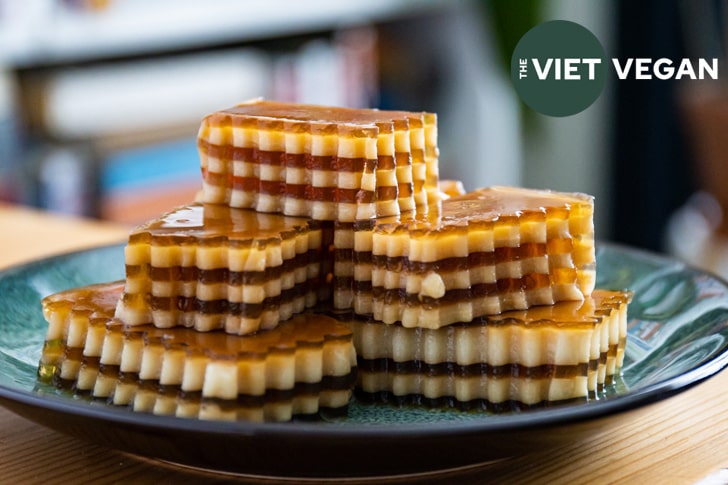 Do I need sweetened condensed coconut milk?
If you can't find sweetened condensed coconut or oat milk, feel free to replace with an additional 75 g (1/3 cup) of sugar, and add a bit of extra coconut milk to maintain the creaminess. The sweetened condensed milk is a traditional flavour for Vietnamese coffee (Cà Phê Sữa), which is why I included it in these Vietnamese coffee jellies.
I find my sweetened condensed plant milk from my local vegan shop, Bulk Barn, Asian market, or online :) Nature's charm is the brand I usually go for.
Interested in more Vietnamese desserts?
Try making chè ba màu, Vietnamese Three Colour Bean Dessert or grass jelly with matcha!
Yield: 8-10 servings
Vietnamese Coffee Agar Agar Jelly - Thạch Rau Câu Cà Phê Sữa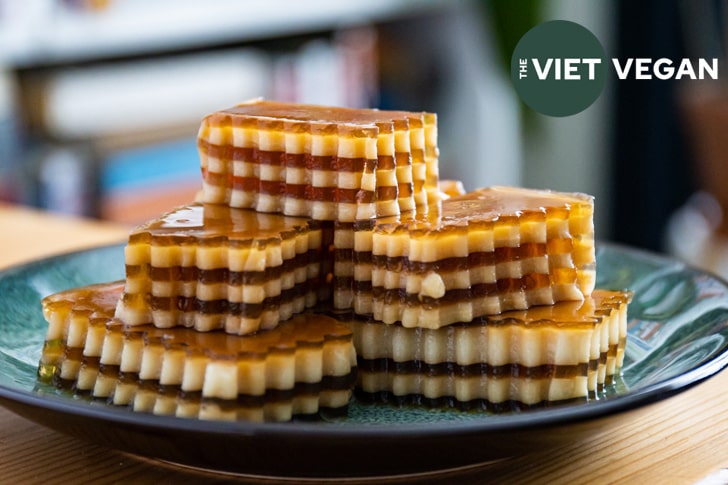 These creamy coffee jellies have a unique crunchy jelly texture and are full of bold Viet coffee flavour and sweetness! I ended up using two medium-sized containers, two heart moulds, and two mini heart silicone trays, but my mom would use a large lasagna dish for one batch of jelly with 6-7 layers.
Ingredients
Coffee layer
12.5 g agar agar powder (half a 25 g packet)
1 L (4 cups) water
150 g (2/3 cup) sugar
Coconut Layer
1 L (4 cups) water
12.5 g agar agar powder (half a 25 g packet)
75 mL (1/3 cup) sweetened condensed coconut or oat milk (use coconut for GF)
75 g (1/3 cup) sugar
125 mL coconut milk
Instructions
In two small pots, add 1 L of water to each pot, then add 12.5 g (half a 25g pack each) agar agar to both pots. Mix and then let bloom for 15 minutes.
To make the coffee layer
Bring one of the pots of water + agar agar to a boil and add sugar and coffee. Continue to boil for 5 minutes and cook to activate the agar agar, the mixture will bubble and froth a little bit. You can skim the bubbles off so it won't add bubbles to the jelly. Lower heat to a simmer.
To make the coconut layer
Bring the other pot of water + agar agar to a boil, then add sweetened coconut condensed milk, sugar, and coconut milk. Let the mixture boil for at least 5 minutes to activate the agar agar, the mixture will thicken and you may see some bubbles here too that you can skim. The mixture will look thick and glossy. Lower heat to a simmer.
To make the jelly
In containers or silicone/plastic moulds, ladle a thin layer (about 1/8-1/4 inch) of the coffee mixture, then let set for about 3-4 minutes. Check with your finger to see if the layer is set, the surface should feel slightly tacky. If you wait too long, the layers won't adhere to each other and will slide apart when set. If you want the jelly to set faster, you can chill the container in a larger tray with an ice bath.
Ladle a thin layer of the coconut on top, let that set (again, check with your finger for the tackiness), then repeat with a coffee layer. The jellies always look nicer and set faster when you do really thin layers. Repeat until you use up all the mixtures.
Let set in the fridge for at least 1-2 hours, and then remove from the moulds and slice into diamonds or squares/rectangles. Feel free to use a crinkle cutter or a knife :) Transfer to an airtight container and enjoy within 3-4 days!
Notes
*If you don't have Vietnamese coffee, simply add 125 mL (1/2 cup) of strong brewed coffee.