These vegan peach pie dumplings are little bites of sweet sunshine,
especially when the weather is bleak and dreary in the winter!
Disclaimer: This recipe is sponsored by the California Cling Peach Board! I've worked with them to make a bunch of other peachy recipes, like my BBQ Peach Tofu and these Hand Pies! Thanks for reading and supporting my lil corner of the internet <3 Working with great companies like California Cling Peaches means that I can support myself while making vegan recipes for you!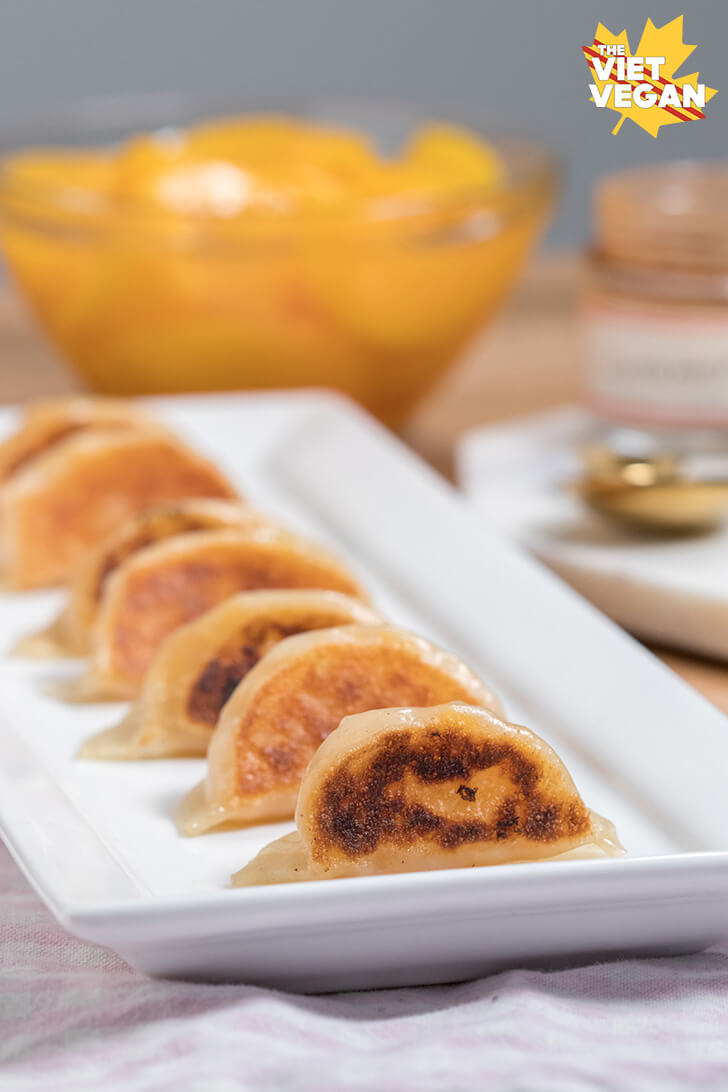 I know this time of year people want to be eating more salads and wraps and whatever and most people are probably coming to my blog for health food. But I'm going to break it to you right now: I am not a healthy food blogger. Yes, I tend to make healthy-ish recipes, but I don't do it because I want to be a certain weight or whatever. My palette tends to lean towards foods that aren't deep fried or covered in vegan cheese or oils. I love fruits and vegetables and playing with different textures when it comes to food.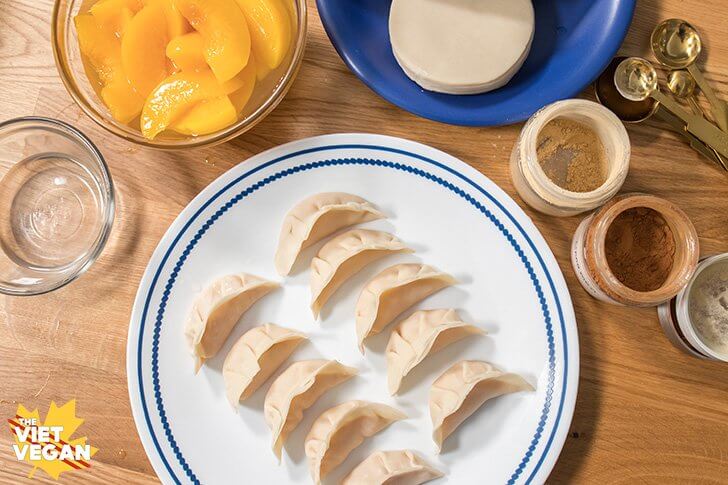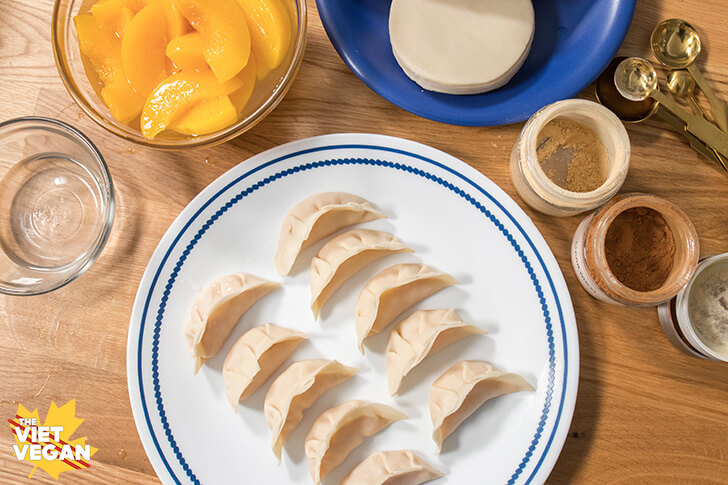 I love learning about different ways to create foods, and playing with recipes to create something different. I wanted to make something a little different this year with peaches, and thought, well I love peach pie, and I have been playing around with folding dumplings lately, so I thought, let's make these into little peach pie bites!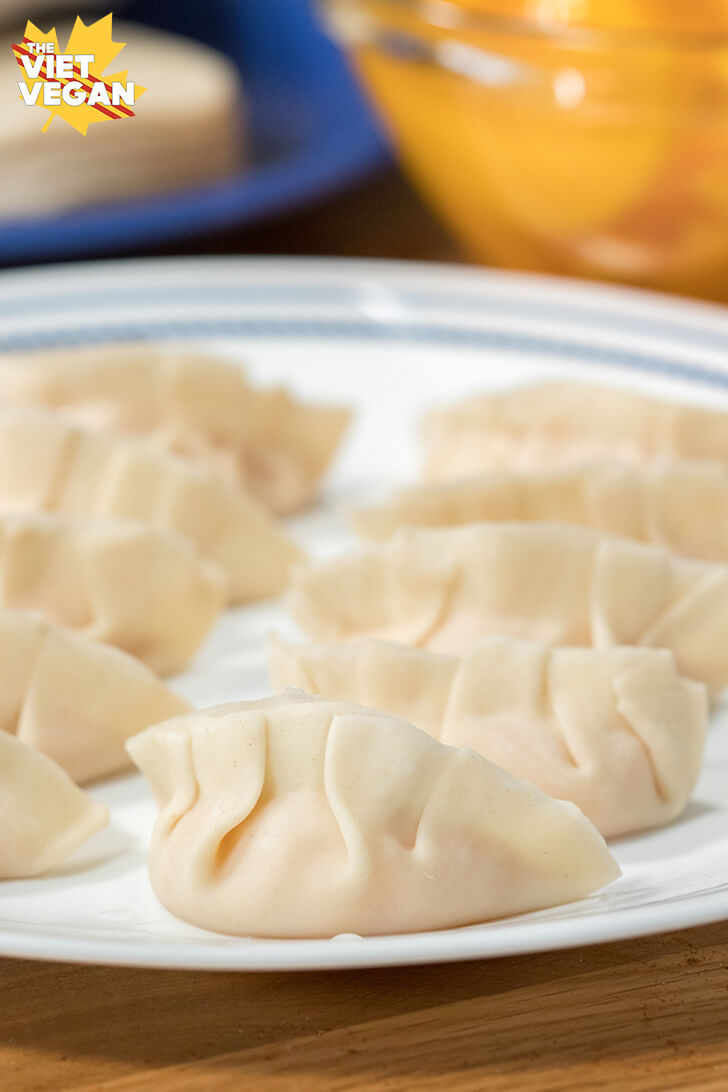 We all know I'm a big fan of peaches, not only because they're delicious, but specifically canned peaches have never triggered my allergies like so many other fresh fruit or veg tend to do. It really depends on the time or year, sometimes the reaction to fresh fruit is less severe than others, but there's something so satisfying about cracking into a can of fresh peaches and slurping up a slice that's been packed in their own sweet juices. What's great about canned California cling peaches is that they hold their shape SO well, but they're also super tender and sweet at the same time. These dumplings need peaches that are tender but also sturdy, and won't liquify and fall apart during the cooking process.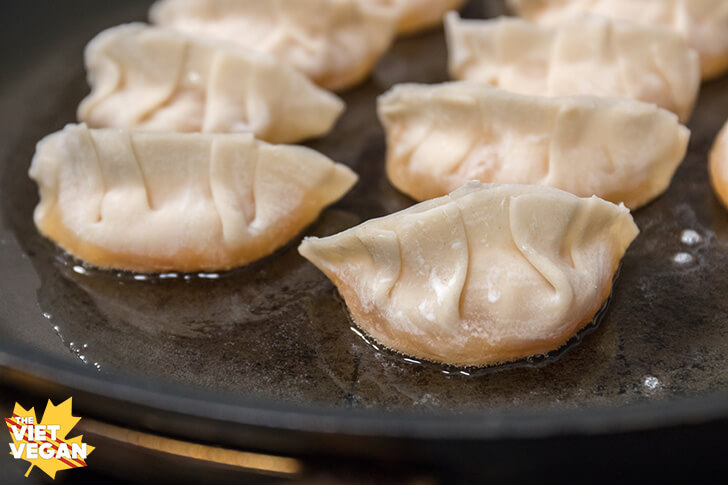 Not only that, but as Canadians, we can't get peaches this time of year without them being rock hard and unripe, but California cling peaches are picked and packed within 24 hours, which means you get the ripest, sweetest flavour, with no added preservatives, just the science of CANNING! Which also means that the nutrients (specifically Vitamin A, C, and folate) are still intact when you crack open a can, whereas a lot of other fruits begin to lose their nutritional value the longer they're off the tree.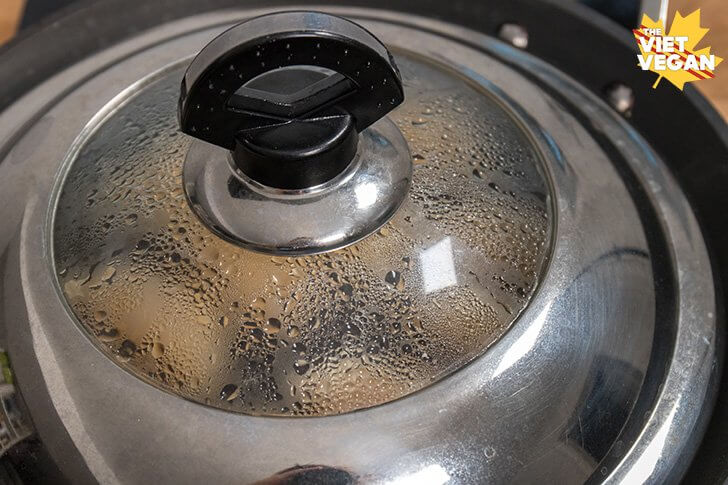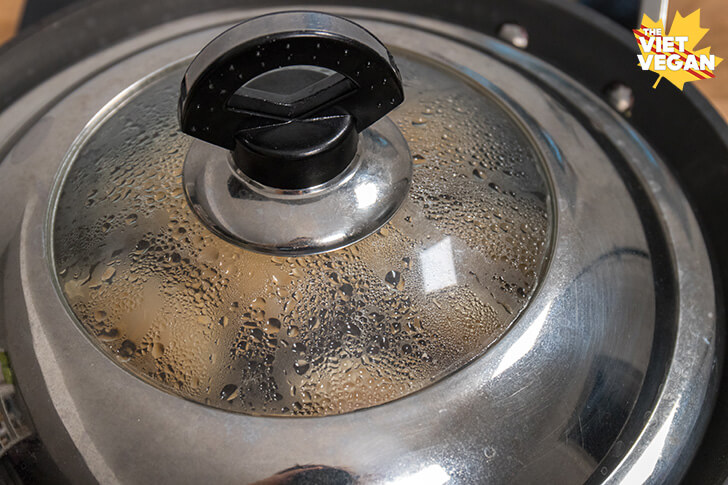 You get it, canned peaches are great. Plus there's something oddly satisfying about how smooth the peeled peaches are and how they almost burst with juicy peachy goodness in your mouth. Damn now I need some more peaches. In any case, I hope you give this recipe a try. It truly is like a little bite of peach pie in each dumpling, with a tender, steamed wrapper and crisp bottom to give you a reminiscent familiar crunch of crackly peach pie crust. With a hint of cinnamon and ginger to kick up the flavour up a notch, these little badboys are simply gorgeous inside and out!
I also filmed a "What I Eat In A Day" video while I was shooting these dumplings, so if you're curious as to what a slightly nocturnal vegan eats in a day (also note my day was pretty all over the place to begin with), check it out:
Yield: 24 dumplings
Vegan Peach Pie Dumplings
Ingredients
For the filling:
1 can (15 fl oz / 443 mL) sliced California cling peaches, drained well, peaches finely diced
1/4 tsp ground cinnamon
1/4 tsp ground ginger
1 tbsp granulated sugar (or brown sugar works too)
1 tsp cornstarch
1 tsp melted vegan butter
To Assemble
24+ round vegan dumpling wrappers (you should be able to find them in the refrigerated section of your local Asian grocery store, close to the tofu)
2 tbsp water
To cook:
Vegan butter for the pan
water to steam
Instructions
For the filling:
Prepare the filling by finely dicing the peaches. Canned peaches work best for this recipe since they will hold their shape better than fresh peaches. Add cinnamon, ginger, sugar, cornstarch and melted butter and mix well to combine.
To assemble:
Fill the dumpling wrappers by adding 1 tsp of filling to the centre of a round dumpling wrapper. Wet the outer edge of half of the wrapper and fold in half, pinching the middle to seal and pleating the dry side to stick to the wet. Pleat from the outside in (3 pleats on each side) and pinch well to seal. The dumpling should stand up on its own without falling over because of its crescent shape from the pleating on one side. (I show this part in my video if you need a visual of the process).
Repeat until all filling is used, you may need to cover the dumplings and wrappers with a damp towel so nothing dries out while you're folding the dumplings.
To cook the dumplings, in a pan over medium heat, melt about 1 tbsp of butter to evenly coat the pan. Place dumplings on and let fry for about 2-3 minutes until you have a nice golden bottom. I usually can fit about 10 dumplings in my pan.
Add about 1/4 cup of water to the pan and cover immediately with a lid to steam the dumplings to finish cooking. Steam for about 3-4 minutes until the wrappers are cooked through and semi-translucent. Remove the lid and let water evaporate. Remove dumplings from pan.
Repeat with butter frying and steaming until all dumplings are cooked.
These are best served immediately but the filling can get quite hot, so give them a few minutes to cool before biting into them.