This Peach BBQ Baked Tofu is a sweet, summery twist on a vegan classic.
Definitely a welcome burst of flavour in the Canadian winter months!
Disclaimer: This recipe is sponsored by the California Cling Peach Board, a company I've been working with for a couple years now :) All opinions are my own, but as always, I only work with brands I love and believe in. Thanks for reading and supporting my blog <3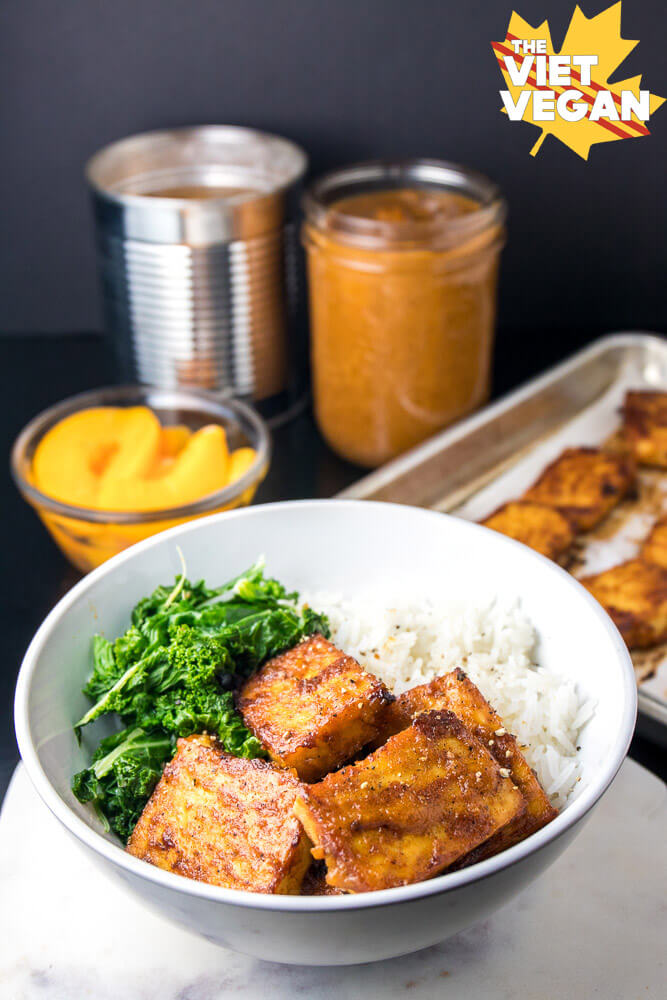 Those who've been following me on my YouTube channel and Instagram may be aware that I've been (mostly) gluten-free since the beginning of January. Aside from some experiments/mishaps where I was unintentionally eating gluten, I've been avoiding it to see if it helps my eczema. I was hoping that I didn't actually have any gluten-intolerance but it seems as though that actually might be the case.
At least I'll be avoiding gluten until my eczema clears up some more.
As a result, I'm noticing how present gluten is in about everything. It's incredibly frustrating. Gluten in rice cakes, gluten in injera (which is traditionally made with GF teff anyway), gluten in BBQ sauce because it's commonly made with soy sauce.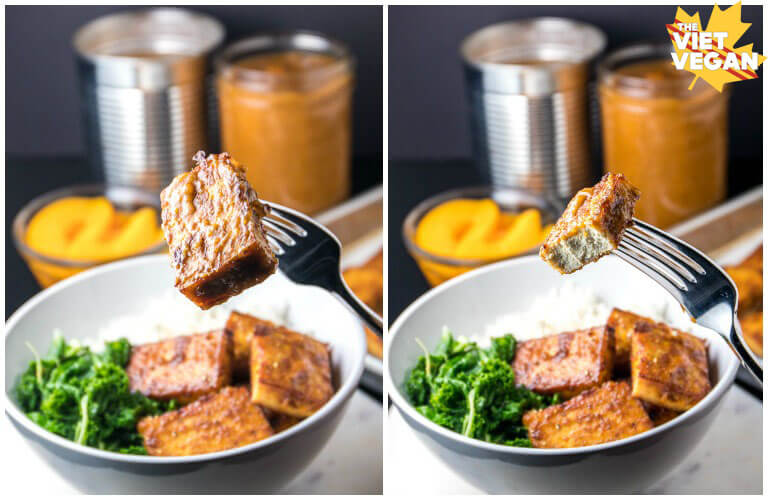 C'mon gluten, why you gotta ruin BBQ sauce for me? *sigh* So lately I've been playing around with my own BBQ sauce, and I decided to use California cling peaches in this version of a sweet peach BBQ sauce, made with gluten-free soy sauce ;)
Canned cling peaches add a sweetness that is preservative-free while maintaining their flavour and nutritional content since they're picked at peak ripeness and packed within 24 hours. Canned peaches have 4x more Vitamin C and 10x more Vitamin E than fresh peaches as a result. Gotta love good timing and science, right?
Aside from eating apples and bananas all winter, I'm seriously lacking in the fruit department so having these canned peaches are a welcome treat in the dead of Canadian winter. Plus I can't help but feel the California sunshine just from looking at that cup of peach puree!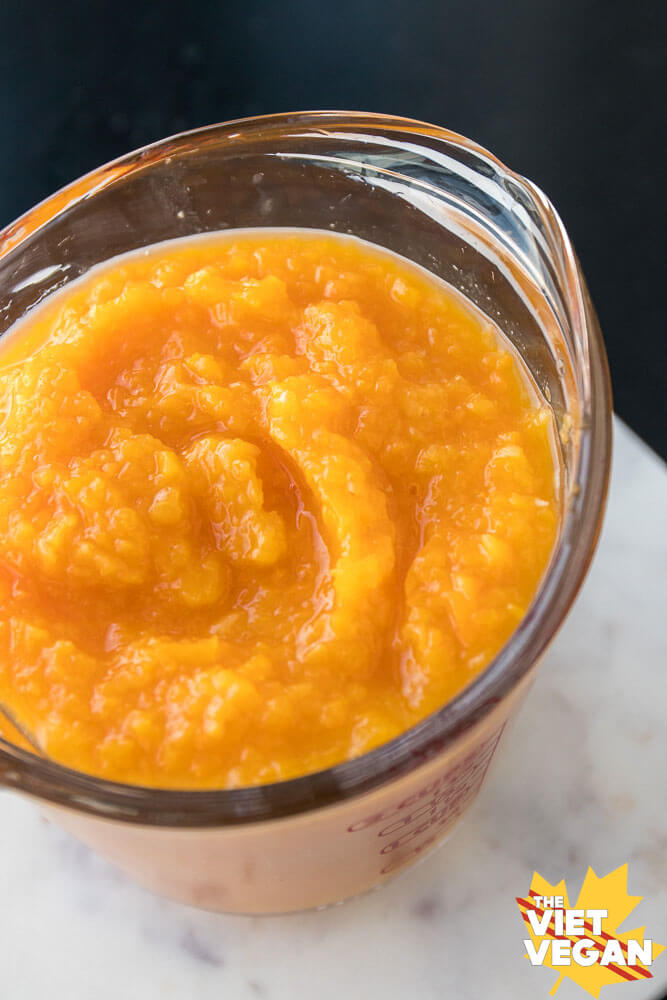 We've been having a couple gloomy days lately and opening up a can of these peaches seemed to coax the sun out long enough for me to take some pictures. It's a welcome change because if you read my last post, you'll know that I've been in a pretty deep downswing and I've found it really hard to keep my head up lately.
Today was kind of another rough day. I don't know if it was sneaking a slice or two of peaches before I put them into the food processor, or maybe the sweet spicy smell of peach bbq tofu baking in my oven, but things didn't seem to be as heavy as the night went on.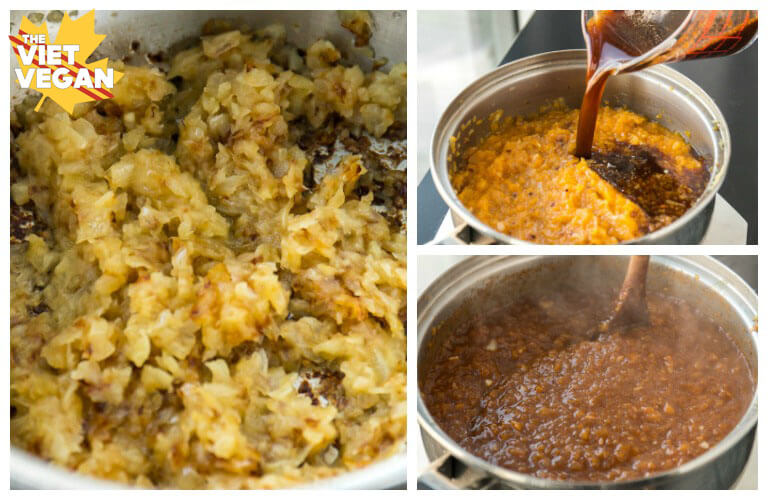 Hopefully it's only upwards from here.
Anyway, you definitely need to make this peach BBQ baked tofu. I saw different versions of fried BBQ tofu online, but I wanted to limit the amount of oil to a more reasonable amount. Baking these tofu slabs crisped up the edges with a touch of caramelized goodness, without an absurd amount of oil :)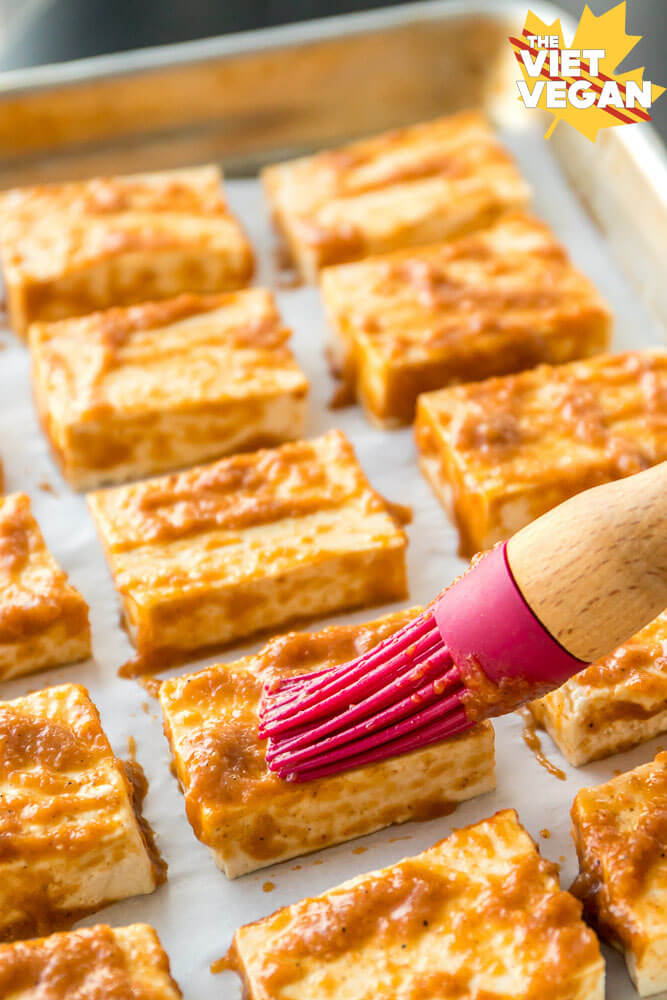 There were tons of versions of peach BBQ sauce that used a buttload of sugar, oil, and pre-made ingredients, but I tried to keep it mostly simple. The cling peaches add a touch of fruity sweetness that I've brought out with cinnamon and chili powder, and brown sugar adds that BBQ depth, while cayenne adds that heat.
>I'll definitely be making this tofu again, especially now that I have about 3 cups of BBQ sauce left over. Time to make tofu nuggets next to use this as a dipping sauce!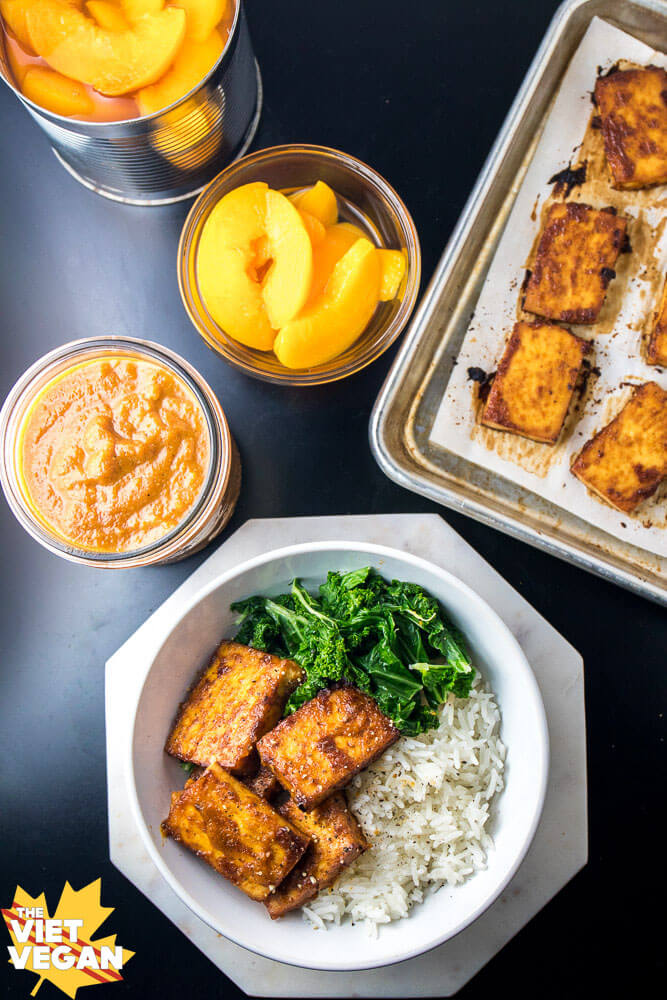 Peach BBQ sauce inspired by Williams Sonoma
Peach BBQ Baked Tofu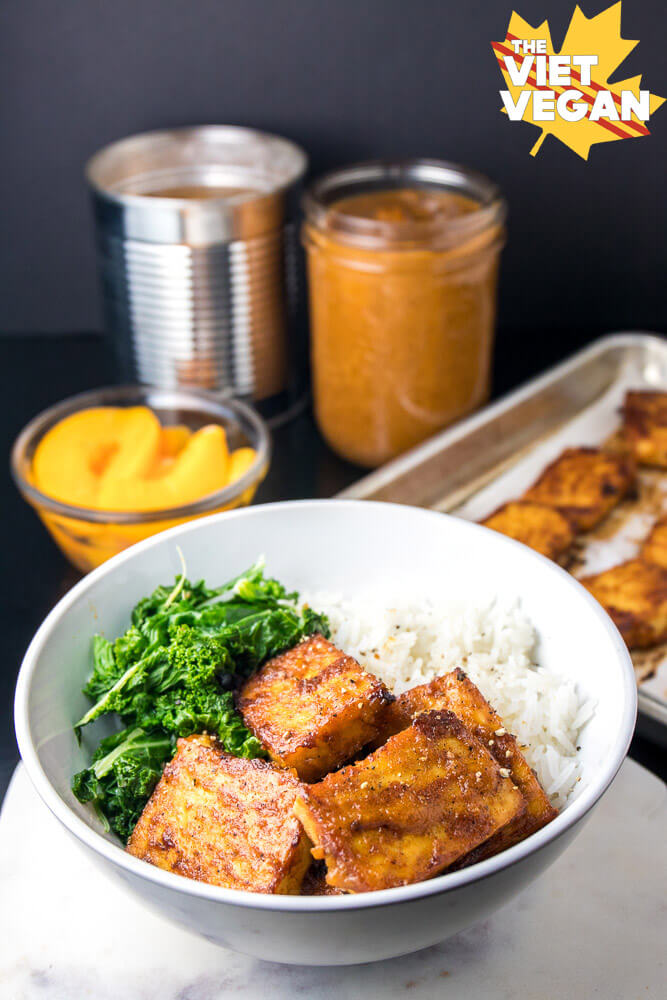 Ingredients
For the Peach BBQ Sauce
2 small onions, processed or finely minced
¼ cup grapeseed oil
4 cloves garlic, finely minced
½ cup packed brown sugar
2 tbsp tomato paste
1 tsp ground cinnamon
1 tbsp chili powder
1 can (28 fl oz / 796 mL) sliced California cling peaches in light syrup, drained but reserving ¼ cup of the syrup
¼ cup apple cider vinegar
3 tbsp vegan Worcestershire sauce
4 tsp gluten-free tamari (regular soy sauce would work fine if you aren't gluten-intolerant)
Optional: ½ tsp cayenne for extra heat
For the tofu:
1 block of firm tofu (454 g), cut into slabs (1" x 2")
1/3 cup peach BBQ sauce
Instructions
For the Peach BBQ Sauce
Using a food processor (or your own superb knife skills), finely pulse onions until finely minced.
In a small pot over medium heat, cook the minced onions with ¼ cup grapeseed oil until lightly browned. This will take about 10-20 minutes depending on how patient you are and how caramelized you want them to be. The longer the better, but I cooked for maybe 15 min.
Add minced garlic and cook until garlic is lightly fragrant, about 5 minutes since the onion has quite a bit of moisture. Add tomato paste, cinnamon, and chili powder and stir to combine. Add cayenne powder if using.
Meanwhile, strain 1 large can of sliced California cling peaches and reserve ¼ cup of the syrup. Use a food processor or blender to puree peach slices then transfer to the pot, stirring to combine.
In a pourable glass/measuring cup, combine brown sugar, apple cider vinegar, ¼ cup of strained peach syrup, vegan Worcestershire sauce and gluten-free tamari (or soy sauce). Add to pot and stir to incorporate ingredients. (To save dishes you can just add this to the pot directly instead of mixing together first, but it ends up being the same either way).
Continue to cook over medium heat until slightly reduced, about 10 min, stirring frequently. The mixture will take on a deep, reddish caramel colour. Remove from heat, and use a stick blender (immersion blender) to fully blend until it's smooth (you could also use a food processor or blender here, but I prefer to use the stick blender for piping hot mixtures).
Transfer the sauce to two clean 500 mL (2 cup) jars while it's still hot. Put a lid on one of the jars to seal, and set the other aside for the tofu.
To make the Peach BBQ Baked Tofu:
Preheat oven to 400F.
Drain and lightly press 1 block of firm tofu. Cut into slabs then arrange on a parchment-lined baking sheet. Lightly brush peach BBQ sauce on all sides of the tofu and bake for 20 minutes.
Flip then brush more peach BBQ sauce on the top side, then bake for another 20 minutes. Depending on your oven, cooking times may vary. My oven is a little on the cool side, so I baked for an additional 10 minutes, but in my old oven this would have been done in 35 minutes.
Serve with additional peach BBQ sauce and enjoy! I served this with rice and garlic sautéed kale :)