This Vegan Pizza Snack board is a great way to get lots of veggies and delicious pizza in finger-food form!
This recipe is sponsored by Wholly Veggie -Thanks to brands like Wholly Veggie for supporting my blog and to you for reading and engaging :)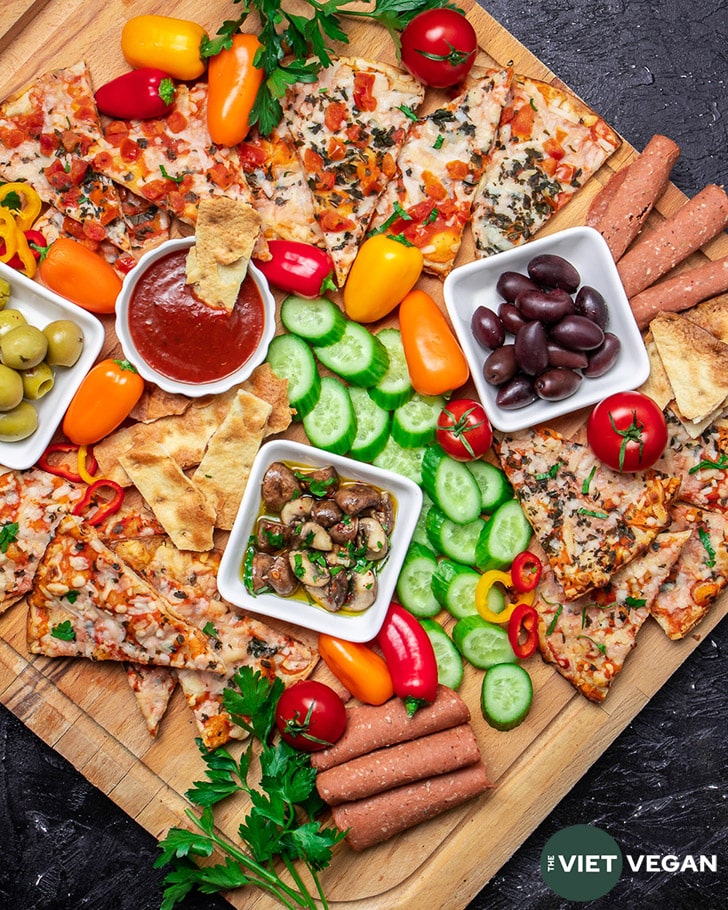 'Tis the season for lots of charcuterie and holiday foods but since Eddie and I have never really had that many holiday traditions, I decided to take the opportunity to play with a charcuterie idea and make a pizza snack board with Wholly Veggie's gluten-free and vegan pizzas.
Eddie always like dipping anything in sauce, so having pizza sauce and tons of fresh veggies to go with tender pizza with a crisp, thin crust (that is gluten-free!) was a great time to eat. It always amazes me to see how far gluten-free options have come.
Back in 2017, I went gluten-free to try and see if it would help with my eczema (spoiler-alert: it did not) but back then, vegan and gluten-free options that were decent were far and few in-between. NOT ANYMORE. 2020 is always impressing me with the vegan and gluten-free innovations with actually flavourful pizzas, crisp but tender crusts, and actually tasty vegan cheese that makes this pizza one of my new favourite vegan options for frozen pizza.
Any snack board should have a balance of fresh, salty, chewy and crunchy! Instead of traditional "crackers" on this snackboard, I used the Naked Cauliflower Crust to use as a crisp cracker-like vessel to hold up marinated mushrooms and pizza sauce. You can under-bake the Naked Cauliflower Crust to keep it more tender or bake until nice and browned for a more crisp situation!
I used the Classic Cheese pizza and the Margherita Pizza to be the tender, savoury bites to enjoy with the saltiness of olives and marinated mushrooms, and served with vegan salami, crunch sweet mini-peppers and crunchy cucumbers and juicy campari tomatoes to round everything else out with more veggie freshness.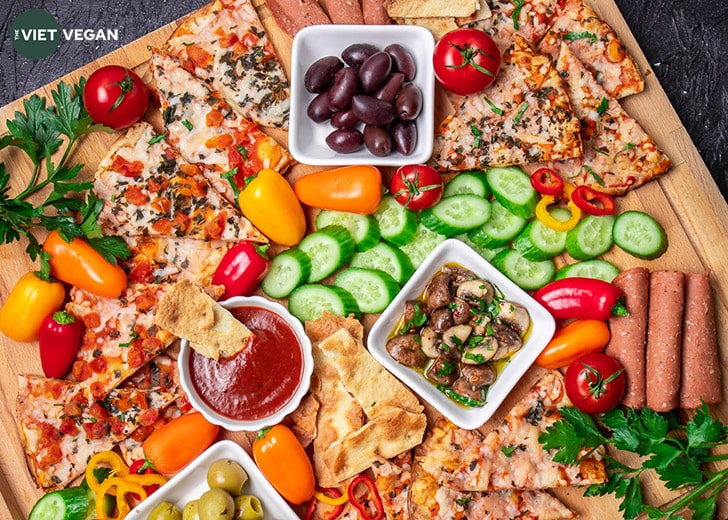 You can customize this snack board like you would customize your favourite pizza. Like buffalo sauce on your pizza? Add a side of Wholly Veggie's crunchy Cauliflower Bites with Buffalo Sauce! Want BBQ sauce, grilled vegan chicken, vegan pepperoni, or pesto? Customize as you like! The Naked Cauliflower Crust is a blank slate that goes with any of your favourite sauces, dips, or accoutrement.
Yield: 3-4 servings
Vegan Pizza Snack Board with Marinated Mushrooms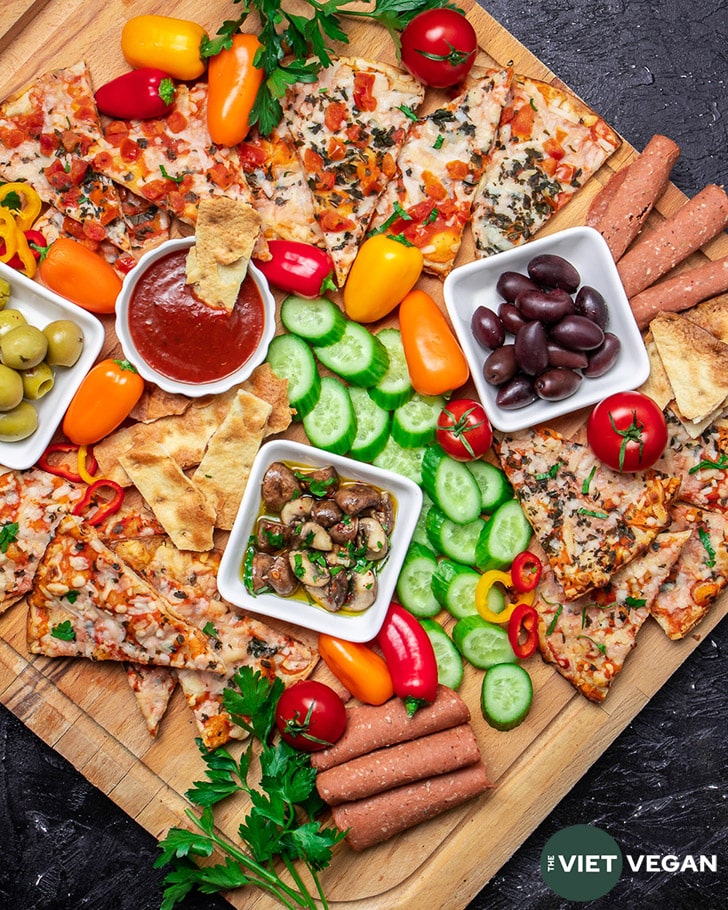 Ingredients
For the board
1 Wholly Veggie! Margherita Pizza - Cauliflower Crust
1 Wholly Veggie! Naked Cauliflower Crust
1 Wholly Veggie! Classic Cheese – Cauliflower Crust
1 cup pizza sauce (storebought or homemade)
6-8 Campari tomatoes
3-4 mini cucumbers, sliced
1/3 cup black olives
1/3 cup green olives
8-10 mini peppers
Your favourite vegan charcuterie (vegan salami, sliced seitan, and vegan cheeses)
Marinated Mushrooms (recipe below)
Marinated Mushrooms
1 pint cremini mushrooms (227 g), washed and quartered
3 cloves garlic, finely minced/crushed
¼ cup olive oil
¼ cup white vinegar
½ tsp chili flakes
2 tbsp chopped fresh parsley
1/2 tsp salt
Instructions
Marinated Mushrooms:
In a large skillet (like a cast iron pan), panfry the quartered the mushrooms and season with a generous sprinkle of salt.
Cook the mushrooms until they release a good amount of water, about 7-10 minutes. Remove from heat and transfer to a jar and let stand while you assemble the marinade.
In a bowl, whisk together garlic, olive oil, white vinegar, chili flakes, parsley, and salt and pour over the mushrooms. Let sit for at least 20 minutes before eating, but for best results, let marinated for at least an hour in the fridge!
To assemble the Pizza Snack Board:
Bake the Margherita and Classic Cheese pizza according to package instructions. Bake the Naked Cauliflower Crust until just browned (about 10 minutes).
Cut up all three into snack-sized pieces, and arrange on the board with gently heated pizza sauce (to dip the Naked Cauliflower Crust), tomatoes, cucumber, black olives, green olives, mini peppers, and your favourite vegan meats. You could also add some Earth Island cheese slices for more of a classic charcuterie + cheese board vibe! Enjoy with dunking veggies and the pizza in pizza sauce and snack on it while watching your favourite show. Perfect for a date night in!