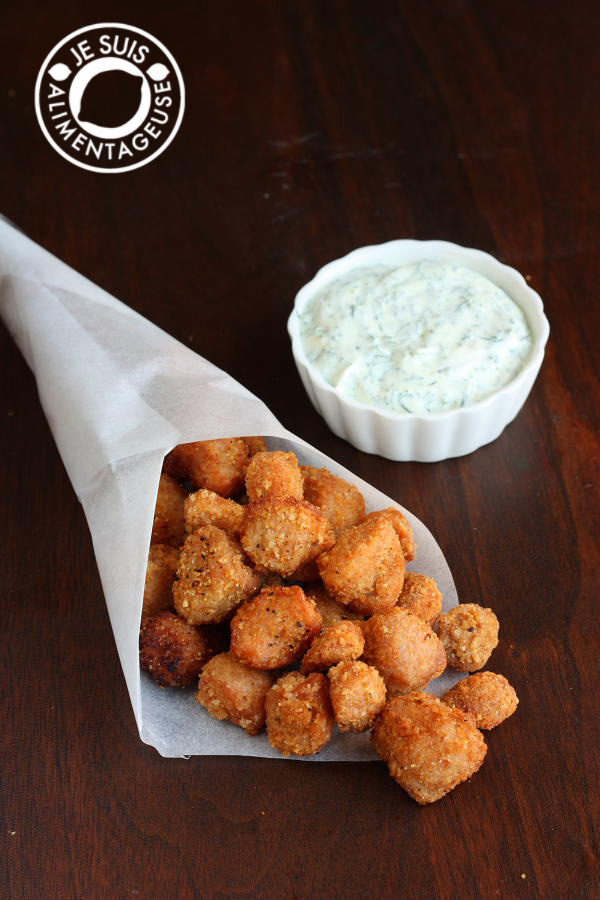 I have been craving popcorn chicken since the minute I went vegetarian. I was never a big fan of KFC, but popcorn chicken, YUM. It's like the best part of KFC with a smaller chicken ratio! So when I saw this recipe for vegan popcorn chicken on Pinterest, I knew I had to have it. Finding soy chunks or TVP was hard in Toronto, because most people don't really know what it is. I checked the organic/health food section and got nothing. I checked my local health food store and got nothing. Finally, one day I was perusing the grocery store for meal ideas and I saw a bag of soy chunks in the ethnic food section. SCORE.
It doesn't take much for me to get excited about food. Â I dream of it. I daydream about how I'll present it. How I'll make it. How deliciously crunchy it will taste. Chris says that this makes him hungry and he doesn't know how I can stand the torture, but it really just makes it taste that much better when I get around to making it.
I kept putting off making it though, because I had other stuff to do, and I needed other people to help me eat this because I planned on making 2 cups of it. My vegan friend, Jessica, and I have opposite schedules. She's always being productive and writerly during the day while my most productive hours are after the sun sets. So when our schedules finally aligned, I made these. Soy chunks are weird and oddly resemble dog food, but man oh man, if you soak these badboys in a flavoured broth/brine/liquid, then coat them in deliciously seasoned breading. YUM.
The first time I made these, I didn't add enough seasoning to the breading or the soaking mixture. The second time I made them, I used vegetable broth both to soak and to coat the chunks and it made all the difference. I added more seasoning to the breading mixture and sprinkled a little extra when they were done frying, and YUM. I didn't even need the dip. But if case you wanted it, I included the recipe below. Also the second time I made them, I didn't coat them in the wet mixture twice I just went from wet mixture to the breading and fried them. There wasn't as much coating as there was the first time, so you can choose which way you want it to be done.
Enjoy!
Yield: 2 cups fried popcorn "chicken", serves 3-4
Vegan Popcorn Chicken
Recipe adapted from [eCurry|http://www.ecurry.com/blog/starters-snacks/vegan-popcorn-chicken/]
Ingredients
- 2 cups dried soy chunks (TVP chunks work too)
- 3 cups vegetable broth
- 2 cloves of garlic, mashed
- 1 tsp salt
- 1 inch cube of ginger, grated
- 1/2 cup flour
- 3/4 cup vegetable broth (use what you had soaked from the TVP)
- 1/2 cup cornstarch
- 1 cup bread crumbs
- 1 tbsp garlic powder
- 1 tbsp lemon pepper
- 1/2 tsp salt
- For the dip:
- 1 tbsp chopped fresh dill
- 1/3 cup sour cream (use soy sour cream to keep it vegan)
- dash of salt and pepper
Instructions
In a large bowl, combine soy chunks, mashed garlic, ginger, 1 tsp salt and fill the bowl with vegetable broth until it covers the soy chunks. Soak for about 20 minutes or until the chunks are soft.
Heat a pot with about an inch of oil on medium high heat.
Mix together 1/2 cup flour and 3/4 cup vegetable broth from the soaking soy chunks and whisk until no lumps remain. Divide between two bowls.
Once the chunks are soft and soaked, gently squeeze the excess liquid from the soy chunks and coat in one of the bowls of flour mixture.
Transfer the chunks to a ziploc bag with 1/2 cup cornstarch. Shake until coated, then transfer to the second bowl of flour mixture, coat, then transfer to another ziploc bag that has the garlic powder, bread crumbs, lemon pepper, and salt.
Fry the chunks in oil in batches until golden. You may need to push them around to fry all sides because they tend to like to float in one way.
Remove and drain on a paper towel.
In a food processor, blend the dill, sour cream, salt and pepper to make the dip.
Serve the fried chunks with dip and enjoy!