Soft, chewy, and perfectly spiced, 
these vegan pumpkin spiced chocolate chip cookies will blow your mind.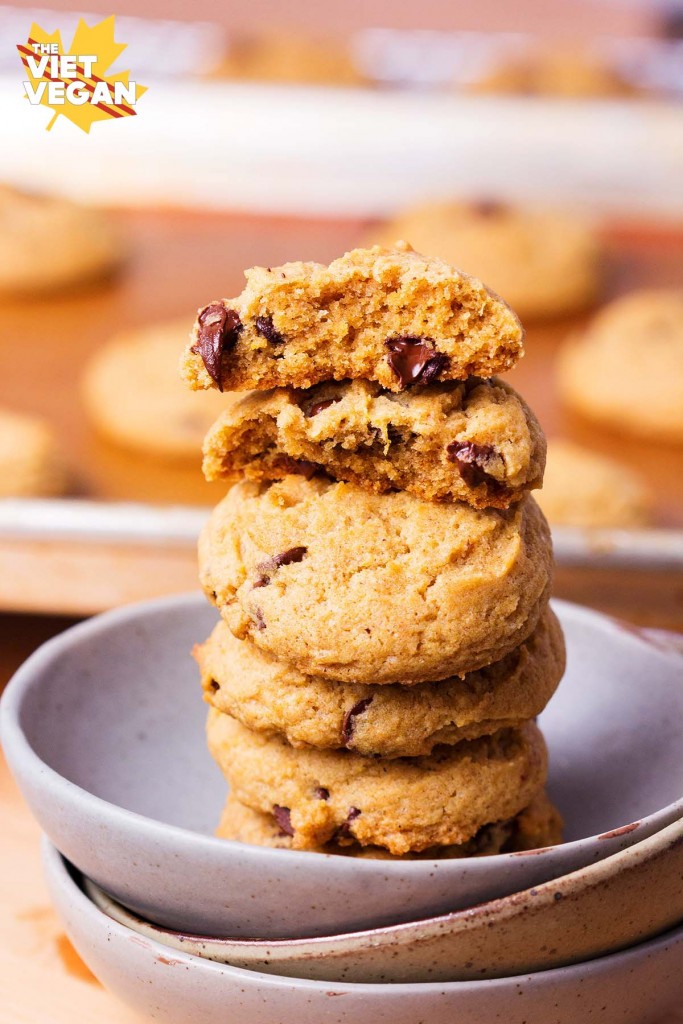 Do you ever practice mindfulness?
I'm always trying to figure myself out, notice when I'm feeling agitated or upset and be aware of how I'm reacting in that situation. It helps me understand what makes me tick and how I can avoid ignoring my body and my feelings, because the last time that happened I went down a very unhealthy path. Being aware of my body, really feeling and recognizing little things like the way my toothbrush felt against my gums or the way my head feels when my hair is tied up tightly in a bun…these sensations are so often forgotten because it all becomes a part of your routine.
When it comes to food, I'm always hyper aware of my experience: the flavours, the textures, the way it warms me from the inside or how it makes me feel when I finish eating. Maybe it's the foodie in me, that I am infatuated with the way I experience food. When I eat something, I try to always make sure I eat something that I enjoy—otherwise what's the point of putting it in my body? Luckily I enjoy hearty leafy greens and whole grains. I love the bursts of lemon flavour that I squeeze over my sautéed kale, or the chew of brown rice and the smooth texture of my favourite tahini sauce (recipe coming soon, I keep forgetting to measure it because I usually just eyeball the ingredients).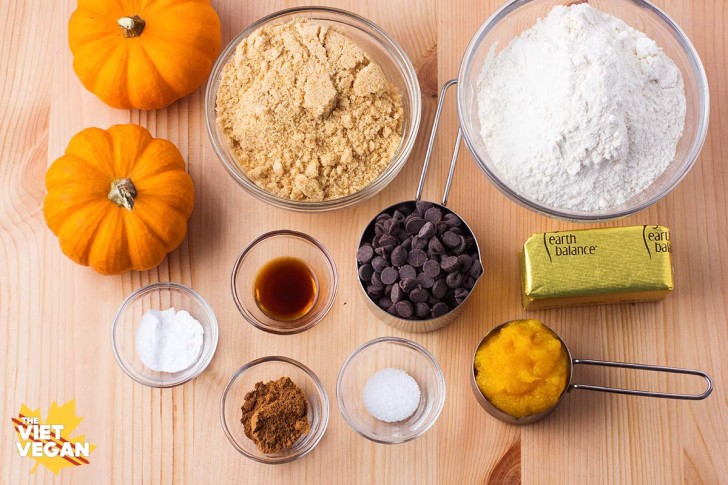 Mindfulness is helping me recognize when I'm tired or hungry. It makes me notice how I feel when Burrito Boy is around, or how my body reacts when I listen to music. I'm more attuned to my body even more than I was before, I follow my instinct, and I do what I need to do to make me feel good. When I described mindfulness to Burrito Boy and described what it means to eat mindfully, he grabbed one of these cookies and let out an exaggerated moan as he took a bite.
"You don't have to be a butt about it," I pouted, even though I knew he was trying to get a rise out of me.
"I'm not even kidding, this is really good," he grinned, stuffing the rest of the cookie in his mouth.
I took a bite of my own cookie and smiled as the spices and chocolate erupted in my mouth. The cookie is soft, chewy, tender with a hint of pumpkin that lingers once the spices fade. We both chewed our cookies in silence, enjoying them too much to talk through them.
Do you practice mindfulness? Do you stop to feel the sun on your face, the feeling in your toes as you put on a fresh pair of socks, the rise and fall of your chest as you begin to fall asleep?
Make a batch of these cookies and feel the way the flavours rise and fall; the texture of these pumpkin spiced chocolate chip cookies; and the smell that fills your kitchen as they bake up in the oven.
Happy eating =)
Recipe adapted from Yammie's Noshery

Yield: 20 cookies
Vegan Pumpkin Spiced Chocolate Chip Cookies
Ingredients
1/2 cup vegan butter (I used Earth Balance), softened (left at room temperature for 15-20 minutes)
1 cup packed brown sugar
1 tsp vanilla extract
1/2 tsp baking powder
1/2 tsp baking soda
1 1/2 cups unbleached all purpose flour
1/4 cup chocolate chips (you can use up to 1/2 cup, depending on how much you like chocolate chips)
Instructions
Preheat oven to 350ºF.
Using a stand mixer or electric beater, beat butter and sugar until creamy.
Add vanilla extract and pumpkin puree and beat until incorporated.
Sift in pumpkin spice, baking powder, baking soda, and flour and mix until just combined.
Fold in chocolate chips. On a lined, thick-bottomed baking sheet (I use a silpat on an aluminum jelly roll pan) scoop out 1.5 tbsp amounts of dough (roughly 1 inch balls) leaving at least 1 inch of space between the cookies for spread.
Bake for 12 minutes (until edges are slightly browned) and let cool on a wire rack for 1 minute before removing from pan and letting cool completely on the wire rack.