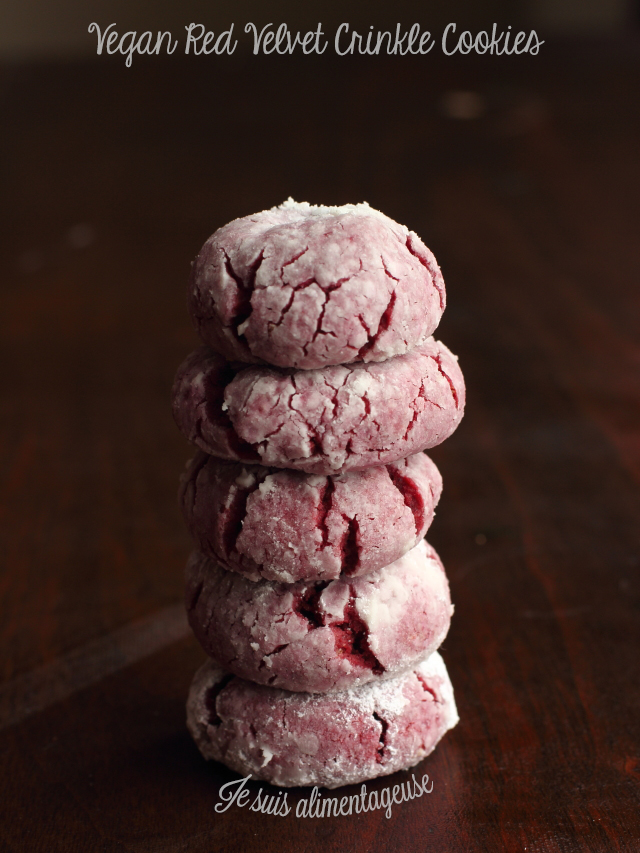 I'm alternating the "Happy" and "healthy" of H&H Saturdays. Last week was happy, so this week is healthy! Healthy for me ties in with my vegan, plant-based and whole foods type approach. But we gotta leave room for dessert. So in my search for festive vegan treats, I found out that sprinkles are not vegan. I'm not the biggest fan of sprinkles, but they're great for adding a little sparkle and pizzazz to cookies, cakes and cake pops. So instead of my original idea of something cute and sprinkled for Valentine's, I made these vegan red velvet crinkle cookies.
Now you may be asking, but sprinkles are just dyed sugar! Why aren't they vegan?
Well first of all, not all sugars are vegan.
Some sugars are refined using bone char, and subsequently aren't vegan. For more info on why not all sugars are vegan, check out the following links:
Check online for info about your favourite sugar brands if you plan on baking for any vegetarian or vegan friends. In Canada, Redpath is really widely used and is totally vegan-friendly! They even sponsored the Toronto Vegetarian Association's Vegan Bake-Off last year, and I got a HUGE basket of Redpath sugar products as a prize for runner up for Best Presentation.
Secondly, not all food dyes are vegan. (Especially red)
Female cochineal insects are crushed to create the red pigment used in many food dyes, cosmetics, and even used in your favourite holiday cookies. Had I known this even before I was vegetarian/vegan, I don't think I would have wanted to eat that. Crushed bugs in my food? Nah. I'm good. (Source:Â PETA)
And THIRD, you know that shine or shimmer your favourite sprinkles, jimmies and quins have? Well, I hate to break it to you, but those are made with confectioner's glaze. And as nice as that sounds, not all confectioner's glazes sound so tasty when you really know what it is.
Some (not all) confectioner's glazes are made with resin created by the Lac beetle, scraped off of bushes, trees, and other places were the Lac beetle nests. Now, that may not seem so icky to you guys who also like honey (FYI, honey is digested pollen yacked back up by bees. I actually love honey. Gross, but yum.)
All in all, if foods are brightly coloured or shiny (particularly candies), they might not be even vegetarian. And there are probably lots of chemicals and creepy preservatives used to keep it stable for store shelves.
To be healthier and better to my body, I chose to make my cookies with better ingredients (well, if you have raw sugar it'd be even better). With some whole wheat flour, unrefined coconut oil, and fresh cooked puréed beets, these cookies are a bit healthier than your average red velvet cookie. (But don't mistake healthier for healthy. These are still balls of sugar haha)
Based on my success with my naturally red velvet cupcakes made with beets, I decided to use beet purée to get the classic red velvet colour and act as the egg replacer in these vegan red velvet crinkle cookies. The beet purée lends an irresistible softness to the cookies, almost melting in your mouth. Like the red velvet cupcakes, I kept the batter as acidic as I could by using natural cocoa powder, as opposed to the more basic pH Dutch-processed cocoa powder. With a little kick of apple cider vinegar, the beet colour keeps it's vibrant rouge while it bakes.
But the 10 minute mark is how you get perfect cookies. Any longer, and the colour starts to cook and fade to a deep, orange. But at the 10 minute mark, you get that lovely crimson that's perfect for the season of love.
They're sweet, but not so sweet that it's cloying. The outside layer of powdered sugar melts on your tongue just in time for a blanket of red velvet to wash over your taste buds with its softness.
And for those who are wondering if it tastes like beets, I didn't think so. Chris didn't either (but we also both love beets so…I think we would have liked them either way). Both my roommate and her partner, who doesn't typically like sweets, liked them. He actually liked them so much he was stunned for about a minute or two as he was trying to under stand its texture and the fact that it had beets!
It has a deep, rich and sweet flavour from the naturally sweet beets but brought out with sugar and the acidity from the batter. Basically, they're delicious (and healthier).

To see what my other H&H friends posted, check out the links below!
Recipe adapted from The Sweet Life's Sarah, and her Red Velvet Crinkle Cookies guest post over on Keepin' it Kind.
Yield: ~35 cookies
Vegan Red Velvet Crinkle Cookies
Prep Time 10 minutes

Cook Time 30 minutes

Total Time 40 minutes
Ingredients
3/4 cup fresh cooked beet puree (boiled or roasted)
3/4 cup coconut oil (solid)
1 1/4 cup granulated sugar
1 tsp apple cider vinegar (or regular vinegar)
1 tsp vanilla extract
1/4 tsp salt
2 cups all purpose flour
1 cup whole wheat all purpose flour (or you could do all white flour)
1 Tbsp baking powder
1/4 cup natural cocoa powder (do not use Dutch processed)
2/3 cup icing sugar for rolling
Instructions
Mix together the beet puree and coconut oil until combined, breaking up any clumps in the coconut oil. Add sugar, apple cider vinegar, and vanilla extract and mix until incorporated.
In another bowl, sift together salt, flours, baking powder, and cocoa powder until combined. Add to the wet mixture in three parts, the first two parts mixing with a spatula (or by the mixer), the last part you may need to use your hands.
Cover with plastic wrap and refrigerate for 1-2 hours until firm enough to roll.
Preheat oven to 350F.
Once chilled, roll into 1 inch balls (about 35-40 of them), roll generously in icing sugar (use lots and lots of sugar), and place on a lined baking sheet (silpat or parchment paper). The thicker the baking sheet, the better even heat diffusion.
Bake for 10 minutes and remove immediately from pan (carefully) and let cool on a wire rack.
Store in an airtight container in a cool dry place.