This vegan tempura is my go-to batter for deep frying anything: it's super light, crispy, and simple with only 5 ingredients!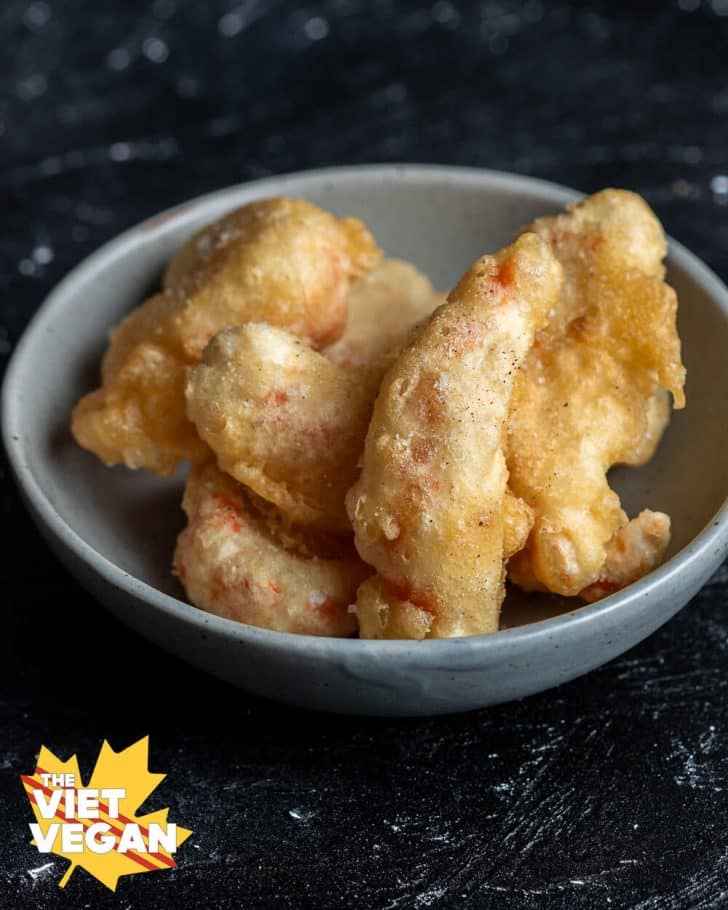 Simply put, who doesn't like tempura? Crispy batter, lightly salted seasoning to dunk into soy sauce, and so many different vegetables to choose from for a variety of textures and flavours…tempura is awesome and can be difficult to find vegan at most sushi restaurants. I started buying these premixed tempura or fry batter mixes at the Asian markets that had the perfect amount of crispiness and lightness to them, I had no idea how they managed to do that with such simple ingredient lists. One day, I looked at one of the packages of the batter and noticed that there were percentages beside the ingredients, and thus, this recipe was born. Percentages turned into ratios, then worked it backwards into a recipe!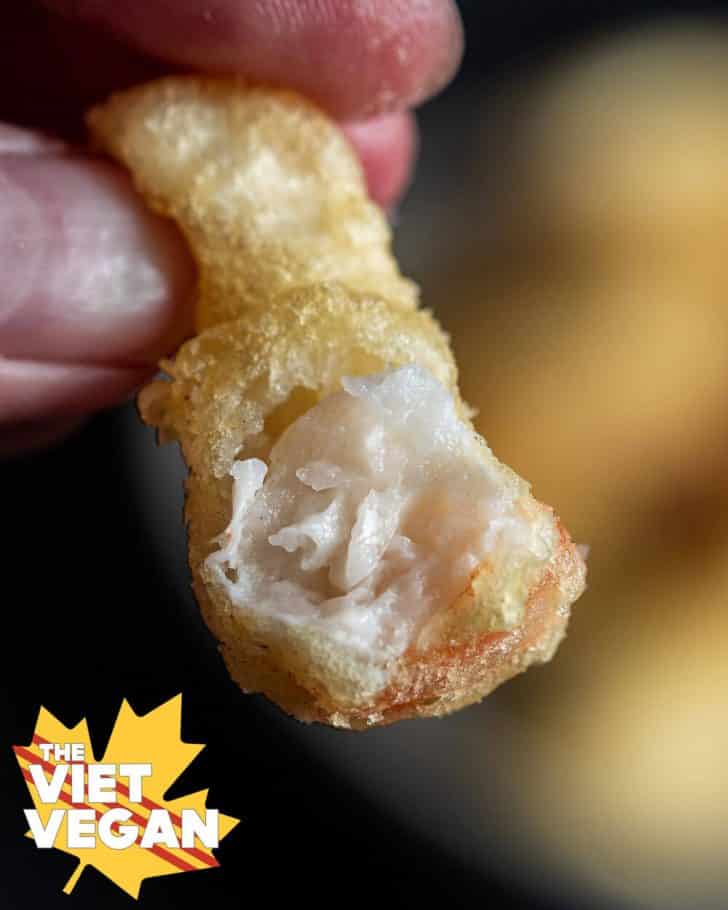 I use this batter for vegan shrimp, eggplant, mushrooms, broccoli, it's all worked out deliciously and so long as you heat up the oil to the proper temperature, the batter will crisp up and cook quickly and avoid absorbing too much oil. If you have any veg that struggles to cling to the batter, make sure you dry your vegetables well and/or toss in a bit of cornstarch to help the batter stick a bit better.
If you want to add panko, feel free to coat in the batter and then quickly dunk into panko crumbs before placing in the hot oil. I learned that panko crumbs are made with bread that is baked (and kind of electrocuted) in a particular way to make the crumb light and airy as opposed to traditional breadcrumbs, which makes for incredibly delicate and crispy tempura!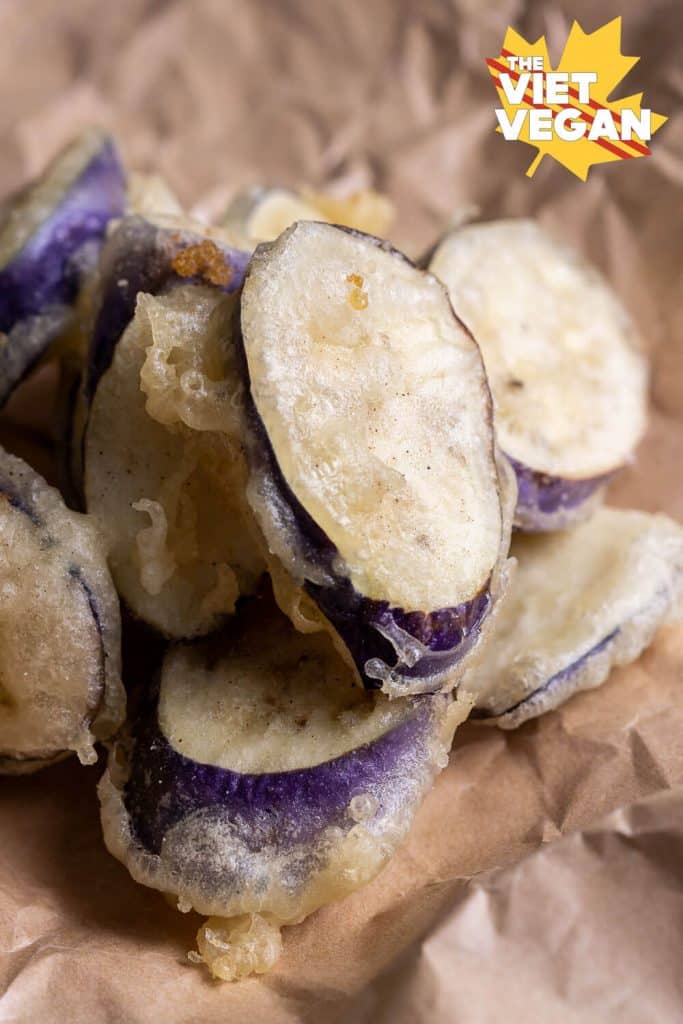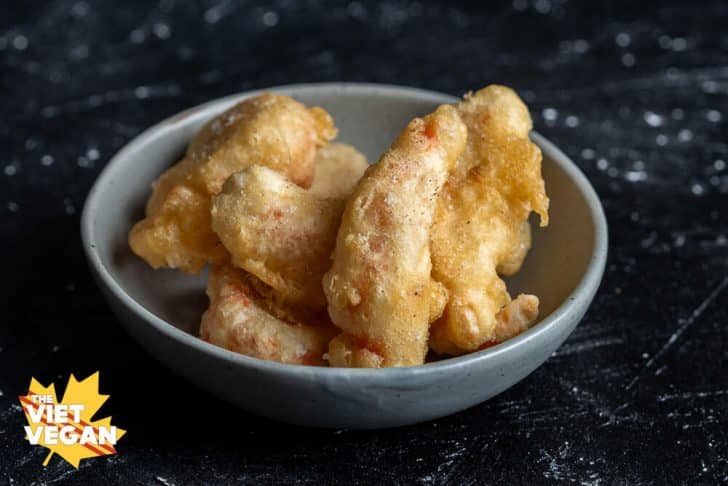 It's incredibly simple and now a staple recipe of mine for any battered and fried food, so I hope you try this vegan tempura batter and enjoy some fried goodness!
Yield: 3-4 Servings
Vegan Tempura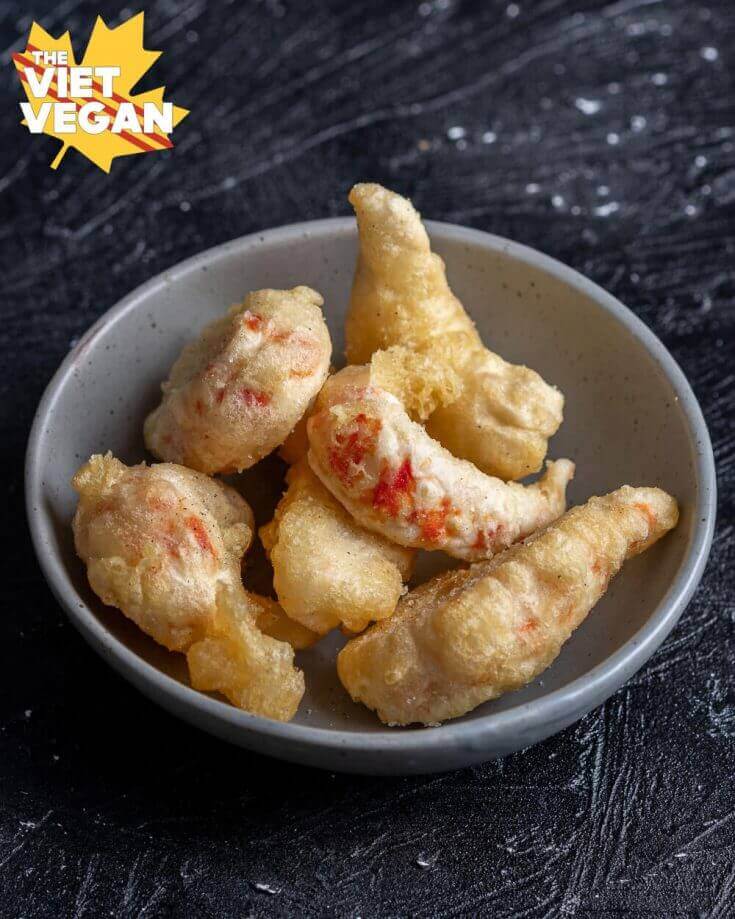 This vegan tempura mix is my go-to for super light, crispy batter that makes for a delicious appetizer or salt & pepper shrimp. I've used this on eggplant, vegan shrimp, sweet potato, broccoli and mushrooms. All have been delicious!
Ingredients
50 g (1/3 cup) cornstarch
35 g (1/4 cup) flour
10 g (2 tbsp) rice flour
1 tsp (3 g) baking powder
1/2 cup sparkling water
Oil for frying
Whatever vegetables/vegan shrimp you freaking want
Instructions
Heat oil in a pot to about 350F/176C (just slightly hotter than medium heat), I suggest at least 1 inch for frying, ideally 2 inches deep in the pot
Mix the dry ingredients together and then add the sparkling water. Stir just until no lumps remain.
Batter your vegan shrimp/sliced veggies (like eggplant, mushroom, broccoli, sweet potato slices, potato slices, green beans MM so many possibilities), then fry until they are crispy! They won't get super golden, but make sure you turn them so they fry evenly. Remove from oil and let drain on a paper towel.
For salt+pepper shrimp, make a mix 1/4 tsp salt and 1/4 tsp white pepper, then sprinkle it on top of your freshly fried deliciousness. Or just dunk on soy sauce because delicious.