This version of vegan tomato egg stir fry based on a Chinese classic, but I made it Vietnamese-style reminiscent of đậu hũ sốt cà!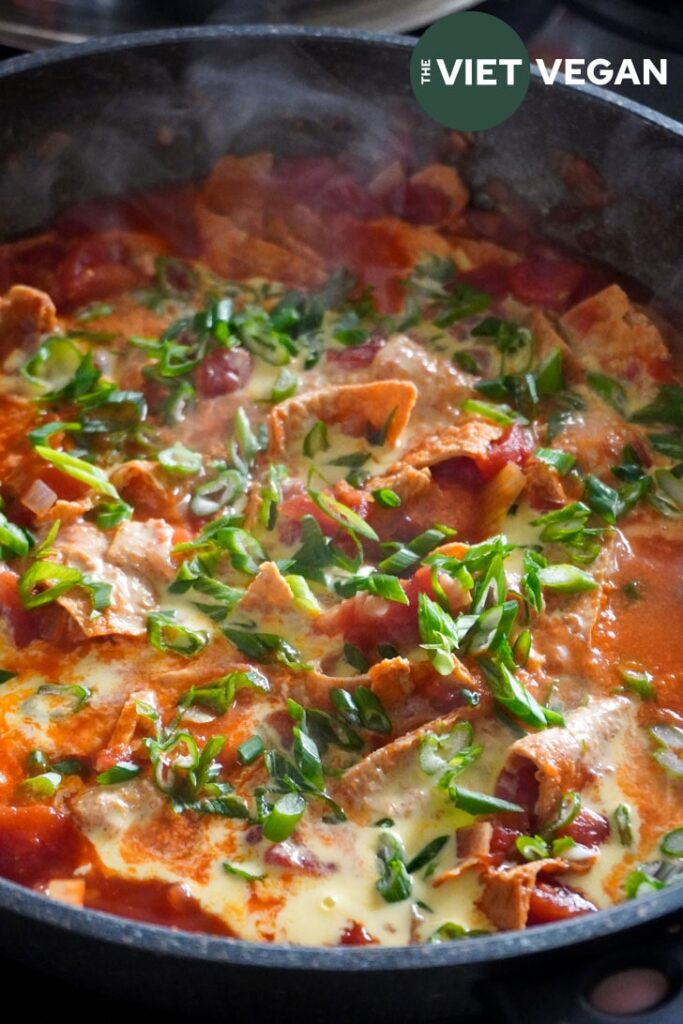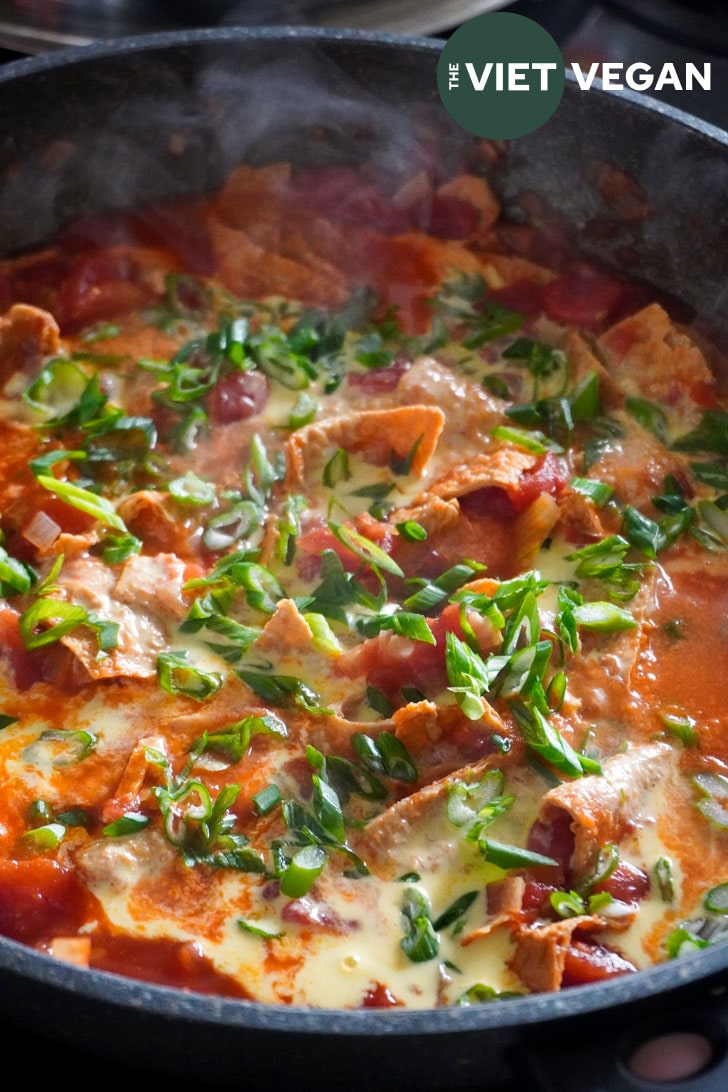 This recipe is one of my family favourite pocket picks that comes together really quickly and with minimal effort.
This dish is a Chinese dish in origin, but you might say I've completely changed it it with my Vietnamese version. I'm often just cooking this without measuring or thinking, and my muscle memory just gravitates towards vegan fish sauce, scallions, and sugar. As is the Vietnamese way.
But I'm sharing this recipe because people kept asking me for it when I would post it on Instagram. So this is my version!
Ingredient Substitutions
If you're cooking this and you don't have access to JustEgg, feel free to omit it! I add it as a little extra fun topping, but it's not necessary.
Fried bean curd is typically what is used in hot pot, but I saw Liz Miu use it once and now I almost always have a box in the pantry for stir frying in noodles, this dish, or to have with phở. It's great because it's about $6 for a big tub and it provides a lot of protein per serving! If you don't have access to this, you can use dried yuba (either the sticks or the sheets), fried tofu (essentially this dish), silken tofu, or even just leftover tofu scramble.
Fresh tomatoes vs Canned tomatoes: I use canned tomatoes for this a lot of the time because I am making this when I am out of dinner ideas. If I have tomatoes I need to use up, I totally use those first! But canned tomatoes work wonderfully in a pinch too. Adjust the amount of sugar to compensate for sad winter tomatoes.
More Authentic Recipes
If you're looking for a more authentic version of vegan tomato and egg stir fry, check out these recipes:
Yield: 6-8 servings
Vegan Tomato Egg Stir Fry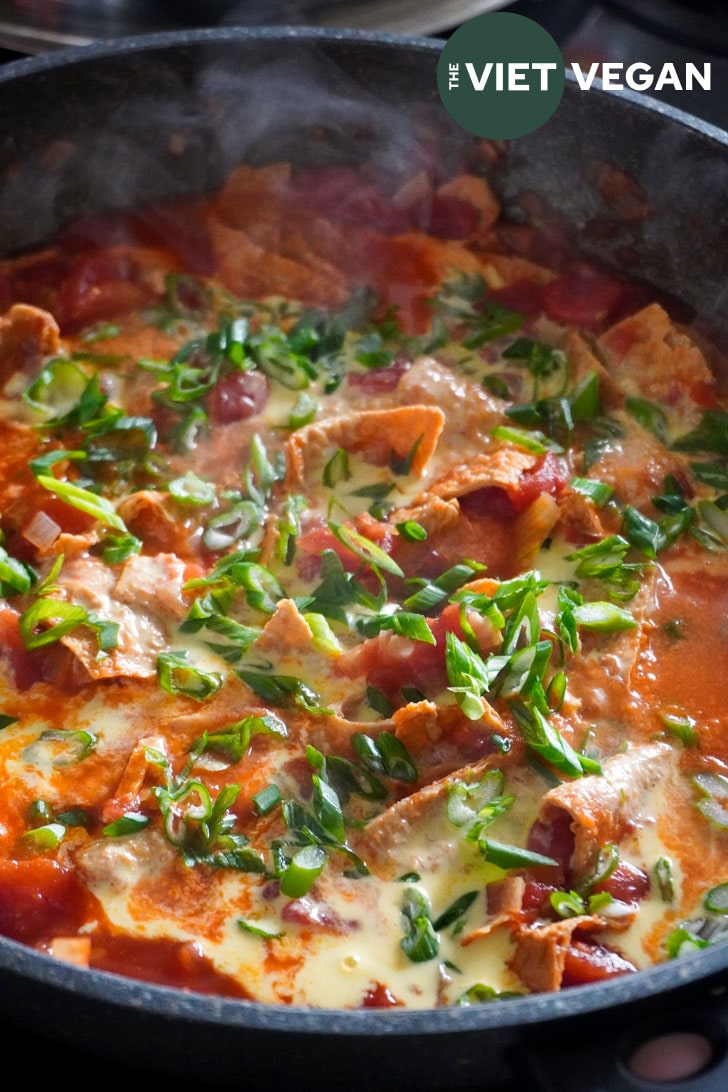 Ingredients
200 g (7 oz) fried bean curd crust
2 tbsp vegetable oil
2 large shallots, diced
3 scallions, whites and greens sliced and separated
3 cloves garlic, minced
2 x 796 mL (27 fl oz) diced tomatoes
3 tbsp vegan fish sauce
1 tbsp sugar
Optional: white or black pepper for spice (I omit this for Bean)
Optional: 1 cup Just Egg
Instructions
Rehydrate the fried bean crust for about 10-15 min in warm to hot water until soft and pliable. Drain and squeeze out the excess moisture then set aside.
Optional: you can cut the bean curd into halves and then triangles for easier eating.
In a large wok, stir fry diced shallots and sliced scallions for about 5 minutes until the shallots have softened, then add garlic.
Stir fry the garlic for about 30 seconds until fragrant, then add the diced tomatoes.
Add the vegan fish sauce and sugar, then let the stew cook over medium-high heat until the tomatoes begin to break down (about 10-15 minutes. The longer you let them break down, the better it'll taste overall, but you can also just add the bean curd right away if you're impatient).
Add the rehydrated bean curd and black/white pepper (if using) and cook until the flavours have melded together (about 10 minutes).
Optional: Pour about 1 cup of JUSTEgg on top and add the scallion greens. Add a lid and let cook for about 5 minutes to set the JustEgg.
Serve over steamed rice or noodles, and enjoy!