This Vietnamese fried tofu dish is reminiscent of agedashi tofu, but with Vietnamese flavours instead! It's a Northern Vietnamese dish that's new to me, and introduced to me by Sophie from The Delightful Plate.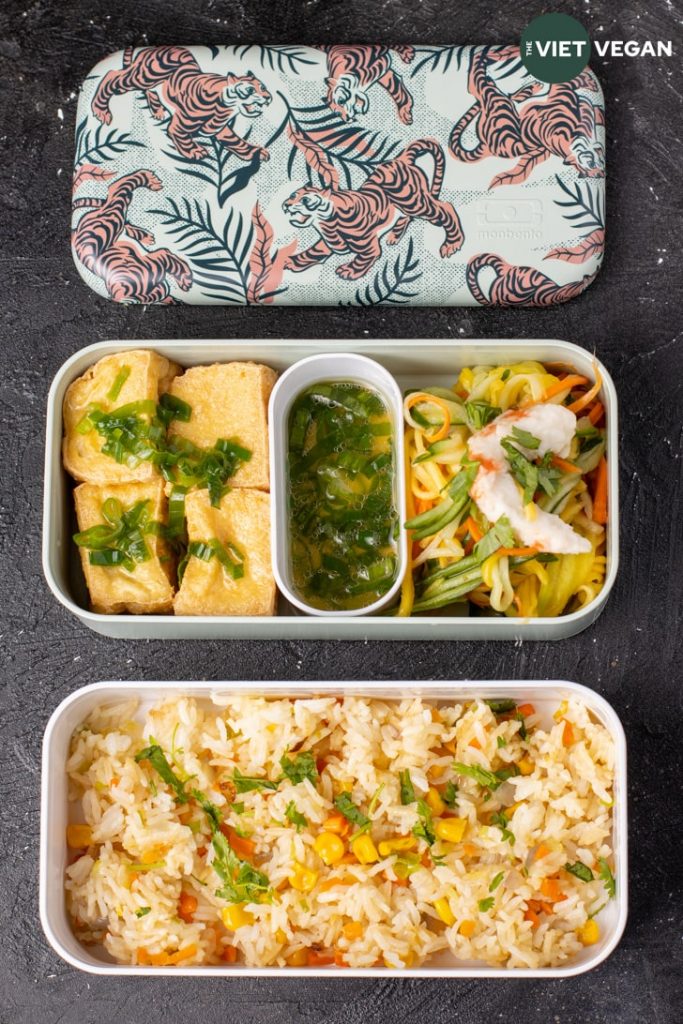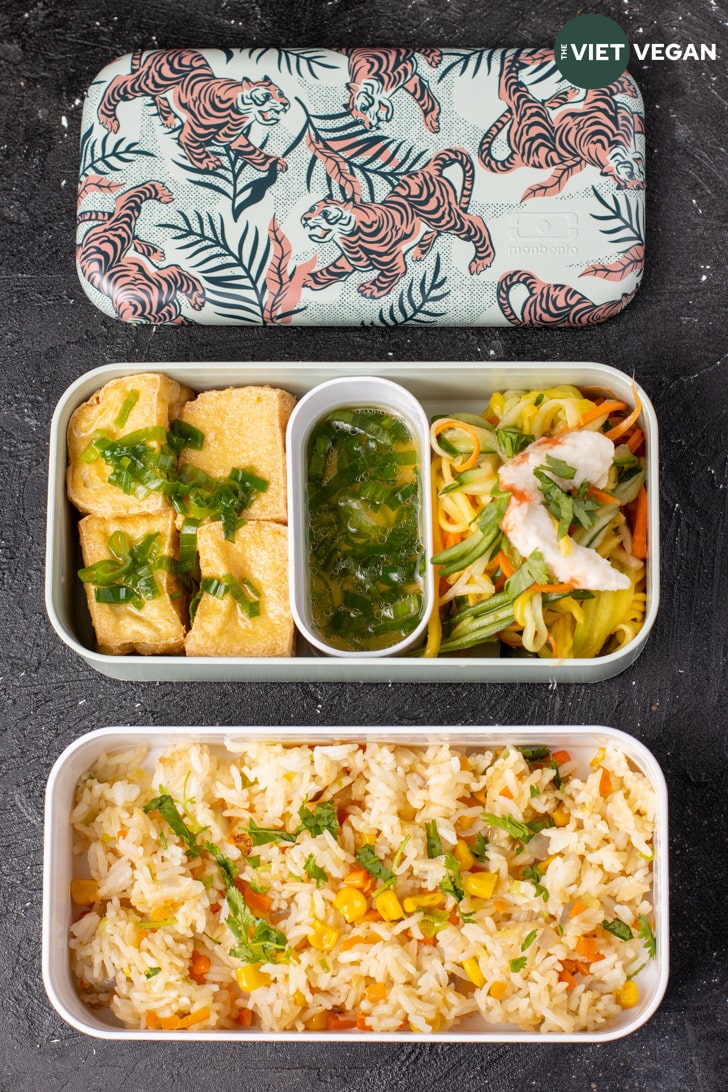 This tofu dish (Đậu phụ rán tẩm hành) is a wonderful texture: soft tender tofu with a crispy outer crust. The sauce is a savoury broth with green onion oil and enhanced with some vegan fish sauce! It's rich and light, and so delicious in this Vietnamese style bento box (video coming soon).
Lately I've been finding I've been struggling to eat much of any mock meats because the smell of them is just too meaty. I'm about 17 weeks pregnant (also, surprise! I didn't really announce here but I did announce it on Instagram/Facebook), and as a result, my first trimester consisted of a lot of trial and error of trying to decipher what triggers my nausea.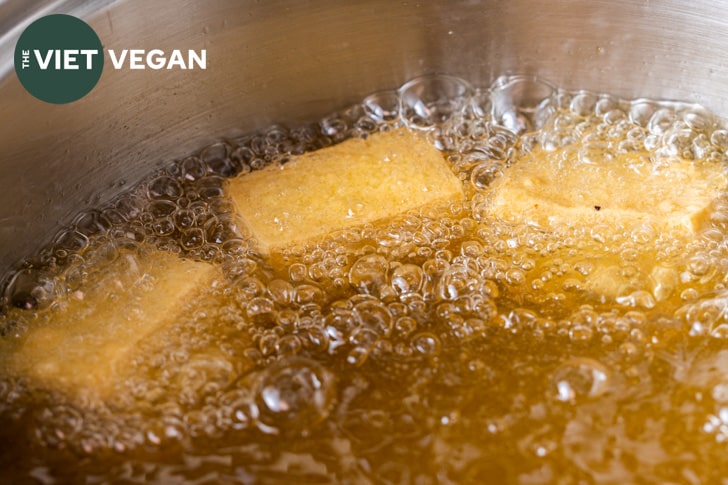 As a result, I've switched to eating a lot more tofu and beans (mostly tofu via vegan egg salad or simply fried tofu, and a lot of Heinz tomato baked beans haha). I've also been grabbing tofu from Thanh Son Tofu in Mississauga anytime I'm in the area and that tofu is like golden nuggets of deliciousness, I eat those like candy, they're SO GOOD. But unfortunately I don't live a stones-throw away from them anymore so I don't have it as often as I used to.
Something I've missed a lot is agedashi tofu. It's a Japanese version of tofu that is a lot like this: there's a diluted savoury broth that the fried tofu sits in, and is topped with some green onions and sometimes shaved daikon/radish.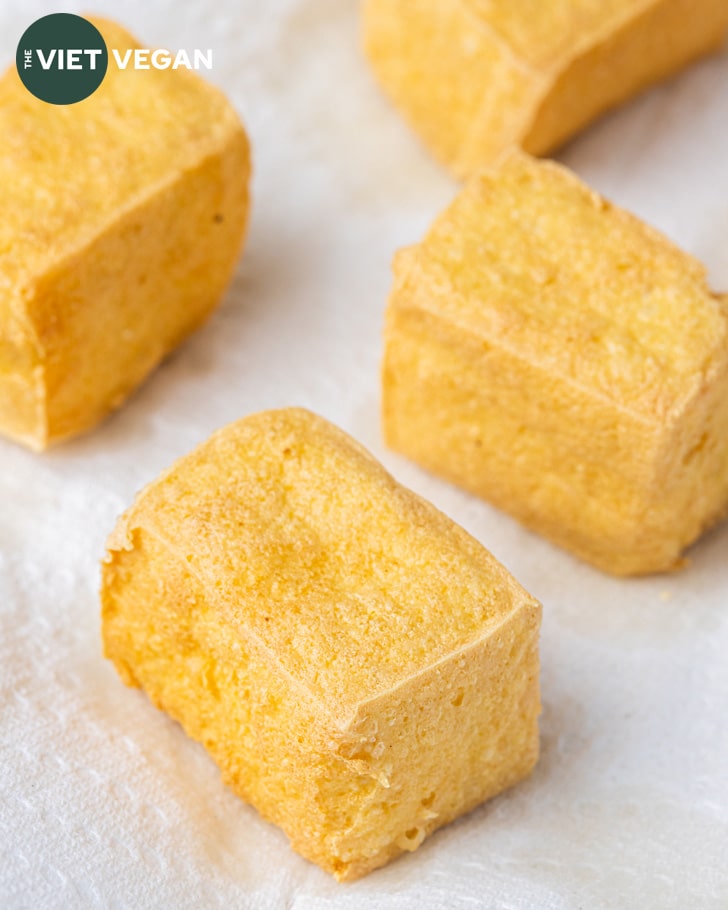 This dish makes me feel like it's the Vietnamese version of agedashi tofu, but with the Vietnamese trio of vegan fish sauce, broth, and green onions. It's delicious, savoury, and piping hot fried tofu is always a delicious time.
I made this dish for a Vietnamese bento box (granted, the tofu is better freshly fried, but so long as you're eating the tofu within a couple hours, it's still delicious in the bento!)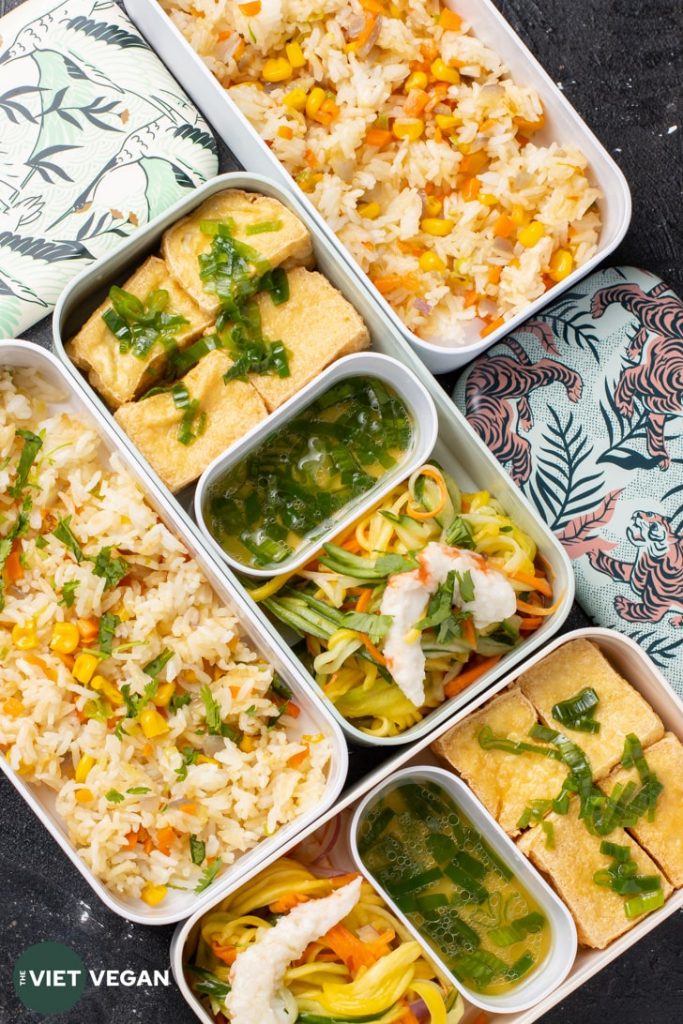 According to Sophie, this tofu dish originates from Northern Vietnam, which makes a lot of sense to me because I had never seen it in my family's cooking or whenever I've been back to Saigon or Hue (granted I haven't been back since 2009).
I can't deny it's delicious and such a great marriage of textures and flavours. It's a bit of work to fry all the tofu (I'm sure you could also do this with airfried tofu) but there's something magical about deep fried crispy tofu!
Recipe adapted from The Delightful Plate
Yield: 4 servings
Vietnamese Fried Tofu with Green Onion Sauce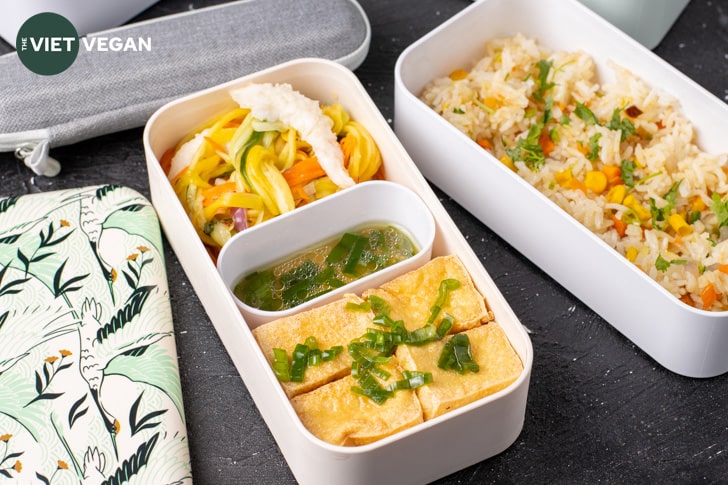 Additional Time
5 minutes
Ingredients
For the tofu
350 G medium tofu***, cut into 1 inch cubes or 1/2 inch slices
A medium pot of oil (~3 inches of oil)
For the Sauce
2 green onions, finely sliced
2 tbsp very hot vegetable oil (I use the oil from frying the tofu)
2 tbsp vegan fish sauce
1 tsp mushroom broth powder
6 tbsp hot water (I use off-boil water to dissolve the broth powder, but you can also just use hot vegetable broth)
Instructions
Over medium heat, preheat a large pot of oil (about 3 inches of oil, please use a high-sided pot as the tofu will bubble vigorously when frying). Aim for medium heat, about 350F (180C).
While the oil is preheating, drain your tofu and then let dry on a lint-free tea towel. The tofu I prefer for this is quite soft, so you have to be gentle, but I like to pat the tofu dry. Flip the tofu occasionally on the tea towel to get the surface as dry as possible (will facilitate in better frying, and it won't bubble as vigorously in the oil). Let drain until oil is preheated.
Meanwhile, in a heat-safe mixing bowl, add your green onions. Pour 2 tbsp of the hot oil from the pot over the onions, and mix to wilt the onions. Add vegan fish sauce, mushroom broth powder, and hot water and mix to combine. Taste to check seasoning, it should be like a salty broth, but not overpoweringly salty.
Once the oil is ready to fry, add tofu 3-4 pieces at the time, flipping until golden and fried evenly. Try not to overcrowd the pot because the tofu will stick to each other before they develop the fried crust. Once golden, drain on a paper-towel lined plate. Fry all the tofu, then transfer them to a plate with a shallow lip.
To serve, pour a small amount of the sauce on each piece of tofu (ideally while still hot), and serve the tofu alongside a small bowl of this sauce to dip in.
Notes
***Asian markets will sell medium firm tofu that is soft, this is the best one, but Canadian brand tofu you'll want a medium soft tofu, but medium works too