Vietnamese-style fried rice is a lot paler than a lot of the saucier fried rices you can find. Using the simplicity of vegetables, mushroom broth powder and a touch of soy sauce, this Vietnamese fried rice is savoury and a perfect side dish to any meal.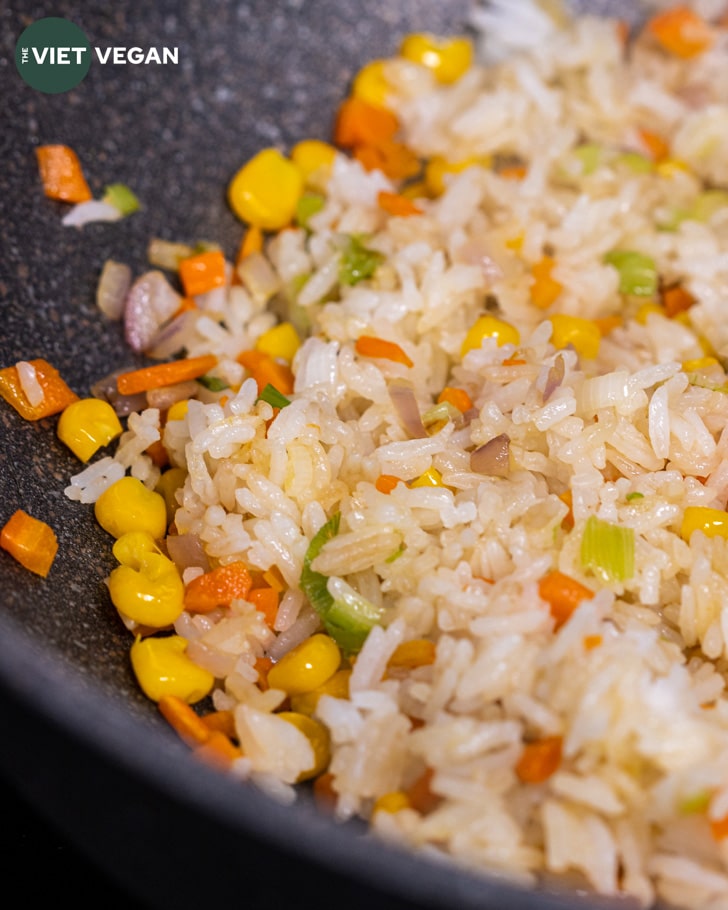 I realized I hadn't shared a simple Viet-style fried rice recipe on here. I have an egg-fried rice one (where I use tofu scramble as an egg replacement that is VERY good! I have a tom yum fried rice using tamarind paste to make a homemade tom yum paste to make a tangy fried rice.
But this kind of simple fried rice is how my mom always made fried rice. It was always what we had to use up some old vegetables in the fridge or leftover rice from last night's dinner. Fried rice was always a delicious option for lunch the next day.
The seasoning is from the mushroom broth powder (they're like dried broth granules, traditionally chicken bouillon granules are used here), which I find from the Asian market that sells Vietnamese ingredients. A touch of soy sauce adds depth of flavour and colour, and you have plenty of flavour coming from the vegetables to round out this dish!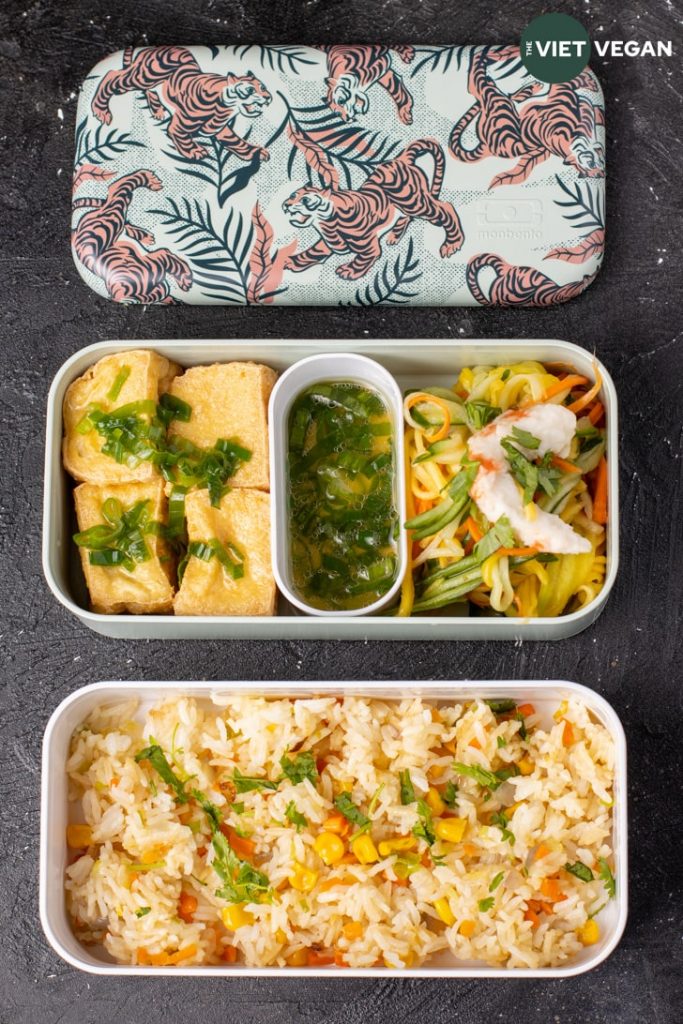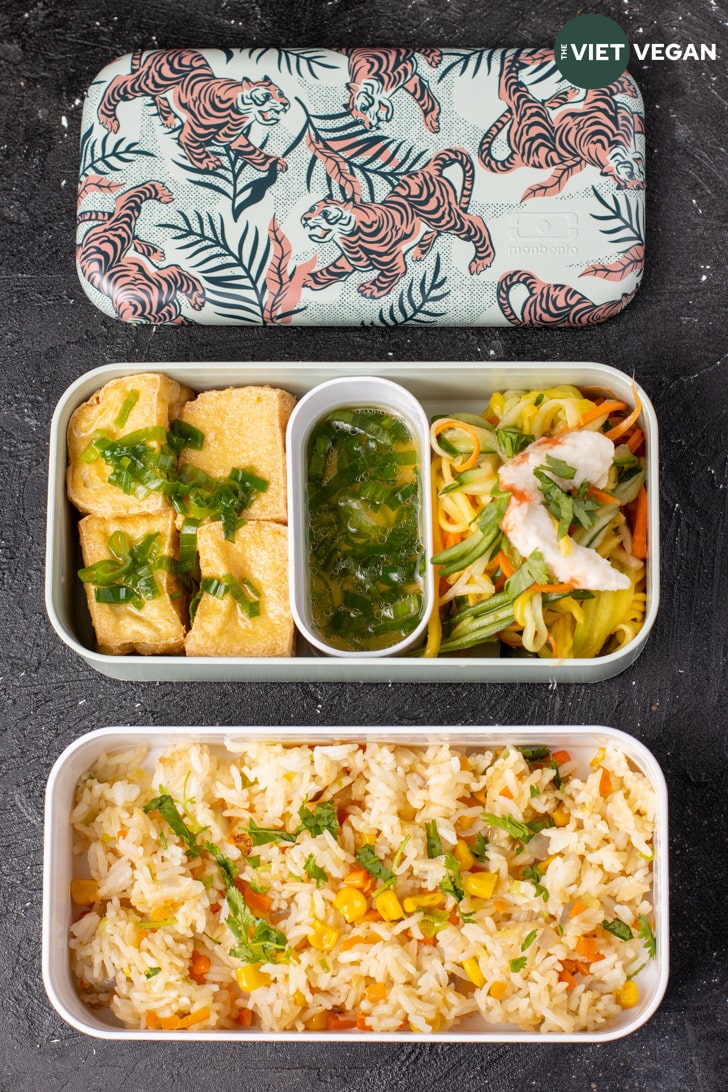 I used this fried rice as the carby layer of a bento box I have coming to YouTube soon, and it was a great, lightly seasoned base to go with the fried and seasoned tofu from the other layer (recipe coming soon!)
Feel free to swap in other veggies you have on hand like zucchini, bell pepper, mushrooms, celery, bok choy, etc. Add them in order of how much liquid needs to be cooked out (e.g. bell pepper, zucchini and mushroom), then vegetables that need more time to cook (like celery, bok choy, cabbage).
You can add seasoned TVP or soy curls, or even diced tofu here too if you want to add protein to this to round it out. But I usually have a protein-focused side dish to serve with this, so in this case, it wasn't necessary. But in any case, this Vietnamese-style fried rice a great way to use up leftovers!
Yield: 2-3 servings
Vietnamese Style Fried Rice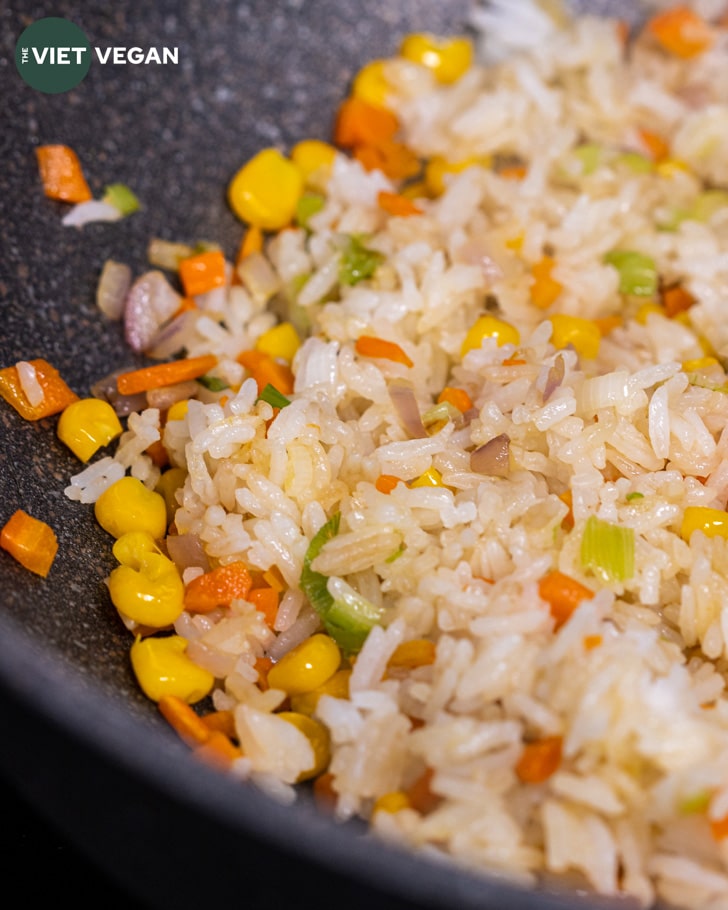 Additional Time
20 minutes
Ingredients
1 cup rice, cooked (~2.5 cups cooked rice)
2 tbsp oil
2 green onions, diced (greens reserved for garnish)
1 shallot or 1/4 red onion (optional, I like it for extra colour), diced
1 medium carrot, peeled and diced
1/3 cup frozen corn
2 tsp mushroom broth powder (any dry broth stock powder works)
1 tbsp soy sauce
Optional:
Black pepper
White pepper
Cilantro to garnish
Instructions
Cook your rice in a rice cooker or however you prefer to make your steamed rice. Follow instructions as per your rice cooker (feel free to use a little bit less water than usual because drier rice works best for fried rice)
Preheat a large wok over medium heat. Add oil, let heat through for 30 sec, then add diced whites of green onions, shallots and carrots, then stir fry until onions are translucent and carrots are almost tender (about 5 minutes).
Add frozen corn and stir to cook through, about 3-4 minutes.
Add the cooked rice, then break up with the cooked vegetables. Season with mushroom broth powder and soy sauce (you could also add a pinch of MSG and a dash of black or white pepper here too). Stir fry for about 5 minutes, or until you hear the rice crackle in the heat and everything looks uniformly seasoned.
Stir in the greens of the diced green onion and then serve! Garnish with cilantro if you have some.