The only time I'll ever eat salad is if it's epic and delicious.
ENTER: The Watermelon Chopped Salad.
The past month and a bit have been kind of a gong-show in terms of eating healthy. Ever since I got back from LA, my eczema has torn my skin apart and I haven't really been able to work with my hands. About a month and a half of me not really being able to move my hands meant that the cooking was kept as simple and as comforting as possible because not being able to do what energizes you makes you very unmotivated to even wake up in the morning. We have been eating a lot of instant noodles, simple rice dishes, take out—basically all really terrible-for-you food. Surprisingly, I haven't changed a lot in my weight, actually if anything I think I lost a bit of weight, but I am very glad to be able to eat colourful food again now that hands have healed up a bit.  We're not 100% yet, but it's a significant improvement.
It's honestly been so nice to be able to eat fresh fruits and vegetables again, especially at this time of year. After all the salt content from processed food, I couldn't believe how much I craved fresh greens, crisp veggies, and juicy, sweet fruit. Summer weather just makes you crave fresh fruits and vegetables, and what better way to celebrate than with a chopped salad?
Watermelon is the shining star in this salad because it brings the juicy, crisp sweetness to this salad, while also being incredibly refreshing! Plus, its vibrant red really makes this salad pop, especially with the simple watermelon vinaigrette that's on top. I've been trying to eat more watermelon lately because of its lycopene content (that's what gives it the redness), since according to some research I've read, lycopene is really good for your skin. To top it off, watermelon is 92% water (hence watermelon.. har har), which is also pretty essential for skin, and I can use all the hydration I can get since my skin barrier isn't as good at keeping in moisture as well as it should. If you want more information on watermelon and the most creative recipes you can think of, visit watermelon.org!
Cucumbers, celery, avocado, and corn add tons of flavour and fibre as well. After eating this salad I felt surprisingly full and energized—I always forget how filling salad can be if it's made right. Tons of varied veggies with fibre, healthy fats, texture, and protein from my favourite vegan chicken (you can easily sub chickpeas or tofu here if you want to avoid processed food). Minced shallots add a mild hit of oniony kick, and the watermelon vinaigrette has just a touch of lime that brings everything all together.
Eat the rainbow, with this watermelon chopped salad with watermelon vinaigrette! I hope you try this recipe and enjoy!
Yield: 2
Watermelon Chopped Salad with Watermelon Vinaigrette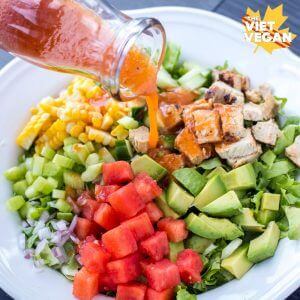 Ingredients
For the watermelon vinaigrette:
1/4 cup watermelon puree
1/4 cup olive oil
1/2 lime, juiced (~2 tbsp lime juice)
salt and pepper to taste
For the chopped salad:
6 cups chopped lettuce of your choice (you can use iceberg, green, romaine, or a combination of them!)
1 cup diced watermelon
1 avocado, diced
kernels from 1 ear of cooked corn
3/4 cup diced cucumber
1/2 shallot, finely minced or sliced (to your preference)
1/4 cup celery, diced
Protein of your choice: I used cooked vegan chicken, but chickpeas work wonderfully here too.
Instructions
Watermelon Vinaigrette:
In a food processor or small blender, blitz a handful of watermelon cubes to get 1/4 cup watermelon puree. Add remaining of salad dressing and pulse until emulsified. Set aside.
To assemble the salad:
Chop all your ingredients to the size you desire. Make two salads by making a bed of lettuce on two plates. Divide the watermelon, avocado, corn, cucumber, shallot, and celery between the two plates.
Serve with watermelon vinaigrette and toss!
Enjoy!
Disclaimer:
This recipe is sponsored by the National Watermelon Promotion Board. All opinions are my own. I only choose to work with brands and companies I believe in, I will never write about a company I don't love. Thank you for supporting my blog by reading my sponsored posts! It's awesome to be paid for recipes I already love to make.