Disclaimer: This recipe is sponsored by the Produce Made Simple!
All opinions are my own.
I've worked with Produce Made Simple a TON because they love to encourage people to eat more produce, which is certainly my jam :)
Thank you for supporting my blog by reading my sponsored posts!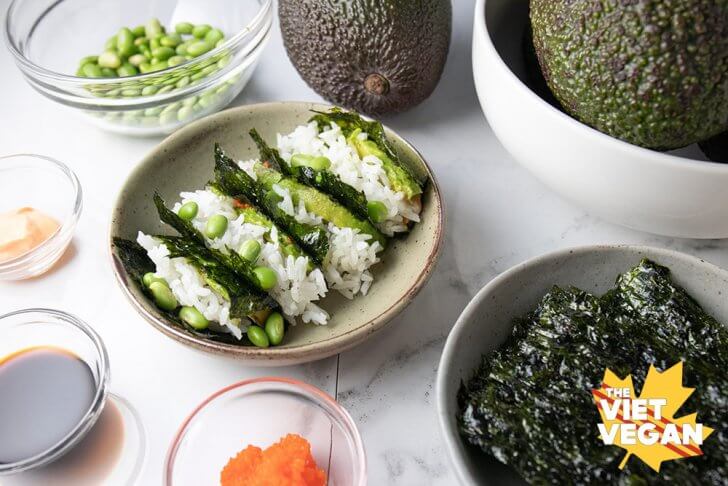 A recipe post two days in a row? Why yes, I'm making up for lost time! A few of you have been asking what I eat on a regular basis, and just between you and me, it's a lot of ramen noodles and batch-made curry because lately I've been too exhausted to cook that much. Luckily for both you and me, these avocado sushi "tacos" require very little effort and are a frugal way of having a fun DIY sushi dinner.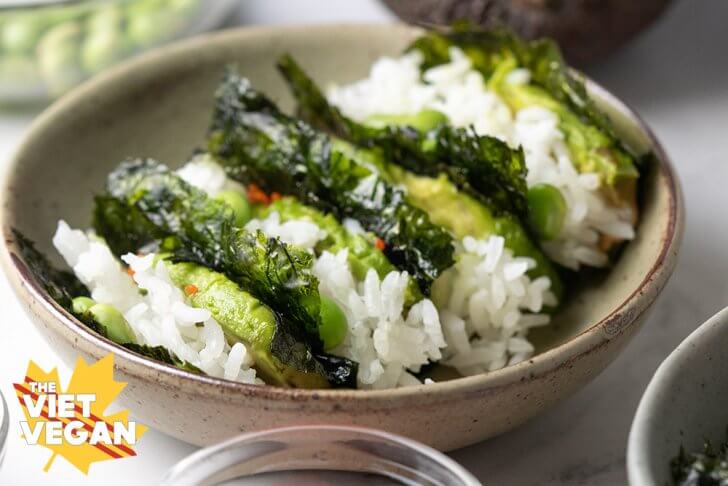 I've posted this kind of meal on Instagram a bunch of times before but I never thought to share it as a recipe post because it seemed too simple. But it turns out a lot of you really resonate with simple recipes, and who doesn't love more ways to enjoy avocado?
On theme with the recipe I posted yesterday, this is another meal that doesn't require turning on an oven or overheating yourself with cooking. All you need is to cook some rice for this, then assemble with your favourite sushi accoutrements: for me that's some spicy mayo and if I have it, vegan roe! I found it at IKEA and it's made with seaweed extract and some spices. It tastes exactly like the salty, sea-flavoured roe I remember, only without the fish eggs ;)
Anytime I go out for sushi, I always get the avocado sushi; bonus points if they have vegan spicy mayo and panko crumbs to make it a crunchy spicy avocado roll. I'm not sure how many of you have panko crumbs at the ready in your pantry, but it's a delicious idea if you feel like adding that to your "tacos".
Lately, I've had to make the conscious effort to make sure I'm eating enough fruits and vegetables, and thankfully, avocados are quite nutritionally dense: about 2 g of protein in one avocado, folate, a suprising amount of fibre, vitamin K, vitamin C and a lot more. Produce Made Simple has a more detailed breakdown of the nutrition on their avocado post, so definitely check that out.
Edamame adds some extra protein, fibre, and potassium, while the nori sheets give me some iodine, vitamin A, vitamin C and calcium. Surprisingly this little meal is nutritious! Even with the spicy mayo haha. For extra veggie goodness, you're more than welcome to add some cucumber into the mix as well.
Avocado Sushi Tacos
Ingredients
1 1/2 tbsp vegan mayo
1/2 tsp sriracha
15-20 roasted nori/seaweed snack sheets
Optional: 1 tsp vegan roe (red seaweed pearls, found at IKEA)
1 medium ripe avocado (or 2 small ones), peeled and sliced
1 cup cooked rice
1/3 cup edamame beans
Soy sauce for dipping
Instructions
Make the spicy mayo by combining the vegan mayo and sriracha and stir until combined.
To assemble the "tacos", use the nori sheet as a base, then layer a dab of spicy mayo, red seaweed pearls, a slice of avocado, about 2 tbsp of cooked rice and some edamame beans. Dip in soy sauce and enjoy!
Alternatively, you can combine the rice, mayo, avocado (diced), seaweed pearls, and edamame in a bowl and mix well, and scoop that into nori sheets to enjoy. Less presentable but it's certainly less fuss.