Disclaimer: This post is sponsored by Red Prince Apples. All opinions are my own. Thank you for reading and supporting this blog!
So…I love chips. I love candy. And I love apples. Therefore I love baked apple chips three times more than I love any of those things. That's sound logic… right? I bought these once from Costco and I had to physically restrain myself from eating the entire bag in one sitting. Since I rarely have the opportunity to buy these from Costco, and a bag of these from the grocery store is ridiculously overpriced, I thought I'd make my own baked apple chips at home.
BEST. IDEA. EVER.
Now I just need to be patient and bake these for two hours and I'll be rewarded with sweet, crispy little chips that taste like candy but satisfy my need for crunch like chips.
Full of fibre, and sweet with absolutely no added sugar. Vegan and gluten-free.
It all comes down to which kind of apple you use.
A good indication is basically to pick a nice, crisp apple that's sweet, but not too sweet, barely tart to keep the tastebuds happy, and with the right amount of deep apple-y flavour. If you pick overly sweet ones, I imagine they'll bake up to be too sweet in the oven, like Golden Delicious apples might. Or even Royal Gala. Overly tart ones will be more like candy, and I'm sure they'd taste good but I don't think it'd fulfill your heartfelt baked apple chip desires like these did. I can feel my lips pucker at the thought of eating granny smith apples or pink lady in baked chip form. No, no.
I tried baking these with Red Prince apples, and they're like the Goldilocks of apples. Crisp. Robust. Satisfying for your sweet tooth yet not overwhelming.
When I was doing research for this post, I found out something that is probably common knowledge OR is assumed to be common knowledge so nobody mentions it. The apples you see in the grocery store have been stored in cold warehouses for up to a year before they end up in your mouth. UP TO A YEAR. I always wondered how we got apples out of season.
According to Nova Scotia Apples, you can essentially pause the maturing stage of apples by putting them in cold storage and controlling the atmosphere by reducing oxygen and increasing carbon dioxide. Did you know that they (the omnipotent "they") also pump packaged foods like chips with nitrogen because it pushes out the oxygen so foods don't go stale? The more you know!
What's unique about Red Prince apples is that they're intentionally stored for 4 months over the winter to mature, resulting in their complex flavour profile: sweet, barely tart, but crisp and crunchy. You could bake 'em, eat em fresh, fry them in some apple fritters, or whatever your heart desires (they have some of their own recipes here). These badboys are Canadian, grown around the Georgian Bay area (Thornbury specifically) and are available from January until June across Canada.
It makes me feel particularly proud as a Canadian to see that our country grows such beautiful and delicious produce. Not to mention that I grew up in a town along Georgian Bay so I feel like these are grown in my childhood backyard (not really, but let's pretend). 
If you're thinking that two hours is too long to wait for these snacks, believe me when I say it's worth it. The first batch I made was sacrificed for taste testing… and then I had to make another batch to photograph. Then…that batch disappeared too….er because I am an apple chip fiend also for taste testing. I think I ate about four apples worth of chips in one day at one point. Did I mention that I'm bad at self-restraint? They're good.
Go make them.
Baked Apple Chips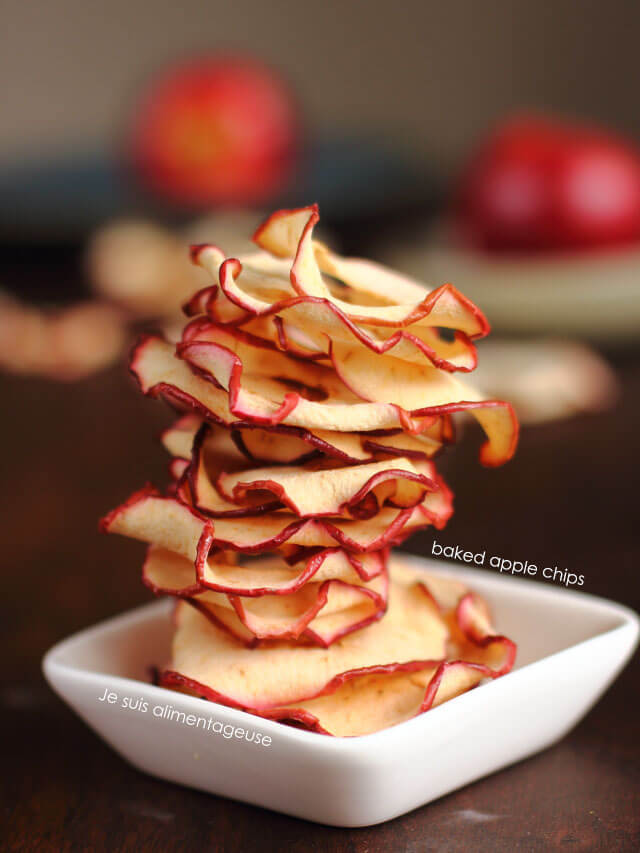 Ingredients
1 Red Prince apple per person (you can make two apples worth on two sheets at once in the oven, but you need to bake it for about an extra 30-45 minutes)
Equipment:
Mandoline slicer or mad slicing skills.
Thick-bottomed baking sheet + silicone mat/parchment paper
Instructions
Preheat oven to 200F.
Slice apples very thin, about 1/16 of an inch. Arrange on lined thick-bottomed baking sheet, making sure that none overlap.
Bake for 1 hour, flip slices, then bake for one more hour. Remove from oven and let cool to crisp. Store in an airtight container.