These black sesame butter cups are a twist on my classic peanut butter cups, but with the deep, nuttiness of black sesame seed butter!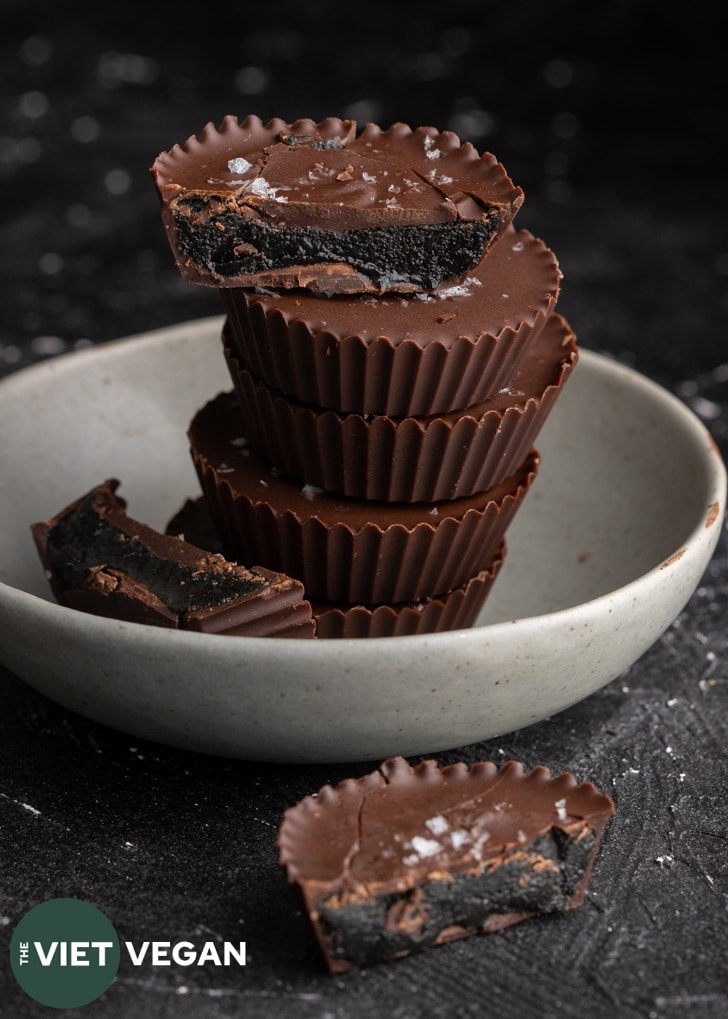 I've been really into black sesame lately and found some ground black sesame seed powder that I've been adding to smoothies and lattes. It adds such a delicious nutty flavour that is so versatile (I use it anywhere you might use peanut butter!)
According to the USDA (because the Canadian Nutrient Database doesn't acknowledge that black sesame exists lol), 2 tbsp of black sesame contains:
3.2 g of protein
2 g of protein
18% of DV of calcium
15% of DV of iron
16% of DV of magnesium
37% of DV of copper
22% of DV of manganese
9% of DV of zinc
and 9% of DV of thiamin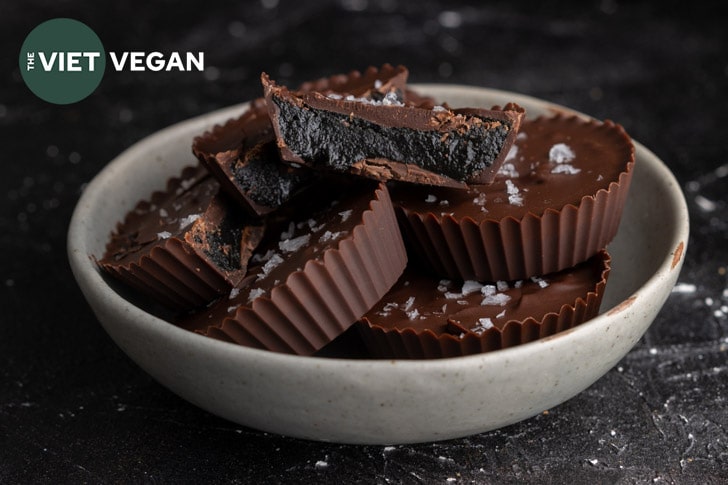 Let's just say that there is definitely way more than 2 tbsp of sesame seeds in this okay? I don't have nutritional values for the sesame seed butter since it'll probably be more nutritionally dense than 2 tbsp of seeds itself. IT'S GONNA BE AN IRON-FUL TIME OK? Especially with chocolate? MM!
This is something I've been eating around my cycle, FOR SURE.
My rendition of these black sesame butter cups is fairly low on the sugar side (1/2 cup of icing sugar does not go a long way). But if you'd like more sugar, definitely feel free to add another 2-3 tbsp if you'd like.
Taste as you go. I personally can't really handle sweets anymore so I end up reducing the sweetness of a lot of recipes I make these days.
Yield: 12 cups
Black Sesame Butter Cups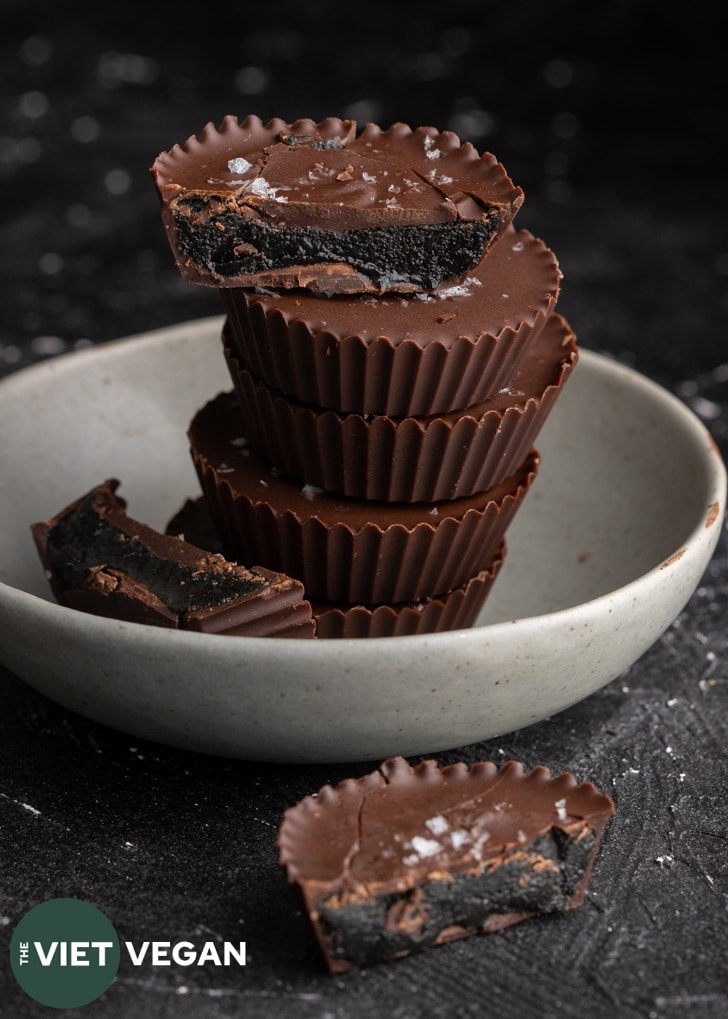 These are just like peanut butter cups but with a black sesame twist!
Additional Time
30 minutes
Total Time
1 hour
5 minutes
Ingredients
1 cup semi-sweet dairy-free chocolate chips
1/2 cup black sesame seed butter (it's like natural peanut butter but sesame)
1/2 cup icing sugar
1/3 cup toasted black sesame seeds, ground
2 tbsp vegan butter (I use vegan margarine)
Flaky sea salt to sprinkle on top (or more black sesame seeds)
Instructions
Over a double boiler (or in the microwave in 30 second spurts), melt the chocolate chips over medium-low heat until completely melted. Bring the heat down to a low once fully melted to keep at a thin consistency for nice, evenly thin chocolate shell.
The easiest way to make these is to use silicone muffin cups as opposed to paper muffin cups (although the paper ones will work, just need some extra TLC to remove). Use about 1.5 tsp of melted chocolate to make the bottom of the cup. I use a back of a small spoon to gently push the chocolate up the sides of the muffin cups, about 1.5 cm high (about 1/2 an inch). Fill all 12 cups (I use a muffin baking sheet to hold all the cups) and then transfer to the freezer to set.
Make the filling by combining black sesame seed butter, icing sugar, ground toasted black sesame seeds, and vegan margarine. Mix well until fully combined. It will be mostly solid, perhaps a tiny bit runny at warmer room temperatures, but you can add extra sugar or ground black sesame if you want it to be a stiffer filling.
Top with the melted chocolate (about 1 tsp), and cover the filling well and make sure the chocolate meets the edges.
Garnish with either flakey sea salt (I used Maldon) and/or toasted black sesame seeds, then let set in the fridge.
Let set for 15 minutes in the fridge, then remove from the muffin cups (if using silicone), and store in an airtight container in the fridge. Enjoy!