I've partnered with Impossible™ Beef Made From Plants to make delicious food that anyone will enjoy, whether they be omnivorous or plant-based! Today I'm recreating a famous Vietnamese dish, bún chả. Obama and Bourdain once ate this dish in Hanoi, and the restaurant, Bún chả Hương Liên, is often now referred to as Bún Chả Obama, which I think is delightful and hilarious.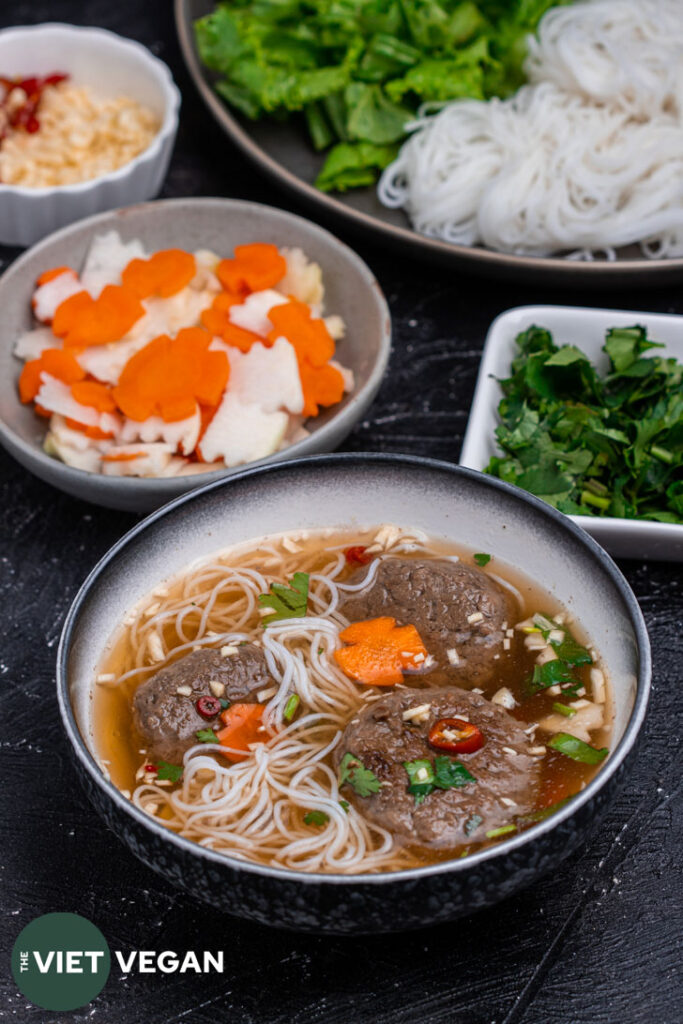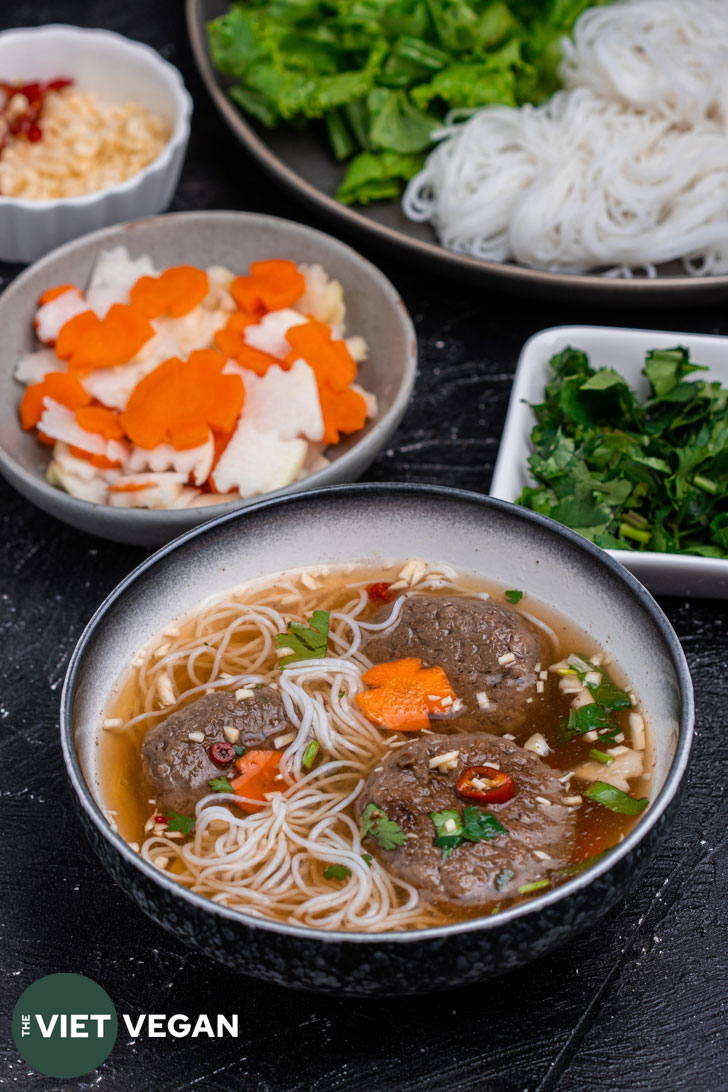 Bún chả is said to be from the northern region (Hanoi), and is known for the Vietnamese classic trifecta: refreshing, savoury, and balanced! My take on this dish is a plant-based version, making it bún chả chay!
What is chả?
The word "chả" in Vietnamese means sausage, and is often made with a variety of ingredients including beef, fish, pork, etc. I'm using Impossible Beef to create these juicy and flavourful meatballs that are the star of this dish.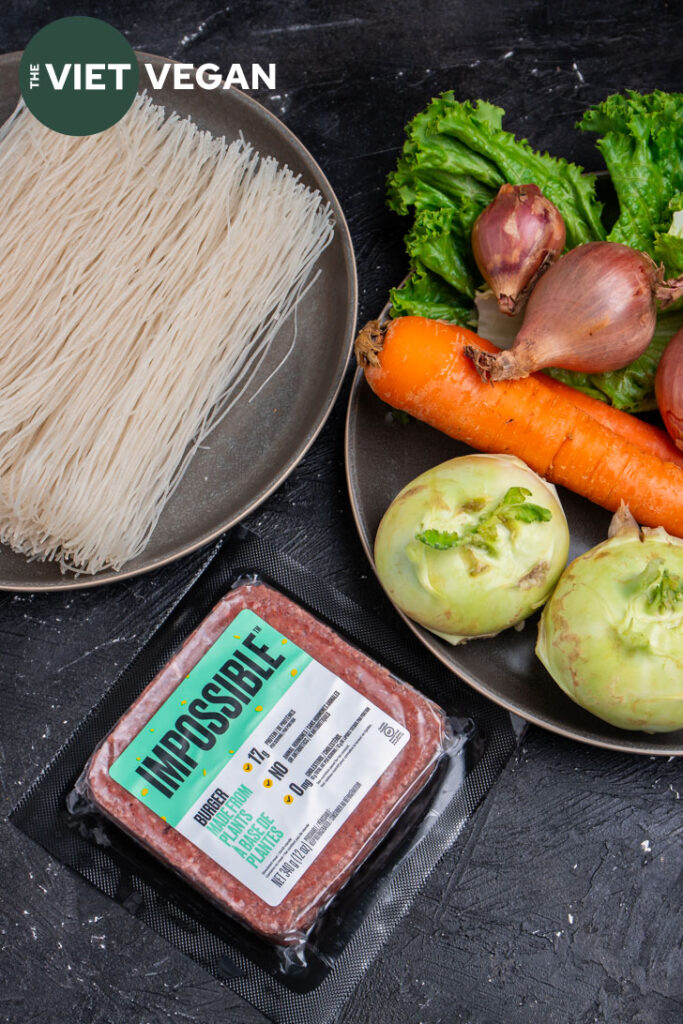 How to eat bún chả
You eat these meatballs with chewy rice vermicelli, crunchy kohlrabi and carrot pickles, with fresh vegetables in a light and savoury vegan fish sauce broth. It's refreshing and satisfying, combining a balance of flavours and textures. I can see why Northern Vietnam loves this dish!
There are Southern Vietnamese dishes that are similar to this bun cha. However, the main difference is that you serve this with a more diluted broth. Then you pull noodles, pickles, and meatballs into the broth to enjoy. I grew up eating bún thịt nướng, which has a bed of rice vermicelli, pickled carrots and daikon, lettuce, ground peanuts, and the classic Vietnamese dipping sauce.
These meatballs are eaten in the south as well, but I believe they typically have more lemongrass (this recipe has none). We eat these over a bed of vermicelli noodles instead of in this broth. I've also seen these cut up in spring rolls! No matter how you eat it, it is delicious.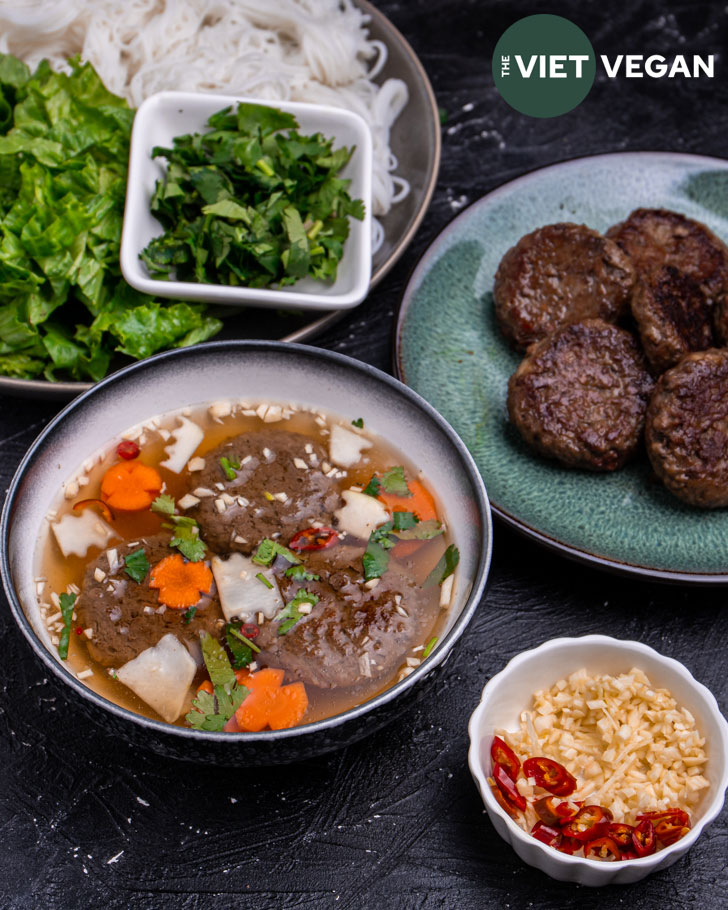 There are many versions of bun cha, and the dipping broth often has green papaya and carrot. I've used kohlrabi because it's more accessible than green papaya. Plus it's easy to pickle with the carrots together.
The pickles for this dish differ from the other quick pickled carrots and daikon. The carrots are sliced as coins, and are salted first to draw out extra moisture, since they are a thicker cut.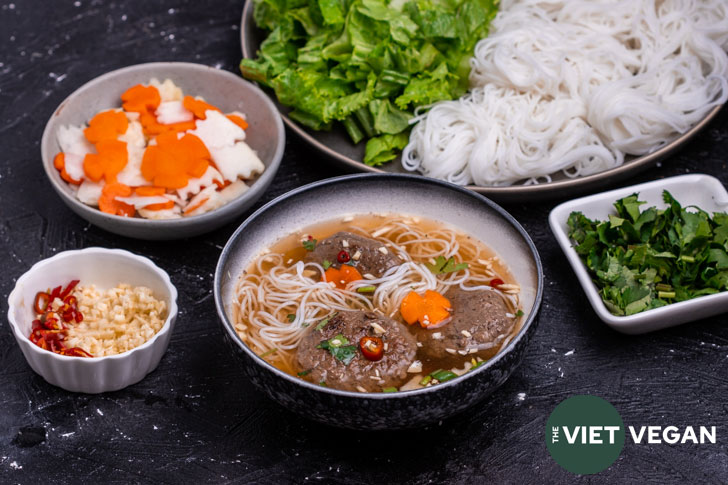 Recipe Inspiration
Since I'm not from Northern Vietnam, I wanted to make sure my veganized attempt at this recipe did the dish justice. My recipe takes inspiration from the following fellow Vietnamese creators! Each of them have similar but unique takes on bún chả. I'm so grateful to see so many fellow Vietnamese recipe creators sharing food from our culture.
Yield: 4 servings
Bún chả chay - Caramelized Impossible™ Beef Made From Plants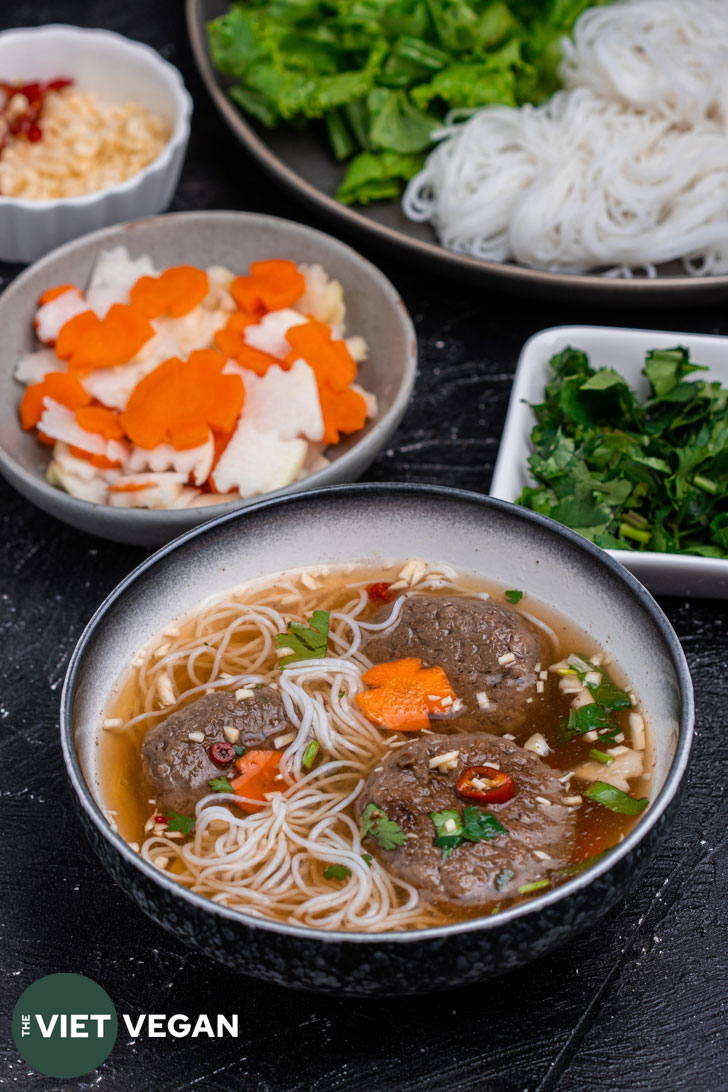 Prep Time
1 hour
15 minutes
Total Time
1 hour
45 minutes
Ingredients
Quick Pickled Kohlrabi and Carrot
2 medium carrots, peeled, and sliced
2 medium kohlrabi, peeled and sliced
2 tsp (10 mL) salt for 15 min
2 tbsp (15 ml) granulated white sugar
¼ cup (60 mL) white vinegar
Caramelized Impossible Beef Meatballs
1.5 lbs (680 g) Impossible™ Beef Made From Plants (2 packages)
2 tbsp (30 mL) vegan fish sauce
1 tbsp (15 mL) vegan oyster sauce
1/4 tsp (1 mL) nước màu** syrup or molasses
1 tsp (5 mL) mushroom broth powder (stock granules)
1 tbsp (15 mL) sugar
1 medium shallot diced (~1/4 cup)
2 pinches MSG
1/4 tsp (1 mL) finely ground black pepper
Dipping Sauce/Broth
½ cup (125 mL) vegan fish sauce
½ cup (125 mL) granulated white sugar
4 cups (1 L) water
1 lime, juiced
Garnishes:
3 cloves garlic, minced (not crushed)
1 bird's eye (Thai) chili pepper, finely sliced
6-8 leaves green leaf lettuce
2 sprigs cilantro, finely chopped (tender stem can be used)
Fine rice vermicelli noodles (bún tươi), cooked (375 g package)
Instructions
Quick Pickled Kohlrabi and Carrot
In a large bowl, mix together sliced kohlrabi, carrot, and 2 tsp salt. Mix until well coated and let sit for 15-20 minutes to extract excess water to get a crunchier pickle. Mix every 5-10 min to get an even extraction. (At this point, you can begin marinating the Impossible Beef meatballs)
Rinse and drain, then return to the mixing bowl. Add 2 tbsp sugar and ¼ cup vinegar, and mix well to combine. Transfer to a container and let pickle in the fridge. You can eat this immediately, but best to wait at least an hour for the veg to absorb the flavour.
Caramelized Impossible Beef Meatballs
In a large mixing bowl, combine two packages of Impossible Beef, 2 tbsp of vegan fish sauce, 1 tbsp of vegan oyster sauce, ¼ tsp nước màu syrup (or molasses), 1 tsp mushroom broth powder, 1 tbsp sugar, 1 diced medium shallot, 2 pinches MSG, and ¼ tsp ground black pepper. Mix well and let marinate for about 30 minutes.
To cook, scoop into 3 tbsp sized balls, and shape to a flattened round shape. This should make about 18 meatballs. Cook in a nonstick pan over medium heat, flipping to caramelize both sides until cooked through. Remove from heat and set aside.
Dipping Sauce/Broth
In a small pot, combine ½ cup vegan fish sauce, ½ cup granulated sugar, and 3.5 cups water. Heat until the sugar is dissolved. Add the juice of one lime once sugar is dissolved.
When serving this dish, heat the dipping sauce through (as desired, you can bring to a boil and your ingredients will cool it as you eat anyway).
Garnishes
To cook your noodles, bring a large pot of water to a boil, then add the rice vermicelli noodles. Cook until tender and chewy, but not overcooked (about 5 minutes). Drain and immediately rinse with cold water. I usually pre-separate the noodles into serving sized clumps for easier serving. Set aside to drain in a colander while you prepare the remaining ingredients.
Chop your garlic and chili and place in a small bowl for people to add to their bowls as desired. Chop lettuce to bite sized pieces, and finely chop cilantro. Set all the garnishes in the middle of the table for people to grab as desired.
To serve:
In individual bowls, spoon about 1 cup of the warmed dipping sauce, then add garlic, chili pepper, and cilantro (as you like it). Add the caramelized Impossible Beef meatballs, then the quick pickled kohlrabi and carrot, and eat with the lettuce and noodles. Dip the noodles and lettuce into the dipping sauce and enjoy, getting a bite of everything as you eat!
Notes
Nước màu translates to "colour water", which is typically made with caramelizing sugar until you have a deep amber colour. A lot of people make this at home and don't use a concentrated syrup, which would mean you use about 1 tbsp for this dish, but I'm using the concentrated syrup bought at the Asian market. If you don't have access to this but you have molasses, use molasses. They have a similar flavour profile and will add colour to your caramelized meatballs!