This veganized Vietnamese classic Stuffed Bitter Melon Soup (Canh Khổ Qua Chay)
uses a sweetened mock pork seitan to stuff bitter melon with tons of green onion for flavour.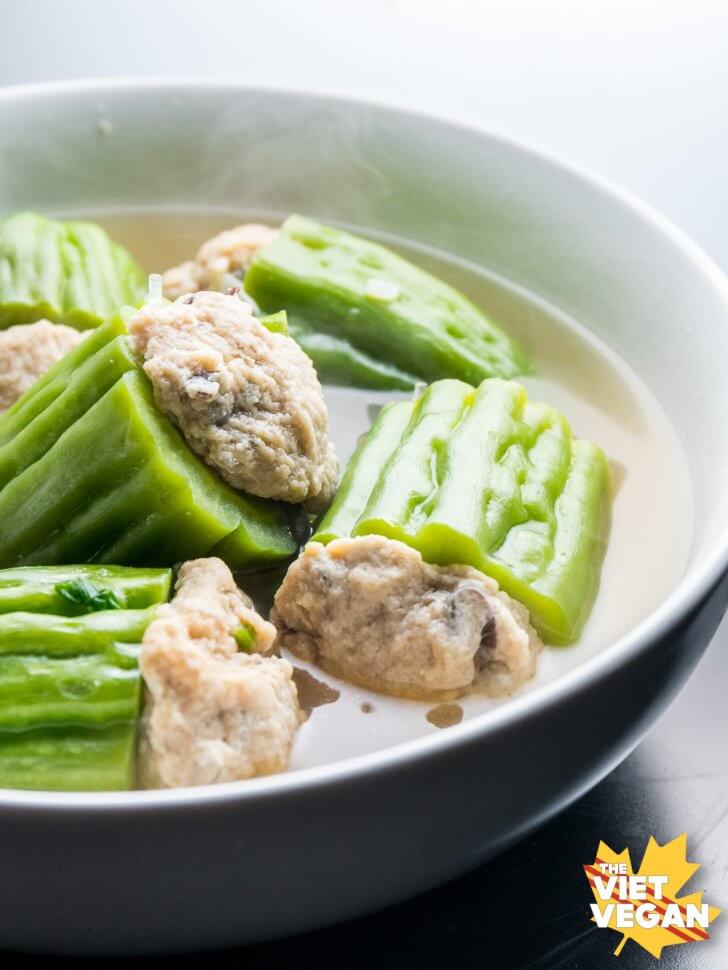 The older I get, the more I crave dishes I had as a kid. I remember getting to the dinner table and grimacing once I saw a steaming bowl of this stuffed bitter melon soup. I would sneakily try to eat the other side dishes at the table and avoid this one as much as possible, but my mom would just plop a piece in my little rice bowl and glare at me as I made a face. The young, obedient child I was, I ate it, trying to let the bitter melon take up as much space in my bowl as possible so I didn't have room for another one, but she'd just put another one in my bowl all the same. I enjoyed the stuffing well enough, but the green, monster-like bitter melon was definitely far from my favourite.
But now, it's been over 10 years since I've been home for this kind of dinner, and over 6 years since I've had any meat, and somehow this soup is nostalgic instead of traumatic for me. Despite the fact that I love to cook now, I wouldn't have learned to cook if it weren't for my mom dragging me away from the computer or whatever book I was reading to help her in the kitchen. I remember begrudgingly coming down to the kitchen to help my mom cook, and my tasks were usually chopping onions and de-seeding the bitter melon.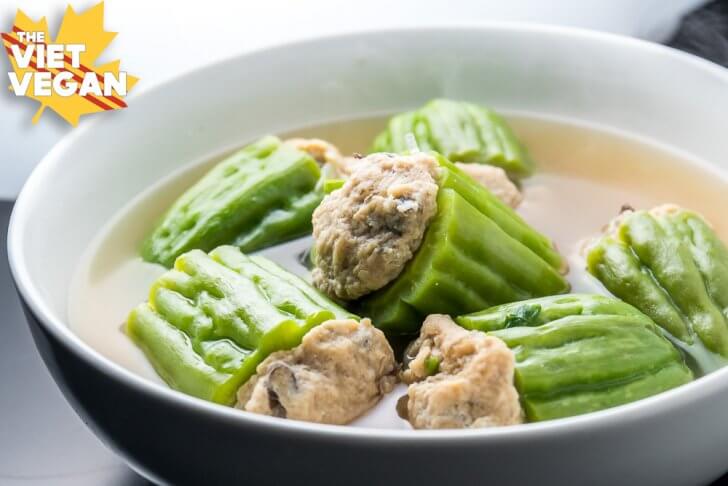 Suffice it to say, my mom forced me to do a lot of things that I kind of hated when I was a kid–take piano lessons, get my driver's license, learn how to cook, learn Vietnamese–all skills that I hate to admit, but I really appreciate now. She shouldered the brunt of my angst, my lip and cuttings words as she dragged me to driver's ed classes or practice Vietnamese, but she knew it was for my own good.
Watching me grumble as I ate my way through 2 or 3 pieces of stuffed bitter melon, little did she know that these small moments would help me remember my roots and make me appreciate the fact that I live in two cultures.
So for Mother's Day (and as a collaboration with Vegan Lovelie, their recipe can be found here), I've made this veganized stuffed bitter melon soup. My mom has been vegetarian for the last few months and has missed a lot of these dishes she used to make. Mom, I'm sorry for all the flack I gave to you as a kid, I hope you know I appreciate it now and I love you.
Happy Mother's Day <3
Seitan recipe adapted from The Gentle Chef – Skye Michael Conroy's Porq Cutlet recipe from Seitan and Beyond (affiliate link).
Canh Kho Qua Chay (Vegan Stuffed Bitter Melon Soup)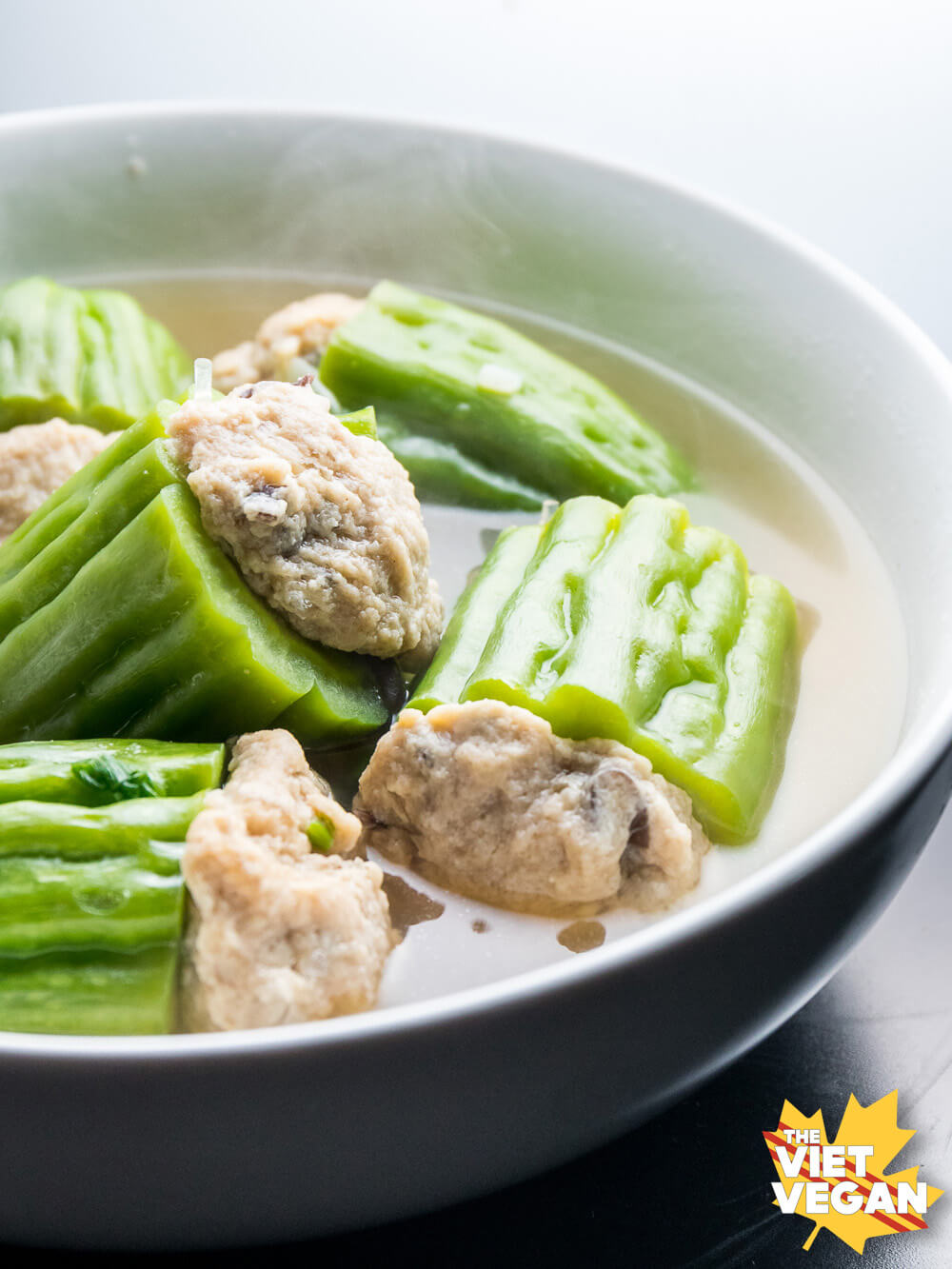 Ingredients
1 portion of dried mung bean noodles (~10-15 g depending on your packages)
2-3 bitter melon gourds, cut into 2 inch pieces and deseeded
15 g of dried, black fungus mushroom (sliced)
225 g (~1 1/2 to 2 cups) vital wheat gluten
2 tbsp onion powder
1 tbsp garlic powder
1/2 tsp white pepper
140 g firm tofu (pressed) (about 1/3 of a typical block)
2 tbsp white miso (low sodium)
2 tbsp grapeseed oil
2 tbsp tamari
3/4 cup water
5 sprigs of green onion, finely diced
8 cups broth (I used 8 cups water + ¼ cup mushroom broth powder)
¼ tsp black pepper (to taste)
Instructions
In separate bowls of warm water, soak mung bean noodles in one and dried black fungus in another until reconstituted (about 10-15 minutes). Drain and chop into small pieces (about ½ inch or 1-2 cm in length). It doesn't need to be perfect.
Prepare bitter melon by washing, trimming the ends, and cutting into 2 inch rough pieces (about 4-5 pieces per bitter melon). Use a spoon or paring knife to de-seed and de-pith. Try to remove as much as the white part as possible. Set aside.
In a large mixing bowl, combine vital wheat gluten, onion powder, garlic powder, and white pepper and stir to combine. Add your chopped fungus, chopped glass noodles, and 4 sprigs worth of green onion (reserve 1 sprig for the soup), stir and set aside.
Blend the wet ingredients (pressed firm tofu, miso, grapeseed oil, tamari, and water) until smooth and no lumps remain. Pour into bowl of dry ingredients. Mix together until you get a rough dough (it might feel a little tacky, that's okay).
Turn the dough onto a clean work surface and knead until elastic—it will end up being sort of lumpy looking but will stretch quite a bit before it tears when you pull at it. You shouldn't need to add any extra vital wheat gluten, but if it's just so incredibly tacky, the extra moisture from the mushrooms and noodles may require an extra 1 tbsp of gluten. If you have any extra bits of mushroom or noodle sticking out, that's okay too. It's not the most beautiful dish anyway, the gnarly bits are part of the charm.
Stuff the hollowed bitter melon with the seitan mixture, you'll probably use about 2-3 tbsp per piece. Make sure to push out any air bubbles when stuffing it, and smooth the ends of the seitan to be flush with the end of the bitter melon.
While you're doing that, heat up 8 cups of seasoned broth with the remaining green onion until it reaches a boil. Once boiling, add the stuffed bittermelon and cook at a medium simmer for about 10-15 minutes (until they start to float). Add pepper to taste and enjoy with rice!