This veganized Vietnamese classic Stuffed Bitter Melon Soup (Canh Khổ Qua Chay)
uses a sweetened mock pork seitan to stuff bitter melon with tons of green onion for flavour.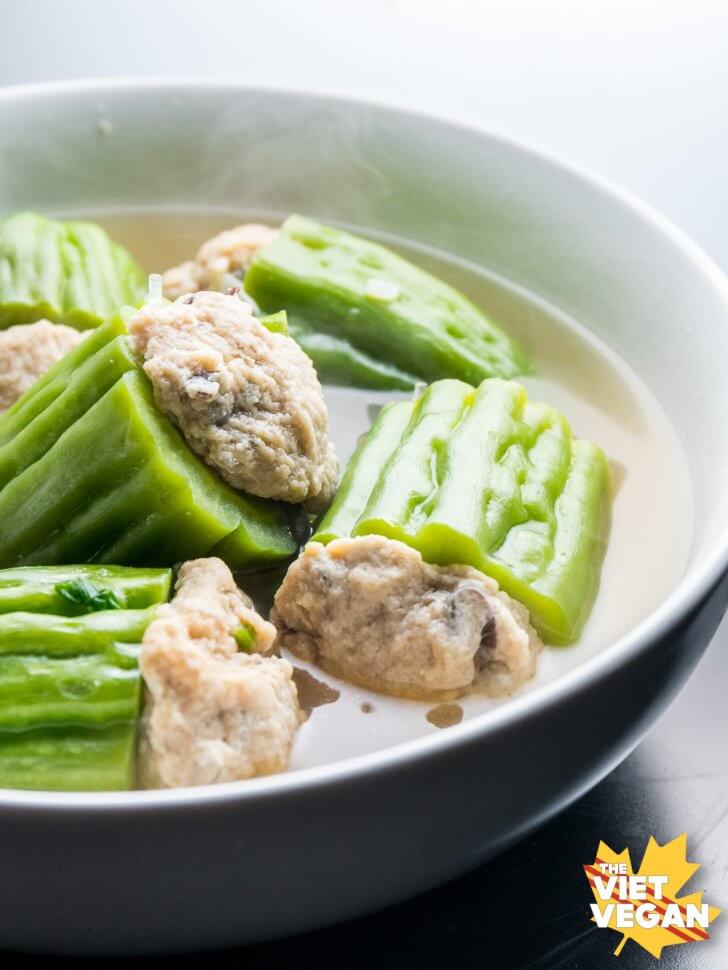 The older I get, the more I crave dishes I had as a kid. I remember getting to the dinner table and grimacing once I saw a steaming bowl of this stuffed bitter melon soup. I would sneakily try to eat the other side dishes at the table and avoid this one as much as possible, but my mom would just plop a piece in my little rice bowl and glare at me as I made a face. The young, obedient child I was, I ate it, trying to let the bitter melon take up as much space in my bowl as possible so I didn't have room for another one, but she'd just put another one in my bowl all the same. I enjoyed the stuffing well enough, but the green, monster-like bitter melon was definitely far from my favourite.
But now, it's been over 10 years since I've been home for this kind of dinner, and over 6 years since I've had any meat, and somehow this soup is nostalgic instead of traumatic for me. Despite the fact that I love to cook now, I wouldn't have learned to cook if it weren't for my mom dragging me away from the computer or whatever book I was reading to help her in the kitchen. I remember begrudgingly coming down to the kitchen to help my mom cook, and my tasks were usually chopping onions and de-seeding the bitter melon.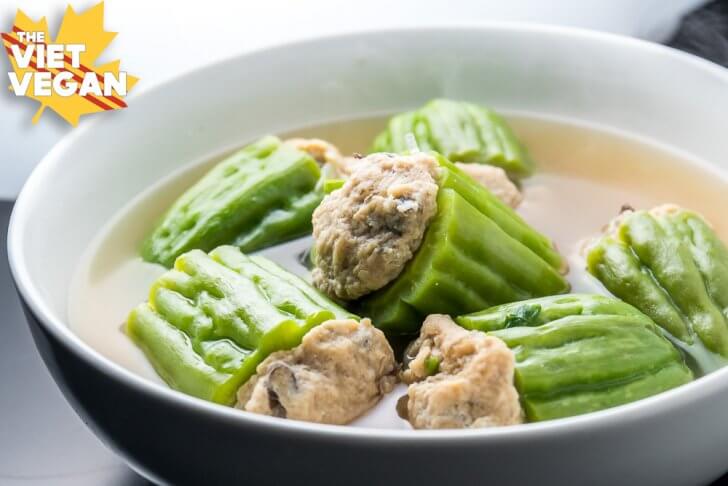 Suffice it to say, my mom forced me to do a lot of things that I kind of hated when I was a kid–take piano lessons, get my driver's license, learn how to cook, learn Vietnamese–all skills that I hate to admit, but I really appreciate now. She shouldered the brunt of my angst, my lip and cuttings words as she dragged me to driver's ed classes or practice Vietnamese, but she knew it was for my own good.
Watching me grumble as I ate my way through 2 or 3 pieces of stuffed bitter melon, little did she know that these small moments would help me remember my roots and make me appreciate the fact that I live in two cultures.
So for Mother's Day (and as a collaboration with Vegan Lovelie, their recipe can be found here), I've made this veganized stuffed bitter melon soup. My mom has been vegetarian for the last few months and has missed a lot of these dishes she used to make. Mom, I'm sorry for all the flack I gave to you as a kid, I hope you know I appreciate it now and I love you.
Happy Mother's Day <3
Seitan recipe adapted from The Gentle Chef – Skye Michael Conroy's Porq Cutlet recipe from Seitan and Beyond (affiliate link).