This is a copycat vegan ice cream cake with layers of dairy-free vanilla and chocolate ice cream, a fudgy chocolate ganache layer and a crispy cookie crumble layer. It's the ice cream cake I grew up with, but vegan!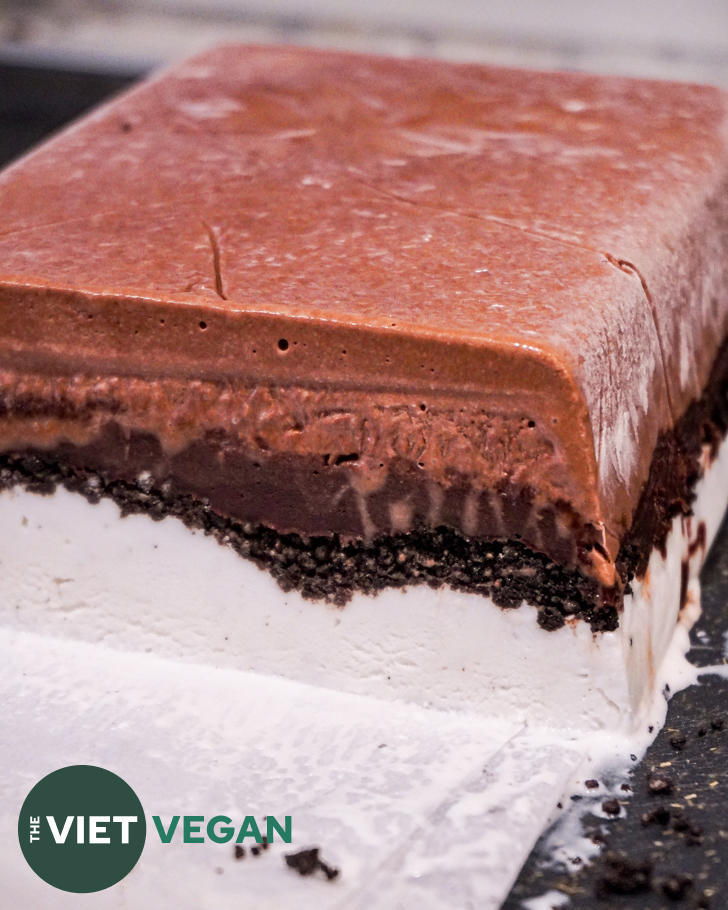 Typically for the recipes I post on here, I like to test them a few times before I post them. However, my family can only eat so much ice cream at a time and vegan ice cream is expensive. Plus, in this economy? Frankly, I can't afford it. But I wanted ice cream cake for my birthday, and a vegan version of this would have been around $50 for a small, 8 serving sized cake. So I veganized this version of copycat ice cream cake and it turned out amazingly!
Homemade VS Storebought Dairy-Free Ice Cream Cake
Dairy-free ice cream isn't cheap, so here's the cost breakdown of what it takes to make your own dairy-free ice cream cake:
Two pints of dairy-free ice cream: $18 CAD
1 package Oreos: $4 CAD, but $1.32 for the amount used
Vegan whipping cream or coconut milk: $5 CAD
Dairy-free chocolate chips: $1.70 CAD from my pantry
Corn Syrup: $4 for the bottle, but $0.36 for amount used
Vegan margarine: $8 for the tub, but $0.40 for the amount used
Total cost to make homemade dairy-free ice cream cake: $26.78, (but more if you didn't already have these ingredients in the pantry). The cost from a local shop to make dairy-free ice cream cake (which I'm pretty sure is nut-based so I couldn't eat it anyway) starts at $36, and goes up to $45.
However, the places I found that made ice cream cake didn't have the nostalgic ganache and cookie crumble layer that I was looking for. So homemade vegan ice cream cake was the way to go.
What kind of dairy-free ice cream can I use?
If you can eat nuts, the cashew-based ice creams are the smoothest ones out there. I'm allergic to tree nuts, so that's unfortunately not an option for me. I opted for So Delicious coconut-based vanilla and Cosmic Bliss dark chocolate. But use your favourite dairy-free ice cream. Any brand should work!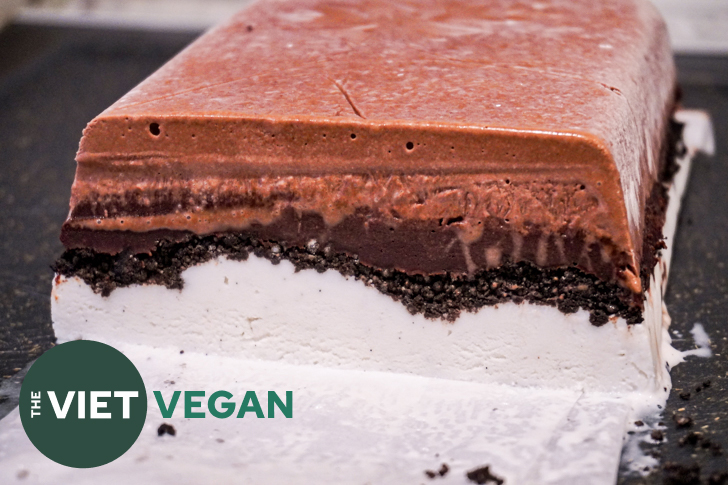 How to make the fudgy ganache layer
I was surprised to find out that the gooey chocolate layer of ice cream cake is just a version of chocolate ganache with corn syrup. It's so simple, I don't know why I didn't think of it. Corn syrup keeps the ganache from fully hardening and freezing. If you like it extra gooey, add another tbsp of corn syrup. I actually found the layer a bit too thick, so the next time I make it, I might reduce the chocolate chips to 3/4 cups instead of 1 cup. This also would make the layer more gooey!
Crispy cookie crumble layer
This is different from what is in the original ice cream cake, but making a buttery Oreo cookie crumble was an easy homemade alternative. Baking the cookie crumble with melted vegan margarine ensures that it stays crispy in the cake.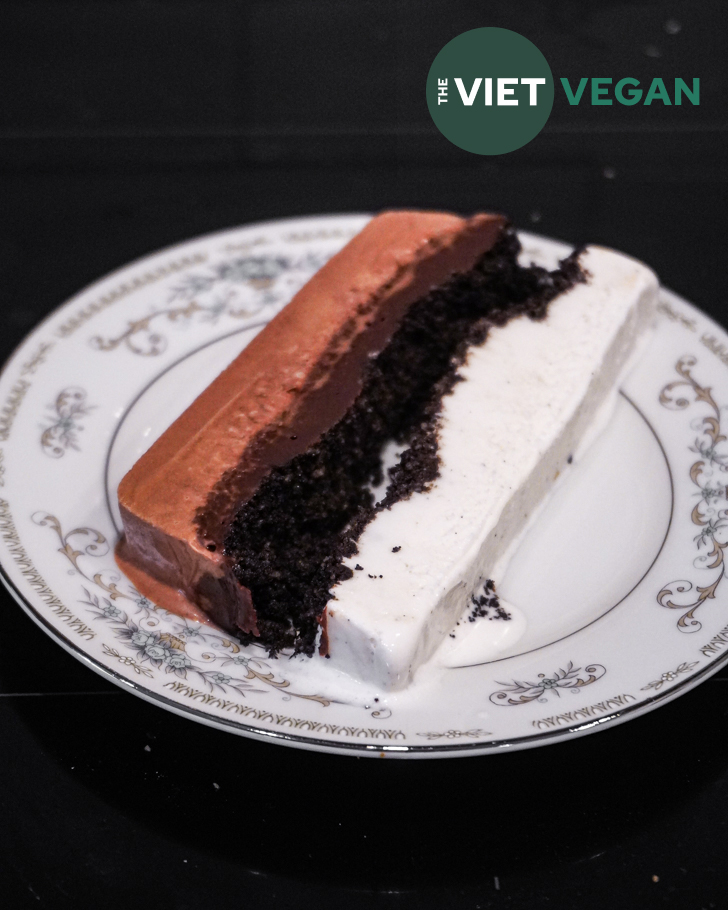 How far in advance do you need to make this?
I made this copycat vegan ice cream the day before my birthday, and if I wanted to frost it, I would have made the whipped cream and frosted the cake the night before. But I did this over 2 hours during Bean's naptime and all I had to do was cut into the cake the next day for my birthday. Ideally, it would have also had a whipped cream frosting (you could also use CocoWhip, the dairy-free version of CoolWhip), and it would also be fantastic.
You need 30 minutes for the ice cream to thaw, then 30 minutes for that first layer to freeze, 30 minutes for the ganache and cookie layer to solidify and the second ice cream to thaw, then at least 2 hours for the cake to fully set up. Plus 15-20 minutes in between to assemble and make the crumble and ganache. But all in all, it's a very hands-off cake that is way easier than baking and frosting your own cake.
Is it worth making at home?
In short, I probably didn't save that much money because I had to buy the ingredients, but I have leftover cookies, corn syrup, and whipping cream for other purposes. If I frosted my cake, I wouldn't have the whipping cream leftover.
In any case, Eddie greatly appreciated the extra cookies.
I think overall, it was a win in my books because now I can share how YOU can make your own copycat vegan ice cream cake. It was pretty fun and therapeutic to make and since it's in a loaf pan in the freezer, it doesn't take up as much space as a round ice cream cake would.
Yield: 10-12 servings
Vegan Copycat Ice Cream Cake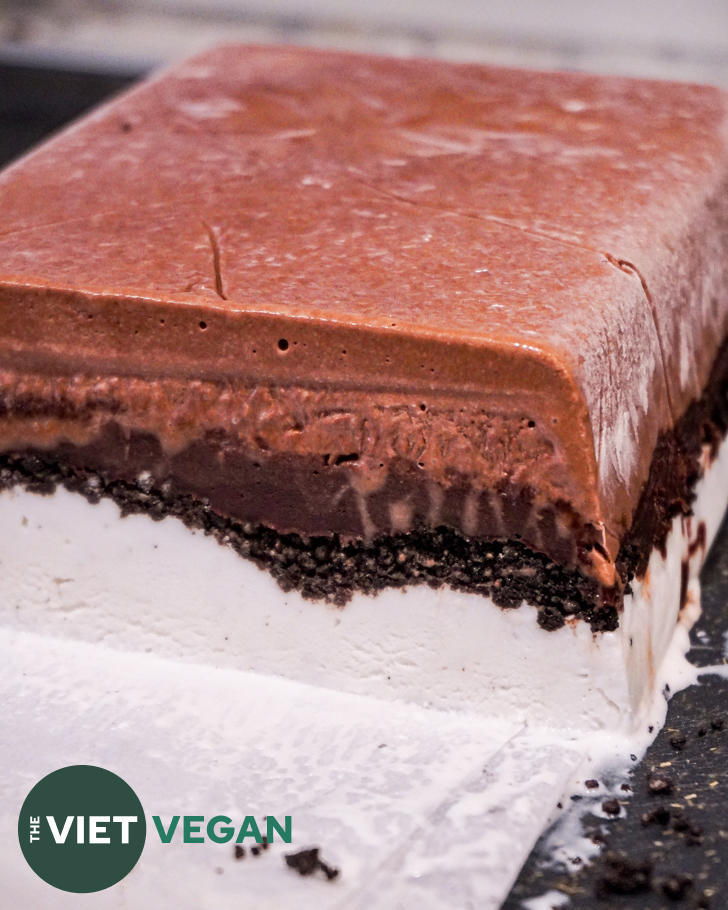 This is the vegan copycat ice cream cake of my childhood birthday cake and while this is not the frosted and beautifully decorated version, this was exactly what I wanted for my birthday.
Prep Time
2 hours
30 minutes
Total Time
6 hours
30 minutes
Ingredients
Cookie Crumble layer
10 chocolate sandwich cookies (like an Oreo)
2 tbsp (15 mL) melted vegan margarine
Fudge layer
1 cup (250 mL) dairy-free chocolate chips
3 tbsp (45 mL) of white corn syrup
1 tsp (5 mL) vanilla extract
1/2 cup (125 mL) dairy-free whipping cream (or full fat coconut milk)
Ice cream layers
1 pint (500 mL) of dairy-free chocolate ice cream (homemade or your favourite storebought ice cream)
1 pint (500 mL) of dairy-free vanilla ice cream
Optional:
Dairy-free whipped cream to frost
Sprinkles to decorate
Instructions
Cookie Crumble Layer
Preheat oven to 350F (180 C)
Crush 10 chocolate sandwich cookies until you have small crumbs (I used a food processor).
Add melted vegan margarine and mix. It should be slightly moist, like a crumbly slightly wet sand texture.
Bake for 10 minutes, then remove from the oven and let cool.
Fudge Layer
In a heat-safe mixing bowl, add dairy free chocolate chips, white corn syrup, and vanilla extract.
In a small pot, heat the dairy-free whipping cream over medium heat until the edges begin to bubble but not to a full boil. The pot should be steaming but not bubbling.
Pour the hot whipping cream over the chocolate chips and let it sit for about 5 minutes, then stir to fully mix in the melted chocolate. Set aside to cool while you assemble the first layer of the ice cream cake.
Assemble the ice cream cake
Take your first layer of ice cream out of the freezer (choc or vanilla, whichever you want to be on the top of the cake when you flip it over) and let it sit at room temp for about 20-30 minutes to thaw.
Line a loaf pan with plastic wrap, with enough room that you can wrap up the top in the freezer.
Mix it up until it's a workable consistency, I transferred to a mixing bowl to make this easier and faster.
Spread the ice cream into the lined loaf pan and spread out until it's even. Tap the loaf pan firmly on the counter a couple times and it should settle well into the corners. Pop in the freezer for about 30 minutes to firm up.
Once the first layer is firmed up, add the cooled chocolate ganache and spread evenly over the ice cream layer.
Sprinkle the cookie crumble on top, spreading evenly as well. Pop back in the freezer for 30 minutes, and pull out your second pint of ice cream to soften for the final layer.
Spread the final layer of ice cream on top of the cookie crumble, then cover with a layer of parchment paper (this will make it easier for cutting and then putting back in the freezer), and then wrap the edges of the plastic wrap over top.
Freeze overnight to firm up.
You can frost the cake with dairy-free whipping cream and decorate with sprinkles and gel icing for the full experience, but I didn't do that.
To serve, flip onto a cutting board, and cut with a knife, wiping the blade between slices. Enjoy!