Gooey and cheesy without the cheese! This easy vegan queso is just like how I remember: warm and cheesy with a hint of spice.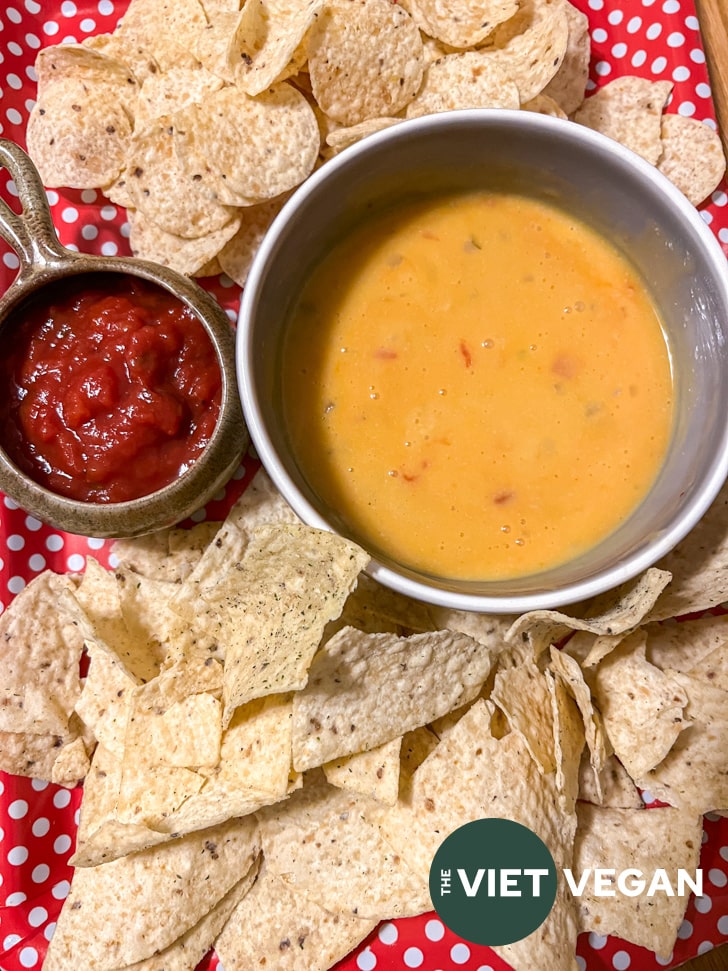 A long time ago I shared a recipe of vegan queso dip that uses mainly nutritional yeast as the cheesy flavour. While I still like this recipe and I make it from time to time, I do prefer the cheesy flavour of vegan cheese shreds. Plus, nutritional yeast is kind of expensive these days.
So when I have a hankering for vegan queso, I now whip up this easy version! It reminds me of going to the movies with my mom and ordering "nachos". We had these extra thick corn chips and we'd have the choice of salsa and queso, and we'd always get double queso.
I made this for her recently and served it with a small bowl of salsa on the side, and neither of us ate the salsa and mainly went for the queso. Eating this while watching a movie together brought me back to my childhood.
Which Vegan Cheese is best for Queso?
I usually use Violife or Daiya tex mex cheese blends OR Mexicana cheese block (grated) for this queso. I've used all of them, and they all play well with the cornstarch slurry to thicken! If you omit the salsa and add some extra garlic or spices, you can use this sauce for mac and cheese too.
I think the Daiya cheese blocks would also work really well here, but for the laziest version, use the shreds! Use whichever is your favourite.
Yield: 4 servings
Easy Vegan Queso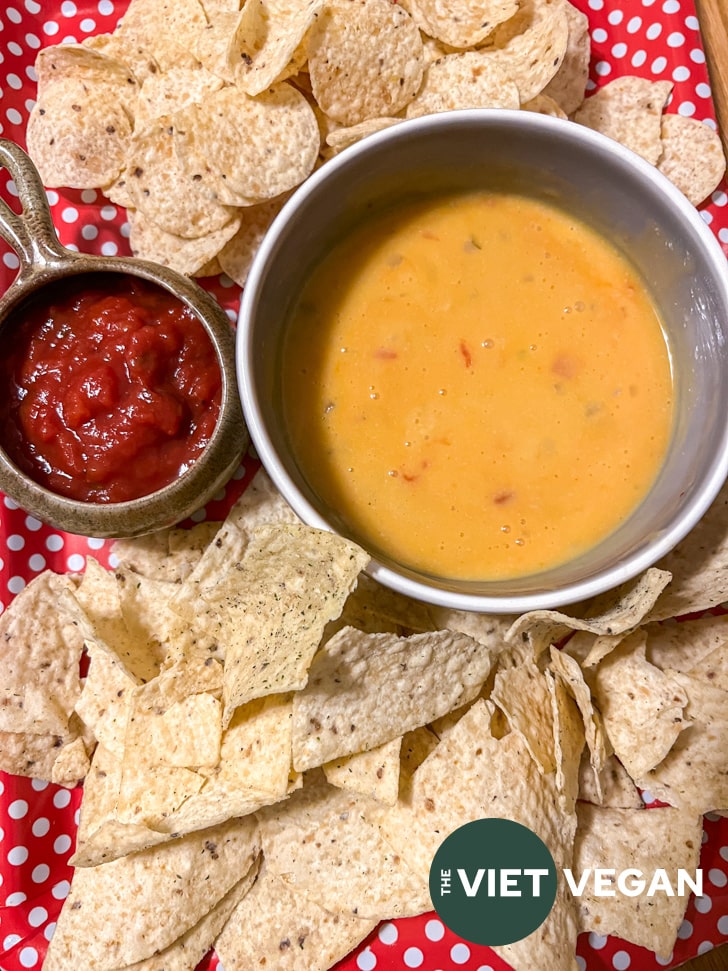 Ingredients
2 tbsp vegetable oil
1 onion, finely minced
1 cup vegan cooking cream (I used an oat based one)
1 bag (8 oz/227 g) vegan cheese shreds (I use Violife or Daiya)
1 tbsp cornstarch
2 tbsp water
2 tbsp nutritional yeast
1/4 cup your favourite salsa
Instructions
In a small pot over medium heat , heat up 2 tbsp vegetable oil and cook onion until translucent, about 3-4 minutes.
Add 1 cup vegan cooking cream and 1 bag of vegan cheese shreds to the pot, and heat through. Meanwhile, in a small bowl, make a cornstarch slurry with 1 tbsp cornstarch and 2 tbsp water.
Once the vegan cheese has started to melt, add the cornstarch slurry and nutritional yeast and stir to thicken. Once the cornstarch has cooked through and the queso is thickened enough to coat the back of a spoon, take off the heat.
Add 1/4 cup of your favourite salsa (we like a medium spice chunky salsa) and stir that in. Serve immediately with your favourite tortilla chips!