This Instant Pot Vegan Butternut Squash Soup
is the perfect, cozy fall soup with a tiny bit of kick!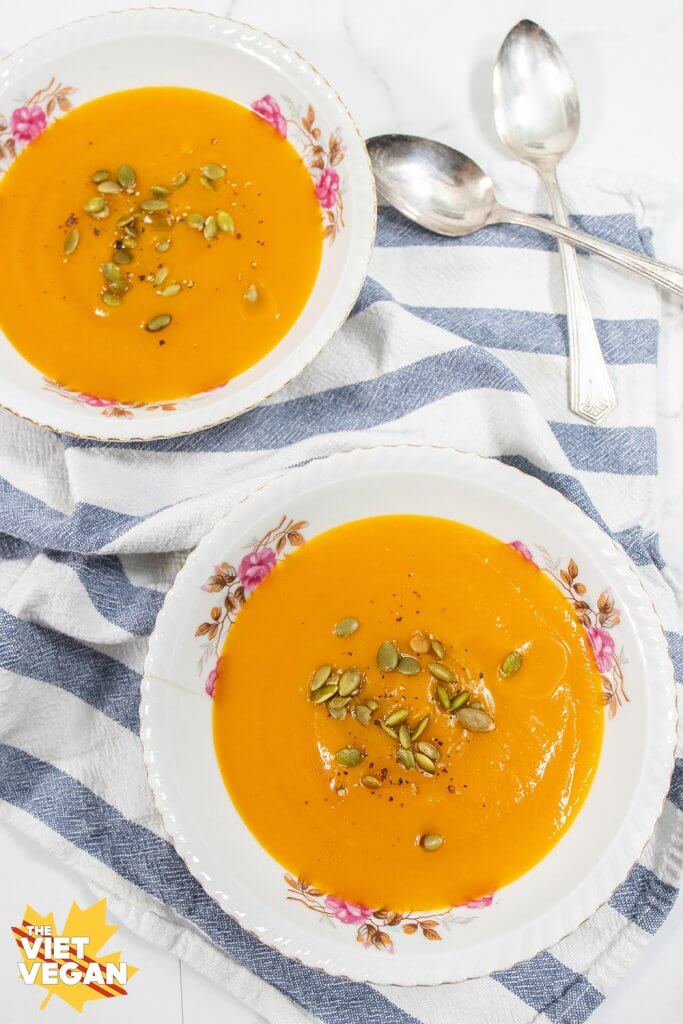 When I was growing up, I had very vague ideas of what I wanted to be. I thought I wanted to be a writer, an editor, some sort of office executive, and once upon a time (before I realized I had trypophobia), I wanted to be a marine biologist. I never had these aspirations of making loads of money, I just knew I wanted to be good at what I did. Honestly, I have always such a weird relationship with money that I knew all I wanted when I was older was to be comfortable. I saw first hand how money could destroy a person and bring out the worst in them, and deep down I think I had this fear that I would become a monster if I ever made much money.
There were certain people in my life who were simply put, vain, greedy, avaricious people. They instilled a lot of fear in me about what it meant to be a successful adult, so it took me a long time to figure out how to be better with money and not be afraid of saving (I know, it sounds so silly). Seeing any sort of savings made me fear that I was becoming this frivolously greedy person that I so loathed. As a result, for much of my early adult life, I managed to rack up quite a bit of consumer debt that weighed me down up until last year.
I still fall into those fear-based habits every now and then, but I've gotten a lot more comfortable and self-assured that I won't become that person. It's something I didn't realize that needed addressing until it came to the point in my life that I had to consider who I wanted to be and where I wanted to live once I started a family.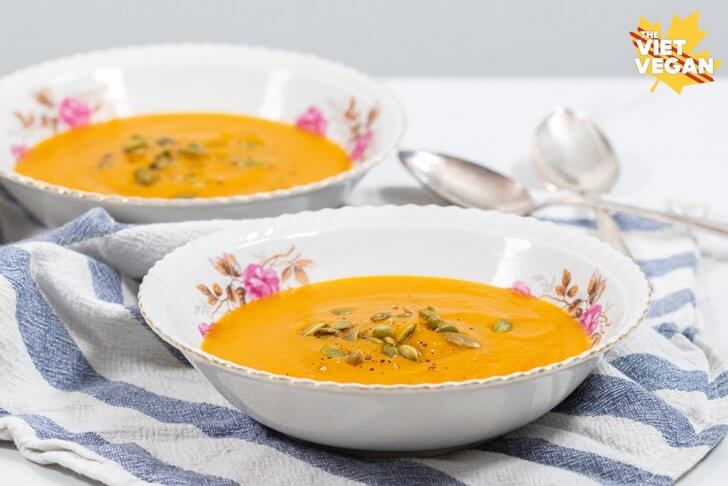 So like I used to back in university, I've been trying to figure out ways to stretch food and money so we can do all the things we want to do (also just come out of this wedding breaking even). Making soups, mashing random fridge scraps together to make a meal, and eating mostly from home instead of out all the time has been our life for the past month or so, and will continue to be for the unforeseeable future.
This Instant Pot vegan butternut squash soup takes $5 of seasonal vegetables and turns it into about 10 meals, which is tasty and great for meal prepping for yourself, or good for hosting a Friendsgiving soup bar when you want to feed a ton of people a lot of delicious food without totally breaking the bank. I share a lot of my experience with the Instant Pot, and how I like (or rather don't love) cooking with it, so please have a watch and I hope its helpful (and somewhat entertaining =P).
Yield: 8-10 servings of soup
Instant Pot Vegan Butternut Squash Soup
Ingredients
2 tbsp vegetable oil (I used sunflower)
1 large cooking onion, diced
3-4 cloves garlic, smashed then finely minced
1 tbsp onion powder
1 tbsp garlic powder
1 tsp cumin powder
1/4 tsp cayenne powder
5 tsp concentrated bouillon paste
1 large butternut squash, peeled and chopped
2 medium carrots, peeled and diced
1 medium sweet potato, peeled and diced
6-8 cups water/vegetable broth (depending on the size of your veggies, you want just enough to cover the veggies with water in the pressure cooker)
2 tsp kosher salt (or to taste)
Instructions
Using the Saute function on the instant pot, cook onions with vegetable oil for about 3 minutes, until onions are translucent and beginning to brown.
Add the minced garlic and cook until fragrant. Do not let the garlic burn. Add a splash of water to deglaze the bottom of the pot.
Add the onion powder, garlic powder, cumin powder, cayenne powder and stir to cook the spices until fragrant.
Add the concentrated bouillon paste and a bit more water to deglaze the bottom of the pot and stir to incorporate the paste.
Add the cubed butternut squash, carrots, and sweet potato, then cover with just enough water, not exceeding the max fill line in the cooker.
Close the Instant Pot, and change settings to 35 min on Soup. Make sure to seal the vent and let cook. You can either let naturally release or manually release once 35 mins have elapsed.
Blend either in a traditional blender or use an immersion blender (stick blender) directly in the IP and blend until silky. Add salt to taste, and enjoy!