No levain, no autolyse, no fancy laminations or coil folds, I've simplified my method and this has become my go-to easy sourdough bread recipe!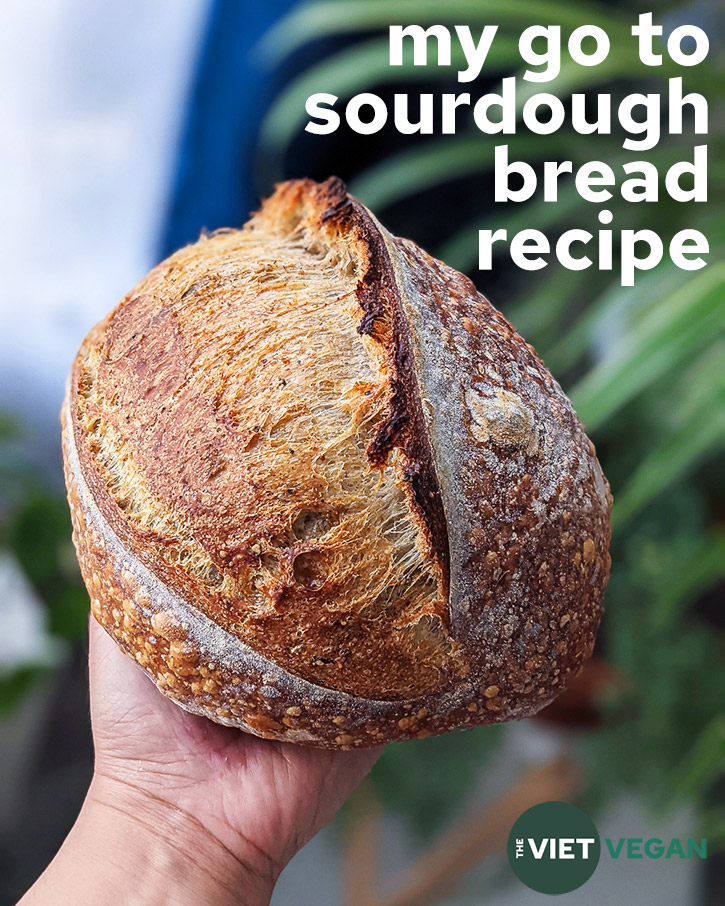 At the beginning of quarantine, so many people were baking sourdough bread and learning to make their own sourdough starters. I, of course, also hopped on, as it was something I had wanted to do for years and years, and it was inspiring to see so many people try making their own sourdough loaves at home.
Back when I was starting sourdough, there was a bread-flour shortage so my previous technique was to use vital wheat gluten to artificially increase my gluten % of my all purpose flour in this loaf. I go through the nitty gritty of each step there (I go into similar detail for this recipe but this loaf is more simple).
After baking a ton of different marble loaves, trying out different hydrations, reading countless resources and watching way too many YouTube videos about the nitty gritty details of sourdough bread, I've finally figured out my favourite loaf.
I've helped a few friends along their bread journeys to get them from starter to baked loaf, and it's been so rewarding to see people have delicious bread that they made from a baby of my sourdough starter. I think that's the beautiful thing about the bread community, Liz Miu helped me started with my own sourdough starter, and to pay it forward, I've helped tons of people with theirs!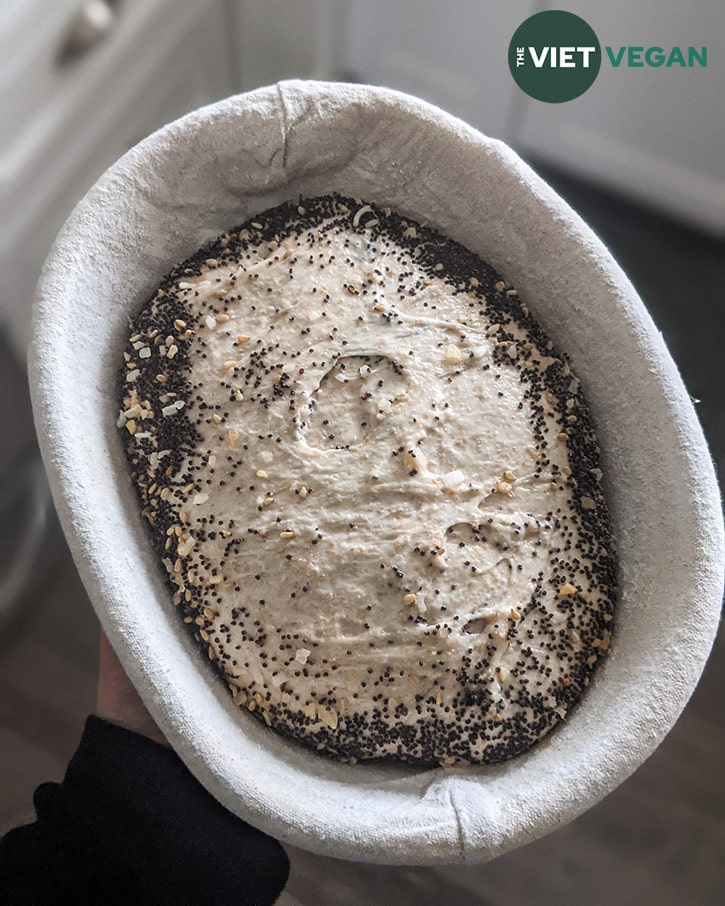 My essential tools for easy sourdough bread
a kitchen scale that measures precisely in grams (ideally 0.1 g)
a bench scraper (to shape the bread)
a strong starter
a cast iron pan or Dutch oven (ideally Dutch oven)
These are the tools that are really nice to have, but you can bake bread without them if you absolutely have to:
a bread lame (even a naked safety blade will do)
a bread banneton (proofing basket)
a plastic shower cap (to cover the bowl and proofing basket)
rice flour to dust the proofing bowl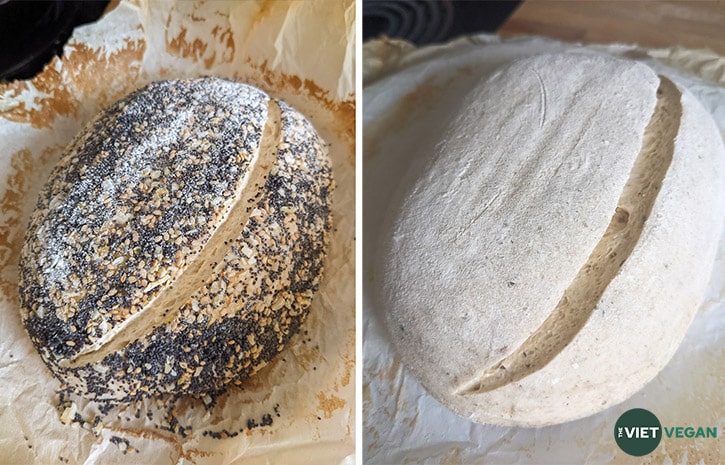 I posted a very long post about how to troubleshoot sourdough starter a while back, and it's led me to figure out a lot about sourdough starters, how to read it, and how to know when it's ready. It took me a long time to build up my starter to a really strong level, but Carter the Starter has yielded many delicious bread babies and I'm happy with how strong he's become!
I also recently posted my favourite sourdough discard chocolate chip cookie recipe that I bake when I find my collective jar of discard is getting too full. I also have a banana bread recipe that uses up a significant amount if you find yourself needing it as well.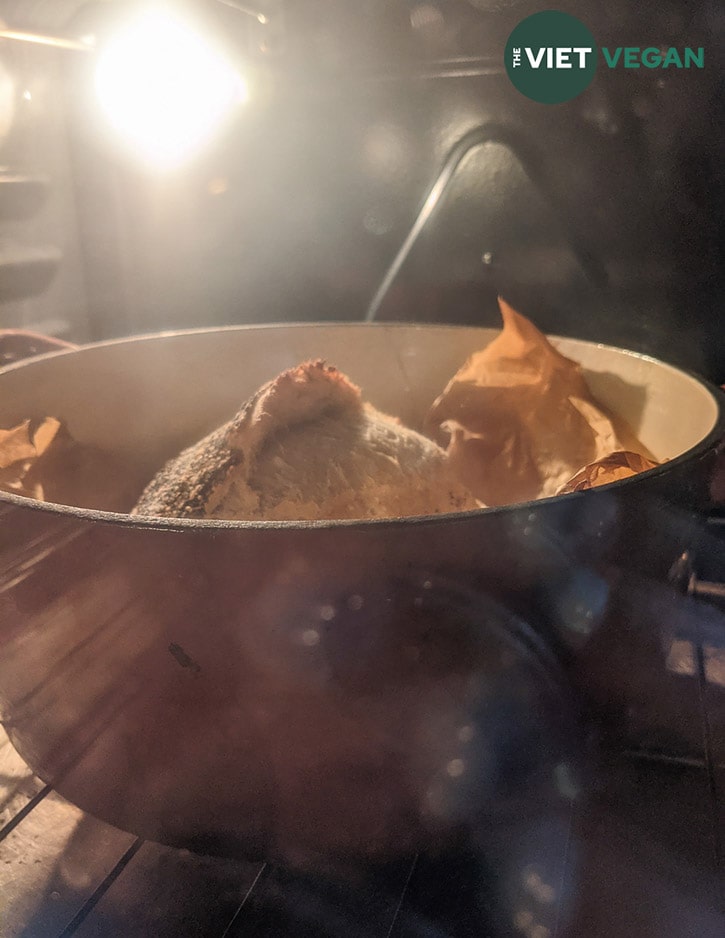 Over the past few months, I've tried various different kind of bread loaves: marbled, with various inclusions, adding vital wheat gluten for extra gluten, all purpose flour loaves, etc. But the simpler my bread recipe, the better it's been. Adding inclusions often can compromise the strength of the dough and the gluten-structure, but I found this video really helpful in showing me how to have inclusions without getting a mere puddle of a bread loaf.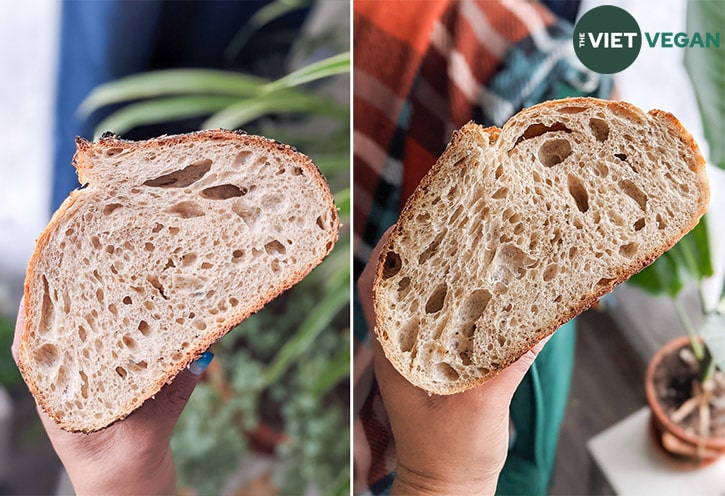 For a while I was chasing that coveted open crumb structure that bakers like Full Proof Baking always had, but frankly, it's not very easy to eat (butter and jam seeping through the holes!) the bulk fermentation steps that yielded those results were far too hands-on for me to do without getting annoyed. So instead of a lamination and doing coil folds, I switched back to stretch and folds.
I also changed my sourdough starter flour blend to be 40% bread flour, 40% rye, and 20% whole wheat, and found that Carter the Starter has been extremely happy with this flour blend and has yielded many springy loaves!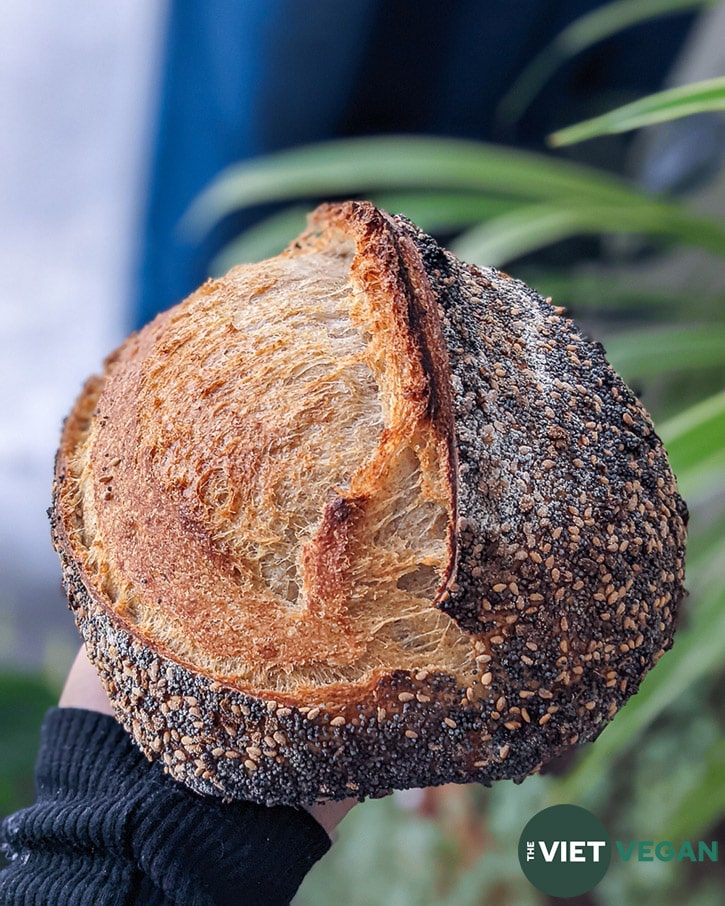 So here are the following reasons why this is my go-to sourdough bread recipe:
NO LEVAIN: I simply overfeed my sourdough starter the night before (to equal the amount of starter I need anyway) and then when I wake up the next day, my starter is at the young levain stage anyway and I can start mixing my flours right away. I've also baked bread with discard from the fridge and it's yielded exactly the same oven spring and crumb.
NO AUTOLYSE: There have been plenty of studies that show the benefits of autolyzing, but honestly, I've found that there's little to no difference in my own bread that warrants the extra step of an autolyse. Plus, since I mix the starter and the flours right in the beginning, the amount of times I have to get my hands all doughy is reduced.
NO COMPLICATED FOLDS: After trying both laminations + coil folds (à la Full Proof Baking), I've found stretch and folds yield a wonderfully developed gluten structure. In fact, my best loaves (the two pictured here) have both been baked with this recipe and method, and the subsequent breads I've baked since have been equally delicious!
Yield: 1 medium loaf of bread
My Go To Sourdough Bread Recipe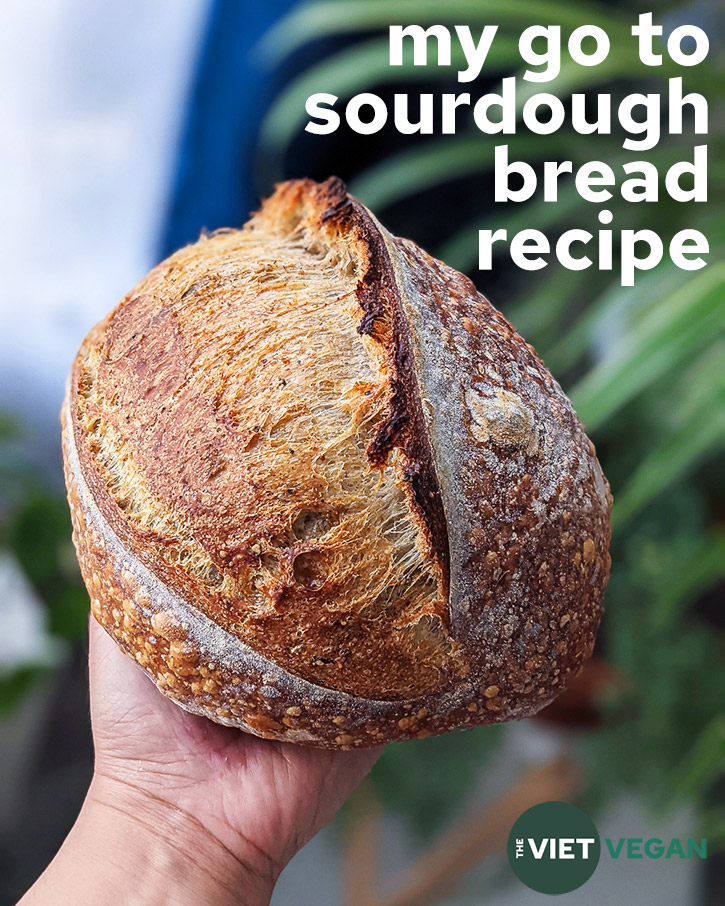 This is my tried and true sourdough loaf recipe that I have gotten the best results with. My initial loaf recipe was what I used back when I didn't have bread flour, so if you've only got AP flour, try this recipe!
I don't use a levain for this, I just use the sourdough discard from the night before (but I overfeed it in a way that at the 12 hr mark, it's like a young levain anyway). But this way I don't have to be awake at the crack of dawn to start a levain!
Total Time
1 day
2 hours
40 minutes
Ingredients
For your starter:
5 g mature starter (unfed)
50 g flour blend (whatever you normally use to feed your starter)
50 g water
For the bread:
375 g water
100 g fed starter (from above)
350 g strong white bread flour (13% protein)
75 g spelt flour
75 g whole wheat flour
10 g fine kosher salt
To bake
Either 3 tbsp of a blend of your favourite seeds (like 1 tbsp poppyseeds + 2 tbsp raw sesame seeds) OR
Rice flour to coat your dough
Instructions
The night before:
10:00 PM - Feed your sourdough starter, but only use 5 g of your original starter, then add 50 g flour blend, 50 g water. Mix, mark with a rubber band on the outside, and let mature in a warm place for 12 hours. It should be at young levain stage by 10 AM.
The next morning:
10:00 AM - Your starter should be at least doubled at this point. In a large bowl, add 100 grams (nearly the entire jar) of the starter and mix with 375 g water. Use whatever is left in your jar to feed your normal starter 1:4:4 feed (I do 5 g starter, 20 g flour blend, 20 g water).
Add the remaining flours and combine well with starter water. Scrape down the sides of the bowl and gather into a shaggy mass in the middle. Cover and let sit in a warm spot in your kitchen for 1 hour (this acts as a quasi-autolyse).
11:00 AM - Add 10 g salt and use wet hands to mix in, this should take about 3 minutes to completely mix in the salt. Cover and let rest for 30 min in a warm place.
11:30 AM - Do one set of stretch and folds: With wet hands, scoop your hand under one side of the dough, gently pull it up until just before it looks like it'll resist and tear (about 4-6 inches), then fold it over the center. Turn 90 degrees, and repeat the movement, and repeat this stretch and fold until you've done all 4 sides. Cover and let sit for 30 min.
12:00 PM - Perform another set of stretch and folds. Cover and let sit for 30 min.
12:30 PM - Perform another set of stretch and folds. Cover and let sit for 30 min.
1:00 PM - Perform a final set of stretch and folds, then cover let sit for 1 hour.
2:00 PM - At this point, I check to see if the dough is poofy enough (it should have risen about 60% from the original amount). It's kind of hard to tell, but eventually you'll see the dough feel bouncy and kind of alive. It won't have completely relaxed into a puddle like it did around 12 PM. I usually perform another stretch and fold and let sit for another half hour since it's winter where I am, but use your judgement.
Approx 3:00 PM - Now you preshape - Lightly flour your surface and flip your dish overtop, allowing the dough to slowly release itself from its vessel. Perform a gentle envelope fold (top, side, side, bottom), then use a bench scraper to flip the dough, seam side down.
Gently shape into a ball by pushing the bench scraper in a backwards C motion and pull the dough towards you. You'll gently rotate the dough with this motion a few times to create a bit of surface tension in the dough. Let rest for 15 minutes.
While your dough rests, prep your proofing container. If you have a banneton, use white rice flour to dust the inside so it won't stick to your dough. If you don't have a banneton, you can use a loaf pan lined with a lint-free tea towel, dusted well with rice flour. Regular flour will not be as effective as rice flour, I highly recommend rice flour. Set aside.
~15 min after preshape
3:15 PM - Final shape (this is for an oval loaf, called a batard)
Use your bench scraper to scoop under the dough and flip onto a lightly floured surface. With lightly floured fingers, gently fold the top over into the middle, and tap lightly to seal. Gently pull the bottom to fold over the folded top, to create a long log shape. Tap lightly to seal.
Turn 90 degrees, then tuck your thumbs into the top 2 inches of the dough, and use the rest of your fingers to tuck and rough the down gently and firmly towards you (like a sleeping bag).
With seams down, close the two short ends by pinching the edges together. Then, use your bench scraper to gently push the dough and tuck the seams underneath to try to create surface tension. Use the bench scraper to scoop the dough into your hands (or flip over), then place the dough into your rice-floured banneton or loaf pan, seams up.
You can lightly "stitch" the dough if you find it kind of unraveled (pulling the dough over each other left to right in a zig-zag pattern). Dust extra rice flour along the edges.
At this point, check the proof by doing a poke-test: poke a floured part of the dough around the edge and it should spring back but leave a slight dent.
If it springs back and doesn't leave a dent, let it sit, covered with a plastic bag or clean shower cap (avoid letting it touch the top) for another 15-20 minutes until it springs back. Careful not to let it overproof: when it's overproofed, it doesn't spring back at all and just stays dented if you poke it. Let sit on the counter if it's not yet springy.
3:30 PM - Place your covered and proofed bread loaf in the fridge to cold-proof until you bake the next morning.
The Bake
Anytime the next day between 3 AM and 3 PM - Preheat your Dutch oven (or cast iron pan) in the oven at 500F (260C). Allow to preheat for at least 30 minutes.
Pull your dough out of the fridge, and flip onto a piece of parchment paper. Score the top of your dough about 1/2 inch to 3/4 inch deep.
Transfer to your preheated cast iron Dutch oven, cover with lid. I like to add a splash of water or an ice cube inside the Dutch oven just as I'm about to close the lid. You don't need to do this though. The extra steam gives it more flexibility to expand.
Bake for 20 minutes. After 20 mins, lower the heat to 450F (230 C), and remove the lid of your Dutch oven. Continue to bake for another 20 minutes, or until you get a
nice, deep brown crust. After you reached your desired brownness, pull out of the oven and take the bread out to cool directly on a wire rack.
Let cool for at least 2-3 hours before cutting into your bread. Once cooled completely, store in a bread bag for up to a week. Enjoy!