Sometimes you just need a quick and easy noodle dish, and these sesame udon noodles are perfect for a quick lunch!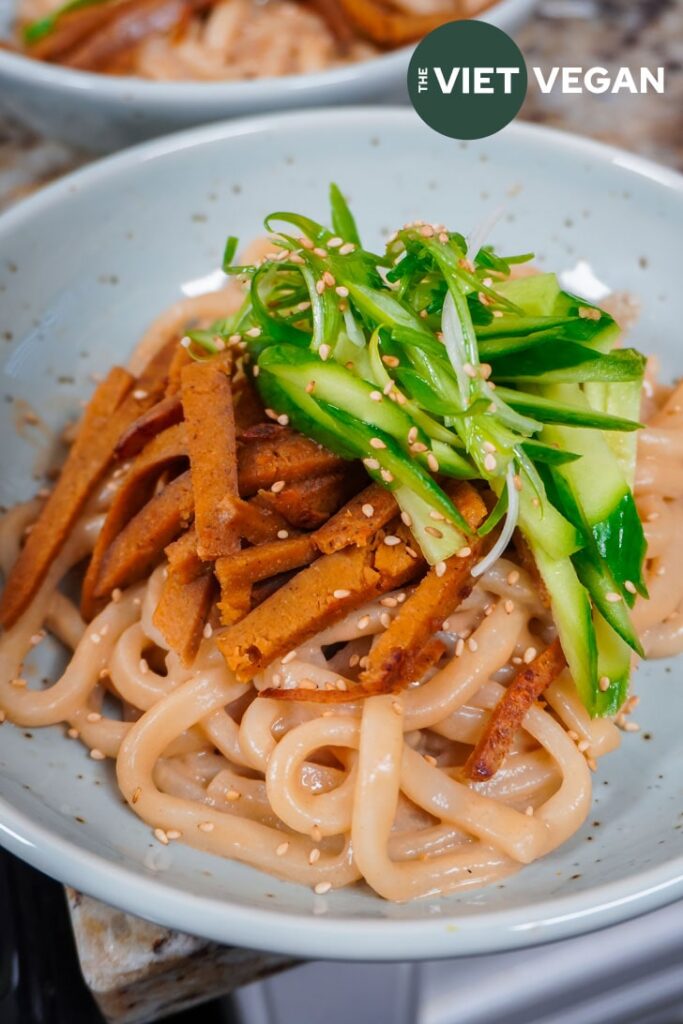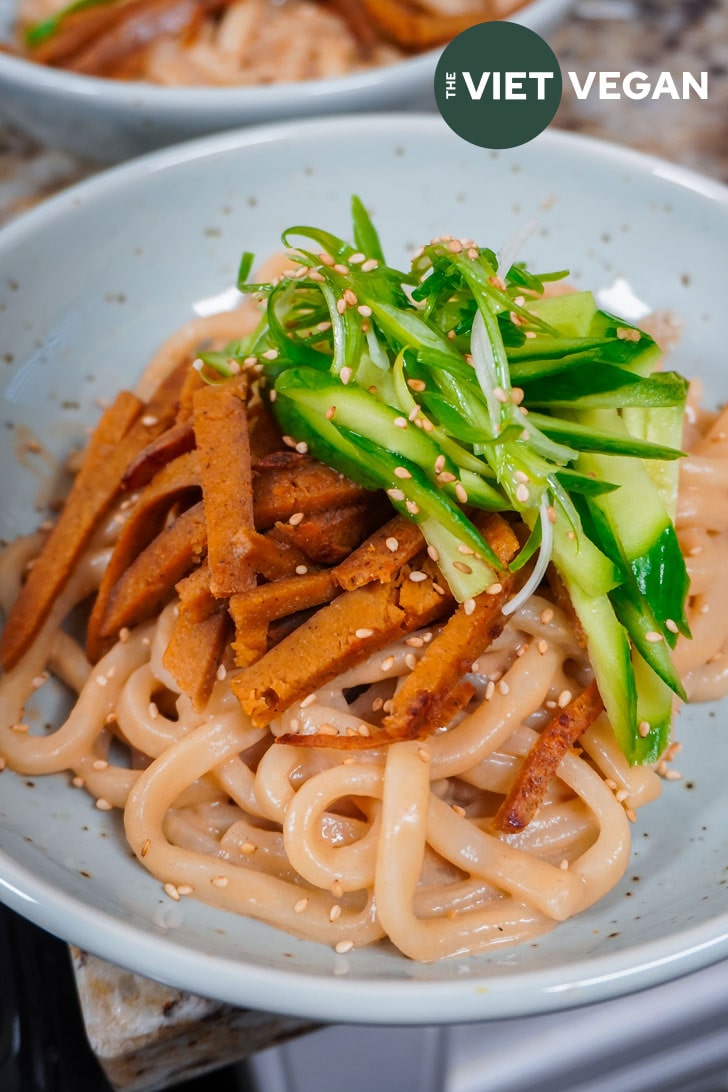 I like to keep frozen udon noodles in the freezer at all times so I can quickly throw together this for lunch or dinner if I'm pressed for time.
The roasted sesame paste adds a nutty, savoury flavour, that's similar to peanut butter. Black vinegar, roasted sesame paste, and a touch of sweetness are such classic Chinese flavours for noodles. From hot pot dipping sauce, to dumpling sauce, to these tasty sesame udon noodles! It's no wonder this is such a common and popular flavour combination.
Ingredient Variations and Substitutions
Chinese Sesame Paste
Chinese sesame paste is different from tahini, but you can substitute if you don't have access to it. The Chinese paste I buy is the Wang Zhihe brand (affiliate link), which I buy from Nations (or any Asian market). It is made with roasted sesame seeds, whereas tahini is made with raw or lightly roasted sesame seeds. The flavour is different, but if you must substitute, you can do that.
A better substitute for this dish would be a smooth natural peanut butter. It wouldn't be sesame udon noodles, but you would get the same nutty, roasted flavour. In fact, Wang Zhihe brand makes a sesame and peanut butter paste in a similar jar! You can also use a regular peanut butter (like JIF or Kraft), but you might want to reduce the sugar and salt since it already has some added.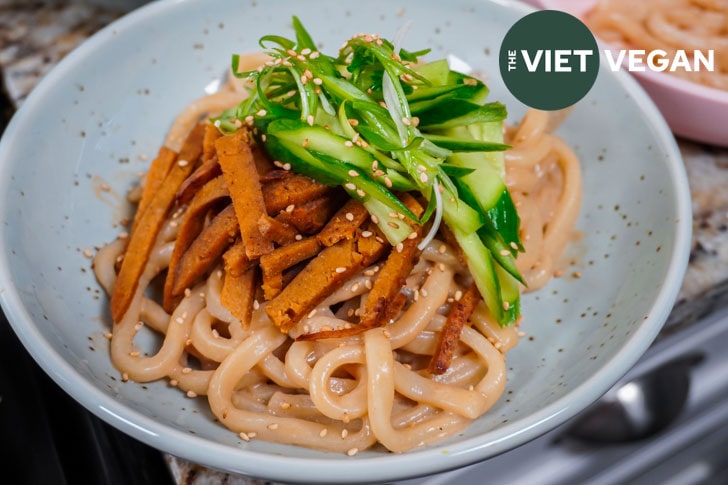 Chinese Black Vinegar
Chinese black vinegar, also sometimes called Chinkiang vinegar (affiliate link), is a distinct flavour different from any other vinegar I've tried. Jenny Lau from Celestial Peach has an article about it that shares the history and more information about it! It has a sweet yet clean acidic flavour, that cuts through rich ingredients like sesame paste very easily.
If you can't find this for these sesame udon noodles, you can use another clean tasting acid. Apple cider vinegar, rice vinegar, or white vinegar would probably work. Balsamic vinegar would add its own distinct flavour, but it would also add the sweetness black vinegar delivers. Balsamic vinegar is sweeter than black vinegar though, so maybe cut it with white vinegar.
Oliosaccharide
I've had a lot of questions about oliosaccharide, especially since I use it bulgogi and bibimabap. and while this is not very common in traditional Chinese versions of this dish, I really like using it because I find it adds a glossiness to the sauce. You can use other liquid sweeteners like agave, corn syrup, maple syrup, brown rice syrup, or date syrup. I don't find oliosaccharide to be very sweet though, so adjust your dish's sweetness as desired.
You can also use white sugar and brown sugar, as the residual heat from the hot noodles should dissolve the sugar crystals when you mix the sauce.
Recipe Inspiration:
Yield: 2 servings
Sesame Udon Noodles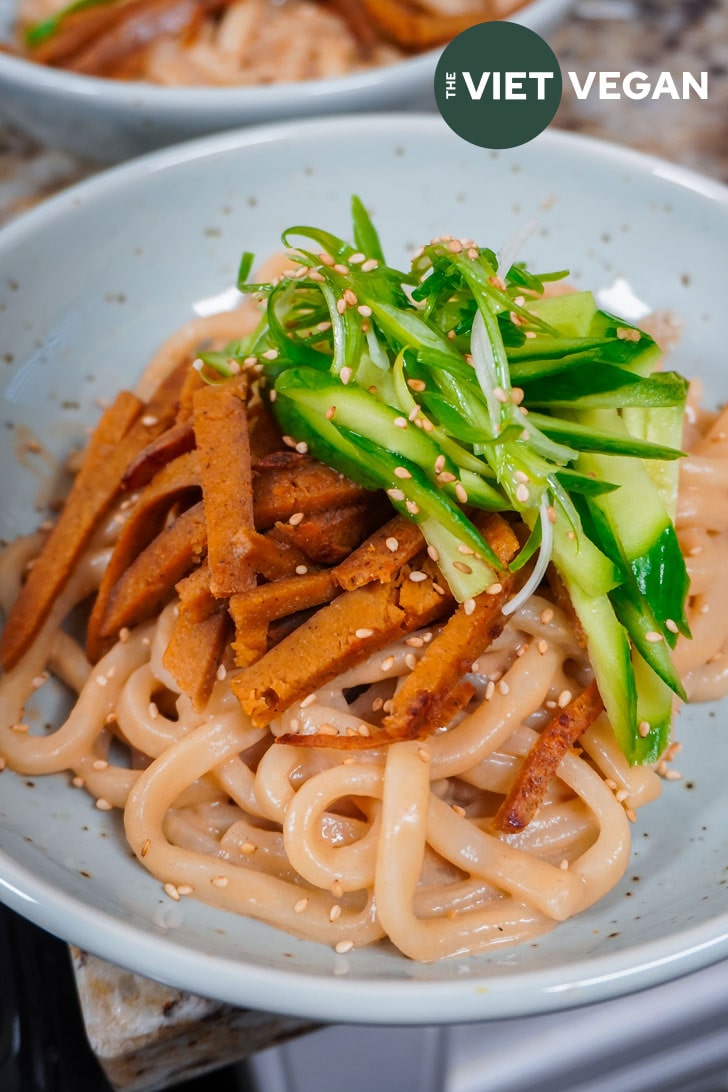 Ingredients
2 tbsp sesame paste
1 tbsp black vinegar
1/2 tbsp oliosaccharide or brown sugar
1 tbsp toasted sesame oil
1 tbsp soy sauce (you can adjust this to your taste, I have been reducing sodium for my household)
2 blocks frozen udon noodles
Toppings:
2 seitan sausages, sliced into strips (I used kielbasa because that's what I had)
1 Japanese cucumber, roughly julienned
1 green onion, cut into thirds, then sliced finely lengthwise, then soaked in cold water to curl
Toasted sesame seeds to garnish
Instructions
In a small bowl, prepare your sauce by combining sesame paste, black vinegar, oliosaccharide, toasted sesame oil, and soy sauce and stir well until combined.
Bring a pot of water to boil, then add your udon noodles and cook according to package instructions. Drain but reserve about 2-3 tbsp of cooking water for the sauce.
Meanwhile, if making seitan, pan fry the seitan. You can add some oil for extra crispiness.
Add the prepared sauce to your drained noodles with the 2-3 tbsp of cooking water, and stir well until the noodles are coated.
Divide into two plates, top with seitan, sliced cucumber, green onion curls, and toasted sesame seeds. Eat immediately.