Spicy curry is basically what I make,
whenever I have leftover veggies in the fridge that are about to go off.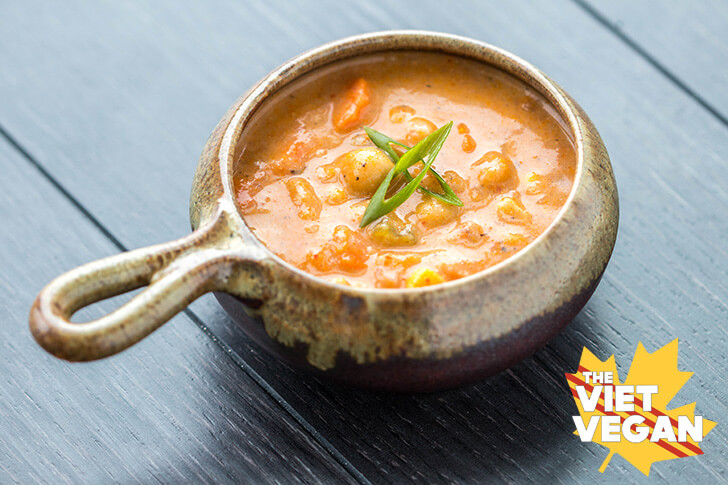 Ever since I got back from LA, I've realized that the extravagant lifestyle of eating out regularly is not sustainable. I feel like that's fairly obvious, but for someone who had no kids, no extra responsibilities other than some student debt and a car, I pretty much had a lot of freedom with my time and money. Even during the week we were in LA, we were quite frugal with our meals out. We typically only went out once a day, and bought groceries to sustain ourselves for the other meals of the day.
I always knew that cooking your own food was a much more affordable way to live, but now I'm realizing that my standards for food and my need to satisfy my cravings outweighed the food choices at my disposal. Nobody makes food the way I love food except for me (and maybe my mom), and you can't really compete with the cost of cooking your own food. $50 for a weeks worth of groceries vs. $40 for a meal out with Eddie? I choose 7 days of food for $50 please.
The thing about cooking your own food is that there's instant gratification. You combine all these raw ingredients to create something magnificent and delicious, and just the way you like it. It's satisfying. It fills your home with the smell of cooking. The only advantage to eating out is that you don't have to clean up after yourself, but Eddie does the cleaning while I do the cooking so it's all the same to me ;) Plus, I finally have experienced a dishwasher, after like 25 years of never having one that worked. How I managed 4 years as a food blogger without a dishwasher? I'll never know.
To see how I made this recipe, check out this week's YouTube video:


Spicy Curry - Cleaning Out My Fridge
This spicy curry soup is my go-to soup for cleaning out my fridge! You can add so many different vegetables and bits and bobs from your fridge and get a great meal and even better leftovers!
Ingredients
1 tbsp grapeseed oil
1 medium cooking onion, diced
3 cloves garlic, minced
2 tbsp panang curry paste (red curry paste will do fine here. Keep it to 1 tbsp if you don't like it too spicy)
1 can (13 oz/400 mL) full-fat coconut milk
2 tbsp peanut butter (just peanuts)
2 white potatoes, peeled and diced
2 medium carrots, peeled and diced
1/2 cup corn kernels
1/2 cup chopped celery
3 medium tomatoes, chopped
1 can chickpeas (15 oz/425 mL), rinsed and drained
3 cups water/vegetable broth
1/4 tsp black salt (regular salt works fine)
White rice to serve
Instructions
In a large pot, cook onion in grapeseed oil until translucent and slightly caramelized.
Add garlic and cook until fragrant.
Add curry paste and stir into coconut milk. Add in peanut butter and stir to "dissolve".
Stir in diced potatoes, carrots, corn, celery, tomatoes, and chickpeas.
Cover with water/broth (about 3 cups). Raise heat to medium high until boiling, then lower to a simmer. Cover and cook for about 30-40 minutes until potatoes and carrots are tender.
Add black salt to taste and stir until incorporated.
Serve with rice, enjoy!