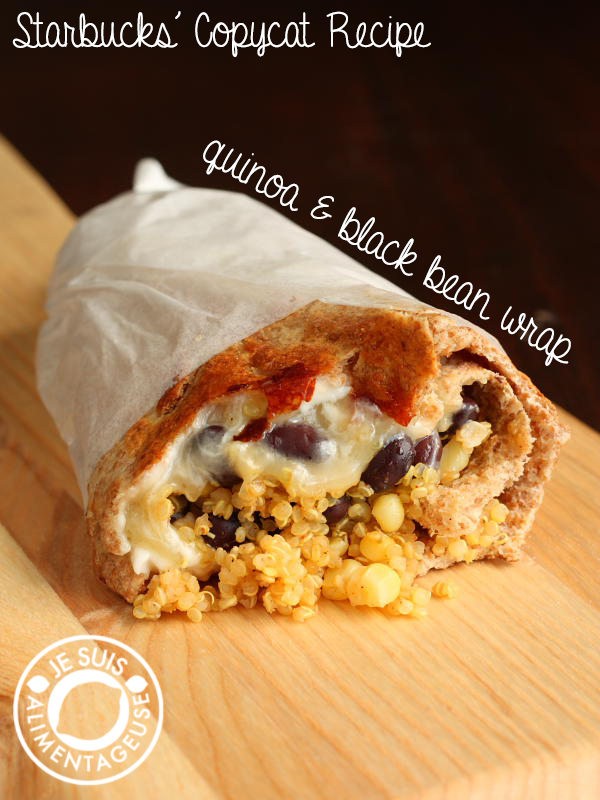 I know I waited a long time to post these Starbucks Copycat Quinoa and Black Bean Wraps, but they were a little ways down my queue of blog posts. But here they are!
I had it once upon a time ago at Starbucks (is it still even available?) and it was DELICIOUS, so I knew I had to remake it at home, but vegan!. But it was also 9 dollars, which was a little steep for a skinny little wrap. I was so hungry that I bought it anyway, but you could easily make 3 wraps for the price of 9 dollars. So that's what I did. Hope you like it!
Yield: 5-6 wraps depending on size of pita bread
Starbucks Copycat Quinoa and Black Bean Wrap
Ingredients
2/3 cup uncooked quinoa
1 cup vegetable broth (or 1 cup water + veg broth cube)
1/2 tsp paprika
1/2 tsp chili powder
1 tsp garlic powder
1 tsp onion powder
Optional: A pinch of cayenne
2 small ears of corn, boiled, and kernels cut
1/2 a can of black beans (19 oz), rinsed and drained
juice of 1/2 lime
Salt to taste
Veganaise
Daiya Pepperjack cheeze.
Whole Wheat pita pockets
Instructions
Cook the quinoa by combining quinoa, water, paprika, chili powder, garlic powder, onion powder, and cayenne powder in a small covered pot over medium low heat (My stove dial is from 1-8, I usually have it around a 3). Let simmer for 20 minutes, DO NOT LIFT LID before 20 minute mark.
Once the quinoa is cooked, remove from heat, fluff with a fork and drizzle lime juice over the quinoa.
Mix in the corn kernels and black beans, add salt to taste, and set aside while you assemble the wrap.
Preheat a pan (or skillet) over medium heat.
Open up your pita and spread some veganaise inside. Add daiya cheeze and then fill the pita with the quinoa filling.
Roll the pita, then wrap/secure with parchment paper by taking a fairly large square, wrapping it around the pita, and then twisting the bottom to keep intact. (I wrap it with part of the pita poking out, so I can eat it while holding the parchment paper).
Cook the wrapped pita on the skillet, rotating until the pita is somewhat crispy and golden, and the pita is heated through to melt the cheeze.
Eat immediately!