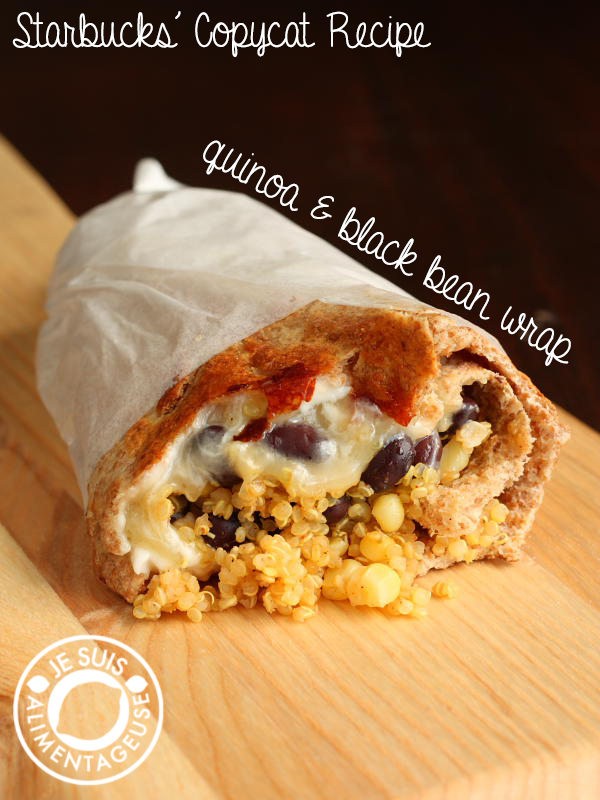 I know I waited a long time to post these Starbucks Copycat Quinoa and Black Bean Wraps, but they were a little ways down my queue of blog posts. But here they are! And I'm finally home! Well, actually I haven't gotten back to Toronto yet, but I'm just bumming at my grandparent's house because it's Labour Day, the grocery stores are closed, and Lisa has no food in her apartment. But it definitely feels good to be back in the city where the water is predictable, there aren't spiders and wasps everywhere, and I'm not constantly covered in gravel dust or sweat.
I always love going to camp for two weeks because I get to work with kids that are so great, talented, and more-or-less well behaved. I learn so much about other people, myself, and life. It's so nice to reconnect with the other amazing people there. There is so much positivity there, and as someone who leans more towards the pessimistic end of the spectrum, it's always refreshing to be surrounded by people who are just so happy, positive, and full of energy.
The downside is that it's such an exhausting two weeks, both physically and mentally, but I always look forward to the second week because the girls who end up in my cabin are always so bright, polite, and amazing individuals who are beautiful both inside and out. They always make me think back to what I was like when I was their age (which wasn't actually that long ago, but it's been about 6 years). So much has changed since then, and I'm interested and excited to see how they grow up and become amazing and brilliant adults.
I've learned a bit about myself over these past two weeks as well, and I've done a ton of soul searching and reconnecting with my body. There are going to be a lot of changes in my life, and I can't wait!
In the meantime, enjoy this delicious Starbucks Copycat Quinoa and Black Bean wrap. I had it not too long ago at Starbucks and it was DELICIOUS. But it was also 9 dollars, which was a little steep for a skinny little wrap. I was so hungry that I bought it anyway, but you could easily make 3 wraps for the price of 9 dollars. So that's what I did. Hope you like it!
Yields 5-6 wraps depending on size of pita bread
Starbucks Copycat Quinoa and Black Bean Wrap
5 minPrep Time
20 minCook Time
Ingredients
- 2/3 cup uncooked quinoa
- 1 cup vegetable broth (or 1 cup water + veg broth cube)
- 1/2 tsp paprika
- 1/2 tsp chili powder
- 1 tsp garlic powder
- 1 tsp onion powder
- Optional: A pinch of cayenne
- 2 small ears of corn, boiled, and kernels cut
- 1/2 a can of black beans (19 oz), rinsed and drained
- juice of 1/2 lime
- Salt to taste
- Veganaise (or regular mayo)
- Creamy Havarti Cheese or Daiya Pepperjack cheeze.
- Whole Wheat pita pockets (To make it GF, use a good quality GF pita, although sometimes the GF pitas tear/break easily)
Instructions
Cook the quinoa by combining quinoa, water, paprika, chili powder, garlic powder, onion powder, and cayenne powder in a small covered pot over medium low heat (My stove dial is from 1-8, I usually have it around a 3). Let simmer for 20 minutes, DO NOT LIFT LID before 20 minute mark.
Once the quinoa is cooked, remove from heat, fluff with a fork and drizzle lime juice over the quinoa.
Mix in the corn kernels and black beans, add salt to taste, and set aside while you assemble the wrap.
Preheat a pan (or skillet) over medium heat.
Open up your pita and spread some veganaise/mayo inside. Add daiya cheeze or havarti cheese and then fill the pita with the quinoa filling.
Roll the pita, then wrap/secure with parchment paper by taking a fairly large square, wrapping it around the pita, and then twisting the bottom to keep intact. (I wrap it with part of the pita poking out, so I can eat it while holding the parchment paper).
Cook the wrapped pita on the skillet, rotating until the pita is somewhat crispy and golden, and the pita is heated through to melt the cheese or cheeze.
Eat immediately!
Notes
If you want the same sort of bread that Starbucks uses, use a form of naan bread (you may have to cut some sort of makeshift pocket or gingerly fold it into a wrap) to get that same chewy texture.
7.8.1.2
175
https://thevietvegan.com/starbucks-copycat-quinoa-and-black-bean-wrap/