Some of you may still have blueberries leftover from the last dregs of blueberry season, that is, if you haven't eaten them all by now. I'm still at camp (FYI I'm working at a music camp for the last two weeks of August like I do every year for the past 5 years or so), so I haven't been as active at home on instragram, making all the foods. Food at camp is actually pretty good, but of course, I miss cooking. For those who still have some blueberries hanging around, you should try making this really simple vegan blueberry sauce. It's super easy, delicious, and goes great on top of any leftover cornbread that you may have made with my last post.
These past two weeks have been really great for self-assessment and self-reflection. In the mornings, I've gotten up early and done a little morning yoga. Nothing too intense, just some hybrid strength training and yoga to stretch out the muscles for about 25 minutes before all the other campers wake up. It's seriously amazing to wake up and do a sun salute to the rising sun. I went the whole week every day, but then I missed one day and honestly I felt like garbage.
Later that day I squeezed in a bit of yoga and I instantly felt better.
I'm pretty sure a quick yoga sesh is happening every morning from now on, I suggest you try it too! Here's what I do:
Sun salute, 5 repetitions
Tree pose, 3 breaths on each side stretch
Chaturanga (tricep pushup), Upward Dog, Downward dog, 1 repetition
Warrior II pose, 5 breaths, then lift front arm up and back arm goes back below the back knee
Chaturanga (tricep pushup), Upward Dog, Downward dog, 1 repetition
Triangle pose  on right side for 4 breaths
Chaturanga (tricep pushup), Upward Dog, Downward dog, 1 repetition
Triangle pose on left side for 4 breaths
Chaturanga (tricep pushup), Upward Dog, Downward dog, 1 repetition
50 squats
Pidgeon pose right and left for 5 breaths each to stretch (with advanced stretch by bending back leg)
40-60 crunches (with option of adding 30 bicycle crunches)
Stretch out abdominals with bridge
Butterfly stretch
Hamstring stretch (right leg bent, stretch left, then left leg bent to stretch right), reaching with opposite hand to stretch back.
Happy Baby, rolling on back to stretch.
Close with shavasana.
Sorry if that's not the most accurate description, I'm definitely not a yoga instructor.
But I digress.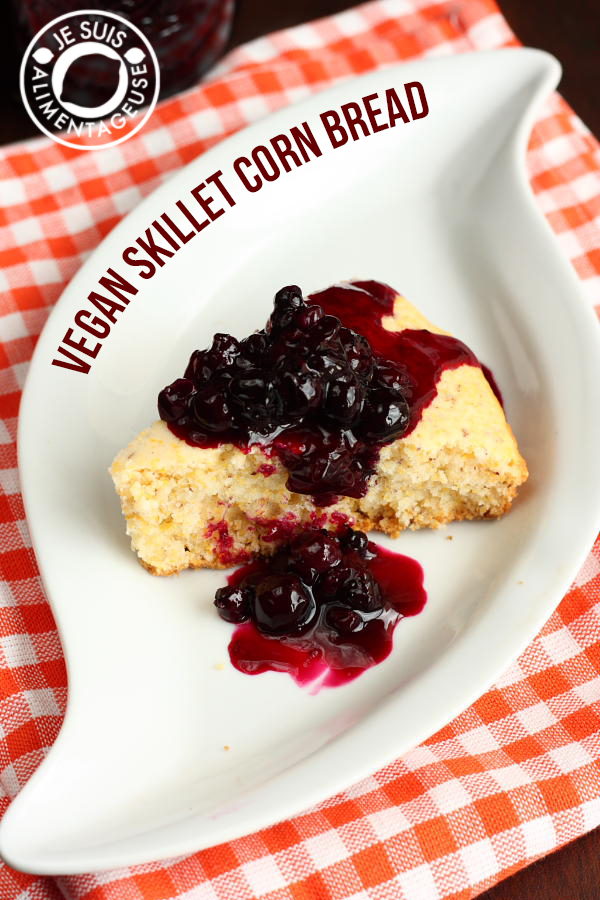 This vegan blueberry sauce is beautiful on toast, ice cream, corn bread, bagels…anything really. It's so simple, easy to make, and tastes delicious. I'm on time with my post today, and I have another great post coming up on Thursday =) Enjoy!
Blueberry Sauce
Ingredients
- 2 cups blueberries (I used a mixture of fresh and frozen b/c frozen gives better colour)
- zest of 1 lemon
- juice from 1 lemon (strained)
- 1/3 cup sugar
- 1 heaping tsp corn starch
Instructions
To make the blueberry sauce, mix together the blueberries, lemon zest and juice, 1/3 cup sugar in a small sauce pan over medium heat.
Once the mixture starts to bubble, you'll see some liquid from the blueberries. Take about 1/4 cup of the juice and mix it with the corn starch to make a slurry, getting out all lumps. Quickly mix it back into the blueberry sauce.
You should almost immediately see that sauce start to thicken. Remove from heat, give it a quick stir for good measure, and transfer to a jar (you can sterilize the jar and then can it, but I only made this one batch so I don't need to can it).
Cut up some blueberries, and pour a little blueberry sauce on top.