These vegan cheddar chive scones are puffy triangles of happiness.
Buttery, flaky, cheddar chivy goodness.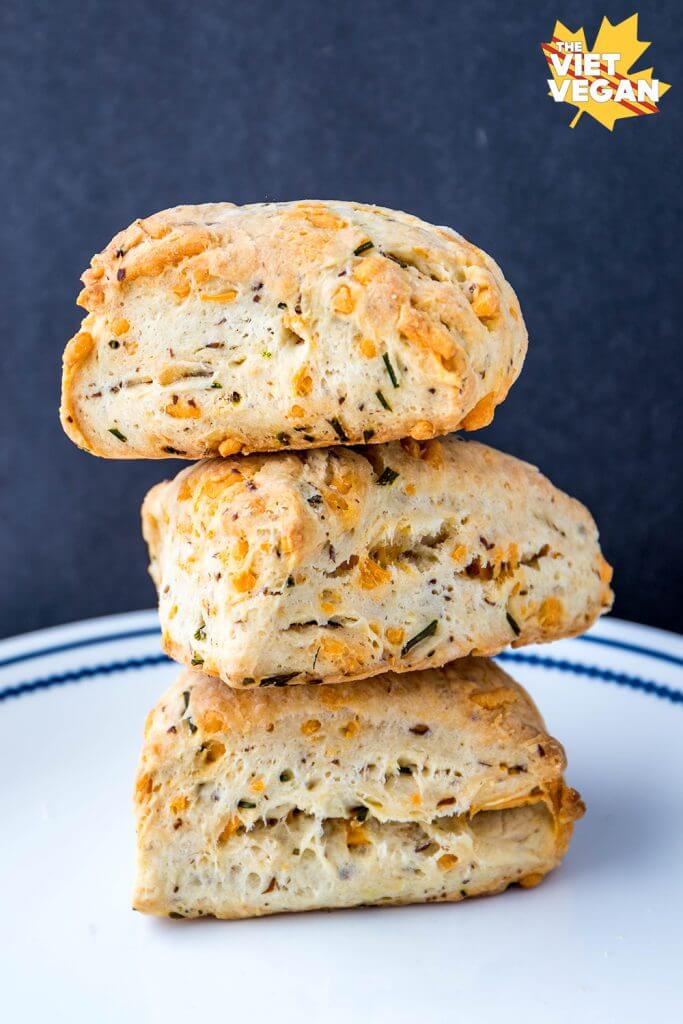 Sometimes we forget how quickly time passes. I'm 26—that feels weird to say. I feel like 25 was a monumental year for me but it went by so fast I don't even remember what it was that made it monumental. I also feel like I've grown, or maybe not that I've grown but perhaps I've just let some things go.
Maybe that's a part of growing?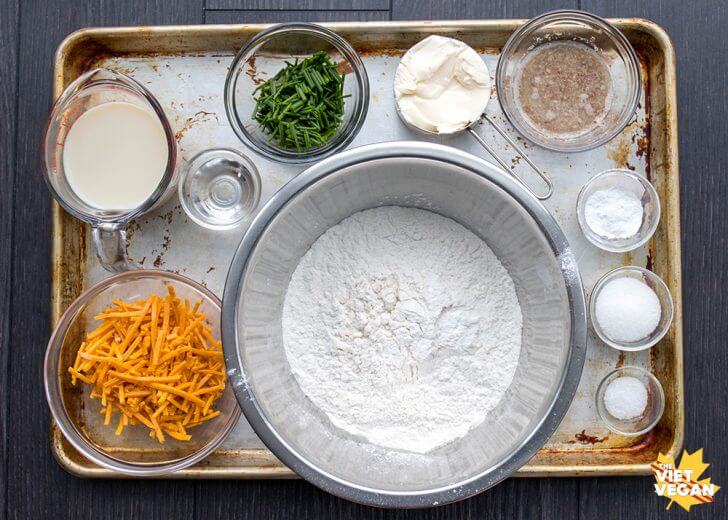 I used to get caught up in the little things, I used to worry day in and day out about appeasing the people in my life. Worry about people reading into stuff I say—did I say that at a bad time? Should I have just sucked it up and done what they wanted? Are they mad at me? All these stupid little things that made me anxious—but at the end of the day, it doesn't matter. The people who matter most will stick around and that's what's important.
Now my friends are coming across huge life milestones—engagements, homes, new jobs, promotions, kids—I thought I would feel the pressure of meeting those milestones too, but to be honest, I'm just happy for everyone. It's not about me.
I love seeing my friends be successful, being in love, doing what they do best. They've gone through so much over time that things are finally going their way and that's amazing. It's about time.
If I were to look and critique my life, I think the only bad things would be that my apartment is a little smaller than I'd like, my car is a little older than I thought, I'm still pretty broke, and I don't see my friends as often as I'd like, but in the grand scheme of things—things are still good.
I have food on the fridge, gas in the car, hot water when I want it, my wee kitchen is just right for what we have, my car gets me from point A to B, my credit score is really good, I'm slowly but surely paying off student loans, and my friends and family are there when I need them. I never thought I would meet someone who'd fit me as well as Eddie does. My job lets me shoot and write about food for a living. And I feel like I'm doing good in the world.
Life is pretty good.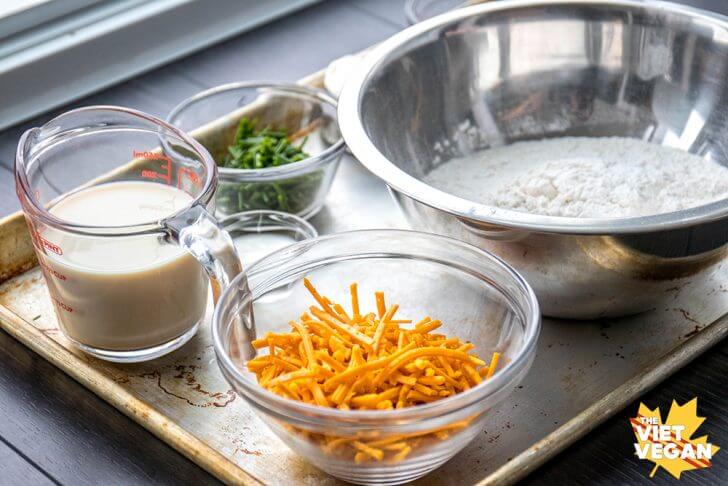 And life is always better with scones. By now you probably know that I'm much more of a savoury than a sweet person—I'd choose a savoury scone over a sweet one any day. These have a bunch of cheddary flavour thanks to vegan cheese, vegan buttermilk makes these fluffy and tender, and chives add a hint of herby goodness that makes these vegan cheddar chive scones such a classic.
I made these for a cookie exchange a couple weeks ago (I know, they're not cookies), and everyone loved them. There were some extras and those were snagged really quickly once everyone had exchanged cookies, which is always exciting. I'm considering making them again for a bake sale at the Toronto Vegetarian Association this weekend, but maybe I'll make some cookies instead. Or maybe I'll just overcommit and do both haha.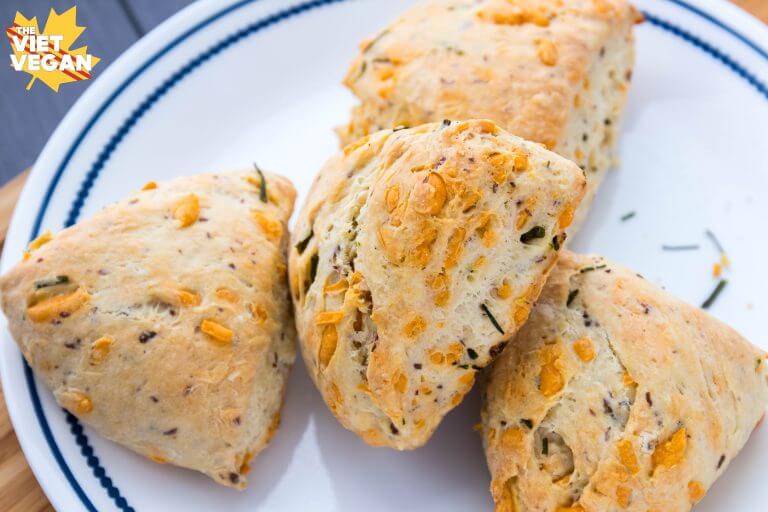 Anyway, thank you for sticking around this far and bothering to read my rambles. Most people just want the recipe, but I find the post just feels a little empty if I don't take some time to think and write something. Plus, self-reflection is always good.
For the visual version of this recipe, as I know many of you are visual learners, here's my video version of the recipe (also full of fumbles). A big shoutout and a thank you to Eddie who helped me with dishes and cleaning the apartment before filming, and for swooping in just before he had to leave for work to help knead the dough because my hands are still a little on the rough side.
Until next time, enjoy :)

Recipe adapted from Laughing Spatula
Vegan Cheddar Chive Scones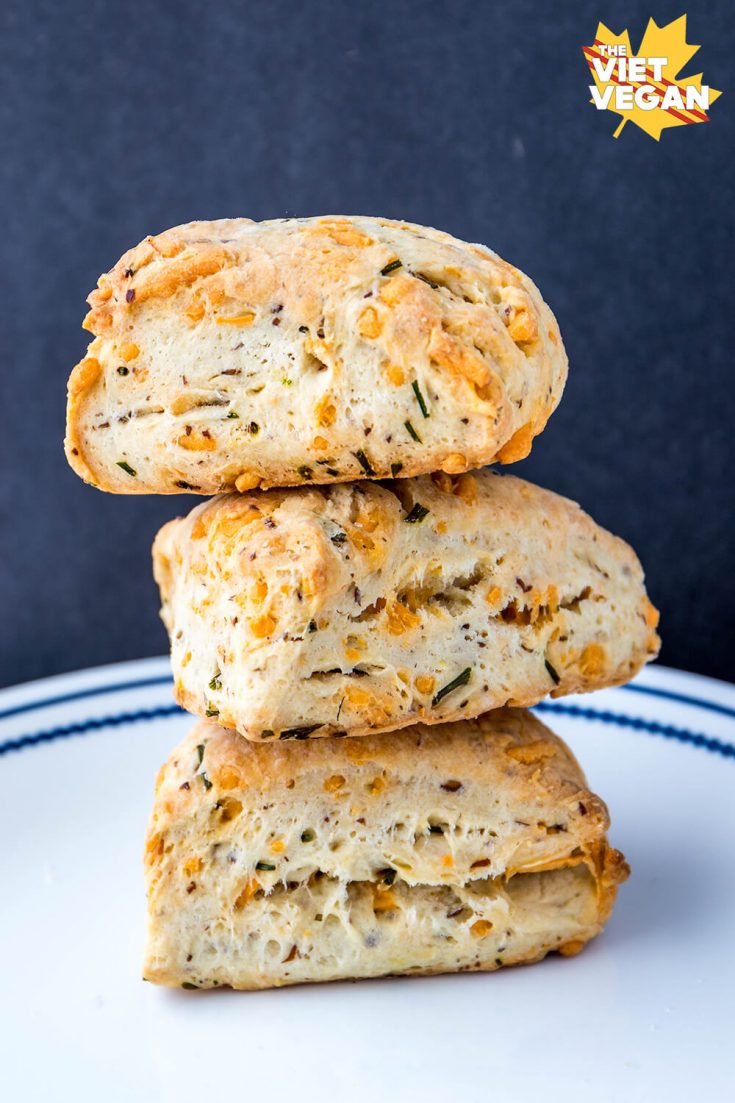 Ingredients
1 tbsp flax meal
3 tbsp warm water
3/4 cup soy milk
1 tbsp vinegar
2 1/2 cups all purpose flour (plus maybe 2 tbsp more as you work and shape the dough)
1 tbsp sugar
1 tbsp baking powder
1/2 cup vegan margarine (I used vegan Becel)
a hefty pinch of kosher salt
1/4 cup chives, chopped into 1 cm pieces (1/2 inch)
1 cup vegan cheddar (I used Daiya)
Instructions
Preheat oven to 400ºF (if your oven runs hot, bring it down to 375ºF)
In a small bowl, combine flax meal and water and let thicken.
In another small bowl, combine soy milk and vinegar and let curdle to make vegan buttermilk.
In a large mixing bowl, combine flour, sugar, baking powder, and salt and stir until combined. Using a pastry knife (or just rub in with your fingers), cut the butter into the flour mixture until it resembles a coarse sand.
Stir in the flax mixture and vegan buttermilk. Gently knead together dough until all flour is incorporated.
Fold in the chives and vegan cheddar, then shape into a thick, round disc (see the video if you want to know how big) and cut into 6-8 wedges (depending on how you like the shape).
Bake for 25-30 min at 400ºF (if your oven runs hot, bring it down to 375ºF) until you have golden edges on your scones.
Remove from oven, let cool on a wire rack and enjoy!