These vegan chocolate chunk pumpkin muffins are the perfect fluffy breakfast that goes deliciously with your morning coffee or tea! One bowl, 30 minutes to make!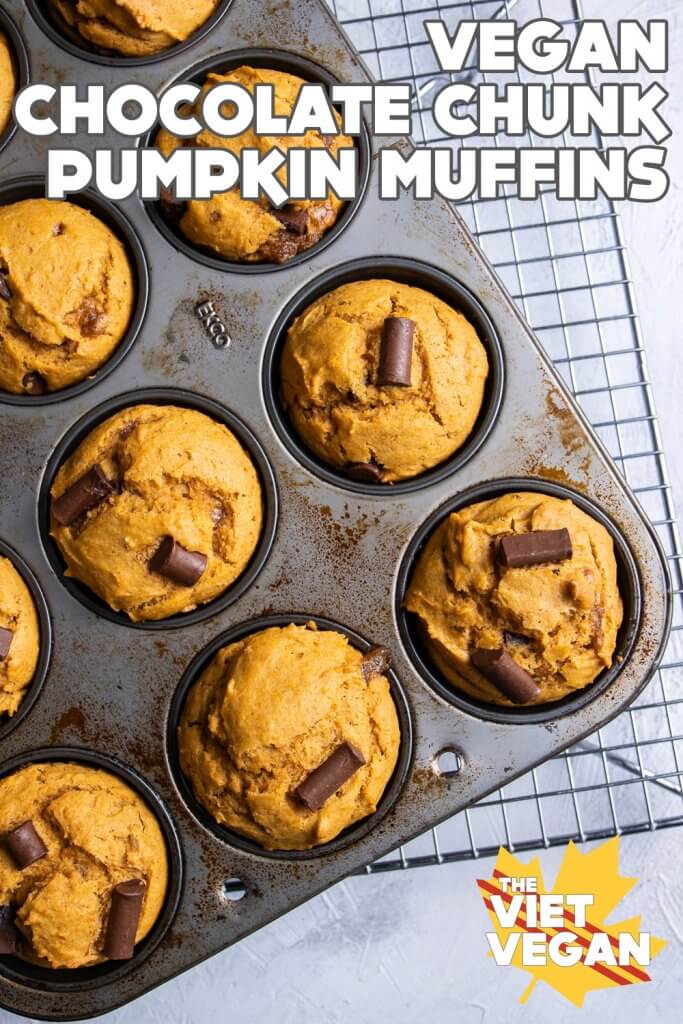 Apparently spring is the new pumpkin season because I found a stray, abandoned can of pumpkin puree in my pantry that I cracked into for chickpea pumpkin curry but then was left with 2 cups of it in my fridge. I was craving pumpkin muffins (also I will be experimenting with lemon poppyseed muffins!) and I revamped an older recipe that I loved the flavour and texture of, but I wanted those beautiful poofy muffins with a super soft crumb.
I've been having a lot of fun cooking up some deliciousness and having Eddie around more often to help tidy up after (and by help I mean clean up after me LOL) I've been making a lot of tasty stuff! Soon to be coming will be vegan mongolian beef made with soy curls that has been absolutely game changing it's so dang tasty! My patrons over on Patreon have gotten the recipe early but I'll be posting it for you all very soon (I still have to film the video haha)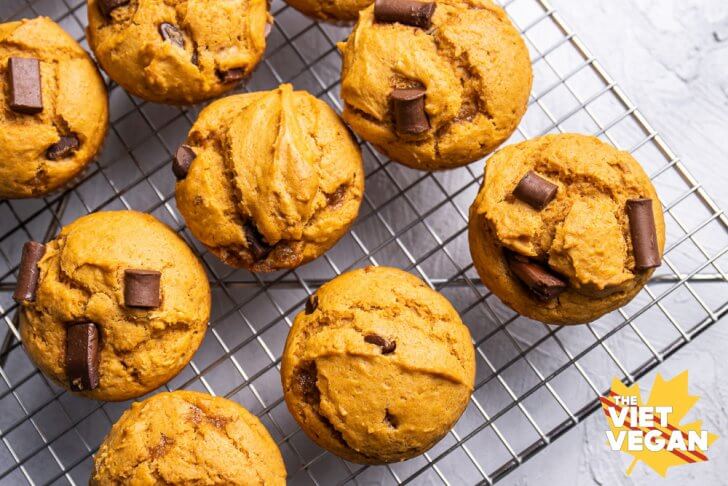 Anyway, I don't have much to say as there hasn't been much happening in my life aside from family drama and feeling very helpless as the world navigates this pandemic, but I have been coping with a lot of Animal Crossing, sewing projects, and watching a lot of 30 Rock with Eddie.
Hope you try these vegan chocolate chunk vegan muffins (because no egg or soy milk requireeeed) since they are very pantry-friendly!
Yield: 12 muffins
Chocolate Chunk Pumpkin Muffins
These perfectly fluffy pumpkin muffins have a lovely hint of pumpkin spice and are studded with chocolate chunks. Super tasty and perfect for breakfast (or dessert :D)
Ingredients
1/2 cup (125 mL) vegetable oil (I used canola)
1/2 cup (100 g) brown sugar, packed
1/2 cup (105 g) white sugar
1 cup (240 g) pumpkin puree
2 cups (266 g) all purpose flour
2 tsp (11 g) baking soda
1/4 tsp (1 mL) kosher salt
1 tsp (3 g) pumpkin pie spice
1/2 cup (72 g) vegan chocolate chunks
Instructions
Preheat oven to 350F (180C).
In a large mixing bowl, combine vegetable oil, brown sugar, white sugar and pumpkin puree until well combined. Try to break up any chunks of brown sugar as best you can.
Sift in flour, baking soda, pumpkin pie spice and fold in to mix until just combined. Fold in the chocolate chunks, then divide into 12 muffins (either oiled or lined with cupcake liners). Bake for 25 minutes, test for doneness with a cupcake tester or toothpick poked into the middle (you should have it come out clean or with moist crumbs attached).
Let cool on a wire rack and enjoy! Store in an airtight container and enjoy with a good schmear of vegan butter with some tea :)