None of this "vegan option" Italian dressing BS…
You need to make this creamy Garlic Dip for your pizza dipping dreams.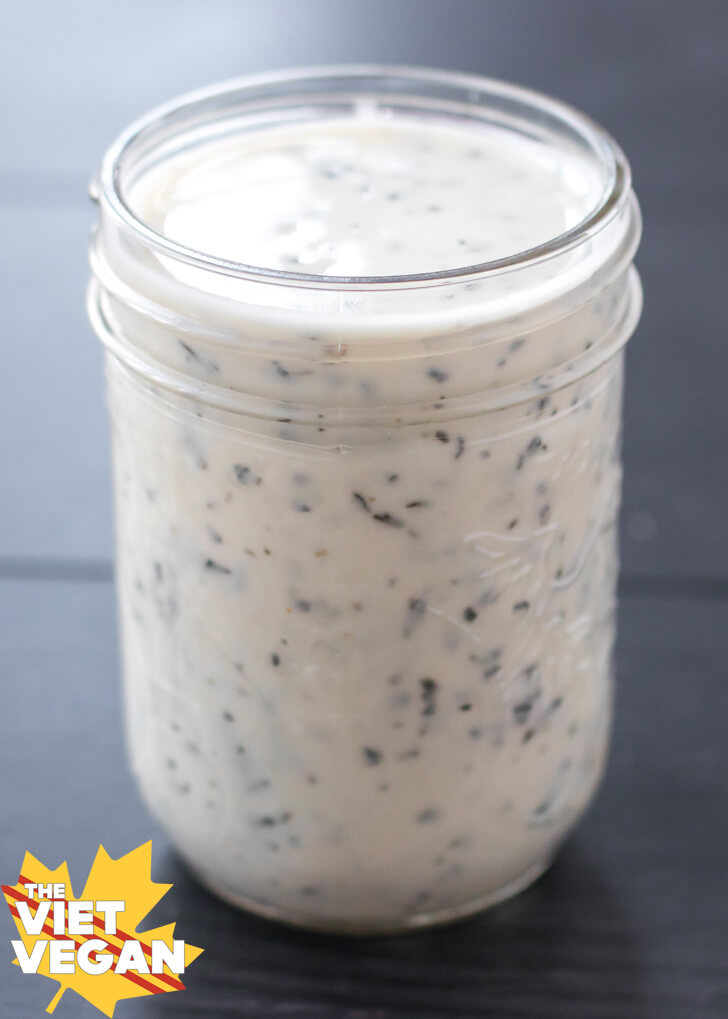 I'm not sure if it's just a Canadian thing, but one of the largest pizza chains in Canada came out pizza dipping sauces back in the early 00s. Think wing sauces, but for pizza, or more specifically, pizza crust! There were marinara dips, italian, cheesy jalapeno, ranch, and last but not least, the most "famous" or popular one is creamy garlic.
Eventually, pizza sauces caught on popularity and nearly all pizza chains now carry a slew of difference sauces, and most importantly, a creamy garlic dip for pizza crust!
This vegan creamy garlic dip is thick, rich, creamy, and packs a delicious garlicky punch. It is sure to ward off the sexual advances of various people. And vampires. But I don't eat food to be sexy. Do you? If so, this might not be the sauce for you.
It might seem excessively rich, but this is exactly how I remember creamy garlic dip. Use it for vegan wings, pizza, garlic bread, regular bread, spoons, fingers… (just kidding).
Do what you want with this recipe, folks. I like to make a little container of it before getting takeout pizza so that I can also enjoy creamy garlic dip instead of the nasty, half oil "vegan option" that's basically Italian dressing.
Yield: 2 servings
Vegan Creamy Garlic Dip for Pizza!
This recipe makes two servings of vegan creamy garlic dip, but if you like having this on hand, feel free to double or triple the recipe (which I did for the photo) and store in the fridge for all your pizza dipping needs!
Ingredients
2 cloves garlic, pressed (or if you don't have a garlic press, smashed with a mortar and pestle =P)
1 tbsp vegan butter
1/4 tsp dried thyme
1/4 tsp dried basil
3 tbsp vegan mayo
A pinch of salt (optional)
Instructions
Quick version in the microwave:
Combine the pressed garlic, butter, thyme, and basil in a bowl and microwave until the butter is melted and bubbling (about 30-45 seconds). This kind of cooks the garlic a bit and sort of re-hydrates the dried herbs.
Remove from microwave and stir in mayo until smooth and incorporated. Add a pinch of salt if you like it saltier, but I didn't find I needed it.
Stovetop version (my preferred method):
In a small pot, melt butter and cook garlic for about 20-30 seconds, until the garlic is fragrant.
Stir in the dried herbs and remove from heat and stir to let the butter cool off.
Stir in the vegan mayo until smooth and incorporated. Add pinch of salt if desired.