These vegan pizza rolls are so simple to make,
yet are unbelievably delicious!
Pizza will always have a special place in my heart because of my mom. My mom told me once that when she was pregnant with me, she ate pizza every single day. Nine months of pizza? You would think she'd never eat pizza again after her pregnancy, but funny enough, pizza was one of those foods that very distinctly reminds me of my mom because we share a love for carb-loaded pizza with (now vegan) cheese and pepperoni. That was always our slice of choice and it makes me so happy that I can still make these for us even though I'm vegan and she's vegetarian.
I mentioned this in my recent Instagram post for Mother's Day, but despite how close my mom and I are, we definitely had our challenges growing up in different cultures and not being able to relate to each other. My mom grew up in a very conservative family with very conflicting views from me (and even her) and had very strict ideas of what it was like "to be a lady" and the role of a "girl". She continued this cultural perspective in her own family even though Canada is much less of a conservative country.
On top of the general old school Vietnamese cultural aspects, my mom is the oldest of her siblings, so she did and continues to bear a lot of responsibility for the family and things fall upon her shoulders even if she doesn't have the time of emotional capacity to do it.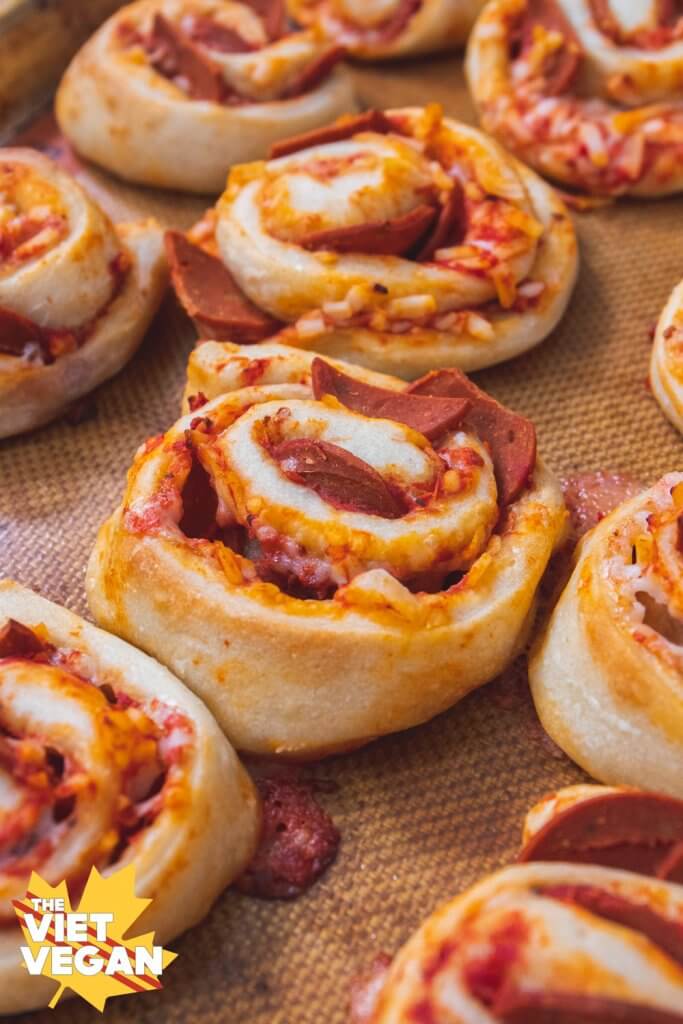 To be honest, I don't think I've ever seen my mom break. Maybe once when I was 12, but I was so young at the time and going through my own shit I wasn't sure what was happening. No matter her personal problems or the turmoil at home, she did what she had to do, mediated where she could, and continued to carry on no matter what. She was always this superhuman entity in my eyes, but as I get older, I realize now she is human like the rest of us. Don't get me wrong, she is an incredible and strong person, but nearly so much so that it's a fault. But I think having her on such a pedestal in my life made me feel like everything I did was a failure.
I was never smart enough, never strong enough, never willing to sacrifice enough, never graceful enough, never tidy enough… just never enough.
When in reality, I feel like these were the very tenants my mom was trying to instill in me through my upbringing: that I could be enough. But I always felt like I fell short of everything because my mom is just so damn great.
Getting older and seeing my mom now as someone who has experienced a bit more life. I realize now that she is not perfect. And that's not a bad thing. It makes her more relatable and I understand her more now than I did before.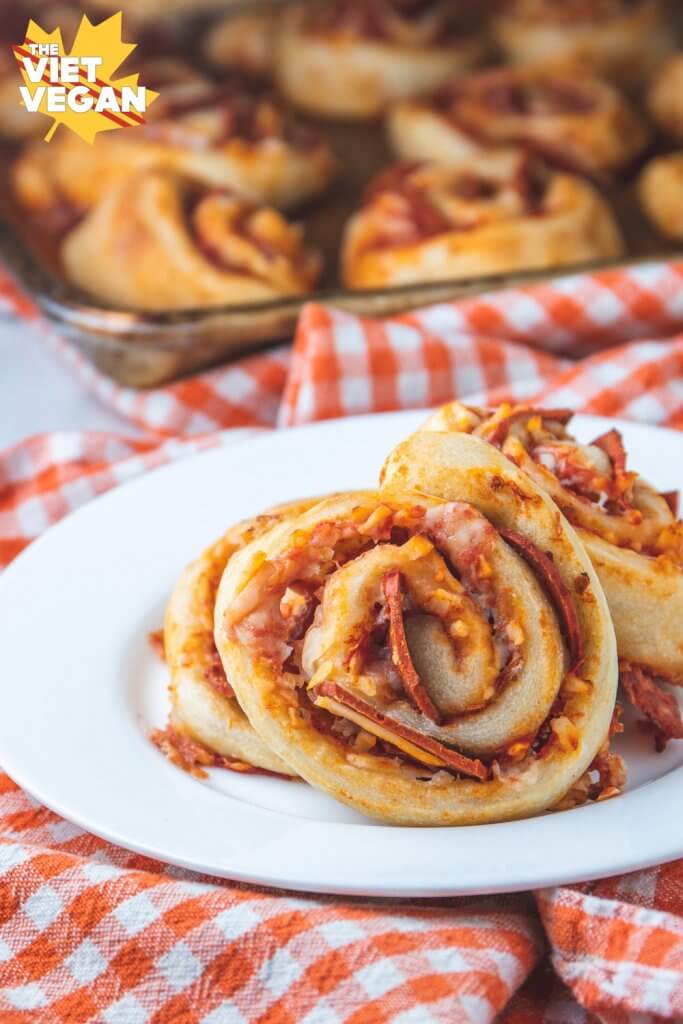 Growing up, I would get mad at my mom for all the strict rules she would impose on me. I still don't agree with them now and I definitely would do things differently when I have kids one day, but I understand where she was coming from, after all these years. After witnessing Vietnamese culture at work and the circumstances she had to endure to be where she is today, I understand.
There was a lot of pent up anger and a lot of difficult moments between me and my mom when I was growing up, particularly in high school, because, let's be real, all teenagers are jerks. But having parents who grew up in a different culture completely also added another layer of complication to it. Even so, we had and still have a lot of really amazing moments together. Distance really made the heart grow fonder, it seems. My mom and I still fight every now and then, but it's easier because we appreciate the moments we have together.
Also, I know when to pick my battles (and it's pretty much always never).
I expect my mom and I will still have our differences every now and then, but I think after all these years, we get each other. At least a lot more than we did before. The great moments are great, and our differences are…well, difficult. But we get through them. We always do. Mostly because I know she means well, but also because I don't always listen =P
Anyway, as I said, I made this vegan pizza rolls for Mother's Day, and full disclosure, totally in a panic because I thought she was sticking around on Sunday but I only was able to see her on Saturday night. Unfortunately I had not planned my Saturday accordingly. So instead of the scones I was going to make for her, Eddie picked me up from the random things I was doing in Toronto and we zoomed over to the grocery store to pick up the four storebought ingredients needed to pull this together. An hour and a half later (including travel time), I showed up at my grandmother's house with a giant tub of these piping hot vegan pizza rolls in hand.
You can of course make the dough and sauce from scratch (dough recipe below for ease of use), and if you want to go all out and make some vegan creamy garlic dip, I highly recommend you do so.
But despite the store-bought components, these vegan pizza rolls went down really well, because I know my mom is always down for some pizza-flavoured carbs. After all, I'm 90% pizza.
I also did a video for these pizza rolls, so if you'd like to see me be weird and tired and watch how I made these, here ya go:
Yield: 10-12 rolls
Vegan Pizza Rolls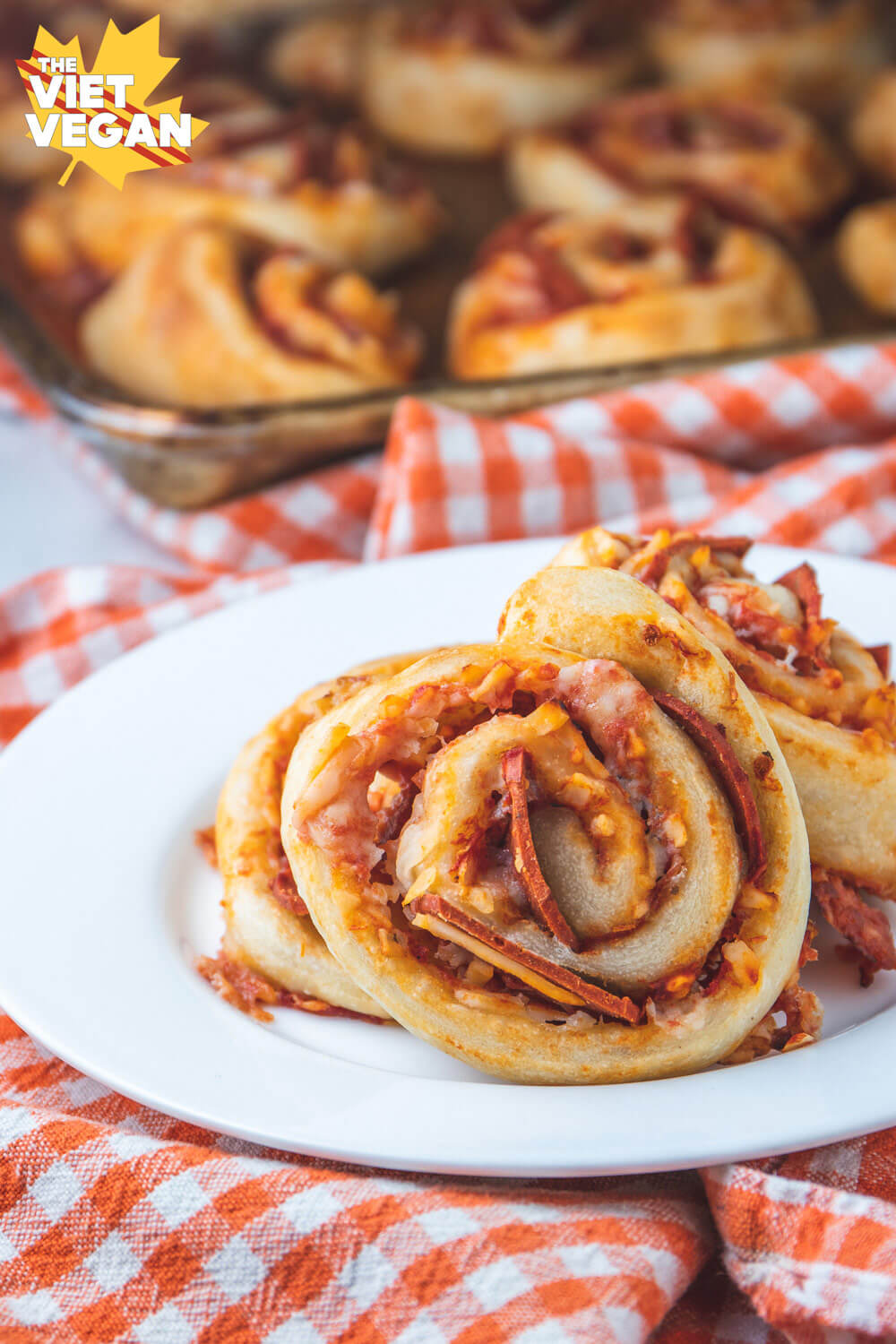 Ingredients
Storebought OR Homemade Pizza Dough
Homemade Pizza Dough (makes enough for 2 crusts)
2 1/4 tsp dry active yeast
1 tsp sugar
1 3/4 cups warm water (not too hot or it'll kill the yeast)
3 1/2 cups (approx 460 g) all purpose flour (+ more for kneading)
1 tbsp (15 g) vital wheat gluten (this is optional but I find it makes it chewier :D)
1 tsp garlic powder
1 tbsp onion powder
1 tsp kosher salt
2 tsp olive oil + more for the bowl
Assembly
1/2 cup vegan pizza sauce
1 cup vegan cheese shreds (I used Earth Island/Follow Your Heart)
1 package Yves vegan pepperoni (120 g)
Instructions
Preheat oven to 350F.
This pizza dough recipe makes enough for two crusts.
In a small bowl, combine yeast, sugar, and warm water and let the yeast bloom for 5-10 minutes.
In another bowl, combine flour, vital wheat gluten, garlic powder, and salt. Mix by hand or with a whisk to evenly distribute the dry ingredients.
Add the bloomed yeast to the dry ingredients and mix until the dough pulls away from the side of the bowl. You may need to add more flour, depending on how wet your dough still is. It should be tacky, but not sticky.
Turn over onto a floured work surface. Knead until smooth and elastic, about 5 minutes.
Add olive oil to your bowl and coat well. Add the dough ball and turn to coat it in the oil. Cover with plastic wrap or a damp kitchen towel and let rise somewhere at room temperature (preferably somewhere warm) for one hour, until it's doubled in size.
Gently punch it down to release the air bubbles, and turn it onto a work surface. Divide in half as this recipe makes enough for two pizzas. You can store one half in a freezer safe zippered bag or container for next time (I thaw it overnight if I know I want to make pizza the next day).
Assembly
Roll out the dough fairly thin, about 1/4-1/2 inch thick to a large rectangle-ish shape (you can see the size in the video).
Spread the pizza sauce evenly on top, then layer the vegan cheese shreds and vegan pepperoni.
Roll the dough as tightly as you can so you don't have too many large airpockets between the layers, and slice into 1 inch rolls. Place on a baking sheet (ugly side down) and tuck in the ends of the rolls underneath if they stick out too much.
Bake for 20-25 minutes, until the edges are golden brown, then remove from oven and let cool for 5 minutes before eating (unless you want to burn the inside of your mouth on hot pizza sauce).