Oh hello. I know, I know. I'm super late. I missed Monday's post. And then I missed Thursday's… and here I am posting on a Friday when I never post on Fridays. I'M SO SORRY. But it's Pi Day, and as the ultimate nerd, HOW COULD I RESIST? This vegan French silk pie is so simple, silky, decadent yet not overwhelming in sweetness. Topped with fluffy whipped coconut cream and bedazzled with fresh raspberries? Hubba hubba.
But I've talked about the vegan side of JSA, I've yet to delve into the waters of feminism, but today, I give you NERDISM.
Since it's Pi Day, what better way to enlighten you of the ways of which I'm nerdy?
I am so many kinds of nerd.
I'm borderline geek actually. (Y'know, the not so cool side of nerds.)
I was never a cool kid. I was too hyper, too goody-goody, and too into books. I grew up devouring books. I clearly remember going to my town's library at age 5 and signing my very first library card. I used to take out massive stacks of books every week because I was an only child and all of my friends lived on the other side of town. Sweet Valley High, Chronicles of Narnia, Baby Sitter's Club, Baby Sitter's Little Sister (Ugh I always skipped the first chapter. Shut up Karen, I get it. Your parents are divorced. Y U NEED TO EXPLAIN EVERY BOOK?!)
Yes I realize the author did it for background knowledge reasons. But holy balls so annoying.
I spent hours and hours at the library after school because my mom commuted to work an hour away, so I'd be at the library until 6 or 7, reading, doing homework, or fixing the way books were placed on the stacks. (Yes, I was the 10 year old kid who would bring all the books forward on the shelf and straighten them so that they were all even and flushed against each other).
One of my best friends' mom was the head librarian, and she lived right across the street. We would hang out in the library and sometimes go to her house and… actually I have no idea what we did. 12 year old Lisa's memory is lacking there.
Then another best friend of mine (actually she was best friends with me first but moved away, her cousin — the aforementioned best friend — and I became closer in the subsequent years) and I used to nerd out and obsess over Harry Potter. We wrote fan fiction and role played using our own characters (my character was Harry and Hermione's kid because THEY ARE SOULMATES. Even J.K. Rowling admitted it.)
She also introduced me to Lord of the Rings and thus began my never-ending fandom of Lord of the Rings. To this day I still watch it, sometimes with commentary because I love Dominique Monaghan and Billy Boyd talking. She had dibs on Billy, but it's okay, I was always Dom's girl. (Sorry Chris.) We role-played our own characters for Lord of the Rings for YEARS. As in between ages 13 and 18. So many stories. My character's name was Fairianen Elrohir (as in the daughter of Elrohir, Arwen's older brother who had a twin named Elladan). She had twin swords, a kick-ass horse and a really weird, slightly pervy boyfriend. Actually I don't think I wanted him to be that pervy, I think my BFF just wrote him that way.
Anyway, I digress.
After Lord of the Rings, I got REALLY into anime. But I refused to tell anyone about it (in high school anyway). I was really into Naruto, Bleach, Sailor Moon (Season 6 Super Sailors Stars FTW), and oddly enough Love Hina. I don't remember anything about it really. I just remember watching many many hours of it.
In terms of academics, my favourite subject was math. Yes, yes, I know, stereotypical Asian. My mom would give me extra math lessons everyday since I was a kid, so I was actually doing grade 6 math back when I was in grade 1, because that's how the Viet kids did it.
We hardcore.
Sorry that was terrible.
Math was definitely my best subject, and to be honest, I have no idea why I didn't keep going in math, because I wasn't really all that great in English. Or French. I would get 95s in math, but only 86s in French and English. Actually my first essay ever I got an 80.
I WAS LIKE WUT.
(Yes to even further my nerdcred, I was a straight A student who got upset over Asian-fails like an 80.)
But my nerdcred doesn't stop there. In high school I also became a Classics Club nerd. I was really into Latin, Greek and Roman mythologies, Socrates… and grammar. Guys, I love grammar. Could you tell? With my religious use of the Oxford comma, proper use of ellipses, heck I even used an em-dash up there.
Uh… and I forgot to mention that I've been a band-geek like all of my life. I've been playing piano since I was six, played in band (flute/piccolo, trumpet or piano in jazz band) since grade 6, and I've been at band camp for over 10 years (as a camper and as a music staff).
…Actually writing all this nerdom down is getting a little intense. I'm going to list the remaining fandoms I'm super into because otherwise this will be the longest post of life.
Reasons why I'm a nerd, continued (and probably will be updated)
Marvel (I LOVE X-MEN aka Kitty & Colossus 4ever, and Iron Man…and The Avengers, but mostly because of Joss Whedon)
…Joss Whedon. Firefly, Dollhouse, Astonishing X-Men BUT only the ones he did because all the others are horrendous, and as I mentioned, the Avengers. (No I did not watch Buffy. Spike gave me the heebie-jeebies). And I watch S.H.I.E.L.D. because I love Fitz and want to marry him. Mostly because Chris is basically Fitz. Less awkward though. But just as intense about engineery things I don't understand.
DC Comics (because let's be real, Batman and Superman have way better back-stories than all of Marvel's comic book heroes combined.)
Star Trek (In order: TNG, Voyager, DS9, OGS) (Captains: Picard, Janeway, Kirk, Sisko)
Game of Thrones
Photography (Duh.)
Computers (I drool over beautiful gaming computers even though I switched to Mac back in 2009)
MMORPGs (Chronological order: Runescape, Maplestory, Forsaken World)
Website development (I'm weirdly into the back-end of blogging. I love learning about SEO, HTML, CSS, and I've been CodeAcademy-ing Javascript)
Board games (favourites include Settlers of Catan, Dutch Blitz, King of Tokyo, Pandemic, aaaaaaand Scrabble)
Stationary. Back to School Season is the best season.
Technology in general. I'm really into smartphones. And tablets. And Google.
Sherlock. I'm a Cumberbitch.
Pokémon. I may have ignored the beautiful countryside of Italy when I was 17 because my friend let me play her Pokémon Pearl on the bus. GOTTA CATCH EM ALL.
And I'm sure the list goes on but this is waaaay to long of a post.
TL;DR
This vegan French silk pie is amazing. I'm a huge nerd. Happy Pi Day. Check out all the pies my fellow blogger friends shared:
Sorry for the longest, most self-centered post ever.
Recipe adapted from Alton Brown
Vegan French Silk Pie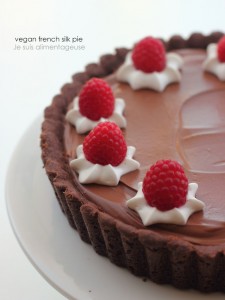 Ingredients
For the crust:
1/2 cup vegan butter
1/4 cup white granulated sugar
1 1/2 cups all-purpose flour
1/4 cup dutch-processed cocoa powder
1/4 tsp salt
For the filling:
200g (7 oz) dark chocolate, chopped (make sure there's no dairy to keep it vegan)
1/3 cup coffee liqueur (I used Kahlua)
1 block silken tofu, drained and at room temperature (300g)
2 tsp maple syrup
1 tsp vanilla extract
For the coconut whipped cream:
1 can Thai Kitchen full fat coconut milk, refrigerated overnight (do not shake)
1/4 cup icing sugar
Optional: 1 tbsp tapioca starch
Optional: Fresh raspberries
Instructions
For the crust:
Preheat oven to 350F.
In a food processor, blitz together butter, sugar, flour, cocoa powder and salt until a dough forms (it'll be very soft, like cookie dough). Press into a lightly sprayed tart pan (if you're using a pie pan you can probably skip the spray). Use a fork to pierce the bottom to prevent air bubbles. You may not use all the dough, depending on the size of your pan. Reserve the rest to make a mini pie later if you also have extra filling.***
Bake for 15 minutes, then remove and let cool on a wire rack. You may need to use a fork to press down the crust because it may have puffed up.
For the filling:
Using a double boiler or a heat-safe bowl over a low-simmering pot, melt the chocolate. Transfer to a food processor or a blender and blend with the coffee liqueur, maple syrup, and vanilla extract until smooth. Add tofu and continue to blend/process until you have a very smooth and silky filling. Fill your cooled chocolate pie crust, you may have some leftover.
Let the pie set in the fridge for at least 4 hours, but I let it chill overnight.
For the coconut whipped cream:
Scoop out the thick, coconut cream from the top of the unshaken and refrigerated coconut milk can. Reserve the remaining liquid for smoothies. Whip cream with icing sugar until thick and soft peaks form. If you are finding it's not thickening up, add 1 tbsp tapioca starch.
Either spread on top, or pipe little rosettes and garnish with fresh raspberries.