This vegan, gluten-free creamy spinach pasta with vegan chicken was made in partnership with President's Choice®!
I'm all about making easy, delicious dinners—Compromise-Free!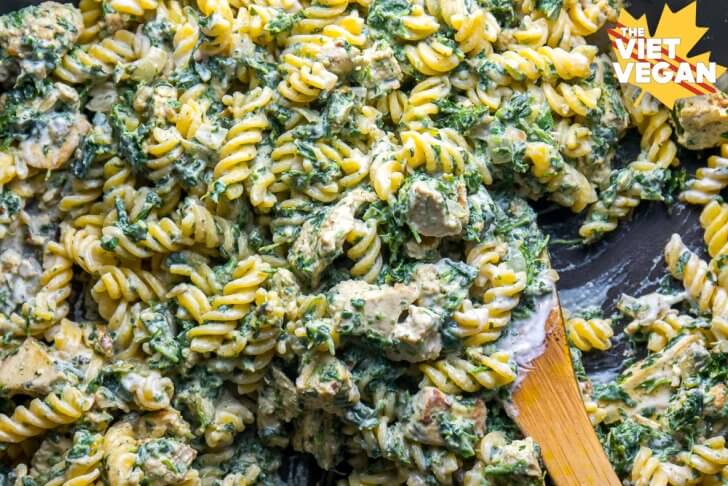 Something I've always loved to do is hosting. The hustle and bustle of gathering plates, refilling drinks, wowing people with delicious food. I kind of hate that I love it so much because it's such a gendered thing to like, and while I don't like to conform to typical femme gender roles, the beauty of feminism is that you are allowed to embrace who you are and what you like to do without being expected to act a certain way. So when President's Choice® asked me to host a compromise-free event at home for friends and family, I was so excited and pumped not only to throw a dinner party, but also work with PC, a brand I've been using since I was 14! (Yikes that's well over 10 years)
There was just one thing: my apartment is tiny, my oven just broke, and I don't have a dining table.

So what I did instead was create this crowd-pleasing dish in hopes that next month, when I'm all moved into the new place that actually has space to host people, I can host a dinner party and not try to cram 5 people on a 3 seater couch to eat at our coffee table. If you've been following here for a while, you'll know that I had a brief 3-month-stint as gluten-free (on top of being vegan and tree nut-free), which made my life incredibly difficult while I tried to adjust. It was 3 months of me feeling like a burden to the people around me, people were unsure of how to host me, unsure of where we could go eat where I also had an option to eat. It's not a fun feeling, always feeling apologetic or embarrassed by all the food restrictions and allergies. Sometimes I get pretty down on myself on the fact that I can't enjoy the likes of cashew ice cream or almond butter anymore, but since I'm actually able to eat gluten, I realize I don't have it so bad.
THIS CREAMY SPINACH PASTA IS FOR MY GLUTEN-FREE NERDS <3 After 3 months of going gluten-free, I have a newfound appreciate for anyone who is not only vegan, but also gluten-free AND vegan. It takes an incredible amount of preparation, mental and emotional fortitude, and just sheer knowledge to remember to always read the label and recognize sneaky gluten. I experimented with a BUNCH of different gluten-free pastas, and I found that there were tons out there that turned into a mushy mess. Thankfully, I have lots of awesome readers out there, and some of you suggested I try the PC ones, which are corn-based.
Not only does the corn pasta have a lovely yellow brightness, but it also has this really nice bite to it! There are a ton of different kinds of pasta to try too. PC sent me corn-based couscous (which I had no idea was possible and I'm so excited that there is a gluten-free couscous!), pretzel bites, and corn-based spaghetti as well. For this dish, I wanted something that could scoop up lots of creamy, spinach-y sauce, so fusilli was what worked here. This dish could be great with penne and spaghetti too! Whatever strikes your fancy, after all, there are no compromises here.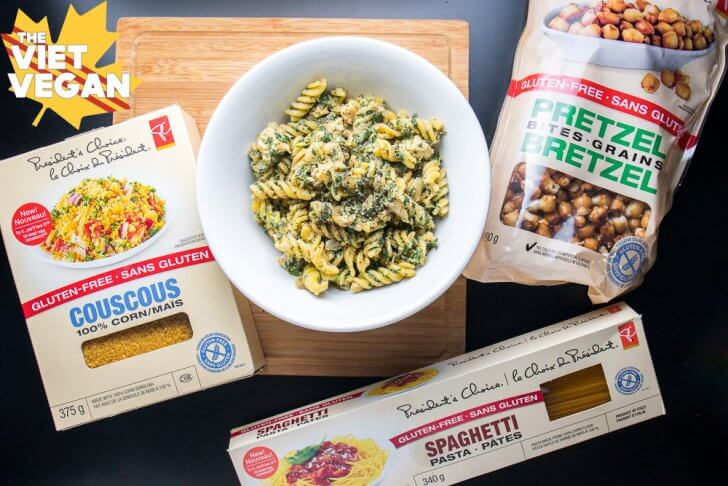 Initially for this recipe, I wanted to do a baked, spinach dip pasta type of deal, but my oven broke and so I had to improvise with this instead. If anything, this vegan, gluten-free creamy spinach pasta with vegan chicken is easier, faster, and can be served to hungry guests sooner than later =P I also wanted a vegan chicken to bulk it up and give it some extra texture and protein, but since most vegan chicken products made with a combination of soy and wheat, it was obviously not gluten-free. Instead I tried tearing up tofu to be chicken-like in texture, season it with some salt, pepper, and poultry seasoning and voilà! Vegan chicken! Even Eddie thought it was the vegan chicken we used to get. But no, just regular ol' tofu.
To see more of the Compromise-Free, gluten-free products that President's Choice® has to offer, please check out their site here. PC is also hosting a giveaway for a $50 gift card! Enter by tweeting (in the Rafflecopter below) using the #CompromiseFree hashtag and tag me (@TheVietVegan). This giveaway is only open to Canadian residents (Sorry US fam)
a Rafflecopter giveaway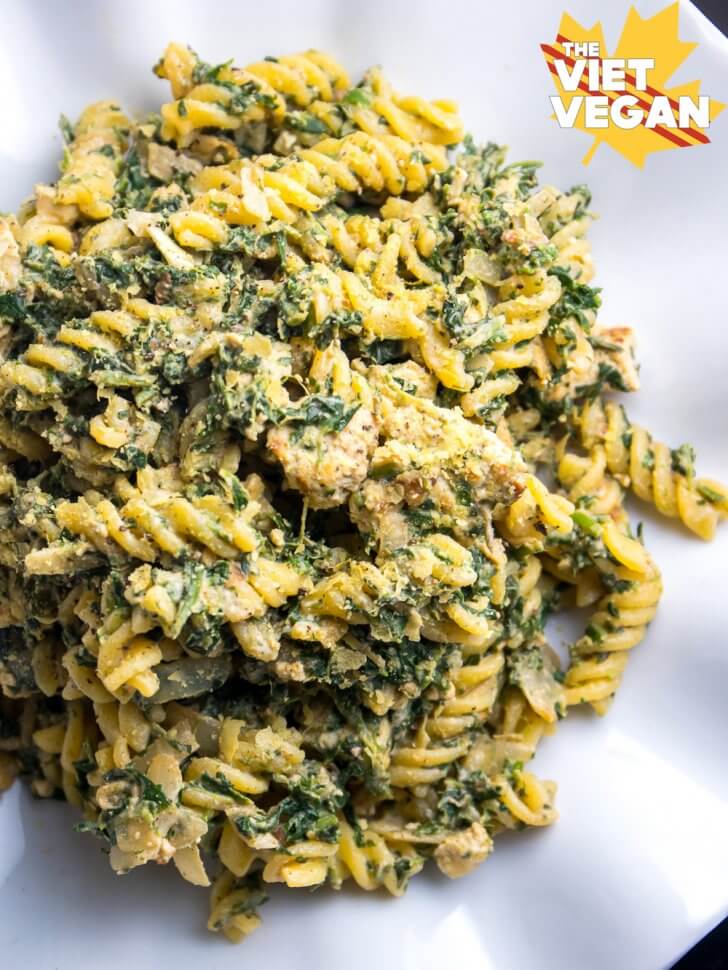 Disclaimer: This recipe is sponsored by President's Choice®, a brand I've been using for over a decade :) If you've ever watched my grocery hauls before, you'll have seen that I shop at No Frills and Loblaws (both PC stores) all the time! Thanks for supporting The Viet Vegan by reading sponsored posts like this one <3
Yield: Serves 2 (you can easily double this recipe to serve 4)
Vegan Gluten-Free Creamy Spinach Pasta with Vegan Chicken
Ingredients
2 cups of President's Choice Gluten-Free Fusilli Pasta
1 medium onion, finely diced
1 tbsp grapeseed oil
2 cloves garlic, minced (or 1/2 tsp garlic powder)
1/2 block firm tofu (The full block is 454 g), torn up into rough, pieces (kind of like torn chicken)
1/2 tsp poultry seasoning (I used No Name brand)
1 cup cooked spinach (I used some thawed, chopped spinach)
1/2 cup vegan cream cheese (I used Tofutti)
1/2 tsp garlic powder
1/4 cup reserved pasta water
2 tbsp unsweetened soy milk
2 tbsp nutritional yeast
2 tbsp your favourite hot sauce (I used Frank's Red Hot)
Black pepper and salt to taste (I used about 1/2 tsp of each)
Instructions
Start by cooking the President's Choice Gluten-Free Fusilli pasta with lightly salted water. Reserve 1/4 cup pasta water and strain once cooked to taste (when it's cooked all the way it'll still have a nice al dente bite).
Meanwhile, in a skillet cook up onion with grapeseed oil over medium heat until translucent. Add garlic and cook until fragrant.
Add in torn tofu ("torn chicken") and toss to coat in onion and garlic goodness. Sprinkle poultry seasoning on top (and garlic powder if you didn't have fresh garlic on hand). Cook until tofu starts to brown, then add cooked spinach and stir to combine.
In another bowl, whisk together vegan cream cheese, garlic powder, reserved pasta water, soy milk, nutritional yeast, hot sauce, salt and pepper until well combined. You should have a nice, thick but pourable sauce.
Add both cooked pasta and this creamy sauce to the tofu chicken pan and stir to coat. Adjust with a splash of soy milk if you find it still a little thick.
Enjoy immediately!