These Vegan Instant Pot Baked Beans are velvety and luscious
With tons of tomato flavour and some sneaky veggies!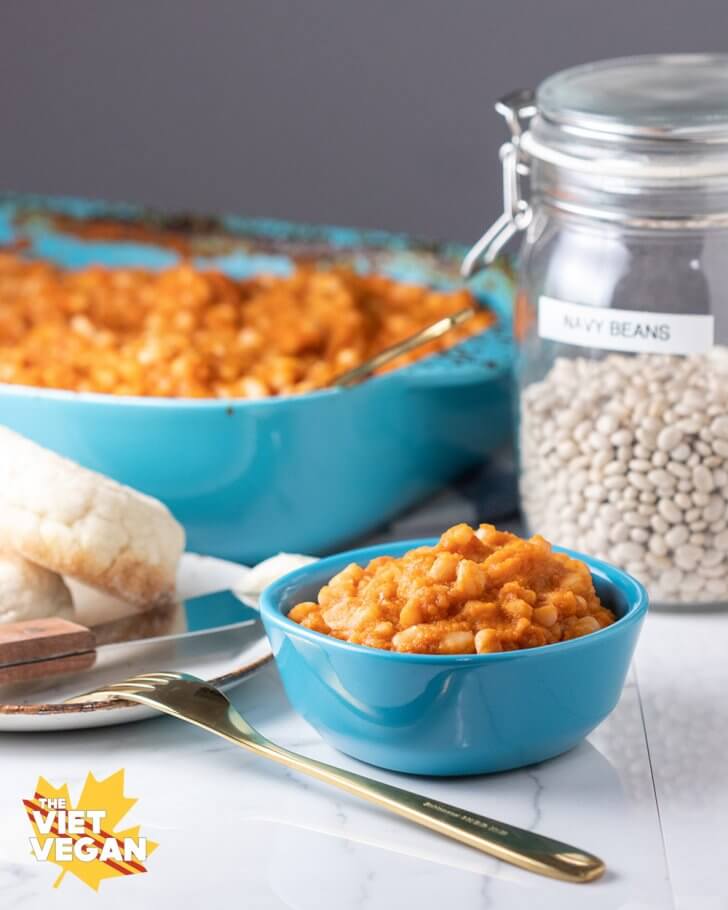 I've been trying to pay a little more attention to the food I eat and how I eat it because my body is becoming way more sensitive to what I eat. Gone are the days where I can eat junk food and still have that uncanny pep in my step that younger me used to have. No longer can I eat an entire bag of chips and a super salt and fat-laden breakfast and feel like tackling the day. So slowly, I've been trying to eat better and eat more protein-rich foods, like beans! Also, ever since having to clean out my cupboards because of a certain mouse-y intruder, I've become acutely aware of how many beans I've hoarded and how they need to be eaten.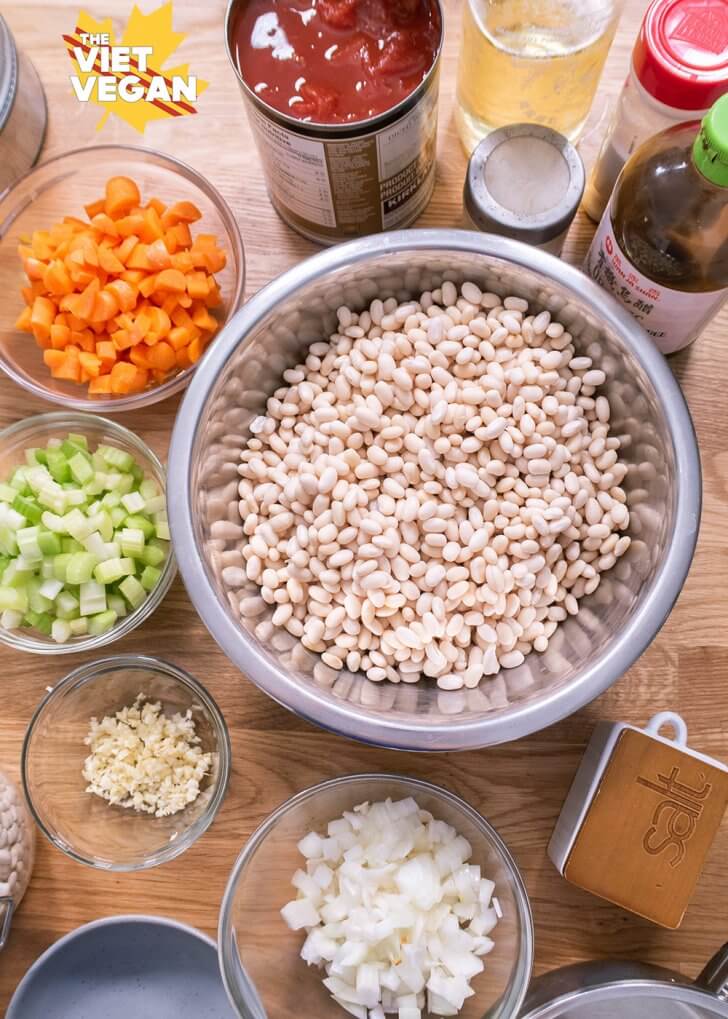 I had not one, not two, but three rather large jars of navy beans that had to be eaten. I've probably experimented on making these baked beans about 3 or 4 times now, and I still have navy beans to spare. I don't know what past Lisa was thinking, in buying all these navy beans. Old me was a lot more optimistic than I'd like. But now that I've been trying out my Instant Pot more successfully lately, I've found that I can't love beans unless they've been pressure cooked. I have a ton more bean recipes coming at you in the future. I don't think you quite understand the hoard of beans I have.
One thing I discovered while researching all sorts of ways to cook beans is that you need to soak beans for at least 12 hours to leech out the phytic acid in the beans. This phytic acid binds to iron, magnesium, protein and calcium in the beans, making it difficult for your body to absorb. Essentially the entire benefit of eating beans (aside from all that fibre) is for the iron, protein, and calcium, so even though you CAN cook dry beans in an Instant Pot, it is always better to soak them using cold water first. Some things you can't rush.
Also, pro-tip from Serious Eats, soak your beans with some salt first so they don't burst as much after cooking. Soak your beans, and soak them in cold, salty water!
One of these days I might also try out a more traditional baked beans (the sort of more liquidy baked bean sauce version), but for now, I am very content with this veggie-ful Instant Pot baked beans dish. I hope you like it and try it as well! Are you also a bean hoarder like me?
Yield: 3L baked beans
Vegan Baked Beans (with sneaky veggies)
Ingredients
Beans
3 cups (550 g) dry navy beans
1 tbsp salt (I used iodized here)
3 bay leaves
Tomato Sauce
2 tbsp vegetable oil
1 cup (2 small/medium) onions, diced
3 cloves garlic, minced
1 cup (2 medium) carrots, diced
1 cup (3 ribs) celery, diced
1 tsp onion powder
1 tsp garlic powder
2 tsp kosher salt
796 mL (19 fl oz) can diced tomatoes
1 tbsp vegan worcestershire sauce
2 cups water
Instructions
For the Instant Pot Beans:
Before cooking, soak dry navy beans in cold water + 1 tbsp salt for 24 hours. I tend to cover the beans with over an inch of water since they absorb a lot of water.
Once beans are soaked, drain and rinse well.
Add to instant pot/pressure cooker with bay leaves. Pour in 2L water/enough water to cover beans with 1.5 inch of water.
Pressure cook with the "bean" setting for 13 minutes (remember to set the vent to "sealing"). Once cooked release naturally or manually. Drain the beans and remove the bay leaves.
For the tomato sauce:
In a medium pot, cook onions in oil until translucent and lightly browned/caramelized. Add garlic and cook until fragrant. Add a little water to deglaze the pan if necessary (nobody wants burned onion and garlic!)
Add diced carrots and celery and stir to continue cooking. Once veggies are cooked through, add garlic powder, onion powder and salt and stir to cook the spices slightly.
Add diced tomatoes, vegan worcestershire sauce, and 2 cups water (use that water to rinse the tomato can to get all that tomatoey goodness).
Preheat oven to 350F.
Bring to a steady simmer on medium heat, then lower heat and cover. Cook for about 20 minutes until all veggies are totally softened.
Once cooked, blend until smooth, then pour over strained cooked beans in a large casserole dish (mine was a 3QT sized dish). Stir well to incorporate the beans and bake for 30 mins at 350F.